Amsterdam, Netherlands
WillhiteWeb.com: Europe Travel
Van Gogh Museum
Anne Frank House
Red Light District
A bike is the way to see Amsterdam. Everyone has one and everyone is use to in-experienced riders on the streets. If not, my wife would be dead right now. With a bike you can get to all the sights as well as all the parks and waterways in-between.
Rijksmuseum
Harlem
Zaanse Schans
Renting A Bike
I'm sure the inside was interesting but not enough to wait several hours (see picture). On a whirl wind Europe trip, there is no time for that...it's not the Louve in there.
Had to take a look and what an awful place where prostitution is like window shopping in the mall. It was interesting how the area was patrolled and things were kept inside the district.
Anne Frank House with a line that wasn't moving
Wooden Shoes
Zaanse Schans
Zaanse Schans
Zaanse Schans
Zaanse Schans
Riding in town
Riding in town
Zaanse Schans
One of many parks around town
Rijksmuseum
Need a bike?
Probably lost
The paintings collection includes works by artists Jacob van Ruysdael, Frans Hals, Johannes Vermeer and Rembrandt and Rembrandt's pupils.
It has the largest collection of Van Gogh's paintings and drawings in the world.
One of the biggest tourist attractions just outside of Amsterdam, Zaanse Schans is a 17th-century Dutch village where everything looks the part as do the actors walking around. The whole little town is a museum where you can watch cheese-making, wooden shoe carving or just look at the preserved windmills and houses.
De Grote in the Grote Markt in Harlem
We did this side trip as well to see a town even older than Amsterdam. The main town square Grote Markt is a great sight and the De Grote church (St. Bavo) with the Mozart organ inside.
The train took us to Amsterdam and a packed station. We tried to figure out bus system but couldn't so we ended up walking to a hotel from a book. It was full so we started going hotel hopping. Found an OK place with an OK price. Spent the night walking the streets. All young people. Lots to do and see. Everyone speaks some English. The city's Red Light District was crazy. Rachelle wanted out. We watched police pull people over at random. Ate really good ice cream cones with the swirling flavor.

Next morning we walked to the bike rental and got bikes for the day. Biked to train station to reserve our night train to Copenhagen. Had to take a number. Had 2-hour wait. We did get the reservation and that was good. Then we biked around. Lots of fun with moments of fear. I was expecting Rachelle to get killed. Sites we saw—Van Gogh Museum, Rachelle got in free at the Rijksmuseum—saw the Nightwatch, Anne Frank house, Vondel Park-rode bikes all over the city. We rushed to get the bikes back by 5pm. Went to a movie, but when the mummy talked in ancient Egyptian, the subtitles were in Dutch. After the movie, found Rachelle some suntan lotion, a clippy and some eye medication for me. Now we are tired back at the hotel. Rachelle's behind was sore from the bike. In the morning, we went to train station and took 15 min train ride to Zaanse Schans to see windmills and countryside. Definitely worth the trip. Still had lots of time before the night train. Went back to Amsterdam then took train to Harlem. Had lunch, saw the Medieval church Grote Kerk in the Grite Markt. Saw organ that Mozart once played-impressive-wished we could have heard it being played. Church wasn't all that impressive but it had a lot of history. Walked to history museum and killed some time. Back to Amsterdam we hung out at the water to watch the ferries. Found a store to buy some dinner but ended up giving the bad rolls to a bum. Got on train to Copenhagen.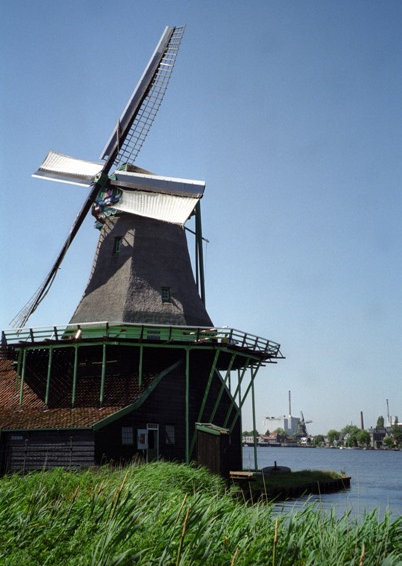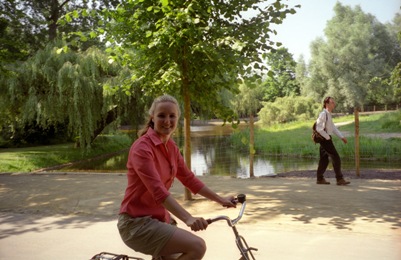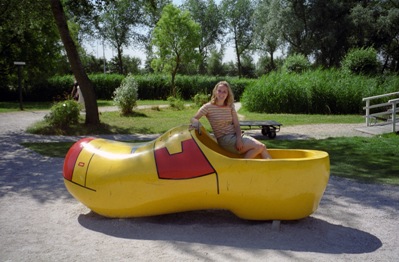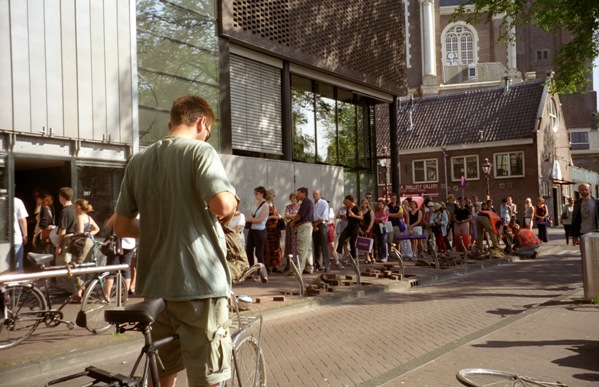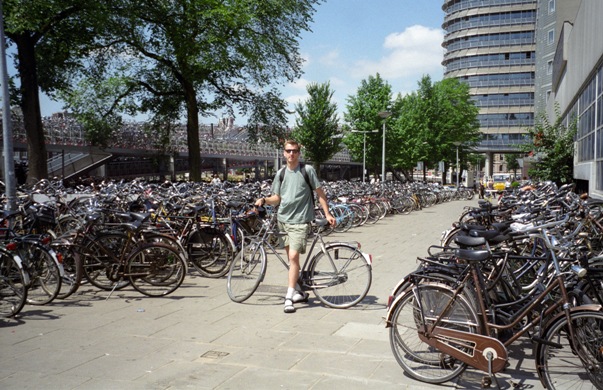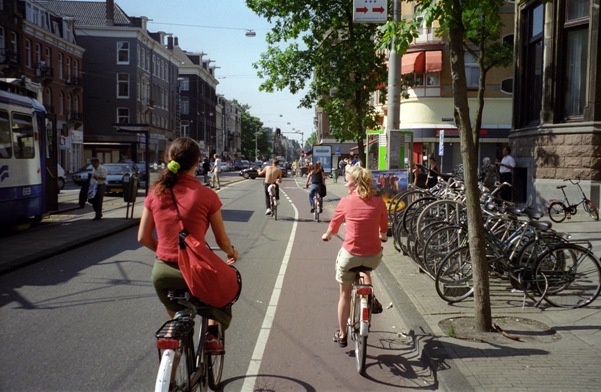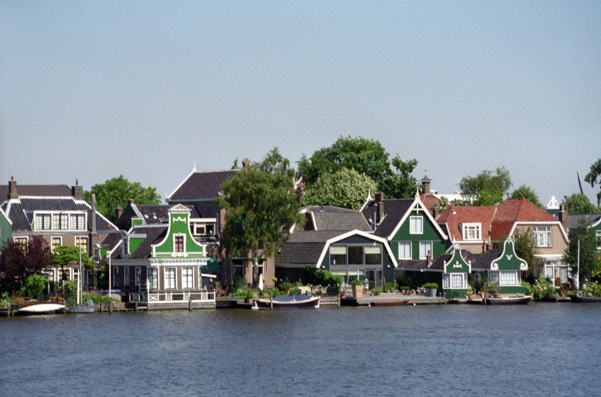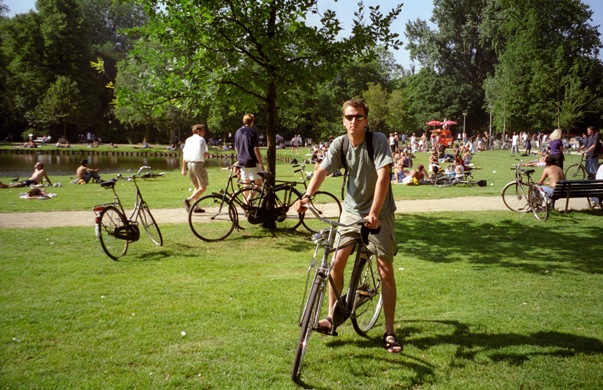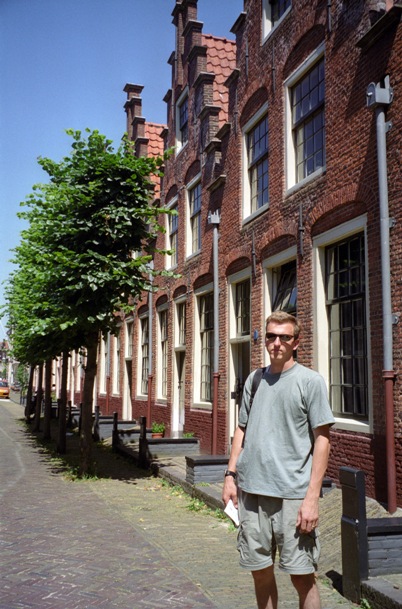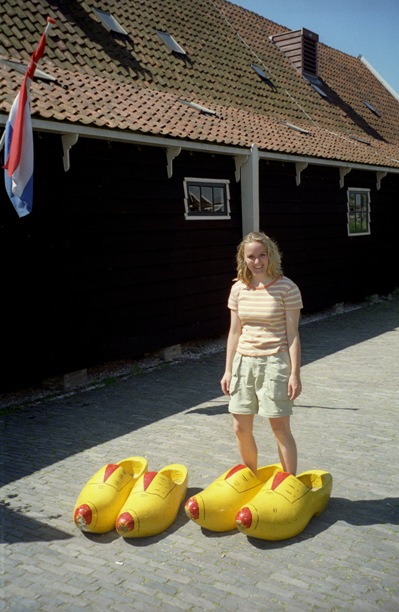 Wood Shoes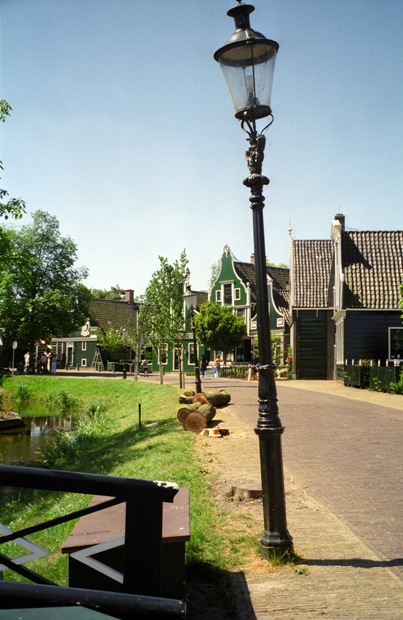 Biking around Amsterdam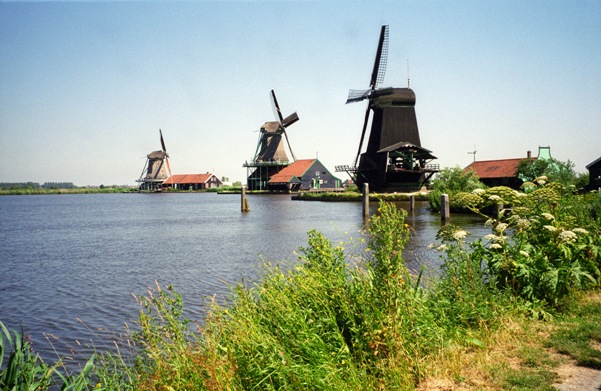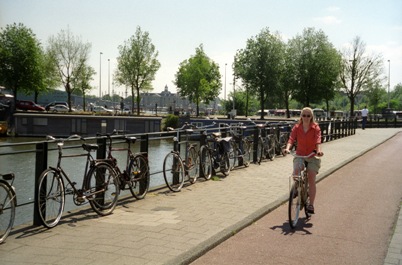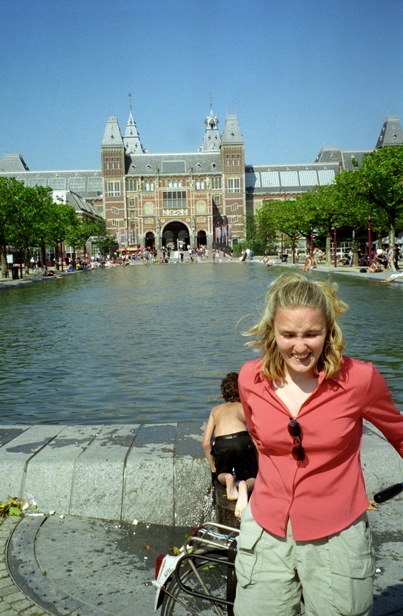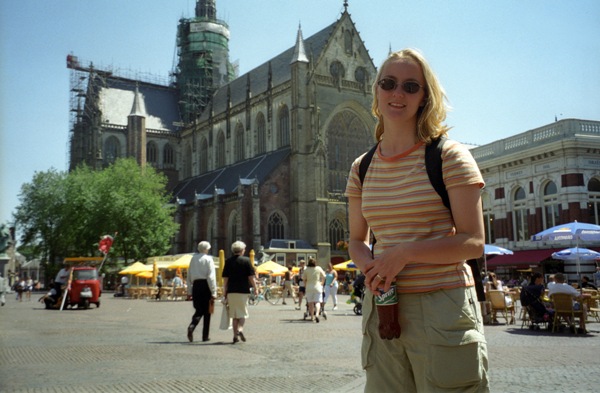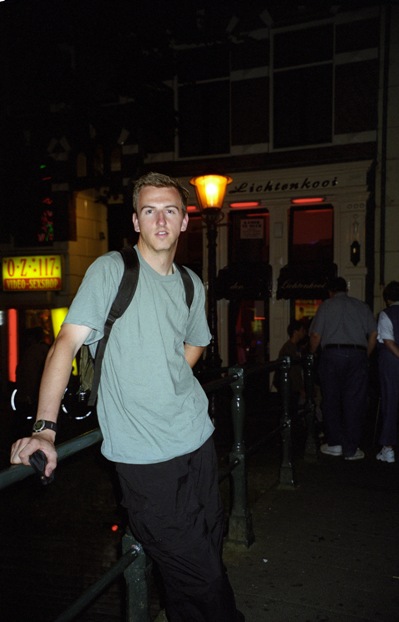 Red Light District - They didn't come out in this picture but the second story windows are displaying live prostitutes. You pick which one you like from the window and they come down and let you in.