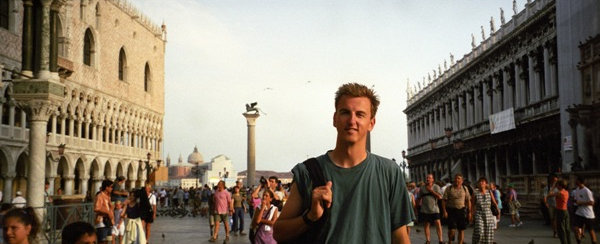 Venice, Italy
WillhiteWeb.com: Europe Travel
St. Mark's Square & Clock Tower
Grand Canal
Got on tram to Venice. Stopped in Vicenza along the way. It was an old town, but almost everything we wanted to see there was being worked on or we couldn't find them. It was REALLY hot. Train to Vicenza was bad. AC in 1st class was broken. It was too crowded so then we went on to 2nd class...that was packed. We decided to endure the sauna in 1st class. Train from Vicenza to Venice was bearable. Venice was extremely HOT. So much for the hope of a sea breeze. We quickly got to our reserved hotel. This was the first we reserved in a month. NO AC – it is very hot! We slept for 3 hours, then went walking. Even walking at night you sweat. It is very humid here and Venice smells, something you don't see in the pictures. After a Euro hotel breakfast, we bought an all day boat ticket. Took the boat to the famous places. Took an afternoon siesta. Went back out about 6 PM. Feels much nicer in the evenings. We tried to boat around a lot to avoid walking and sweating. This way you caught somewhat of a breeze. Night was nice on the water but for some reason, it started getting warm. Got back to hotel. The stupid place locked our shower.....the sign on the door said closes at 10pm. Now we were sweaty and in a hot room. AAHHH! Lets not forget the bed bugs Rachelle got the night before. They bit her everywhere.
St Mark's Square is the main landmark in Venice and is easily the most heavily trafficked area for both tourists and residents. Napoleon called it "the drawing room of Europe." The square began being developed all the way back in the ninth century, right in front of where the Basilica San Marco now stands.
Although there are many canals throughout Venice, The Grand Canal is the biggest and most famous. The cities main public transportation by water uses the canal but you can also find all kinds of private tours using it as well if you wanted a history lesson. The Grand Canal runs approximately two miles long with the widest point being around 350 feet. Along the route you pass the most beautiful buildings of the city.
The Patriarchal Cathedral Basilica of Saint Mark is the cathedral church of the Roman Catholic Archdiocese of Venice. It lies on Piazza San Marco adjacent and connected to the Doge's Palace. Since 1807 it has been the seat of the Patriarch of Venice, archbishop of the Roman Catholic Archdiocese of Venice. For its opulent design, gilded Byzantine mosaics, and its status as a symbol of Venetian wealth and power, from the 11th century on the building was known by the nickname Chiesa d'Oro (Church of gold).
Saint Marks Basilica
Ca' Rezzonico
Ca' Rezzonico is a palazzo on the Grand Canal that is a public museum dedicated to 18th century Venice.
The Grand Canal
Doge's Palace at sunset
Saint Marks Basilica from a distance
Saint Mark's Basilica, St. Mark's Square and the Clock Tower
From the Rialto Bridge
Busy waterfront
St. Marks Square from a distance
Get Lost
More than any other European city, Venice is best to just explore and get lost. Even with a map I literally got lost like a mouse looking for cheese. With all the little ally ways and so much of it looking similar to where you were just at, it is easy to get lost. If it wasn't so hot and didn't reek of sewer everywhere, it would have been a great memory.