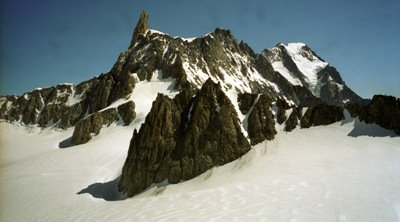 Chamonix from Aiguille du Midi
Last tram leg up to Midi
The Dent du Geant
Mont Blanc from Helbronner
Views from tram to Maudit and Blanc
Chamonix, France
WillhiteWeb.com: Europe Travel
Aiguille du Midi
Tram to Helbronner
Arrived in Chamonix, found a nearby campground, set up camp and headed into town. Rachelle organized her parasailing for the next day for about 75 USD. We ate and walked around a bit. Went back to camp and organized everything that we didnít need for the next 6 weeks of the trip. Got a garbage bag from the camp restaurant and prepared to hide all the camping gear in the woods, planning to return 6 weeks later to pick it up. In the morning, I ditched the gear, put our packs in storage and we split up for the first time on the trip. Our excursions were each so expensive we saved by doing them solo. Rachelle went parasailing and I went up the Mt. Blanc tram. The view and tram was amazing. Then I took the tram across the glaciers to Italy. This was also an engineering marvel. The whole trip took a long time because of the amount of people. Met back up with Rachelle, we ate, picked up our bags and left France through Switzerland to Italy.
This is an amazing ride. I couldn't believe my eyes when we reached the halfway station. The view was already incredible and it was about to get even more outstanding. The massive rise and distance of the final leg with no support towers seemed impossible. From the top we were in a world of rock and ice. From Midi Station, climbers shoot out in all directions, climbing everything in sight. Every type of route was visible from the standard glacier slogs to ice shoots an rock faces. To be in this environment with no effort and all kinds of amenities was bewildering to me. Now I understood why people were walking around the town of Chamonix in full climbing clothing and carrying full packs of gear.
Just when you think you've seen it all, you can jump onto a 45 minute cable tram over the Glacier du Geant to the edge of Italy. This has to be the most scenic cable ride in the world. You silently drop from Midi Station to a far distant rock outcrop in the glacier. Once you pass through, you realize that was just the short segment. The Helbronner Point is so far away it is hardly distinguishable. Had I only knew more, we would have brought our packs and continued on down to Courmayeur, Italy and beyond.
This is my kind of place. A town centered on climbing. Unlike Zermat which is a tourist town focused on the Matterhorn, the people in Chamonix are there to climb, hike bike, ski and every other outdoor pursuit you know. This is where climbing and the modern tools to climb were born.
Chamonix Town
Mont Blanc from Chamonix
Grandes Jorasses
The Dent du Geant
Coming into Helbronner Station
Helbronner Station
Crossing the first leg to this rock outcrop
The second leg crosses this section of the Glacier du Geant
Views from the tram
Views from the tram
Climbers arriving at Aiguile du Midi Station
One of many view areas at Midi Station
Trams arriving at Helbronner Station
Climbing up to Midi Station from Helbronner side
More views
Rachelle's adventure Parasailing while I went up the Midi
Chamonix
Helicopter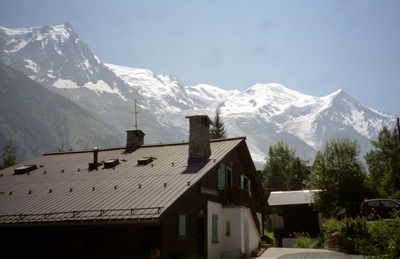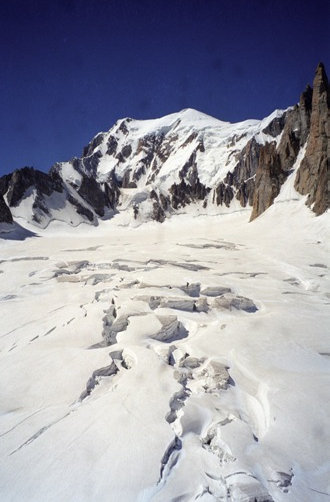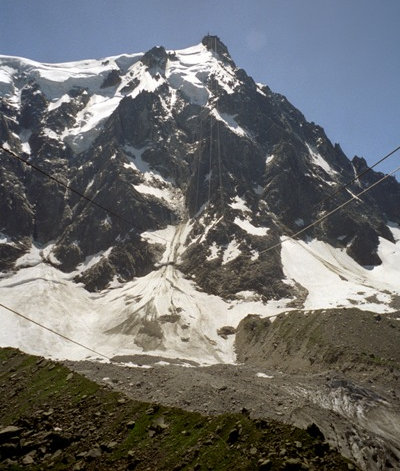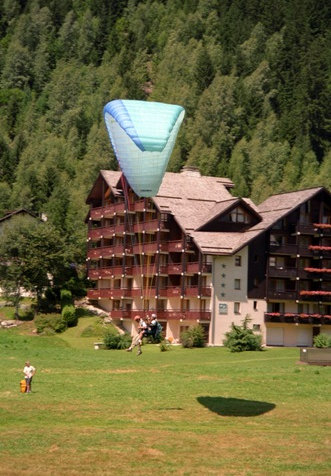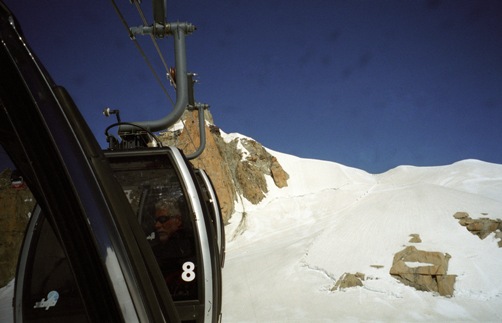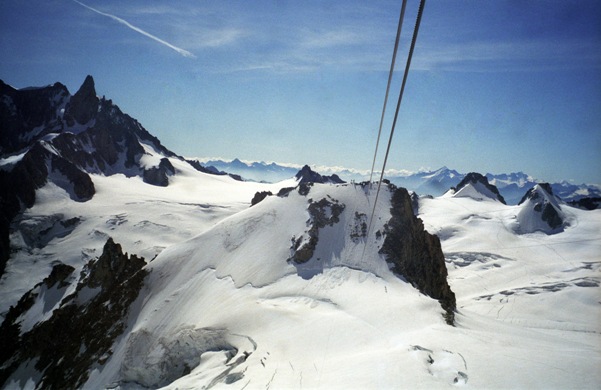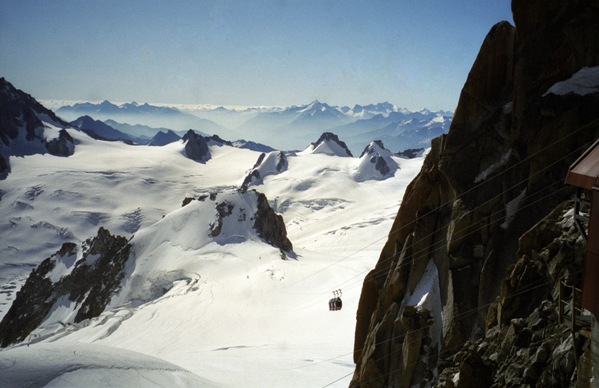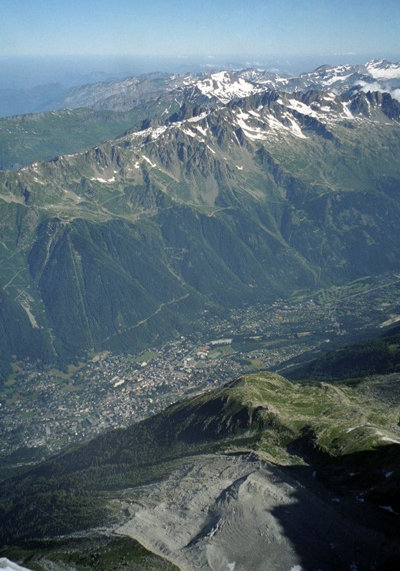 Trams leaving the Aiguille du Midi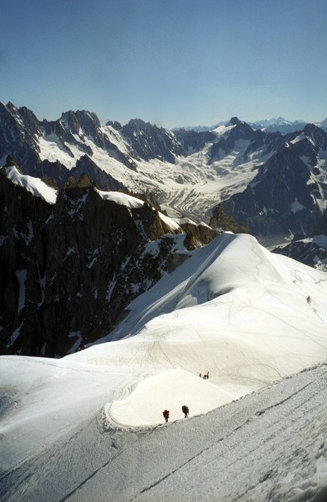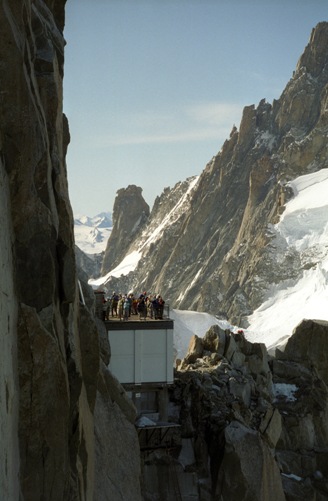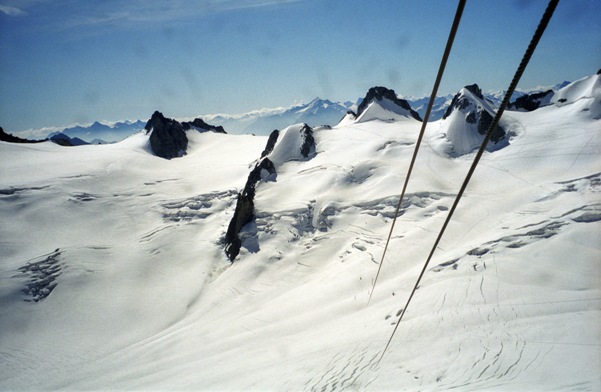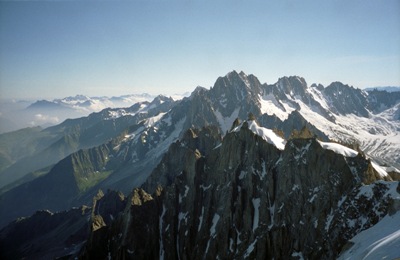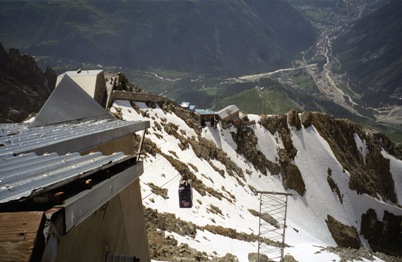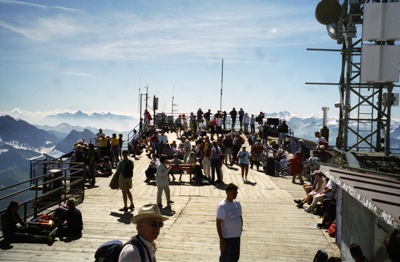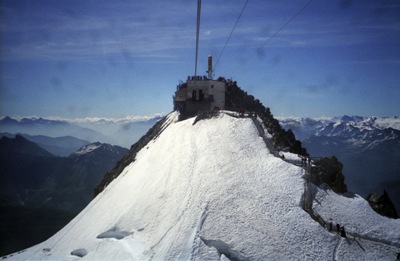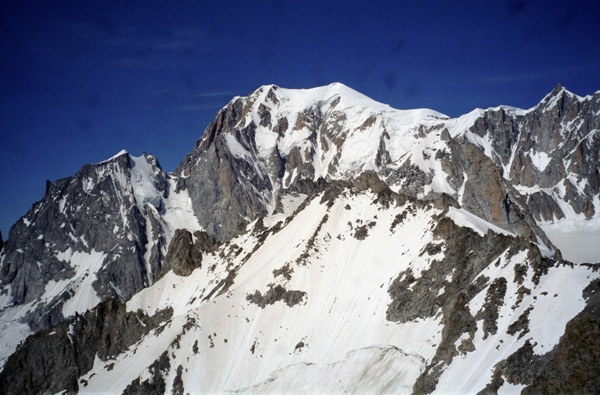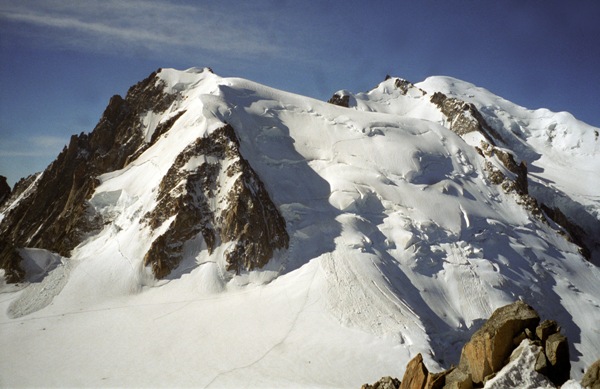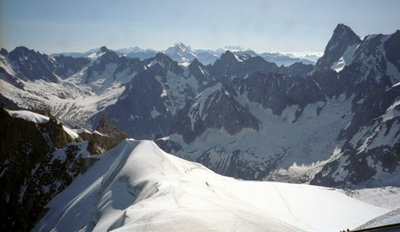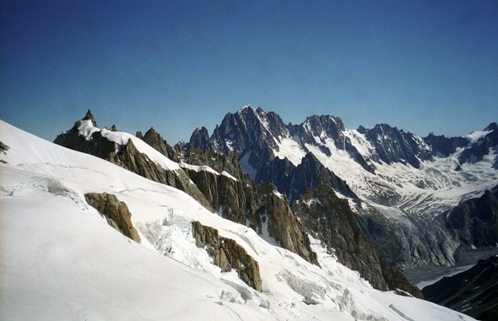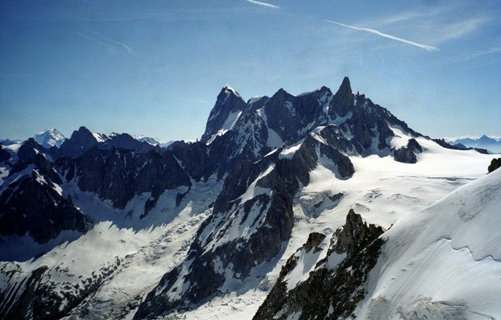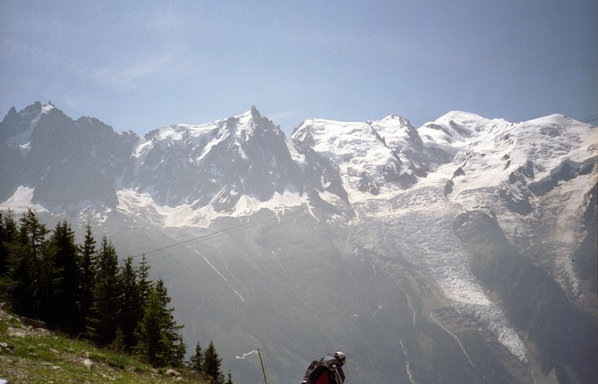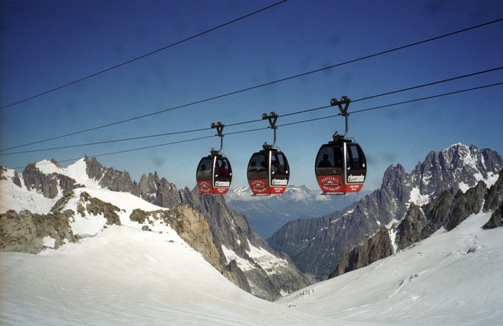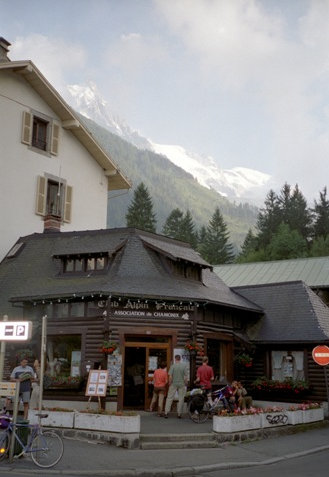 Chamonix Association of Climbers
Parasailing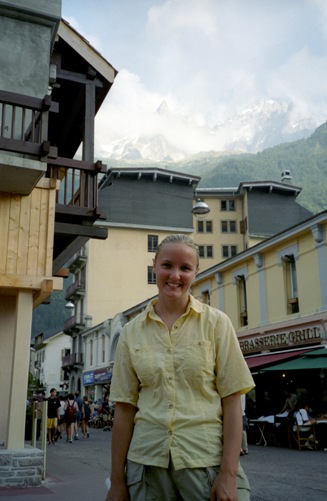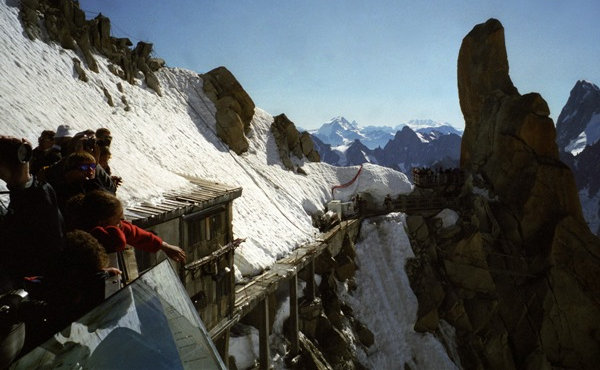 Another viewing area on the Aiguille du Midi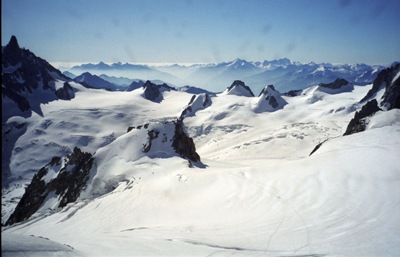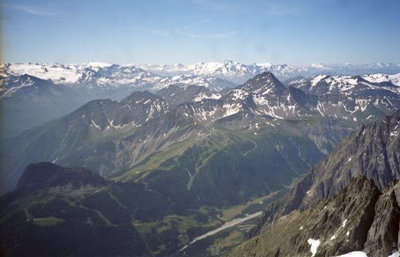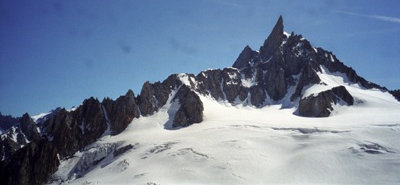 The Tram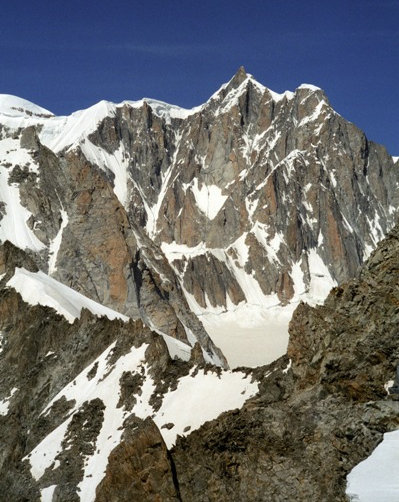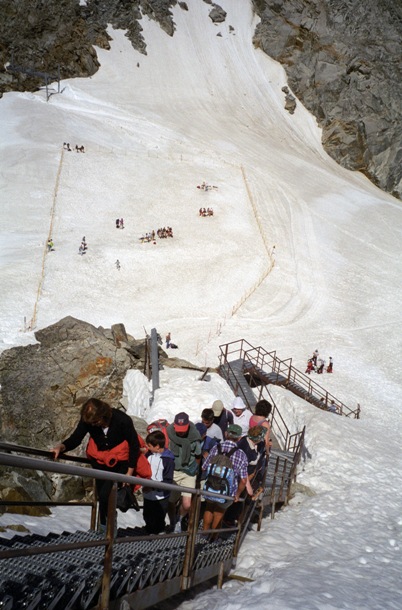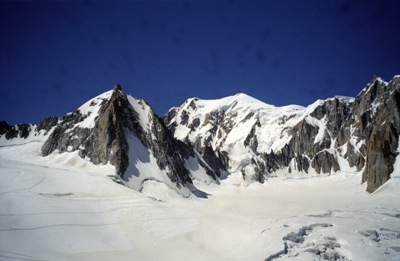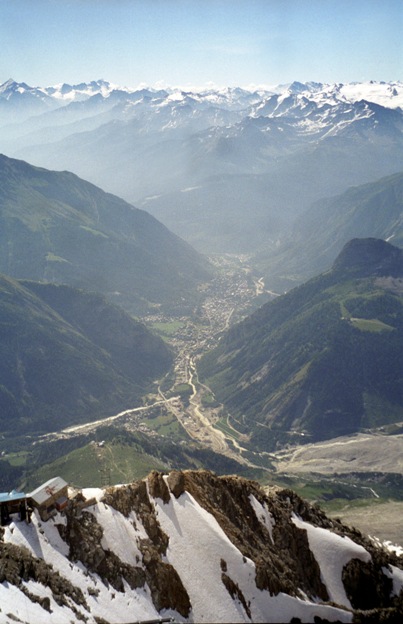 Helbronner Station
Aiguille du Midi
Maudit
Mont Blanc
Grandes Jorasses