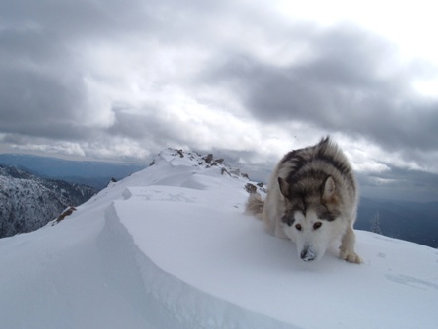 Dozer the Alaskan Malamute
www.WillhiteWeb.com: Hiking, Climbing and Travel
Many years ago I met a guy who owned 2 dogs that I thought were really something special. I never really had a pet; well, there was that cat someone gave my wife shortly after we were married. We kept it around awhile before giving it to the neighbor girl who loved it. So the 2 dogs were Alaskan Malamutes. Maybe I liked them because we had some things in common. Alaskan Malamutes love the snow, like to hike for days, can carry lots of camping gear and they just look cool.

When my wife asked for a husky as her college graduation gift (being a UW Husky), I said how about a Malamute? They are very similar; actually it's Alaskan Malamutes that the college team brings onto the football field at halftime because their size is much larger than huskies.

We found a breeder about 150 miles away and soon we had a new pup. We've had Dozer for 6 years now. He's lived outside his whole life. Sometimes he'll sleep in a garage but his usual preference is outside under the sky. A malamute is a very social dog. If you don't give them enough attention, expect to find giant holes in your yard or something chewed up. Since I've had Dozer from a pup, I was able to discipline him while he was young and moldable. Malamutes can be extremely stubborn (another thing we have in common). Now that he is an adult, it is difficult to punish a 130 pound rock of muscle.

I often let him tag along in the back of the truck while running errands around town. People are usually amazed when they see him in the truck with no leash keeping him in. They usually ask, can't he just jump out when you're gone? Yes, he can but he knows better. I've been approached by hundreds of people over the years about the dog in my truck. People roll down their windows, left notes on my car, and on vacations, hundreds have taken pictures of him. I believe he even got me out of a speeding ticket once.

Dozer sometimes seems invincible. When he was younger, I saw him hit by a car going 25 mph. Dozer was at a full run toward the house across the street to meet another dog. When the car hit him, dozer was thrown over 20 feet down the street well out of my view. The impact was so loud; all the neighbors came outside to see what happened. When I got to the edge of my property to look down the street, I fully expected to find Dozer lying dead. To my surprise, he was gone. My neighbor says he just hit the pavement, rolled, got up, and ran behind her house. We took him to the vet but no broken bones, just some scrapes.

Another time he was bitten by a rattlesnake. He laid almost dead for 4 days, to read that story, click link at top of page. Dozers has hiked thousands of miles and been to the top of countless peaks. Many times he would climb until he just couldn't get any higher due to the technical difficulty of the terrain. So many times, I would tie him to a small tree or rock, continuing on without him. At first, this was tough for him but since I always came back he finally realized it was for his own good. Dozer has chased herds of elk and deer, a moose, a bear, bobcats and about every other small critter in the woods. Most wild animals think hat he is a wolf, not a domesticated animal wanting to play.

I most owe Dozer for carrying my gear to lighten my load. He usually was given the task of carrying all the Gatorade and water. On overnight trips, he is given the fuel, canned foods, and other items that can get wet. If there is any sort of water, he will find a way to get in it to cool off. He's been a great companion as well, always making solo trips more interesting.
Summit Lake
Steptoe Butte
Thomas Mountain
Vesper Peak trail
Green Mountain
Iron Mountain
Hidden Lake Peak
Mt. Forgotton
Mt. Pugh
Packwood Lake
Summit of Mt. Adams
Update: Unfortunately, Dozer died unexpectedly in early 2009 because of a health issue common to Malamutes.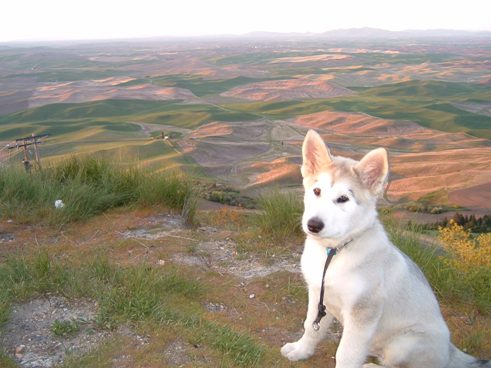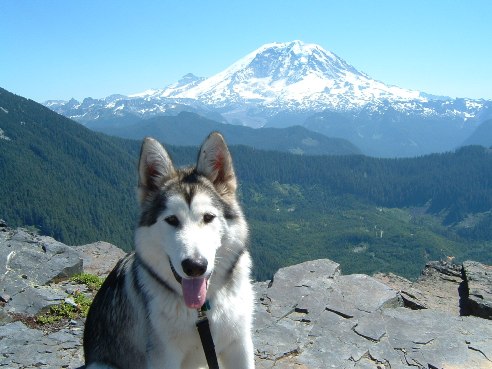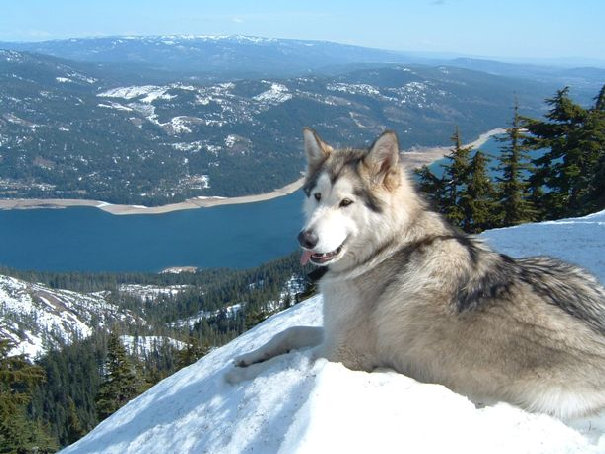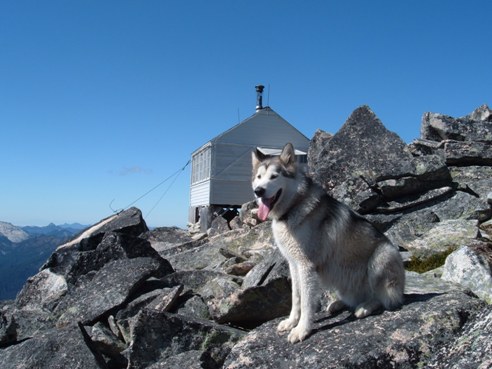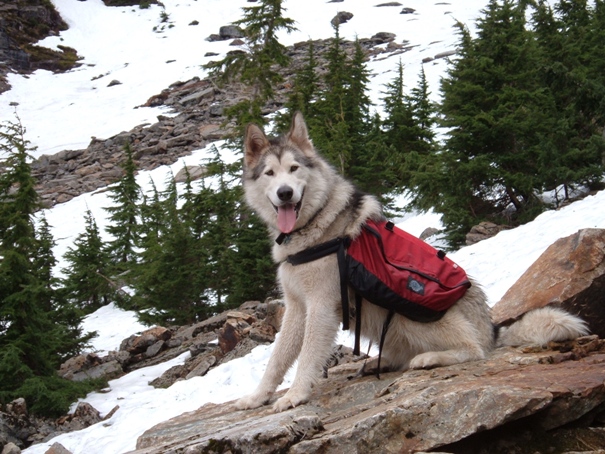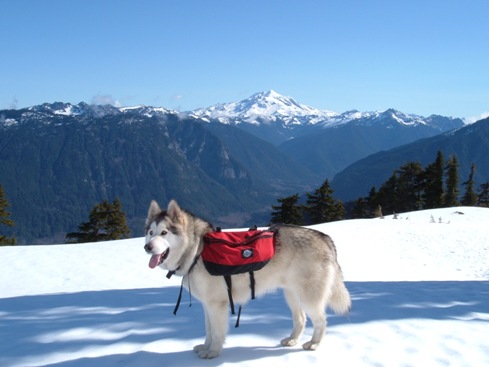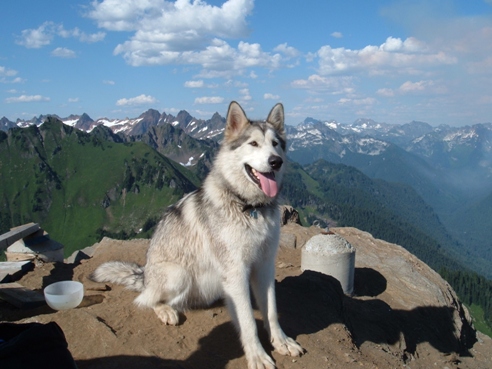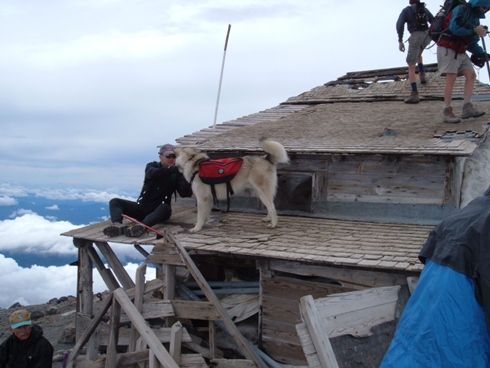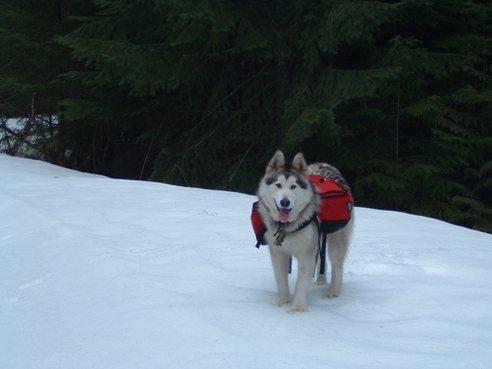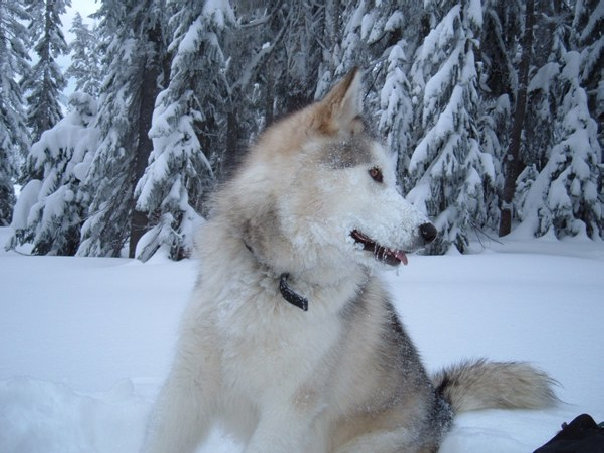 Sky Peak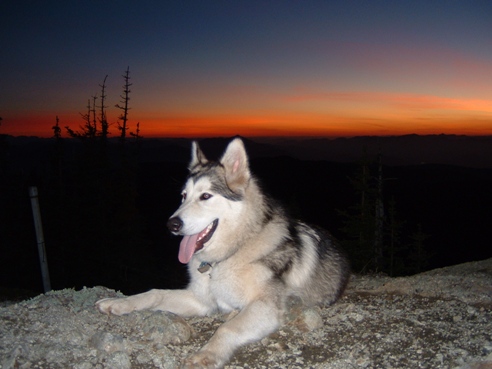 Glacier View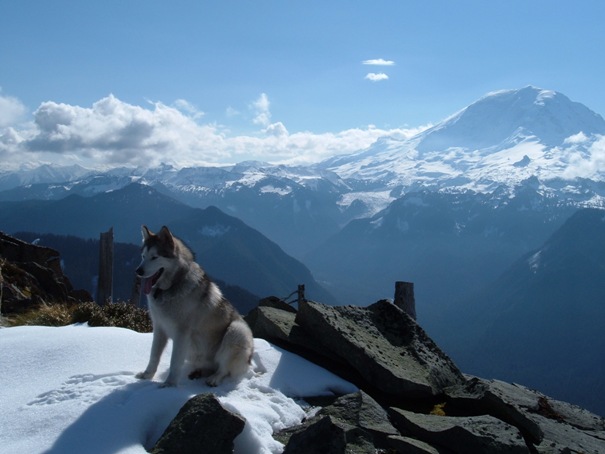 Carbon Ridge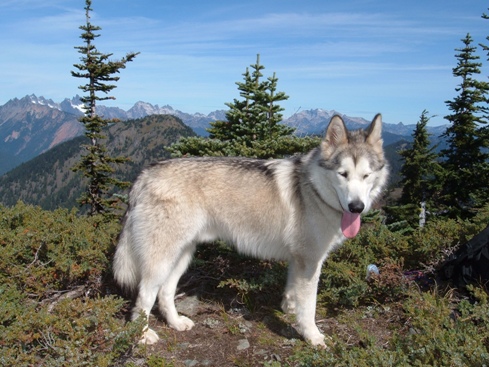 Hard Knox summit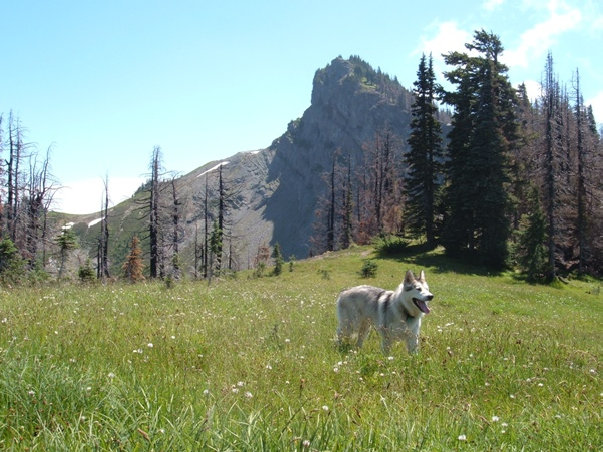 Lost Lake Peak