Mount San Antonio (Mount Baldy)
Distance: 3.5 miles
Elevation Gain: 3,864 feet
Summit Elevation: 10,064 feet
Access: Paved
WillhiteWeb.com

Access:
Route:
The highest point in the San Gabriel Mountains is Mount San Antonio, or Mount Baldy as the locals call it. These mountains are the backdrop for Los Angeles. This is one of the Ultra 57, one of 57 mountains in the lower 48 with over 5,000 feet of prominence. I started a bit too early on this trip so I was still in darkness on the summit.
From Interstate 210, go north on N. Euclid Avenue or N. Mountain Blvd. Both roads access the Mt. Baldy road to the ski area. I just printed a map from mapquest and easily found my way. Near the end of the road but before the ski area parking lots, you reach a divided roadway. Take a left once you hit the first turn to the other side. Across from you as you do this, you should see a paved road heading west with a gate and a few port-a-potty's. That is the trailhead. Park your car on the downhill section of the divided highway. Chances are there will be dozens of others there as well. To park here you are suppose to have an Adventure Pass from the Forest Service.
The easiest would be to take the Mount Baldy ski lift up to Baldy Notch, then follow a ridge trail called the Devil's Backbone to the summit. The route I describe below is considered the most direct and fastest if hiking from the base. From the parking area, walk up the paved fire road behind the locked gate. Soon you will hit a waterfall and a major switchback in the road. Continue up the road to the point where it turns NE around a ridge. Keep an eye to the left for a trail cutting uphill in the road cut. Leave the road on the trail passing the trail sign-in station. Don't sign in unless you want the forest service to limit future visitors to a daily limited number permit system. This nice trail climbs easily a few miles to 8,200 feet to the San Antonio Ski Hut. From there, the trail traverses left below the Baldy Bowl (over a creek and a few boulder areas). Then the trail climbs up to the south ridge of Mount Baldy. Now on the ridge it is great views the final 1,000 feet to the summit.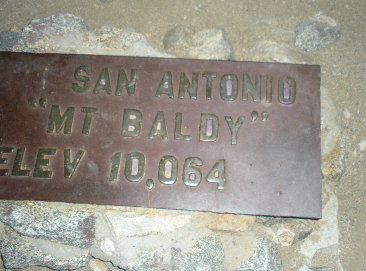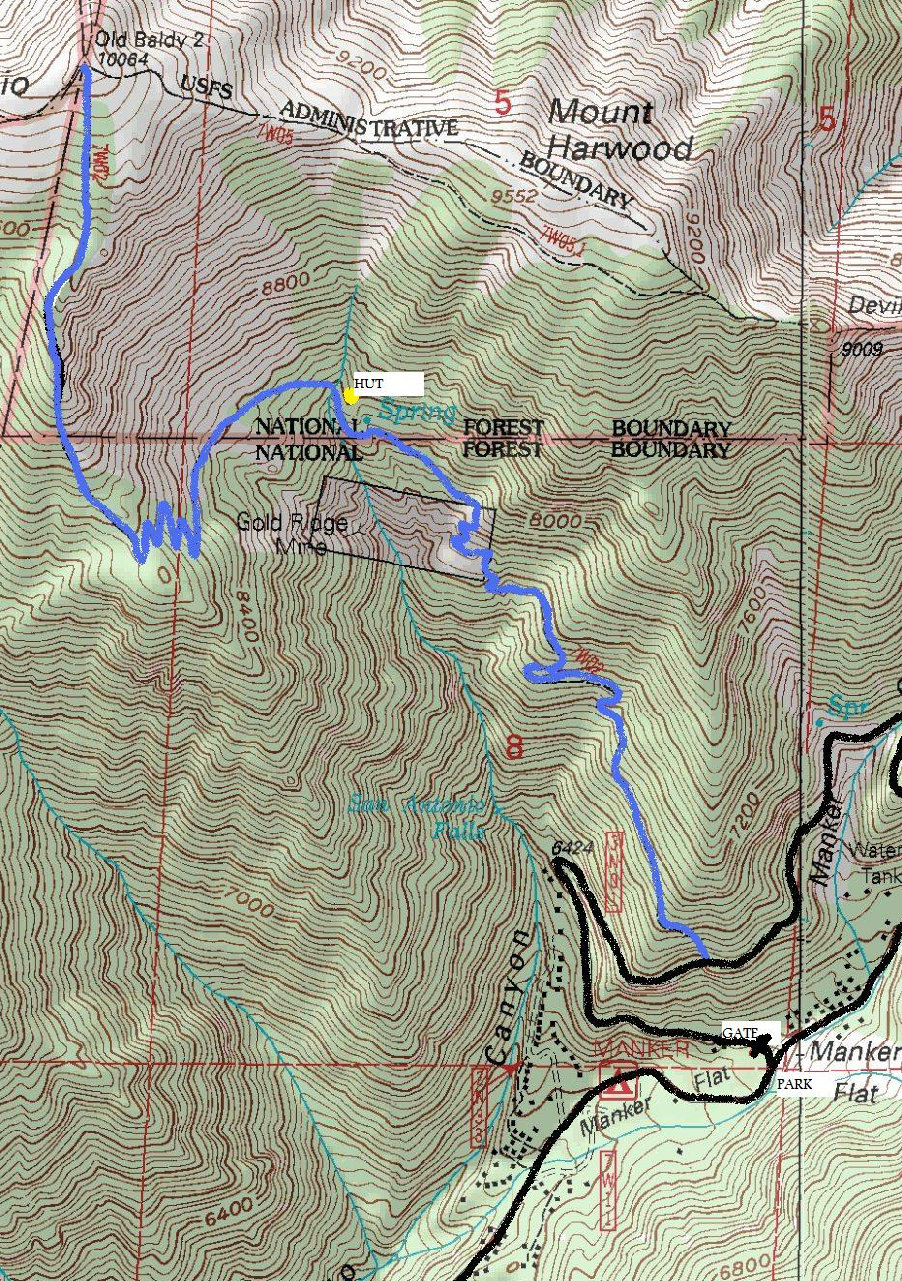 View in route to the trailhead
Baldy Bowl from just below the San Antonio Ski Hut
Mount San Antonio summit sign
First light
Lights from the summit
Views from the trail
Views near the start of the trail