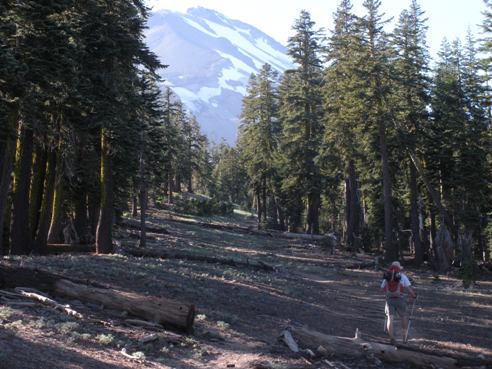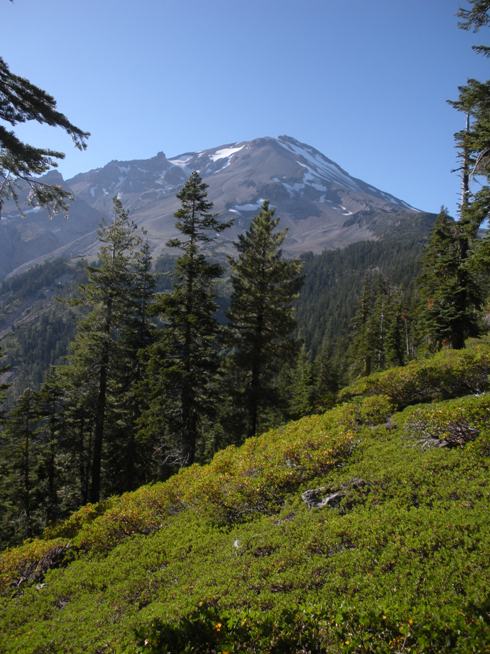 Access:
Mount Shasta
Distance: 5+ miles (Clear Creek Route)
Elevation Gain: 7,800 feet
Summit Elevation: 14,162
Access rating: Level 2
The Route:
Take Highway 89 east from McCloud about 3 miles to Pilgrim Creek Road 13. Follow this about 5 miles to Widow Springs Road (41N15). Turn left on this road and follow it a good ways, through an intersection with Forest Service Road 31, where it becomes road 41N61. About 1 mile farther west on road 41N61, take the left fork and follow the spur to its end at the trailhead. Signs mark the entire route. Passenger cars can make it to within the last few hundred yards where 2 sandy stretches prevent most cars. Parking spots are along the road here as well.
You start much lower than I anticipated, in forest at 6,400 feet. The trail slowly climbs around in the forest before hitting a ridgeline where views of the peak open up. The trail follows this ridgeline until it hits a steep section of the ridge around 8,300 feet. The trail traverses left across open slopes, passing some springs to re-supply your water. Just beyond, the trail splits. Right starts the climbing, left goes a short distance to the main base camps. There are more exposed camps about a thousand feet higher but these lower ones have the most shelter and reliable drinking water (in late season). The climb from here continues on a nice climbers trail in a northwest direction. I noticed several trails in the area on the way down but going up it seemed obvious which one was most traveled. In spring on snow, it would just be an uphill push to the summit. Overall, the trail is good. Some sections that were steep had talus that would slide with each step. Although this was a bother, it seemed I could kick step as if it was snow and get a firm grip below. At just over 13,000 feet is the main false summit you've been staring at the entire route. There is about 300 feet of steep scrambling to top this section. Several routes appear, all are relatively easy, just slow going and have some potential to drop rocks on people below. Once over this crux, it is easy trail hiking to the summit. The summit block must be traversed around until you come across the Avalanche Gulch trail that works up to the summit.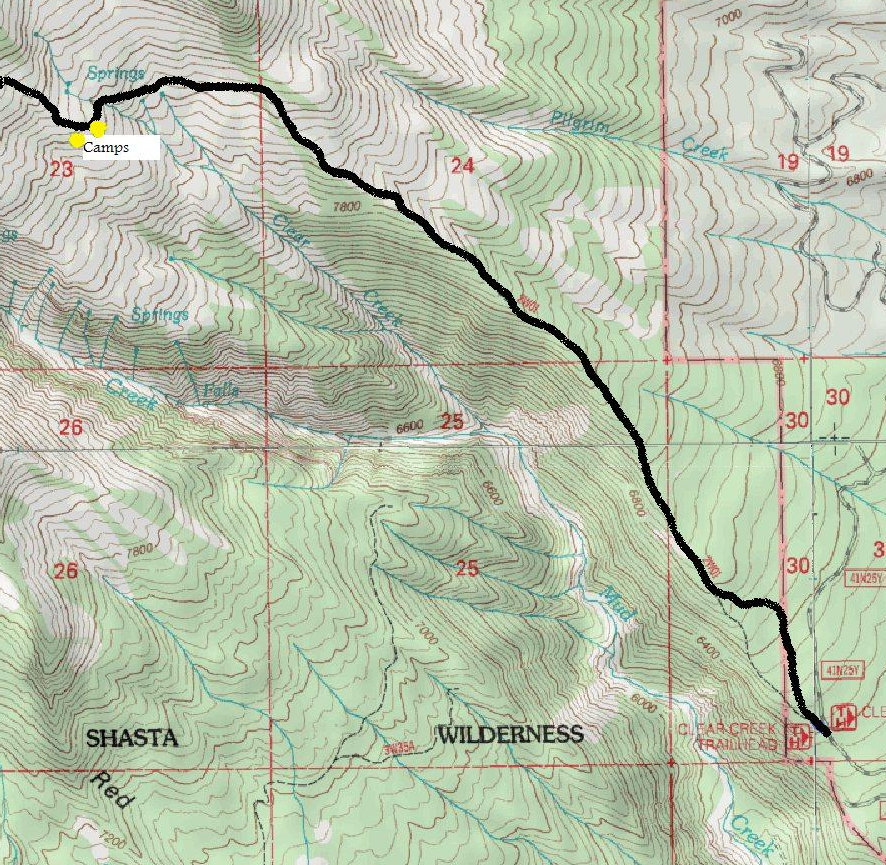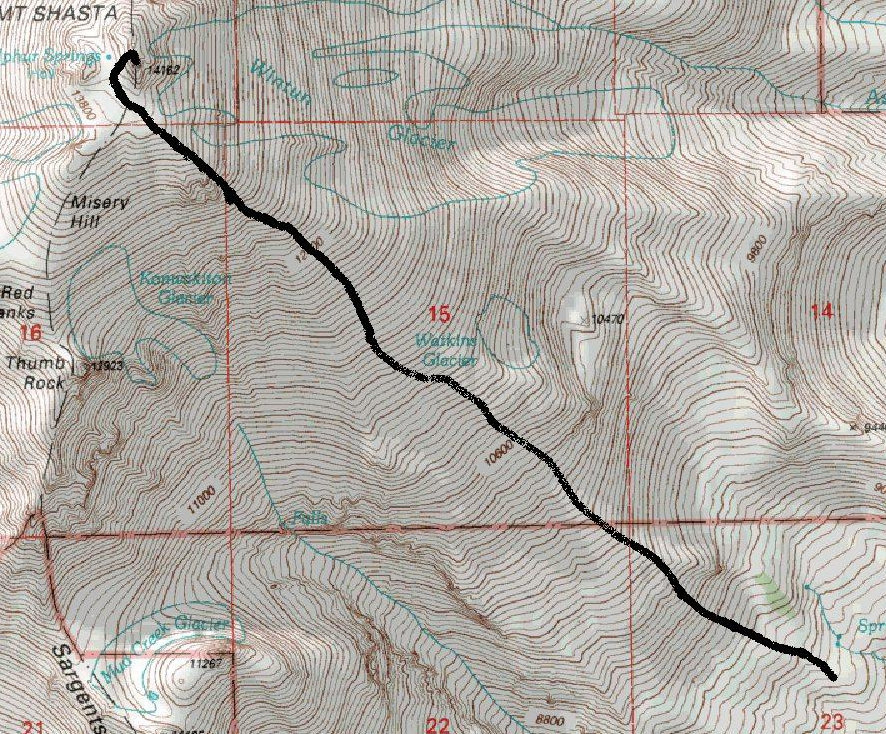 Above: Map from basecamp to summit Below: Map from trailhead to basecamp
Our first view of Shasta from the trail
Working up the trail to timberline
The Clear Creek Route shown from basecamp
High on Mt. Shasta in the largest of the talus fields
Climbers trail up through rocks and talus
Clear Creek Route
On the summit
Going down was fast and easy on loose talus
Panoramic shot to the west from the summit
Mt. Shasta is the second largest Cascade Volcano and is located in Northern California. After I moved to Utah, I regretted not making the time to drive down from Seattle. To undo this, I planned a trip down while visiting family in Washington. We chose the Clear Creek Route because my climbing partner wanted a bit more solitude than the standard route up Avalanche Gulch. We found it as we had the entire route and summit to ourselves. The Clear Creek Route was a real surprise for me. In late season, the entire route is snow free, no use of an ice axe or crampons was needed. It was like climbing Mt. Rainer with no glaciers...it had many similarities to the standard route up Mt. Aconcagua in Argentina.
www.WillhiteWeb.com: Hiking, Climbing and Travel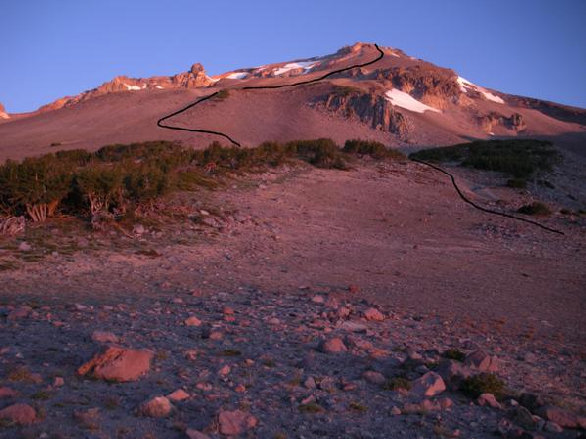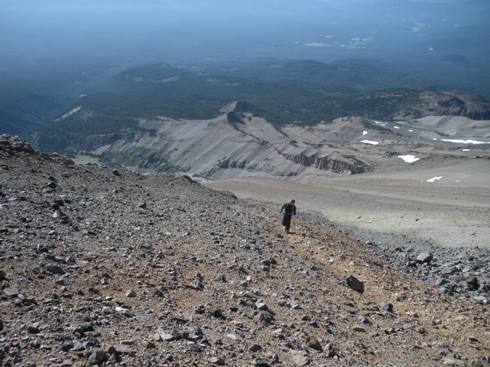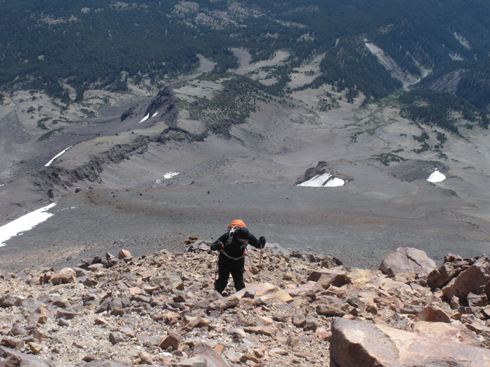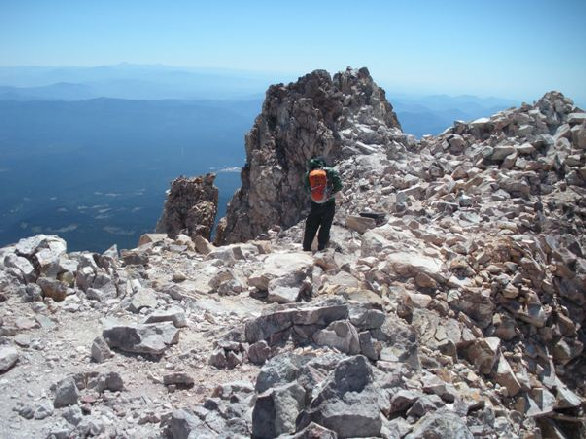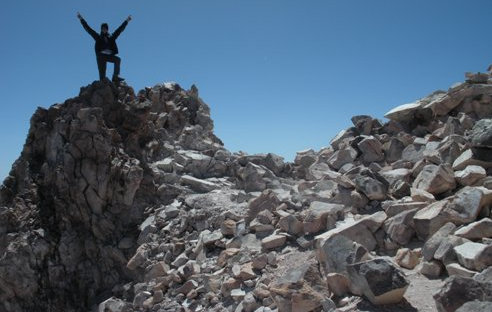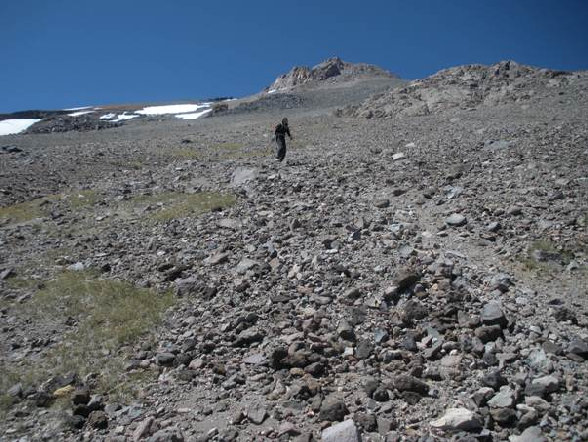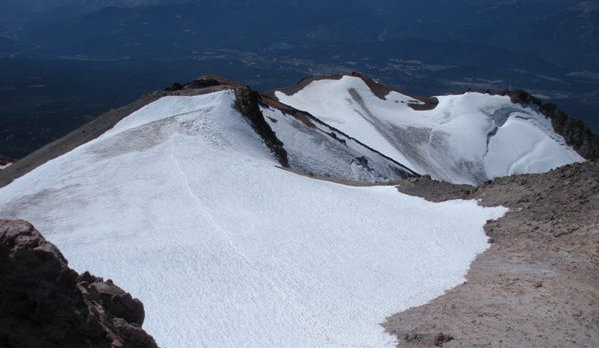 Other routes from this direction
On the summit with register