Palm Springs, California
California Sights & Attractions
For Southern Californians, Palm Springs is a popular weekend getaway. For the rest of us, Palm Springs is a vacation offering 350 days of sunshine. Stand at the airport baggage carrousel and you quickly realize Golf is the main activity in Palm Springs. But, even non-golfers can have a good time soaking up the sun, enjoying the regional sights, attractions and resort deals. Below are a few sights from a 2 day visit in February with 80 degree temps.
The tram features one of the worlds largest rotating tram cars. The 10 minute ride takes you 2.5 miles from 2,643 feet to 8,516 feet, passing 5 separate life zones from the Mexican Sonoran Desert to Alpine trees. At the top is the scenic San Jacinto State Park with 54 miles of hiking trails, camping, a ranger station and an adventure center for winter activities during snow season. Amenities include 2 restaurants, cafeteria, viewing areas, a natural history museum, movie theater and gift shops. This is the must do sight in Palm Springs and one of the reasons the main Palm Springs Visitors Center is located at the entrance road to the Tram.
Downtown Palm Springs
Walking down Palm Canyon Drive is a very popular way to experience Palm Springs. You'll find all the shops, galleries, restaurants and attractions that tourists enjoy seeing and doing. Overhead are tall, light-covered palm trees that shade the street as you stroll along looking into the shops.
Every large city has a zoo, don't miss out on this unique zoo and garden featuring the unique animals, flora and fauna of the Sonoran Desert. The Giraffe exhibit and feeding station is world class, feels like you are in Africa. There are 75 botanical gardens featuring all the trees and shrubs found in the region. For kids, there is a Discovery Center, animal shows and a petting kraal. Unique here is the wildlife hospital where you can learn or even watch how animals are taken care of.
Mid-Century Modern Architecture
During the middle of the 20th century the mountains and desert sands of Palm Springs inspired a distinctive branch of the Modern Movement that became known as Desert Modernism. The use of glass, deep overhangs, natural and manmade materials and use of indoor/outdoor spaces celebrated the mountain views and warm climate. A remarkable amount of this architecture has remained and become part of the tourism of Palm Springs. Many structures remain including the residences of well known celebrities like Frank Sinatra, Steve McQueen, Bob Hope and others I don't recognize before my time.
Cabot's Pueblo Museum
Take a tour to learn the story of Cabot Yerxa. He built the structure mostly from found materials between 1941 and 1950. His museum displayed artifacts from his travels, his collection of Native American crafts, and his own paintings until his death in 1965. Now his entire house is the museum, visitors are taken through a number of small rooms, narrow doors and narrow stairs.
For those of us new to the desert landscape, visiting this palm grove is a truly unique experience. A desert Oasis that seems like it couldn't be real, giving its location in such a barren landscape. There is a rustic visitors center and easy trails through palm trees right near the parking area. A short desert hike beyond will take visitors to the McCallum palm grove with a large pond.
San Jacinto Mountains National Monument Visitor Center
If you take the Palms to Pines Highway (Highway 74) out of town, you will pass by this visitors center. The Santa Rosa and San Jacinto Mountains National Monument was established by an Act of Congress on October 24, 2000 in order to "preserve the nationally significant biological, cultural, recreational, geological, educational, and scientific values found in the Santa Rosa and San Jacinto Mountains and to secure now and for future generations the opportunity to experience and enjoy the magnificent vistas, wildlife, land forms, and natural and cultural resources in these mountains and to recreate therein." As for the visitors center, it isn't very good unless you need to talk to a ranger about something specific.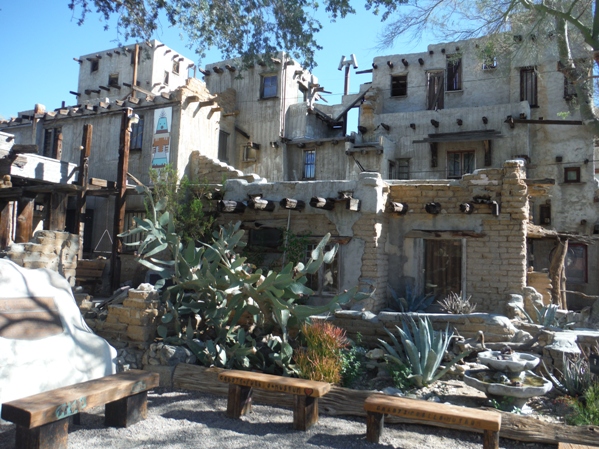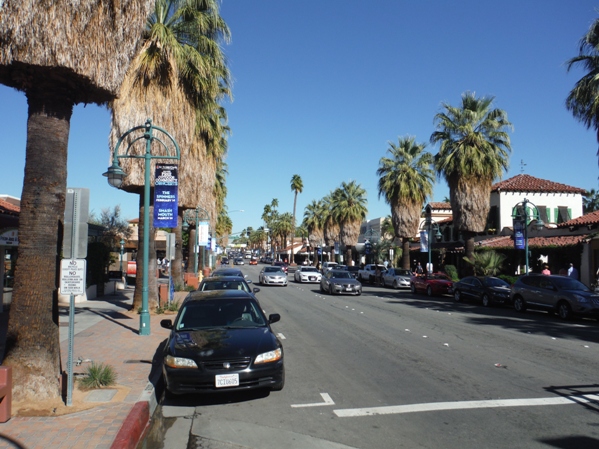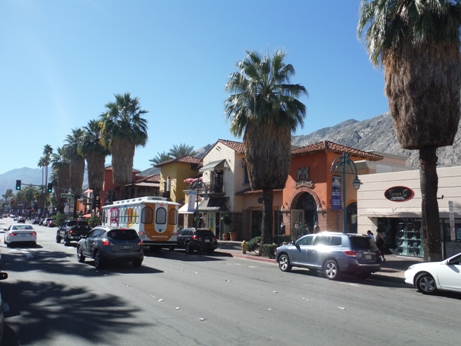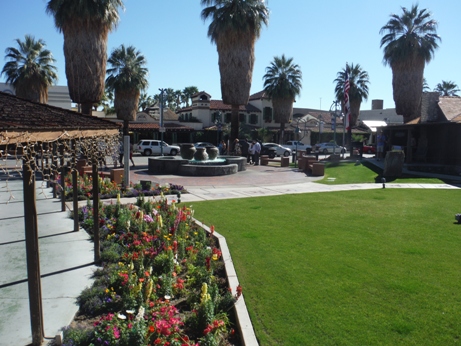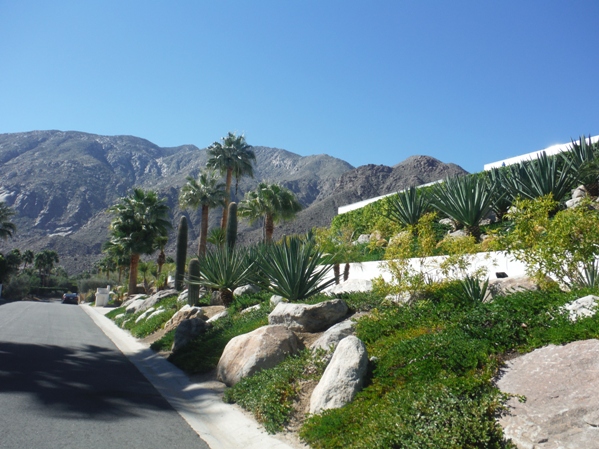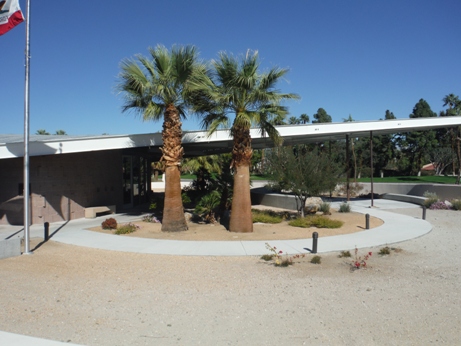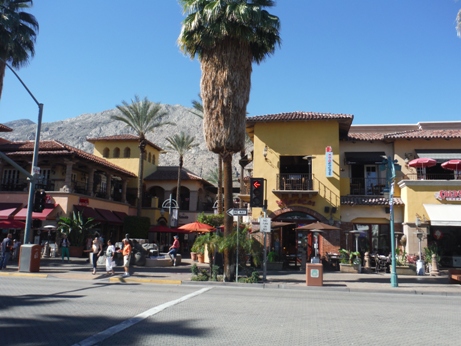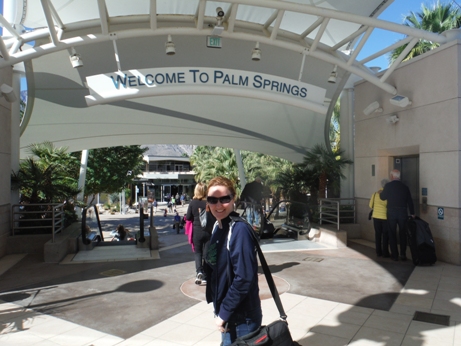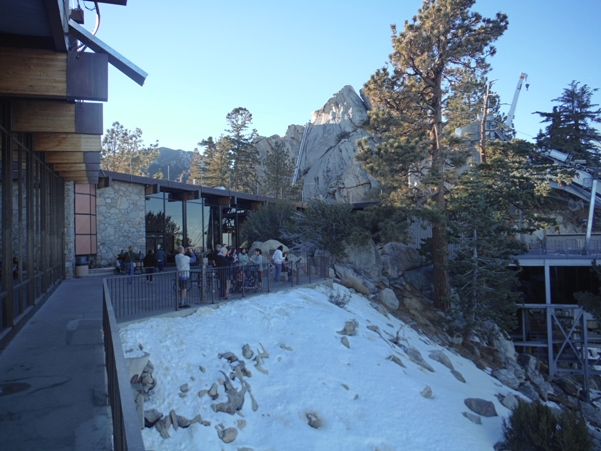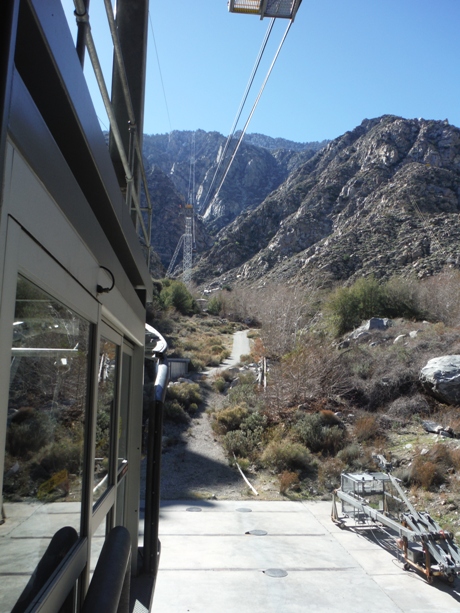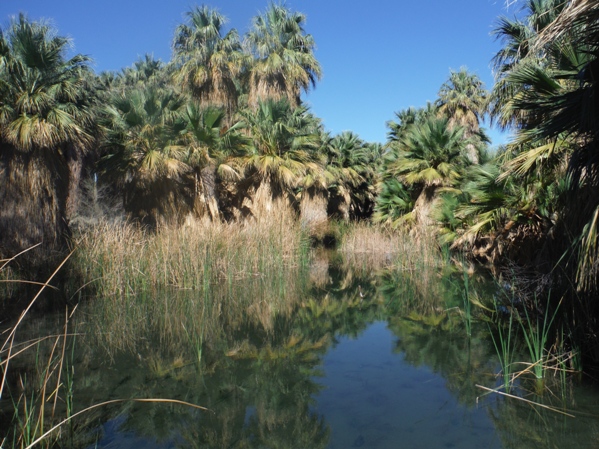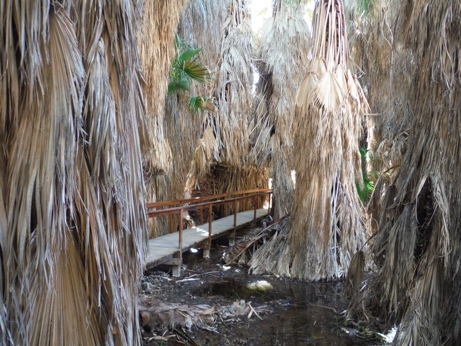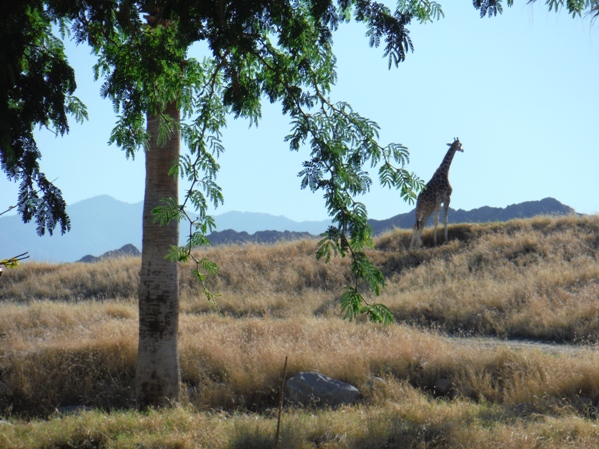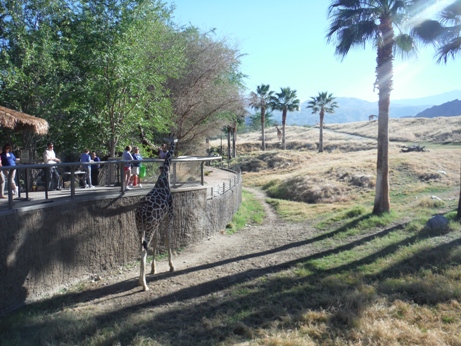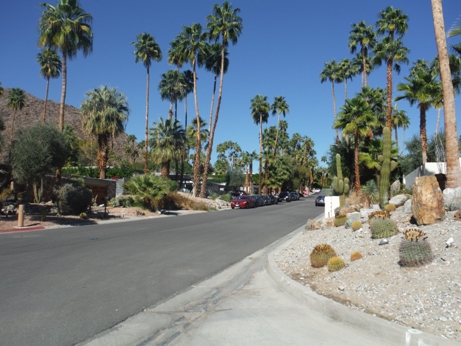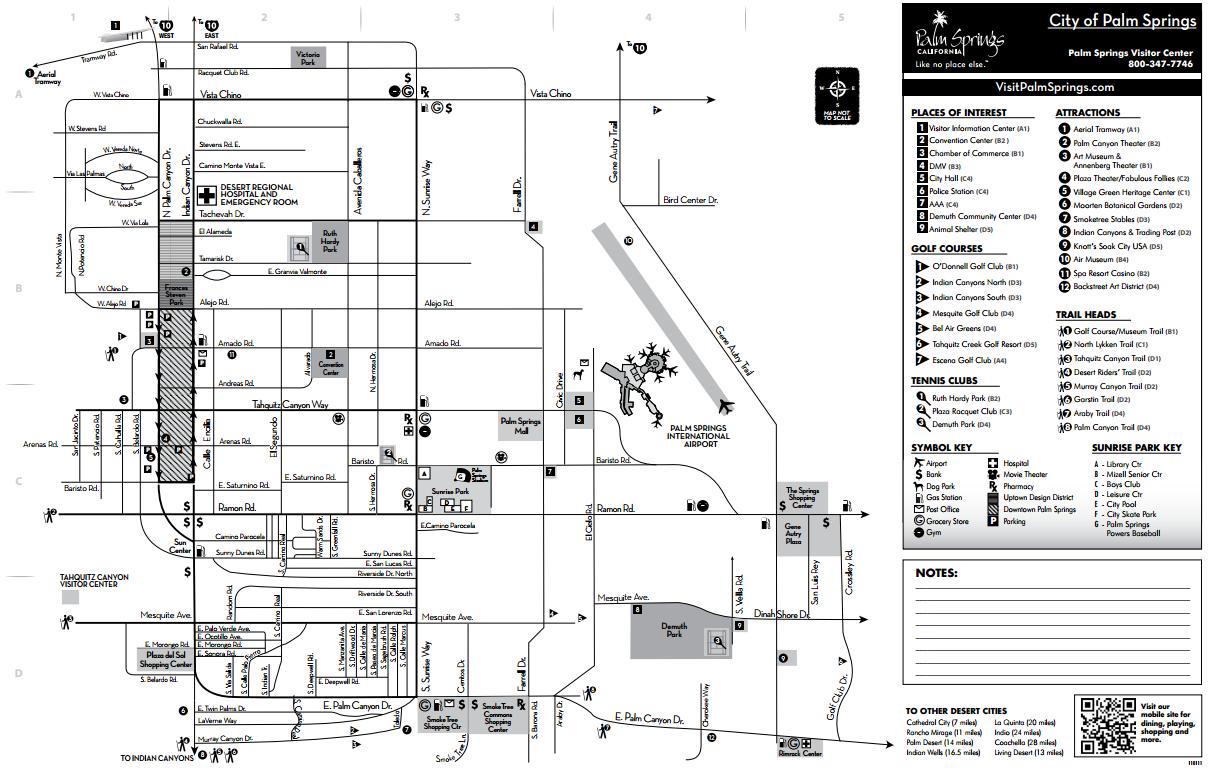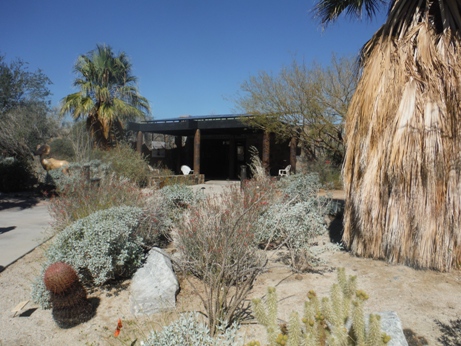 Palm Springs Historical Society Museums on Palm Canyon Drive
Palm Springs Visitors Center and historic Tramway Gas Station
Desert Modern Architecture
Palm Springs Aerial Tram
Thousand Palms Oasis Preserve
Living Desert Zoo & Gardens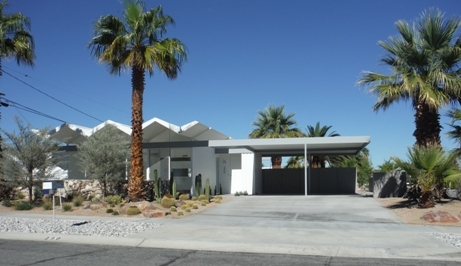 Neighborhoods on the Mid-Century Modern Architecture tour
Palm Canyon Drive
Neighborhoods and the San Jacinto Mountains
Cabot's Pueblo Museum
Santa Rosa and San Jacinto Mountains National Monument
Living Desert Zoo & Gardens
Thousand Palms Oasis Preserve
Palm Springs Aerial Tram Summit Station