Foz do Iguassu Easter Nightmare
You must be flexible to travel, especially when you make your own itinerary. Occasionally I write down the stories of the bad experiences. This one I call the Foz do Iguassu Easter Nightmare. It was the last 24 hours of our 10 day trip in Brazil. It had been a nearly perfect trip but an oversight when booking our hotel from home put our reservation in Puerto Iguassu, Argentina. This was a sister city just over the boarder from Foz do Iguassu, Brazil. But no problem, we were planning on going into Argentina anyway to see the Argentina side of Iguacu Falls. So, from the Brazilian side of the falls, we grabbed a taxi to the boarder at Tancredo Neves Bridge trying to reach Puerto Iguassu, Argentina. We got our passports stamped at a checkpoint so all was looking good. Then we waited in the taxi in a second big line. When we finally arrived at the front, the boarder guard explained we needed a reciprocity fee. (After a few decades of free travel into Argentina by US citizens, they decided to require a reciprocity fee, which is not a visa). Somehow we overlooked that when all travel sites said Visas were not required. We had to turn back to go into town to a nice hotel with internet access. The taxi driver was very helpful with this, even assisting us inside the hotel. Because our traveling company was continuing their vacation to Buenos Aires, they had to get across. But, my wife and I did not need to get into Argentina. There was no way we would be paying $160 each just to see the other side of the waterfalls and then pay for an expensive taxi ride back the next day. We said our goodbyes to our travel companions hoping they would be ok reaching the hotel we already paid for on the Argentina side. We got into a taxi with the help of a hotel clerk who explained to the driver we needed a place to stay somewhere in the downtown area. He took us into the town center of Fos do Iguassu. The driver would jump out, run inside a hotel, then come out and say in Portuguese Ēall fullĒ I think. His dispatch even told us in broken English over the driverís cell phone that because of holiday they were all booked. It was Easter Weekend and everyone had 4 days off. It was late at night but the town was packed full as if it was mid-day. The taxi took us to 5 more hotels before we asked to get out. He still wanted to keep taking us to more hotels, likely because he wanted some sort of commission split for taking us there. We asked to pay and go out on our own. The driver was a bit surprised but didnít argue. So off we went thinking we would be better on our own. We went in every hotel, motel and hostel but all was full. A total of 12 more we tried this way. At least one just didnít like the looks of us and said full. Just before we gave up, we were found by a hotel broker. This is a guy with a hand full of hotel brochures and says he has a room available. He took us to the first hotel 3 blocks away. Full. Then another, just 3 blocks he says. We get there and full. This goes on for 5 hotels/hostels, all full. The guy was missing screws too, yelling to people around the town. He kept asking us how many nights, anything to keep our attention and not leave him. He walked super fast, constantly telling us to keep up, of course we couldnít really understand what he was saying, we donít speak Spanish or Porchegese. Finally we gave up on him and said no more. I gave him a few dollars and said no more again and again. He still followed us for a bit but soon gave up calling us from a distance. We realized it was hopeless. The Easter Holiday had booked every room in town. We would be spending the night in the airport, a terrible thought considering our flight didnít leave until 6 pm the following day. We were tired of walking and the stress was most unpleasant, having a huge knot in your stomach. The best strategy was to stay in town for a few more hours, get some food before heading to the airport, if it was even open at night. We found a nice cafeteria style restaurant and ate there. After eating, we took a picture in front of the establishment to remember this horrible memory that was really just beginning. Now we are not wimps but the next 18 hours was going to be miserable. The airport was small, just a few flights now and then. It was likely closed. Spending the night outside an airport would be uncomfortable with the bugs and the humidity. Then, the next day we would be exhausted, trying to kill time until our flight left at 6 pm. Then, flying home for 26 hours being all sticky from our sweat and smelling of our insect repellent was not cool at all. So, next to the restaurant was the largest and most expensive hotel in the downtown area. We came here to find a taxi, knowing they were parked out front. We knew the hotel was full of tourists and it looked quite busy. Still, we thought we should at least ask to see if a room was available. This time I left my wife and backpack outside. I strutted inside looking as professional as I could even though I canít speak a word of Portuguese. Do you have a room available? The answer was YES! I was so relived but calmly asked how much? 460 real ($230 US dollars). Sounds good, Ill take it! The relief, so much relief. We had a great night watching TV, a morning buffet breakfast, and checking-out as late as possible at noon the following day. We left our bags at the hotel lobby, going to the fancy mall across town, eating ice cream, spending our leftover Brazilian money, even watching a movie in the theatre in English. Thatís how we ended our vacation, not suffering at the airport.
WillhiteWeb.com - Miscellaneous Stuff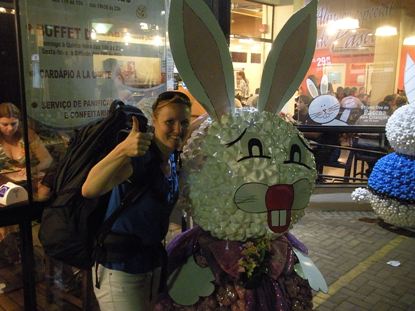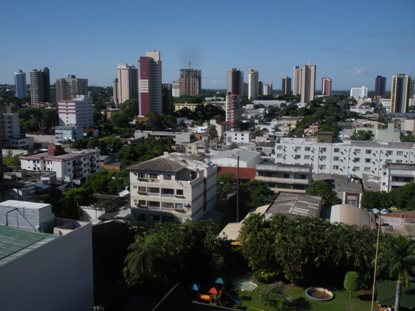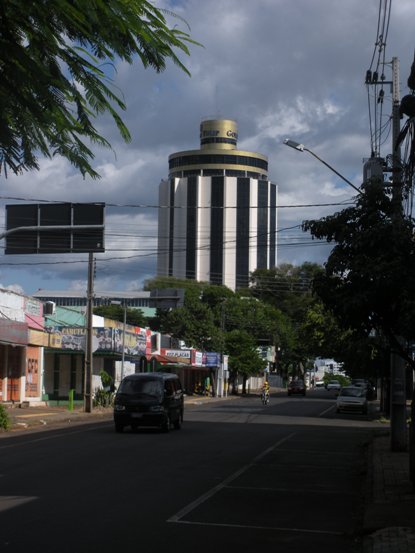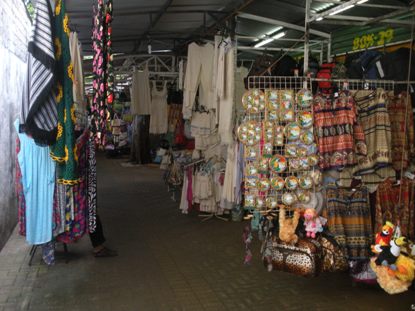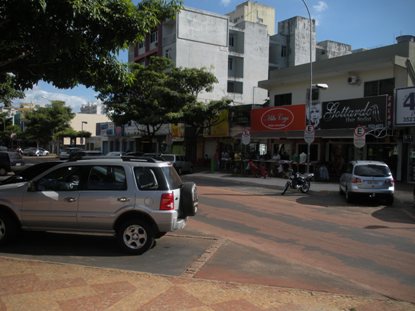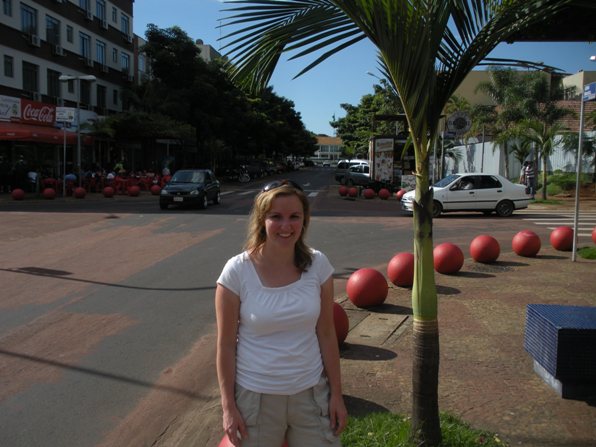 Outside the food establishment just before we found a room. The Easter bunny was symbolic to help remember the experience was due to the Easter holiday.
The hotel with a room
Foz do Iguassu
Foz do Iguassu
Foz do Iguassu
Foz do Iguassu from our hotel window