Preston - Snoqualmie Trail
The Preston-Snoqualmie Trail is one of the first rail-to-trails built in the cascade foothills. This paved trail follows a historic railway that was carved out of the steep hillsides from North Bend down to Issaquah. Because this trail has limited connections with other main biking trails, you will encounter much fewer people on this trail.
WillhiteWeb.com - Washington Biking
Distance - 5.5 miles paved
Access:
The west access is in the town of Preston, just east of Preston Park. You can park in Preston Park or a parking area one street east of the entrance to the park. Although this is the traditional start, the trail does go further back to the west behind the industrial area of Preston for about a mile. The east trailhead is called the Lake Alice Trailhead and is shown on the map.
Route:
From Preston Park, follow the trail east as it passes a few homes in town. Soon the trail is deep in the forest as it takes a gradual downhill grade. At two miles, the trail must cross the Raging River Valley. There was once a high bridge during the logging days but it is long gone. The trail must drop steeply down to the river, and then climb back up the other side to reach the gentle grade. The crossing of the Preston-Fall City Road is well marked for oncoming traffic but is still quite dangerous. Once across, the trail is safely protected along the highway but must do some meandering to get across the Raging River. The trail requires dismounting to climb back up to the railroad grade as it is gravel and is a series of short switchbacks. Back on top, the trail is pavement again and simple enough to the Lake Alice Trailhead, 3.7 miles from Preston Park. Now is a final 1.8 miles to the Snoqualmie Falls Overlook, where the trail dead-ends. Getting there is simple. This segment is in many hiking books so there are walkers. Dirt trails also drop in from Snoqualmie Ridge development high above which bring hikers as well. The overlook is overgrown. Distant Alder trees are completely blocking most of the view and will finish the job shortly. Winter when the leaves are gone would be the best chance for any view. Nearly all other views throughout the route are overgrown as well, but the up close forest is nice.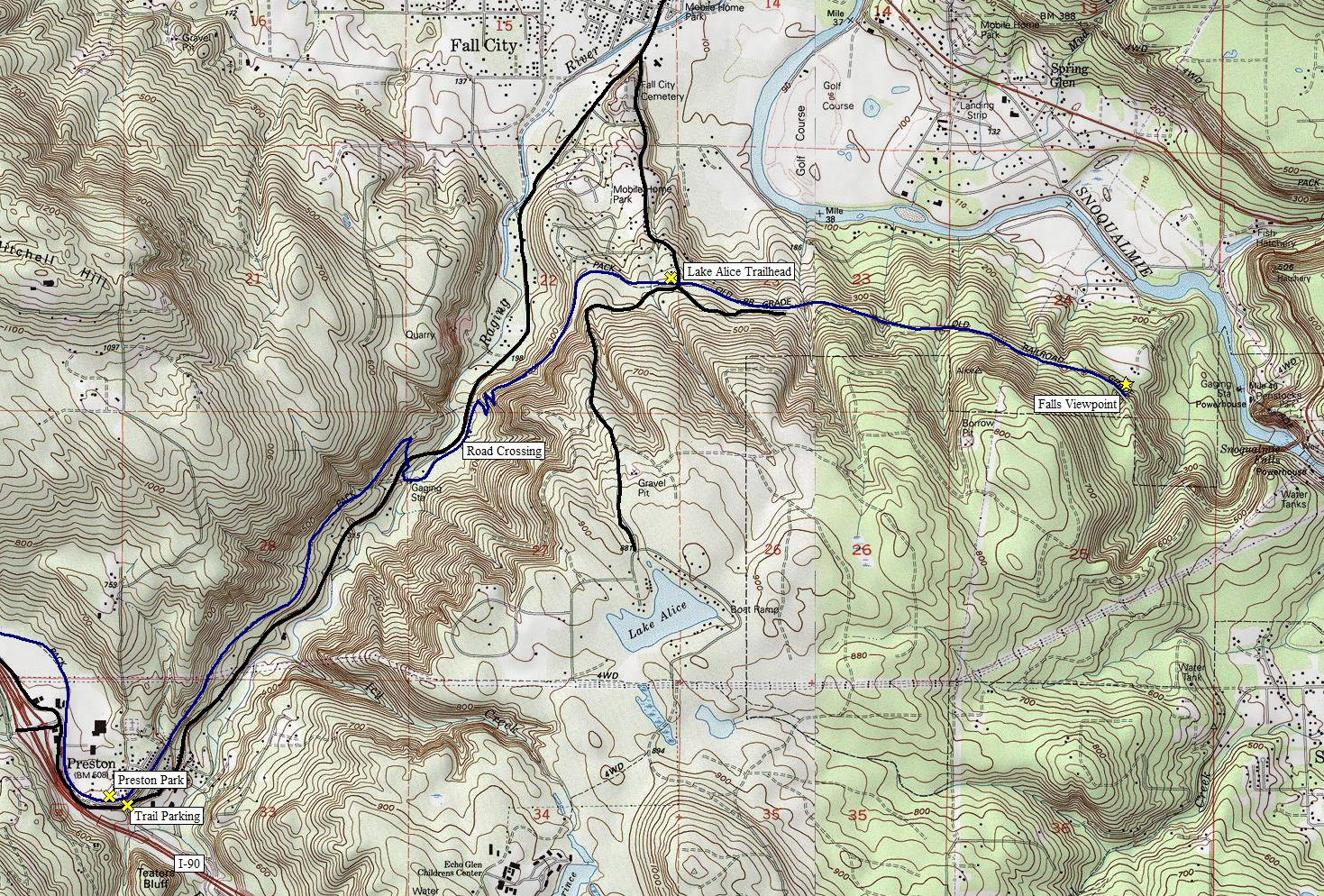 Below: trail is blue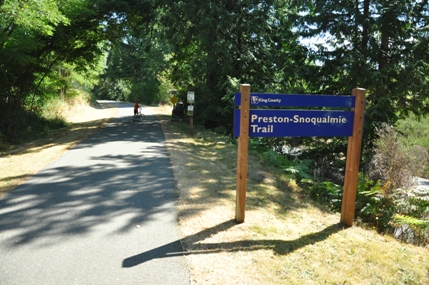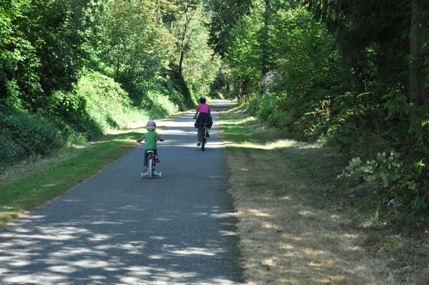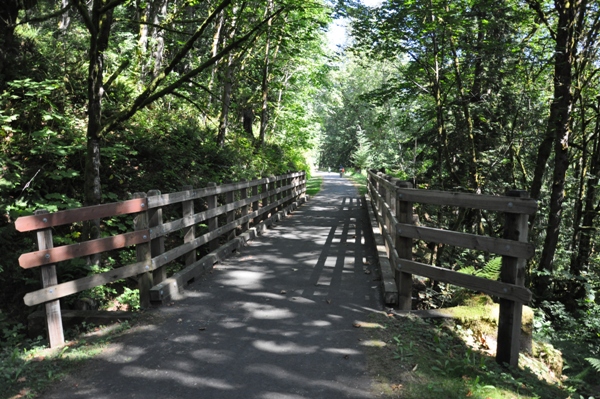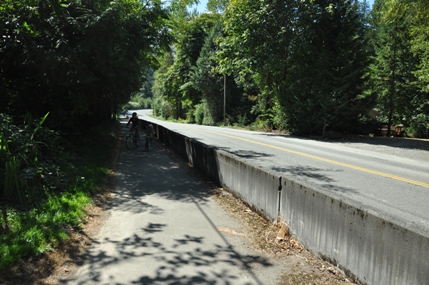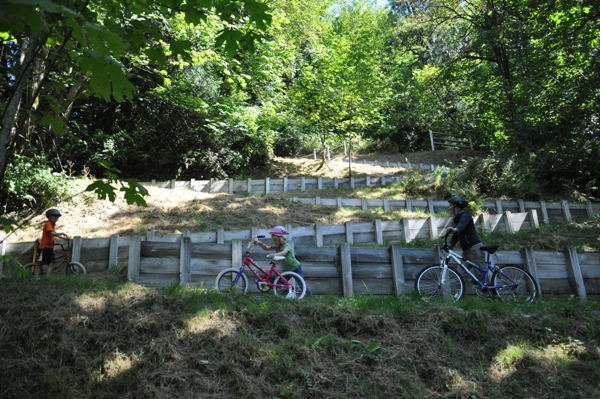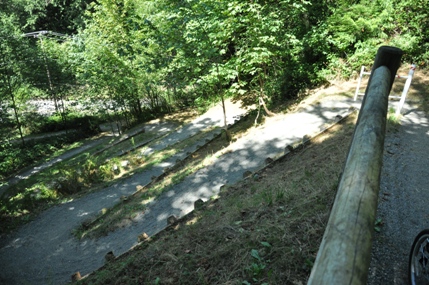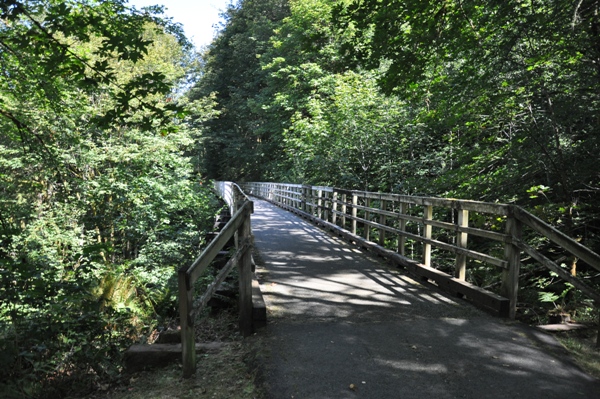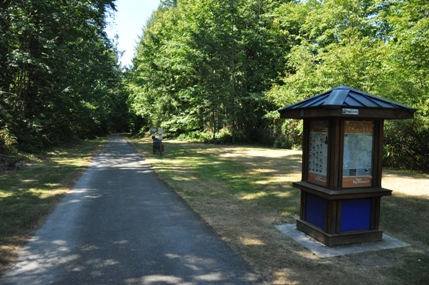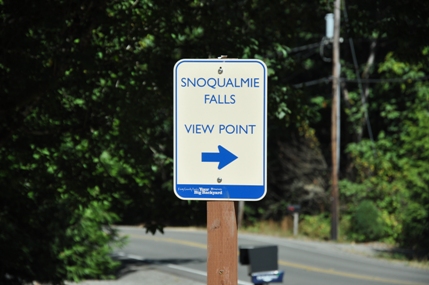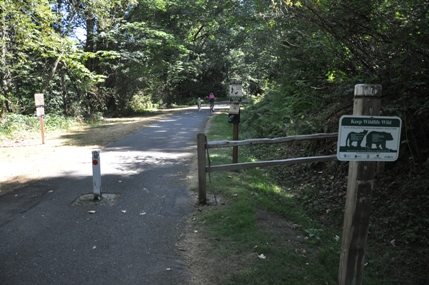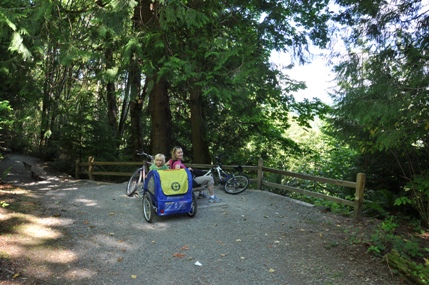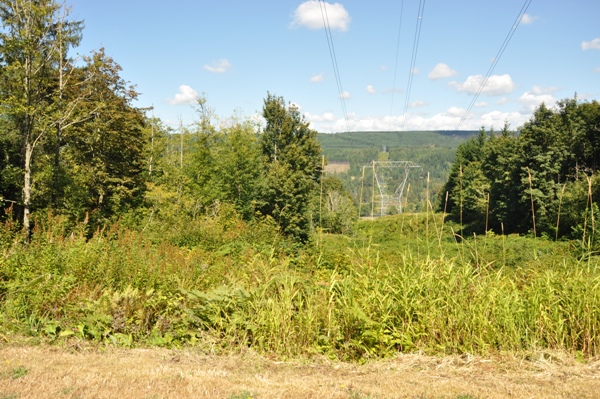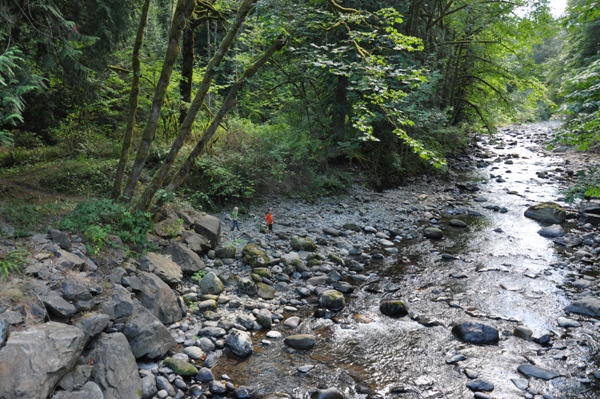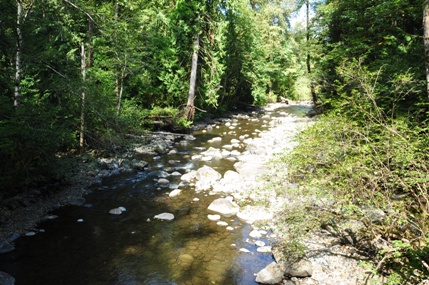 Trail section along the Preston-Fall City Road
Climbing out of the Raging River
Looking down the switchbacks
Lake Alice Trailhead
Sign at the Lake Alice Trailhead
View to the falls
Only view not overgrown because of the powerlines
Snoqualmie Falls Viewpoint
Crossing the Raging River looking north
Crossing the Raging River looking south