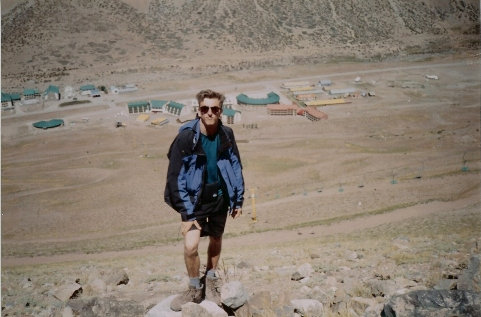 Argentina
www.WillhiteWeb.com: Hiking, Climbing and Travel
Today we awoke to a 9 a.m. breakfast. It was much lighter than the last lunch and dinner but still cooked in a pool of grease. After breakfast we packed and waited for our 11 a.m. shuttle transfer to Mendoza. It was part of the arrangement the keewees had. The shuttle was theirs. We got on with them at no charge. When the bus arrived well over an hour late the driver wouldnít allow the keewees water buckets on top. The hotel and driver fought but we wouldnít budge. The hotel lady offered to pay 50 of the $100 extra charge but we didnít want to encourage the shuttle driver. So, the hotel lady got another shuttle to come at 4 and she gave us a free lunch. The hotel was in charge of the transfer so they were responsible. I guess the keewees had 3 barrels before and the driver just threw them on top with the same van service. Before our free lunch we walked over to the ski lift which was running tourists up the mountain. We decided this was a good time killer so we paid $5 and went. The top had good views but nothing special. Soon we were eating lunch. Afterward we waited in the lounge area until our shuttle arrived. It arrived late, of course, but everything went well with the gear on top. The driver was terrible; he went really slowly but some corners he took too fast. The whole way to Mendoza had military and police stops. They were more like slow downs and the driver waiving while pulling his seat belt down for each one. He never clipped his seatbelt in but just brought it down. He must have done it 20 times. Everyone in the car was making fun of his driving. Luckily he couldnít understand what we were saying. With a lot of luck we arrived in Mendoza. At the hotel we said goodbye to Ahlah. He was R.J. Secors friend who we allowed on the bus with us. He was a veteran of many big expeditions. Our hotel is in the downtown area. The rooms we have are incredible. Itís one giant living area with kitchen and TV. Then there are 2 bathrooms and 4 rooms. There are 8 beds all together. We have all kinds of space. We each paid $30. Tomorrow night, we each only pay $21. Such a bargain for a hotel room that seems like a penthouse. This evening we went out for dinner, walking around Mendoza until finding a place. The place is full of lights and people everywhere, a high energy atmosphere. There are thousands of little shops selling all kinds of crap. We ate at a place with tables and chairs outside. Itís about 80 degrees in the evenings, nice enough to wear shorts. Dinner took awhile but thatís the way it is here. After the meal we headed back to the hotel, watching a street painter on the way. In the hotel everyone is watching a Jazz game and Friends. Called home today, that was nice. Itís around 1 a.m. I think Iíll retire for the night.

Today was a real tourist day. We started with breakfast then went out to make some plans. We went to the tourism office but they didnít help much. We found a travel agent and bought tickets to Buenos Aires, leaving tomorrow morning. Bob and I also bought tickets from Buenos Ares to Santiago. Then we were off to hunt for T shirts. I bought an Aconcagua shirt and put it on in the store because I had been wearing the same shirt for days. Also bought socks! By lunch we went into a really cool market selling everything from whole pigs to fruits. We bought a whole bunch of stuff for lunch. About this time they were shutting down for siesta. We took our stash to the hotel room, ate, got fat, and took a siesta. I awoke around 6 p.m. to Colleen watching Seinfield, an episode I really liked. Everyone returned from shopping and we all took off again to be tourists and sightsee. We found another outdoor restaurant and had a meal with salad and ice cream. Went home to pack and prep for tomorrow.

Today we got up early to eat breakfast provided by the hotel then caught the mini bus. It arrived on time and we were off to the airport. The Mendoza airport is quite small. We hung out for about an hour and soon we were loading the plane. We arrived in Buenos Aires in 90 minutes with a temperature outside of 90 degrees! At the airport we found a service to take us and our gear to a hotel for $5 a person. We loaded the trunks of two cars, packing them full. These were nice cars and they knew how to drive them. The city driving seemed like total anarchy. Why there were lanes in the street were a mystery to me, everyone was driving like madmen. I was trying to figure out the rules; pedestrians have no right of way. Honk, move or die. The drivers of our two cars were racing each other. We were sad when we all reached the hotel because we were having so much fun. The city reminded me of New York, same amount of people, smells and noises. Our hotel rooms were nice, both with a balcony with a view over the street, great for people watching. Itís unbelievable that we only paid $11 per person. After we were settled in we went on a walkabout. First we went over to the capitol building then toward the Ocean. It was an adventure every step. At half the road crossings you take your life and put it at the mercy of the drivers here. We ate at a deli spending a total of 6 hours sightseeing. We took a big break and nap before we headed out for a late dinner. We found a nice place and ordered 2 pizzas. The first was ok, sort of a salad pizza but the second was disgusting. The pizza had whole fish on it and it stunk. It tasted worse than it looked and I decided to eat simpler and cheaper foods for the rest of the trip.

Today I awoke late and skipped breakfast. We started the day visiting Florida Street, a busy pedestrian only shopping street, followed by a visit to the tourism office. We wanted to go to Uruguay, so they sent us to the boat service who ferries over there. We first had to take a taxi to the Uruguay Embassy to see if we needed Visas. Once again, driving on the roads was a source of entertainment itself. The embassy said the keewees needed one but it couldnít be ready until Monday. So much for Uruguay. Since we were now on the other end of town, we decided to explore. This part of town was less noisy and nicer. After lunch and more exploring we took a taxi back to Florida Street. I bought a t-shirt, hat pin, and a bumper sticker. We also stopped at a real grocery store on our way home for siesta. After our sleep, we went across the street for a steak burger. After dinner, Boyd and I went to the movies and saw Titanic. There were Spanish captions at the bottom but you hardly noticed them. Good movie but what is all the rave about, mostly a chick flick. We got back to the hotel around 1 a.m.

Today was a relaxing tour of Buenos Aires. We left around 10 to go to the flee market weíd been hearing things about. When we got there nothing was happening, maybe because it was Sunday. A bit later we found another flee market but it was just getting started. We continued our journey (north) until we hit a very large soccer stadium. Bob and Rob tried to buy tickets but chickened out when it looked dangerous in line. They bought some hats instead. Soon we arrived at the waterfront where we found a large tourist area. We were in the oldest part of town and they had some of it decked out. We went down one street recommended by somebody and it was a ghetto. We just kept movingÖ.although I still felt safe everywhere we went. We split up and I spent a few hours walking back with Boyd to our hotel for a siesta. We went back out that evening looking for theaters but couldnít find any. Walking around at midnight you would think itís only 9 or 10 p.m with all the people out.

Today our group tried to get Boyd and me up early to see Evitaís grave site but we passed on that. Good thing we did because we awoke to a bunch of commotion over at the capitol building. We went over to find a giant political rally for the President of Argentina who was up for re-election. There was about a quarter mile of guards (military) on horseback, with hundreds of people with banners and signs. Cops, military and other official looking people were everywhere. Then the president drove by in the middle of the procession as well as a military band on horseback. The drums were echoing off all the buildings. Then the crowds all crowded around the capitol building where we heard what seemed to be a taped speech. The president was standing there but I donít think he actually spoke. All the supporters had shirts and hats with his name on it. The police were blocking all the supporters in the area so it was a bit tricky getting out of there. There were now opposition party protesters walking outside the barricades. A few people were even shooting fireworks out of the crowd. These things shot up and blew up like and M-80! Eventually Boyd and I left and went to the flee market to meet up with everyone else. The market today had a bunch of stuff but all things I would never use. After we ate lunch in a park, we were all out of ideas of what we should do the rest of the day. I ended up going to the theaters to see Air force One, returning after to the hotel after to find everyone asleep. After we all awoke, we went to have our final meal in Buenos Aires. We had a very nice restaurant picked out for this occasion. The front window was a big fire with all kinds of animals cooking over it. We were the first ones in at 7:30 and didnít leave until 10:30 stuffed. It was mostly a buffet except you ordered the meat separately. The first round was ribs. Then pig, then lamb, chicken, steak, I forget after that. I stopped long before the others. The employees couldnít believe the amount of food we were eating. The best part about this joint is how they cut the meat. The guy in charge of meat would take the side of the animal off the cooking fire to the middle of the restaurant where he would run it under a ban saw. The sound Errraaaa, then slap that tender, juicy meat onto your plate. This all you can eat experience only cost was $18 a person. When I left, the others were still ordering ďfrom the grillĒ, the animals under the fire was ďfrom the barbecueĒ. That night, we went to a downtown party. There were thousands of people in the street watching some sort of beauty contest. Everyone had spray cans that shot foam strings or shaving cream, Iím not sure. Everyone on the street is just shooting each other and I just got covered in the stuff. People are out parting until 2 a.m. here on a work night, crazy!

Our day to go home, we said good buys to the keewees and took a taxi to the airport. A few flights and a lot of layover time; we finally arrived home. That was 26 crazy days of good memories.
View from our Balcony
Walking Florida Street
Mendoza Airport
Mendoza streets
View from Ski Lifts
Looking down to our hotel from Ski Lifts
Bob climbing on the hotel walls
Political Rally at the Capitol Building
This street has 14 lanes
Political Rally at the Capitol Building
Around town
Pink Palace (Casa Rosa)
Boyd shooting some foam
Bob and the taxi race to hotel
Journal continues:
We passed Point Del Inca where we started our Aconcagua climb to a small ski village called Los Penitentes. We went into one of the lodges and found our gear the mules had brought down. We got our room and we took showers. Then we ate lunch at the restraint in our lodge. It had some strange stuff but the main dish was steak. It was good. Itís also #2 of the 4 I plan on. After dinner I packed everything into 1 duffle and my carry bag. I found my comb and borrowed a razor. Now I sit in a lobby waiting room in some chairs with Bob, Boyd and Colleen. The rest of the day will be sitting, waiting for dinner, then bed and a mattress! Tomorrow we are off to Mendoza! There will be steak #3 and the festival. Itís now 11 at night. Forget the steak; Iím so full I might puke. After the big steak lunch today we just sat and waited for dinner. Two other groups of climbers arrived. By dinner we thought we were hungry but when the main course hit we were stuffed. Rob and Colleen only ate half. Boyd, Bob and I slowly ate all ours. It was this steak fried with something on top that was just pure fat. All we talked about was the cholesterol we had today. My stomach hurts so badly, the pain. Iíve eaten more today than several days combined on the mountain. Then to top of the evening we ordered a pitcher of water because the pops werenít enough. After everyone had drunk many glasses, Rob found a larva swimming in his glass. We all may be sick, who knows. Now Iím on my bed ready to sleep this pain away.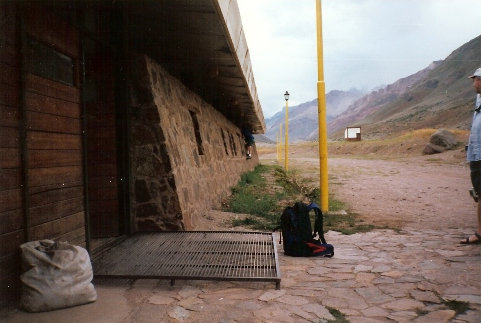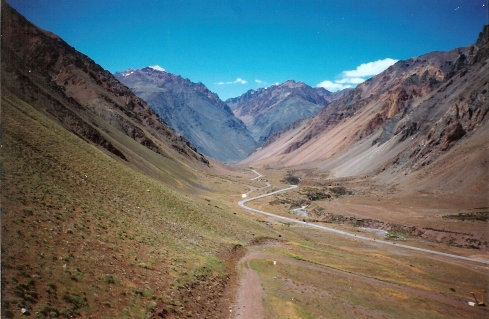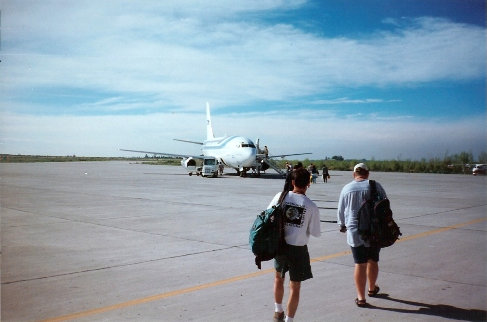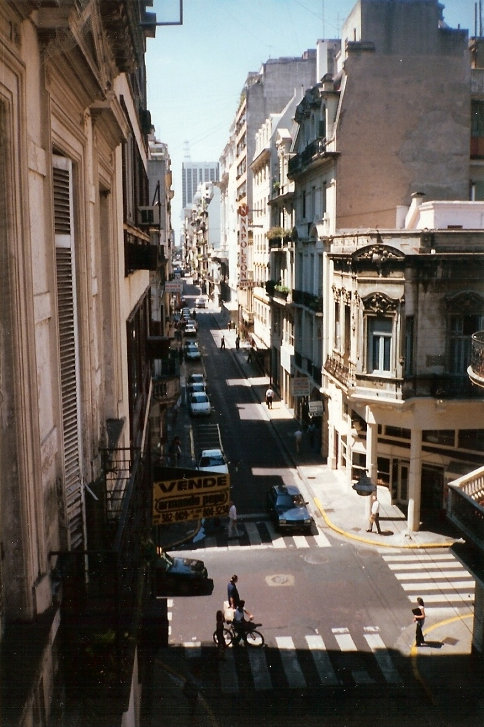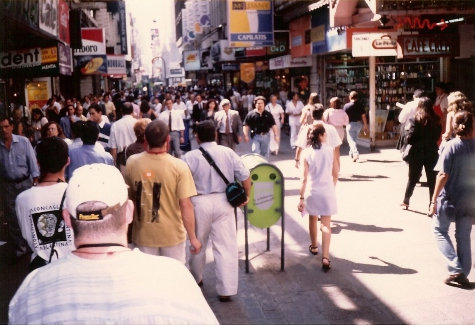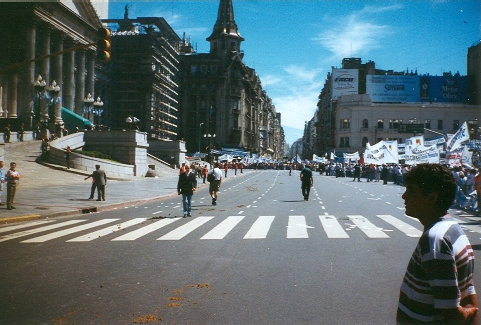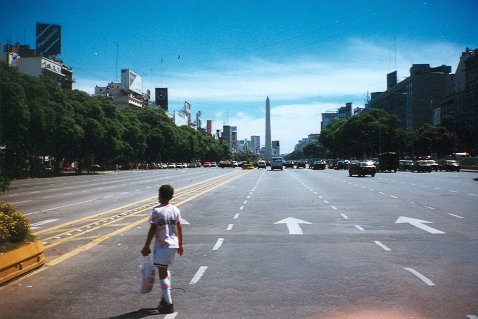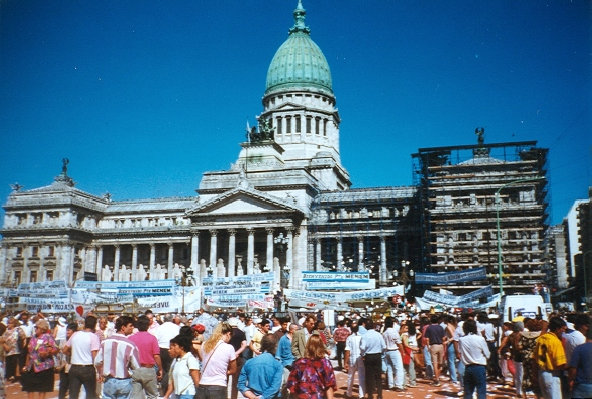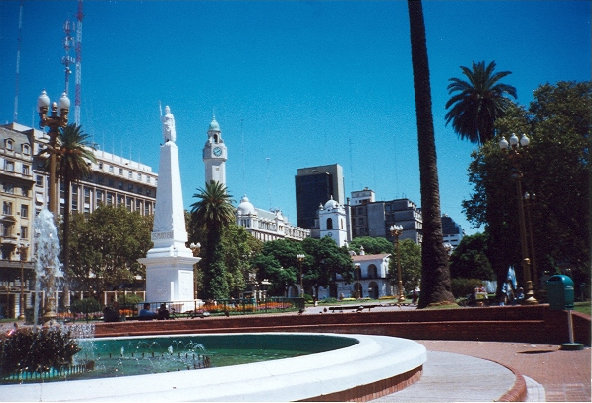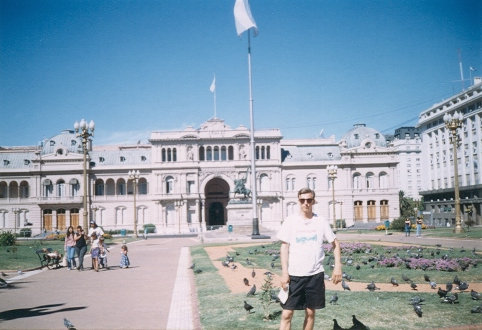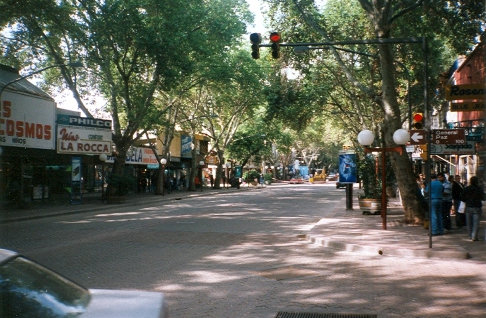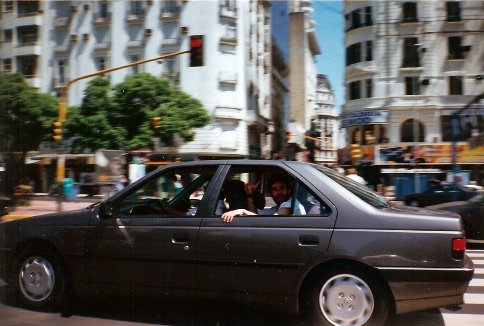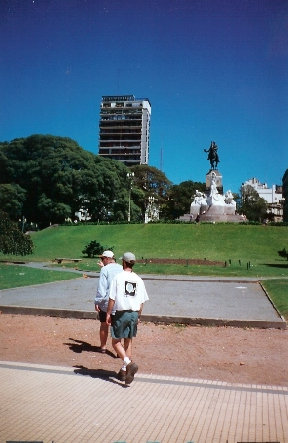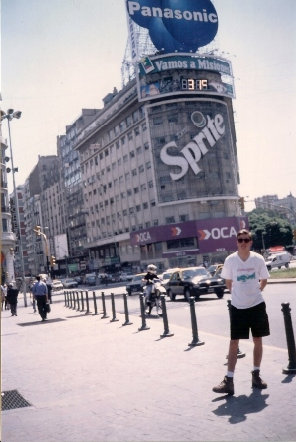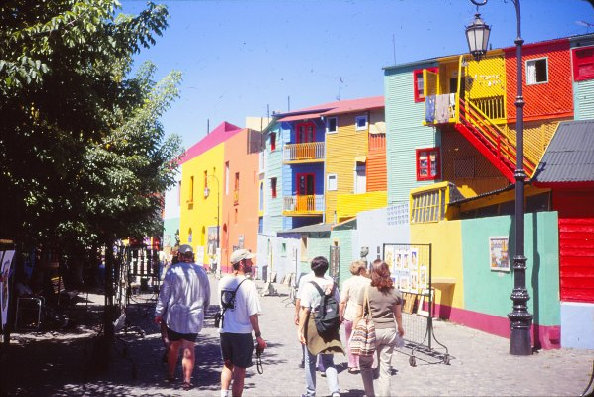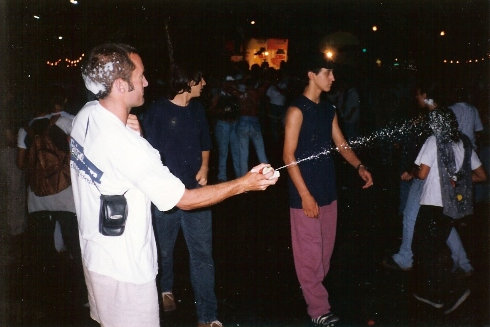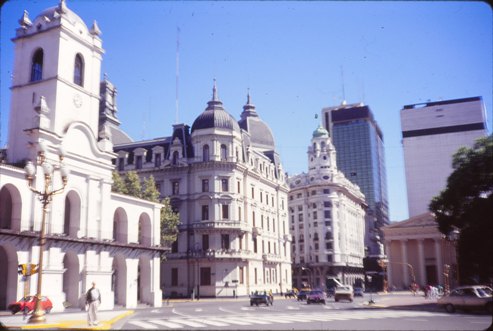 Views around town
Much warmer than Aconcagua, 31 celsius (88 degrees)
La Boca Multi-Colored Houses
Plaza de la Republica