www.willhiteweb.com - Hiking, Climbing and Travel
Juneau, Alaska
In 1880, gold was found in Snow Slide Gulch. The town of Juneau was soon born on the beach below. Prospectors mined more miles of tunnels then there are currently roads in all of Juneau. Today Juneau is the state capital with tourism as the largest private sector employer. The biggest is state government employees. No roads or rails access Juneau, air and boat is your only way in.
Hiking Trails
Mount Roberts Aerial Tram
Alaska State Museum
Mendenhall Lake & Glacier
Town Tour
Macaulay Salmon Hatchery
Tours
Shooting into the sky at the edge of town is the Mount Roberts Tram going up 1800 feet. The tram doesn't go to the top but it does reach a nice vista high enough to give a stunning view of the region and of Juneau. At the top, hiking trails continue higher making this the logical choice for quick views. You can continue up climbing Gastineau Peak and Mt. Juneau.
One of Alaska's biggest; this natural history museum has an extensive collection of Alaska's Native history, culture and artifacts.
Just 20 minutes from town, the Mendenhall Glacier is a great visit. There are views right from the bus stop. For better views, you can hike to 20 minutes to Nugget Falls or even 2.5 miles to the glacier itself. There is also a visitor's center with interactive exhibits and films. Near the trailhead are also a few viewing areas over Steep Creek where you can view salmon.
Take a tour or walk the town yourself, the old town is easy to walk around to see sights like the state capitol building, governor's house and historic shops.
Spawning salmon swim up a 450-foot fish ladder from mid-June to October. You can watch from a viewing deck and learn about how the hatchery operates and learn about the salmon's lifecycle from guides.
Whale Watching - Look for humpback and killer whales, sea lions, seals and eagles while naturalists explain habitat.
Glacier Flightseeing – Nearby is the immense Juneau Icefield with spectacular icefalls and rock formations. Most tours will also land on a glacier so you can get out for photos.
Dog Sledding – Try Alaska's state sport and meet professional mushers. You can fly to a glacier to try it out on snow or visit the summertime training grounds and ride on a wheeled sled.
Juneau has 262 miles of trails. There are only 41 miles of road!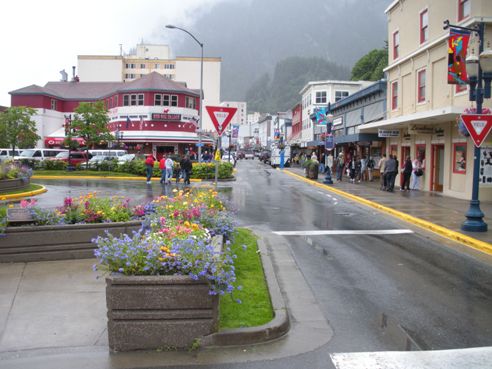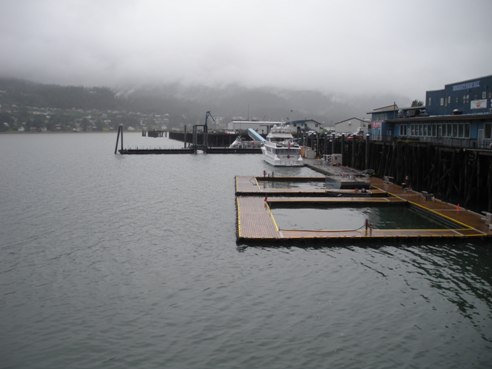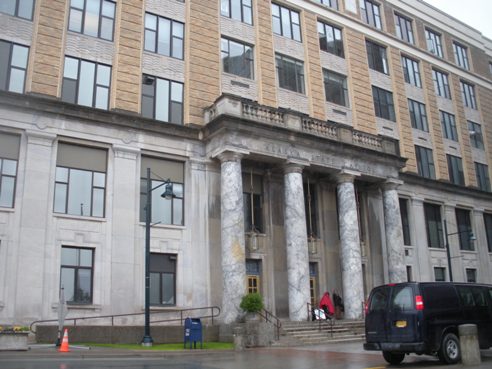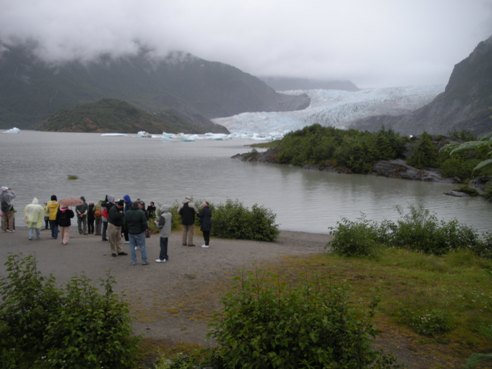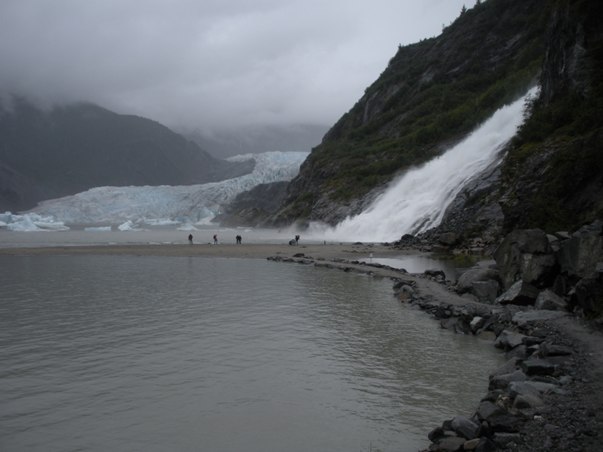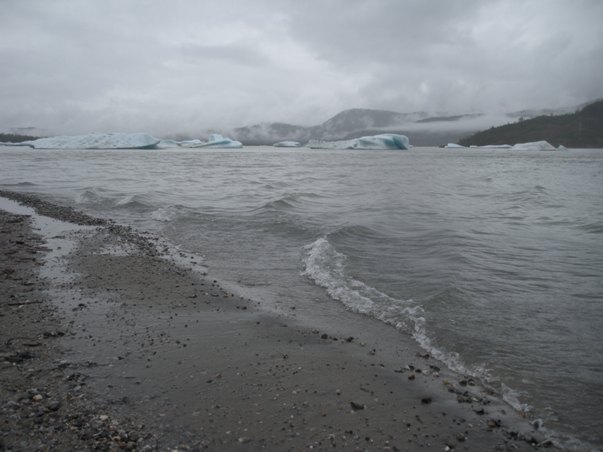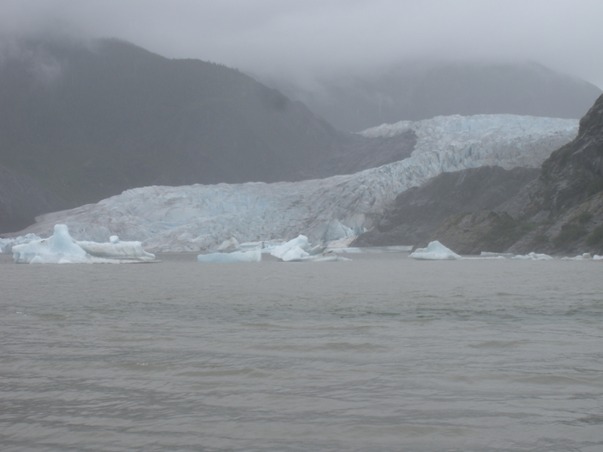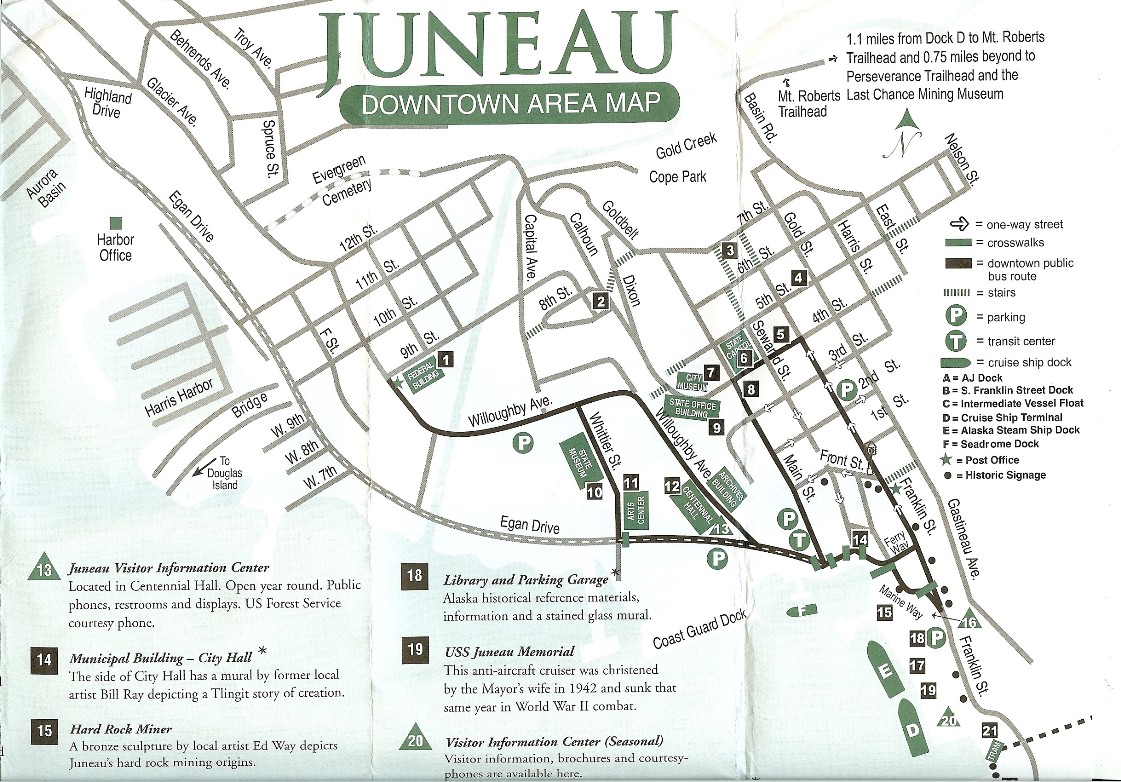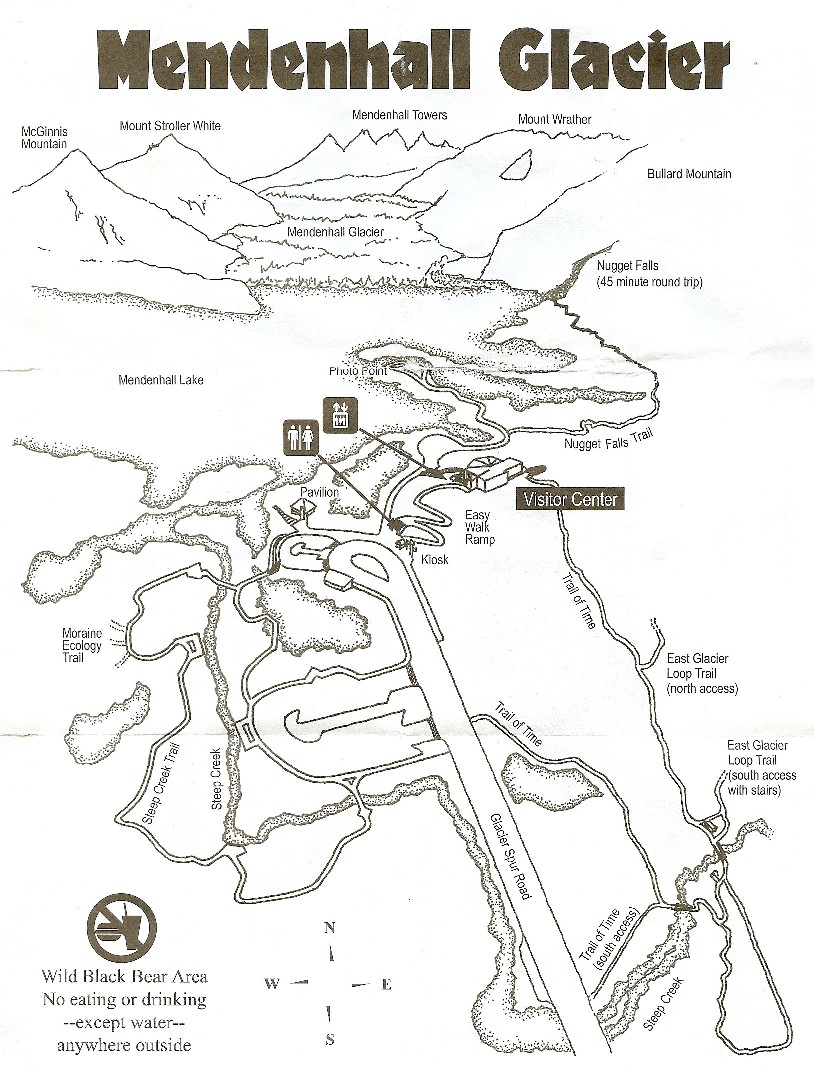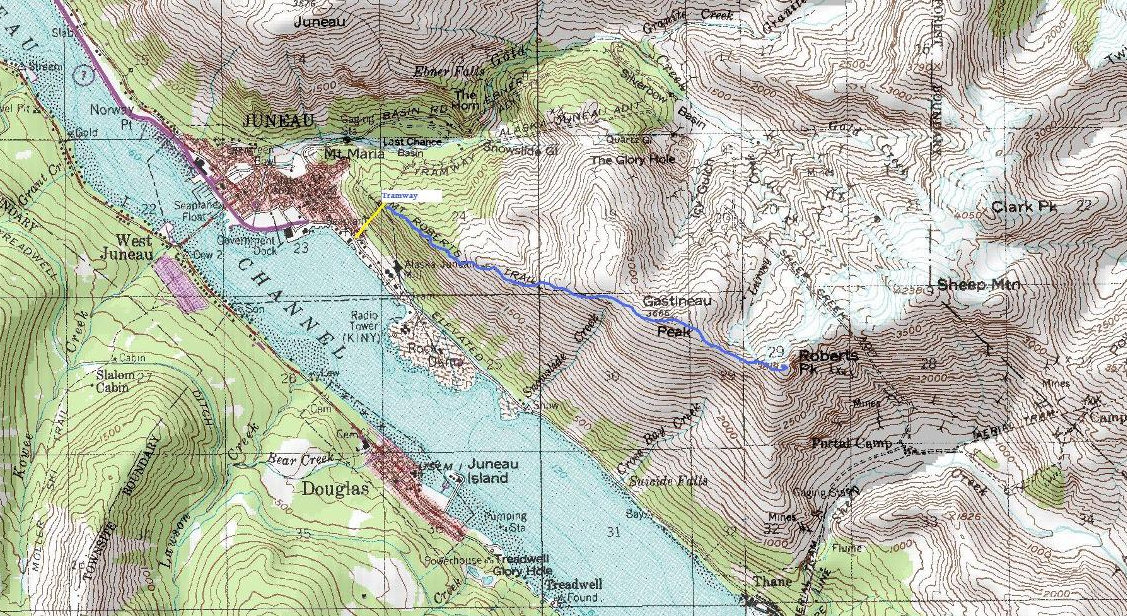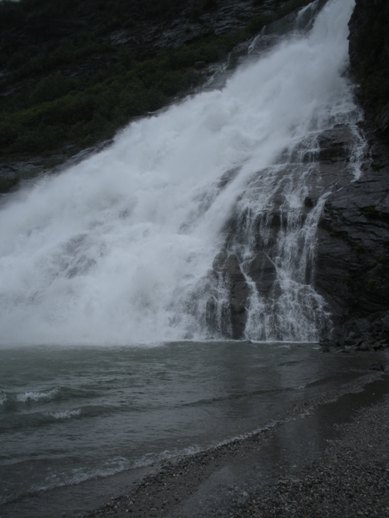 Downtown Juneau
Boat docks
Alaska state capital building
Public stairs between streets
Mendenhall Lake
Nugget Falls and the Mendenhall Glacier
Mendenhall Glacier
Mendenhall Glacier from the first viewpoint
Nugget Falls
Topo map of the Juneau area with trail shown from tram to Roberts Peak