Signal Peak Lookout
WillhiteWeb.com
Elevation: 5,100 feet
Distance: Drive-up
Access: Restricted. Access by Yakama Nation Tour only.
Located in the heart of the Yakama Nation forestlands, Signal Peak rises 1,000 feet above the surrounding landscape. The first lookout developed in 1920 was a pole tower with a tent camp. In 1935, a 3-legged, 55 foot wooden tower with 8x8 foot cab was built, including a ground house for living quarters. In 1964, a 68 foot all-steel tower was moved from nearby Panther Creek Lookout to this location and still stands. Surprisingly, there are no guy lines keeping the tower up. The Aermoter tower is accompanied by a comfortable three room cabin complete with indoor plumbing.
December 12, 1940 (Goldendale Sentinel): "Huge timber wolves with tracks as large as those of a cow were reported in the vicinity of Signal Peak last week by two Indian youths stationed at the lookout there. One of the lookouts, Martin Oritz, a June graduate from Witchita, Kansas high school, saw a timber wolf prowling within 300 feet of the station. The two Indian youths, Blair Weeks, and Oritz, will remain at the Signal Peak station until March completely isolated from the outside world except for telephone and radio. The lookouts report twice daily by short wave radio to the Satus pass station. Their reports are on the air between 8:00 and 8:10 a.m. and between 6:30 and 6:40 p.m. Their call letter is KPGI."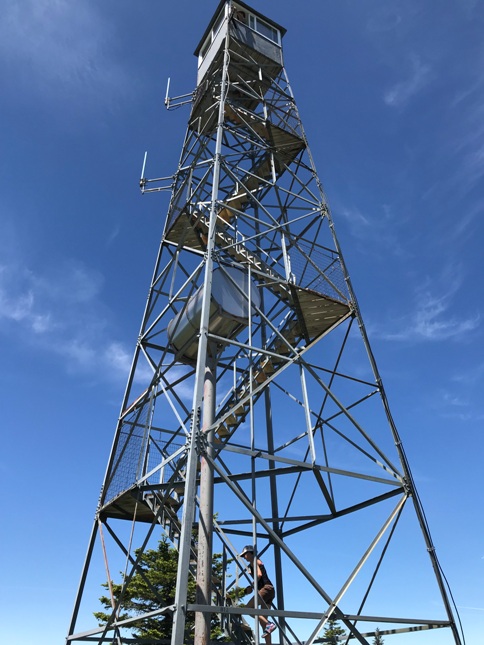 Mount Adams
Signal Peak Lookout
Signal Peak Lookout
Signal Peak Heliport building (sign said constructed in 1962)
Looking SE
Benchmark and area of 2nd lookout
Status Peak in distance
Year 2009
1938 3-legged, 55 foot wooden tower with 8x8 foot cab
1960
Notice the 1920s tower matches the 1935 pano below
Lookout tour 2019
Looking at the historic photos
Benchmark
Looking North 1935
Firefinder stand
Looking SE with the 1920 tower still standing
Below: Looking SW with Mt. Adams in distance
The Goat Rocks and Mt. Rainier in distance
Looking North from Signal Peak Lookout
Looking South to Mt. Hood
Looking West to Mt. Adams and the Cougar Creek Fire burn