Lake Constance and the Brothers
On Top
Looking south to the Brothers, Mt. Stone and Mt. Washington
Looking east toward Olympus
Upper mountain traverse
Mount Constance
WillhiteWeb.com: Olympic Mountains Hiking & Climbing
Access:
Distance: 5+ miles
Elevation Gain: 7,000+ feet
Summit Elevation: 7,743 feet
Access rating: Any vehicle
The Route: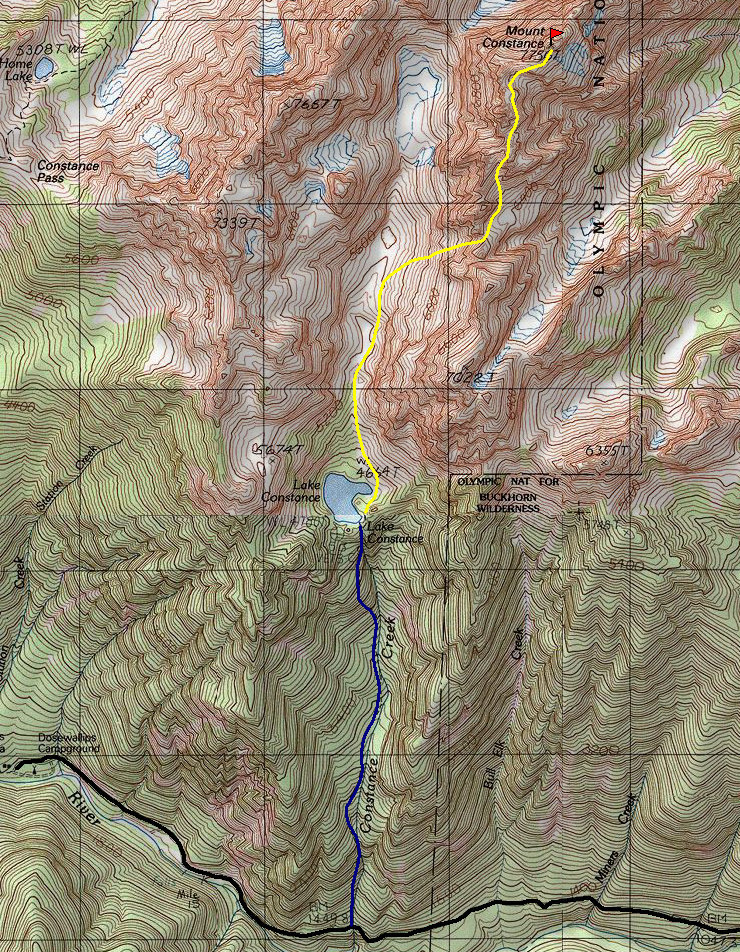 Mt. Constance is the third highest peak in the Olympic Mountains. It is also one of the hardest to climb requiring good route finding and some technical skills. From Seattle, it is the highest peak on the western skyline. For all these reasons, it is a popular climb for peakbaggers. From the summit is an outstanding view, 180 degrees of Olympic Mountains, another 180 degrees of Puget Sound flatlands.
From US 101 in Brinnon, turn on to Road 2610 following it just over 13 miles to Constance Creek. Park here, the trail is on the north side of the road. According to recent accounts, the road is washed out 4 miles short of the park boundary. Call 360-565-3131 for road information. Permits are required to camp in the backcountry here and this is one of the few areas quotas are issued. Check the NPS website for information.
The south chute
Traverse high on the mountain
The Brothers from above Lake Constance
Lake Constance
Lake Constance
Constance from Mt. Townsand
The route starts out to my liking, 3,400 feet of elevation in 2 miles…get-er done! Since I used my hands several times, I'll call this trail class 3. Most climbers camp at Lake Constance, getting a fresh start in the morning. From the camp, the route goes up Avalanche Canyon, then up the South Chute. A large rock called "The Thumb" will tell you to enter the canyon. This is a long climb upward on scree, progressively getting narrower until it ends around 6,600 feet, about a 1,900 foot gain from Lake Constance. Cross the saddle, descend 150 feet, turn left and work up the scree gully to a notch in the ridge. Now you can see the summit. Drop down 80 feet, turn left and start traversing up the ridge. Pass through a gap between the rocks, follow ledges, do the finger traverse or find the way around. Are you lost? Depending on your comfort level and gear, find the best route that works for you. At the summit block, look for a 3rd class chimney around the north side of the summit block. Most of the climbing on the upper mountain is exposed class 3 but some class 4 exists here and there. Bring a rope to be safe.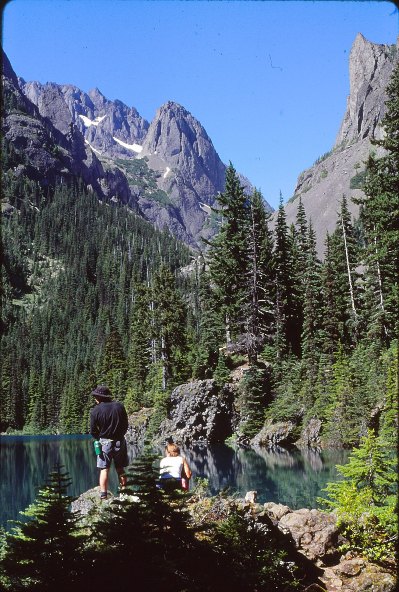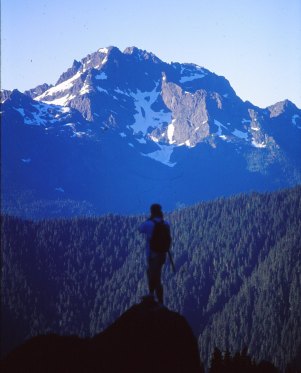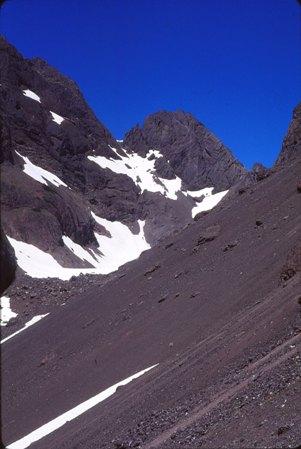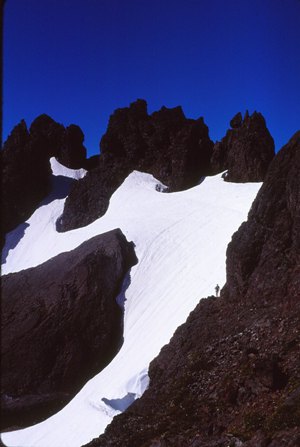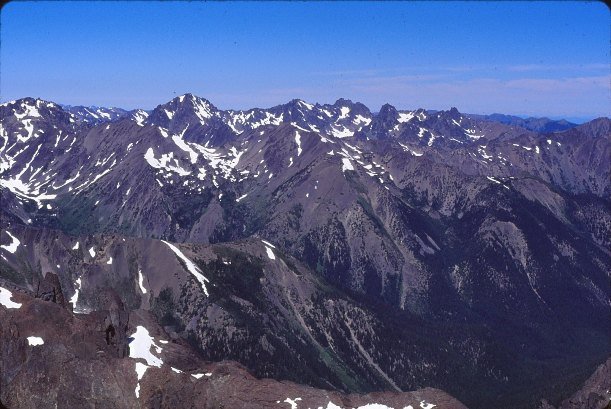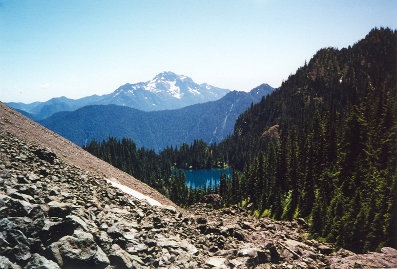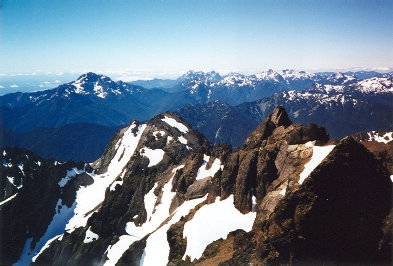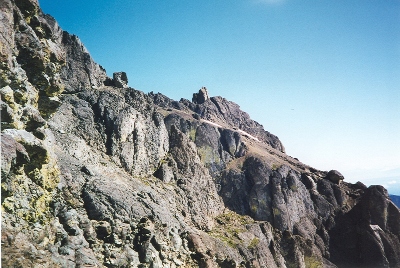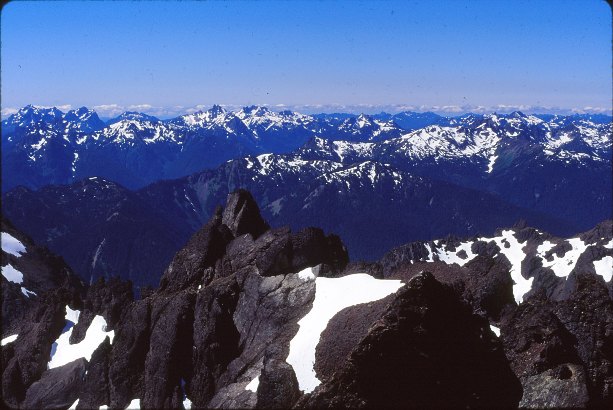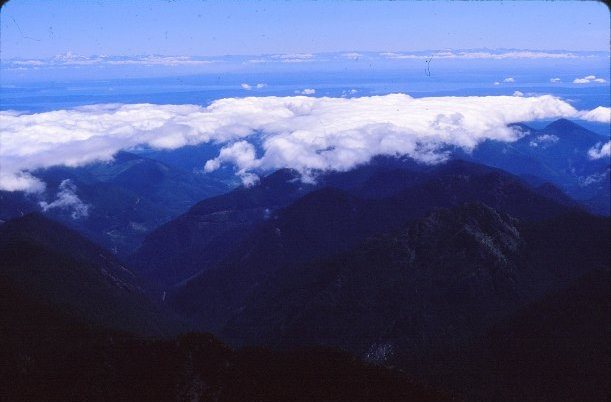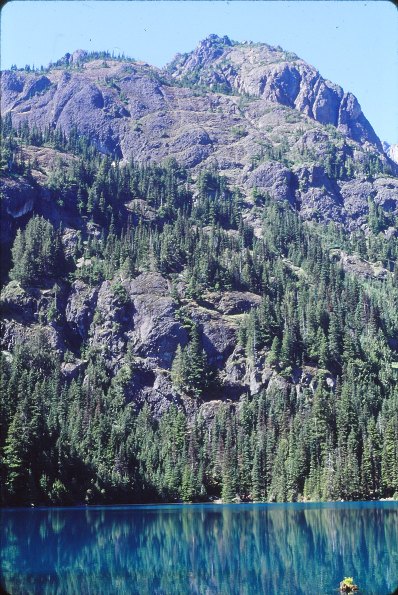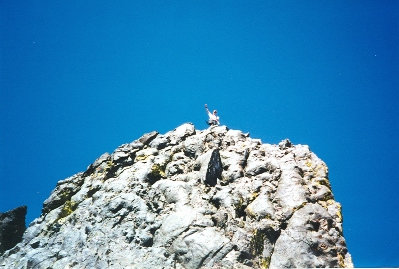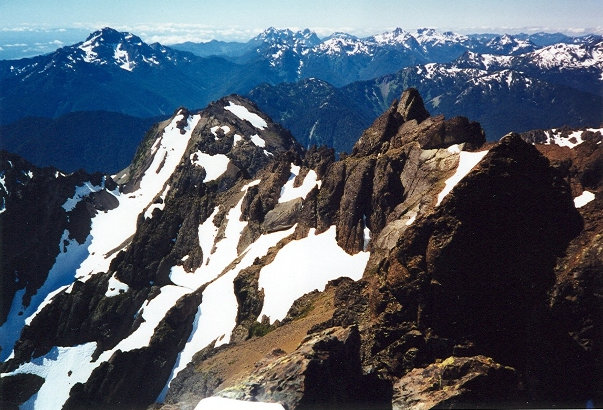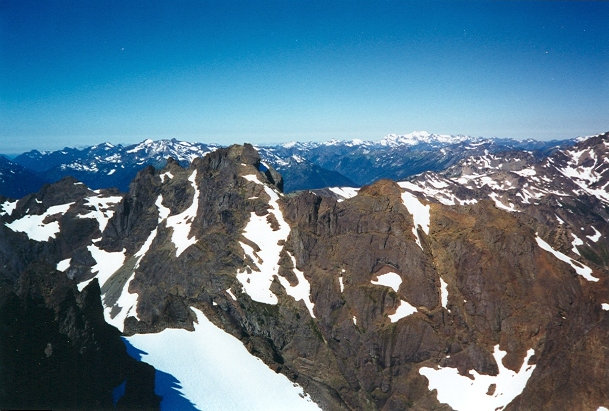 West from Mt. Constance to the Puget Sound Lowlands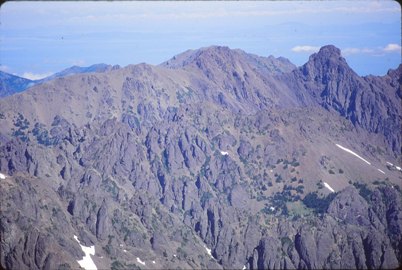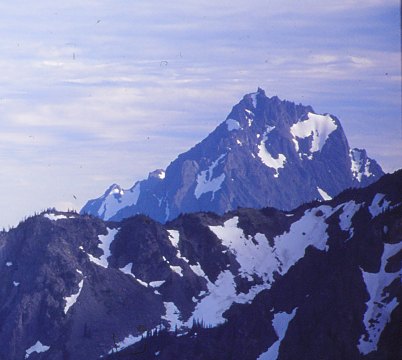 Summit views
Buckhorn Mountain & Iron Mountain
The Olympics
The view NW