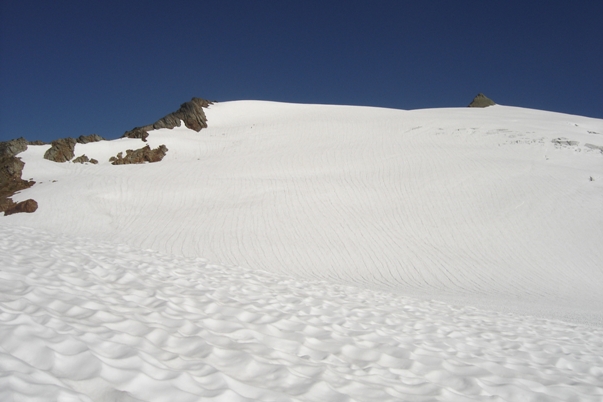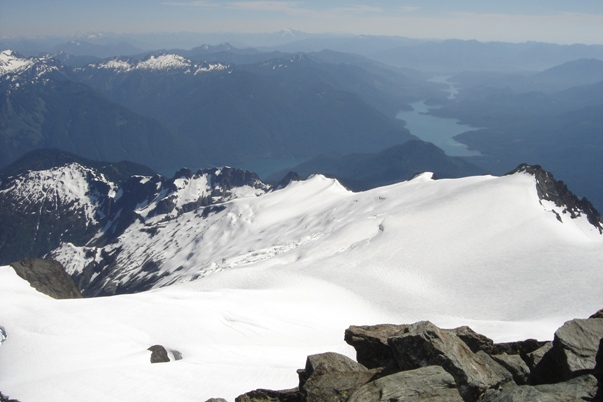 On the Shannon Ridge Trial
Trail up to a pass from Shannon Ridge
Working our way to the base of the glacier
Sulphide Glacier at 6,400 with summit pyramid
Accessing the rock portion of the summit pyramid
Gully was class 4-5, we roped up a few pitches, some loose rock, not bad
Mt. Baker from near the summit
Looking down the Sulphide Glacier, Baker Lake in the distance
Mount Shuksan
Distance: 8 or so miles (Sulphide Glacier Route)
Elevation Gain: 6,600 feet
Summit Elevation: 9,131 feet
Access: Good Gravel
WillhiteWeb.com: Hiking, Climbing and Travel

Route:
Access:
Take State Route 20 east from I-5 at Burlington. Turn left on the Baker Lake-Grandy Lake road and drive 23 miles to the Shannon Creek Campground. Turn left on road No. 1152 (other side of road from campground) and drive 4.5 miles. Turn right on road (1152)014 and drive another 1.4 miles to the end of the road.
From Tomyhoi Peak area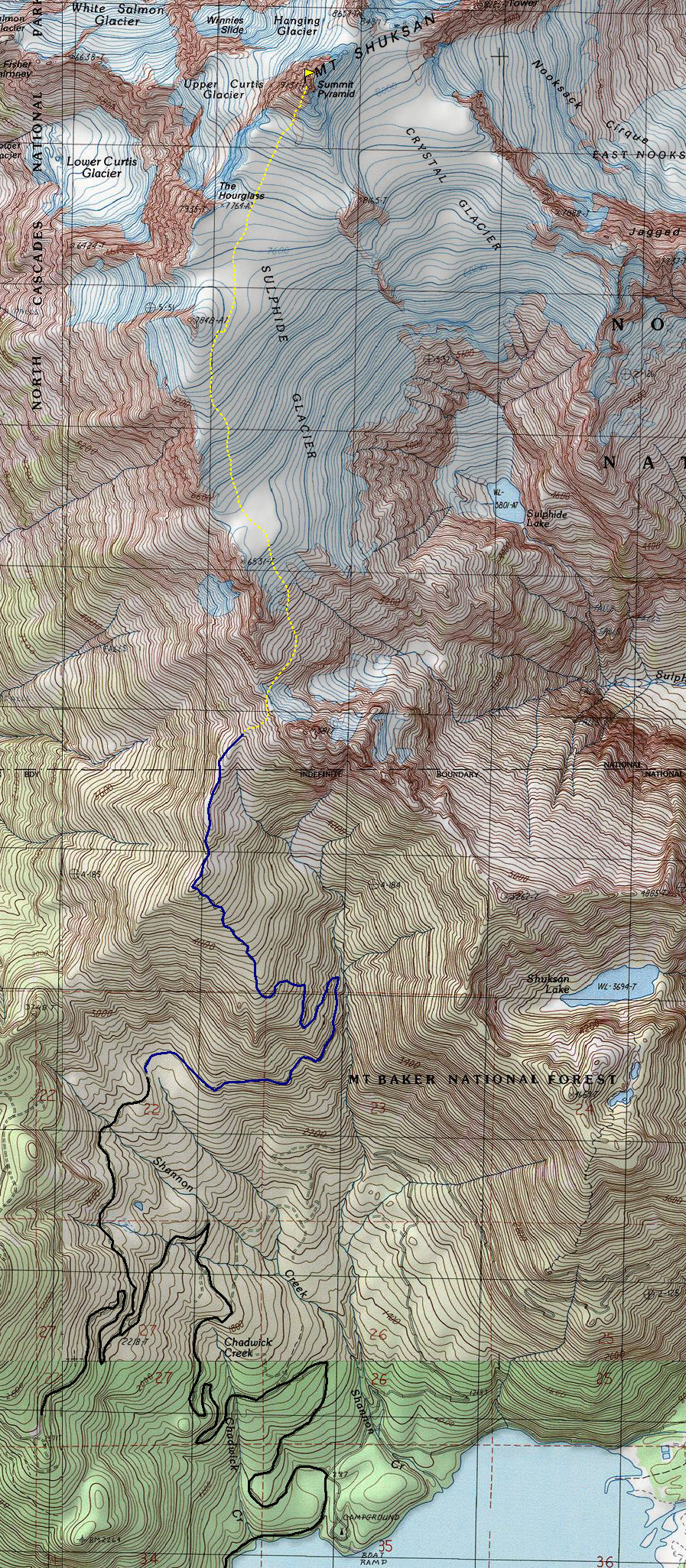 Getting closer to the summit pyramid
Roping up, Baker Lake in distance
Sulfide Glacier around 6400 feet, summit pyramid is not in picture
From the gap on Shannon Ridge heading to glacier
View north from near summit
View east
Walk up the trail, an abandoned logging road to a clear-cut. Find the real trail which is a steep climb through old-growth forest. Reach the ridgeline and follow it with views until you hit a meadow below a pass. Climb up to the pass on a climbers trail, then contour NE on talus or snow to the base of a cliff. Around this corner is the base of the Sulphide Glacier. Climb up the glacier (steep at first) then gets gentle. Stay to the left to avoid crevasses and ascend a long way toward the summit pyramid. At the summit pyramid, climb snow in the center as high as possible then take the best looking gulley to the summit. Rated class 3 but we roped up for a few short sections. Bring a helmet for loose rocks and other parties dropping something on you.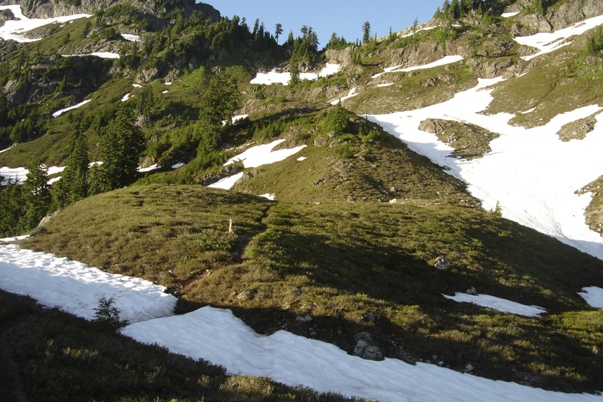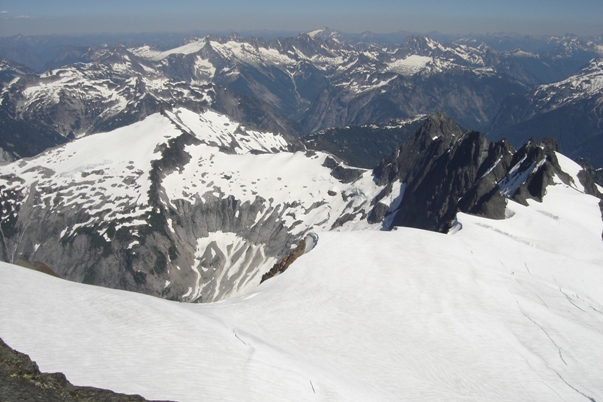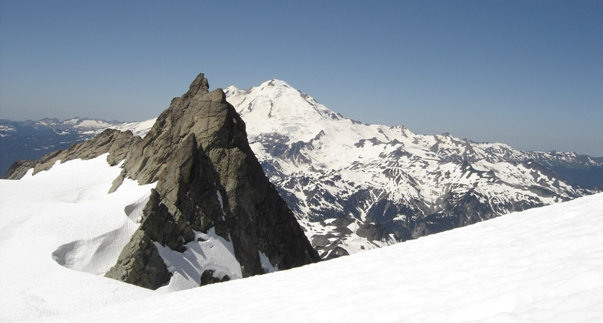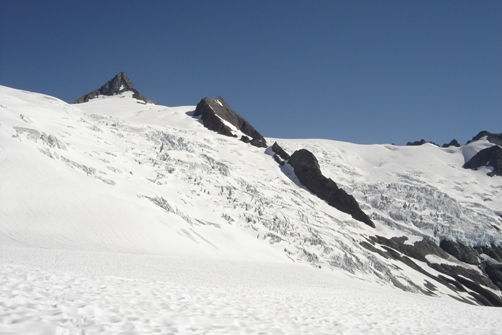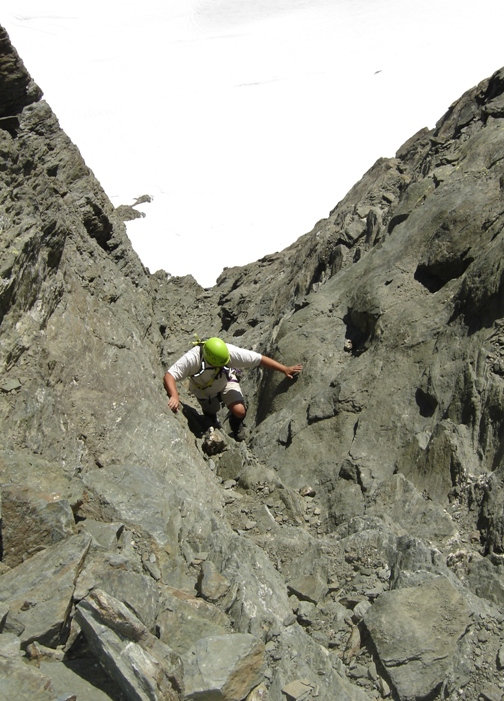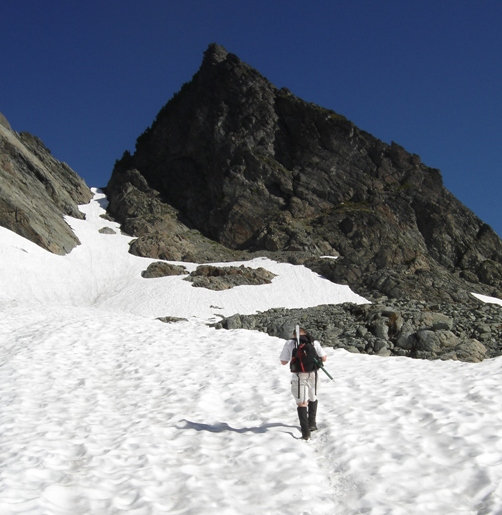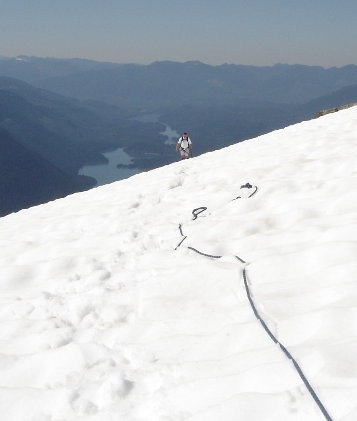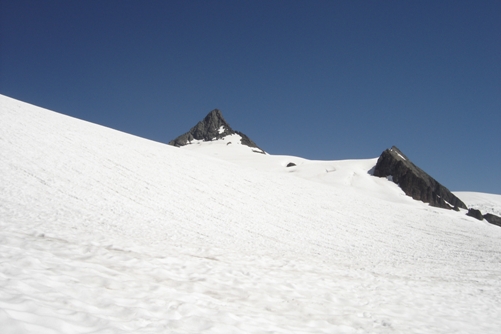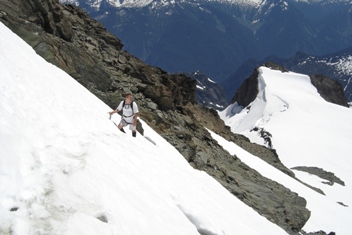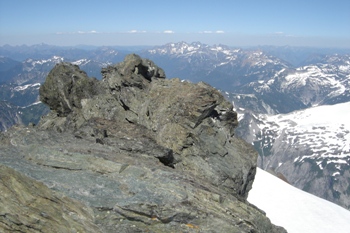 Mount Baker from the summit
Looking down the steep side
Nice meadows on the Shannon Ridge Trail
Everyone loves Mount Shuksan. The mountain is one of the most dramatic peaks in Washington with it's hanging glaciers, rugged cliffs and sharp summit pyramid. It is also one of the most photographed mountains in the U.S. thanks to the Mount Baker Highway and it's alpine end-point. Shuksan is a difficult climb from all directions although the Sulphide Glacier route described here isn't too technical, just long. This trip was done in a day but two days would make for a real enjoyable trip to an extremely scenic climb. Mount Shuksan is also the 13 most prominent peak in Washington. Shuksan Arm connecting to Mt. Baker prevents it from having much more prominence than it deserves.