At Hannagan Pass with sign pointing to climbers trail
Final ridge traverse to summit
Maverick on the summit
Shuksan on left and Baker on right in the distance
Looking over to Granite Mountain, Mammie Peak and Slesse Peak, BC in the distance
Hannegan Peak is a nice hiking trail peak in some of the most fantastic scenery in Washington. Most of the 5 mile trail has views to enjoy...big views. Because this area gets big snow, the trail will have snow well through June even though it is a south facing trail near the top. We went up at the end of June and the pictures will show there was still a significant about of snow. This is a perfect kid climb whether carrying them or older ones hiking on their own.
Hannegan Peak
Distance: 5 miles
Elevation Gain: 3,500 feet
Summit Elevation: 6,187 feet
Access: Good Gravel
WillhiteWeb.com: Washington Hiking & Climbing

Route:
Access:
Take exit 255 off I-5 (Sunset/Mt. Baker Highway). Go east 31 miles to Glacier, continue past Glacier on the Mt. Baker Highway 542 for 12.5 miles to a left turn on FS road #32 (Hannegan Road). Follow for 5 miles staying left at turns to the end of the road and trailhead.
Just hike up the gentle trail as it climbs 4 miles to Hannegan Pass. From the pass, turn left (small sign may be on tree) and climb the final mile to the summit.
Dozer on the summit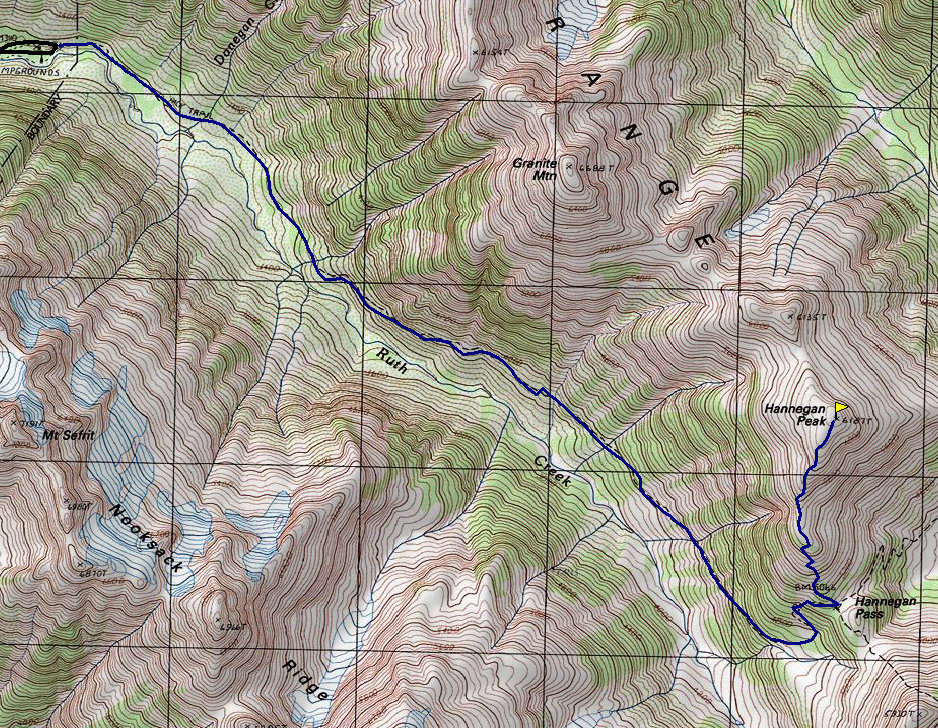 Mount Sefret
South slopes of upper trail melted out
Hiking up the Ruth Creek Valley
Mount Sefret
Looking southeast
Peaks between Mount Ruth and Mt. Sefret
Looking south to Mount Shuksan
View shot from the summit