Mount Catherine is often overlooked by hikers as it is hidden behind the Hyak Ski area. Much of the lower slopes have been chopped full of logging roads so the small trail, if shown on maps doesn't inspire much confidence in a nice hike. But, the summit is a good view, the trail short for a quick visit next time you're passing through Snoqualmie Pass.
Take exit 54 off I-90. Head south toward the the Hyak Ski Area. Make a right onto Hyak Drive E. Go through the ski area to a gravel road on the other side of a large parking lot. This gravel road becomes Road 9070. Follow it about four miles but before the Olallie Meadows area. The trail starts on your right side of the road.
Mount Catherine
Distance: 1.5 miles
Elevation Gain: 1,500 feet
Summit Elevation: 5,052 feet
Access rating: Good Gravel
WillhiteWeb.com: Washington Hiking

Access:
Route:
Trail starts off as a old logging road but soon becomes a nice trail. Switchbacks gain the ridge and a rocky summit with views just over the trees is the reward. Most of the route is in the forest.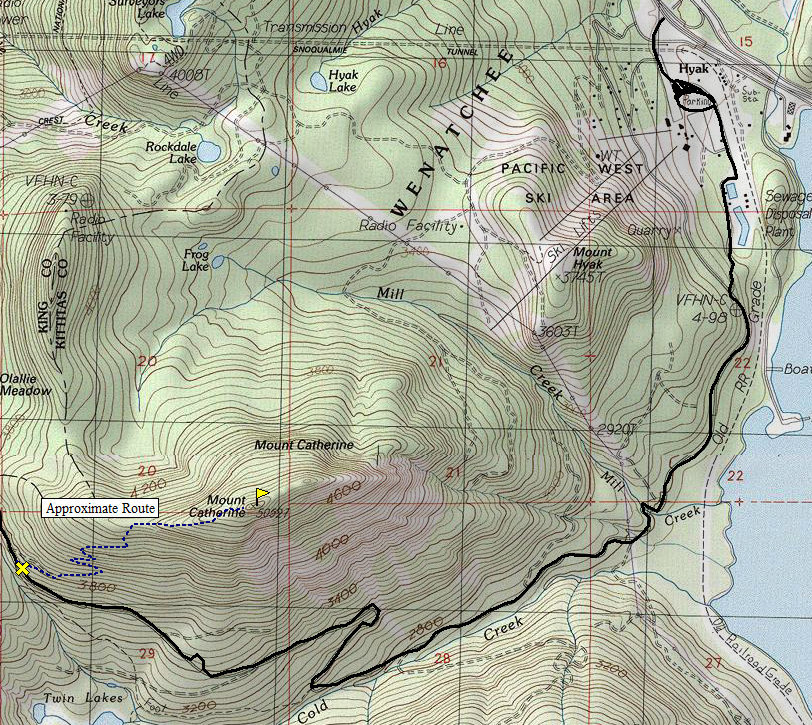 Keechelus Lake from the summit
Tinkham and Silver Peak
Looking north to the Snoqualmie Pass peaks
Granite Mountain and the I-90 corridor
Roaring Ridge and Tinkham