Looking back to Lone Tree Pass
Ben working up to Lone Tree Pass
Reaching Lone Tree Pass
Our first view of Whitehorse Mountain
Working our way up to High Pass
The summit from High Pass
Someone took this shot of us as we were going up
Although it looks soft, this is super icy
Darrington from Whitehorse Mountain
Whitehorse Mountain
WillhiteWeb.com: Hiking, Climbing and Travel
Access:
Distance: 5+ miles
Elevation Gain: 7,000 feet with ups and downs
Summit Elevation: 6,840 feet
Access rating: Paved to near end, then bumpy dirt
The Route:
Whitehorse Mountain is a classic peak you want to save for a picture perfect day. You also want to catch this one when the conditions are just right. With a trailhead at 900 feet and the summit at 6,840, you will experience a summit that probably turns back over 50% of those who attempt it. It's not just the elevation, the route finding, steep trail, steep snow traverses and glacier bergschrund issues all cause people to turn back. There is also a story of a mad Bulgarian hermit living on the mountain….I so wish that were true.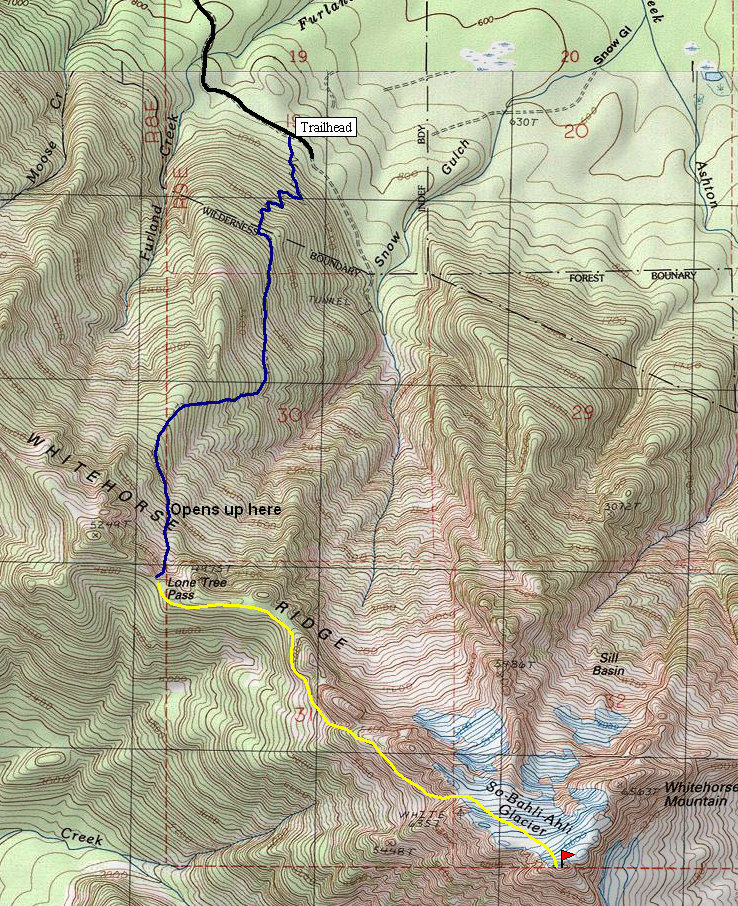 Going up
Ready to get on the glacier
Ben ready to climb
Three Fingers from Lone Tree Pass area
Ben, that's not enough snow to ski on dude!
Looks easy but it was so icy, used pickets all the way to the top
The trip starts out on Trail #953, the Niederprum trail. After around a mile of swithchbacks, the trail is more of a fisherman's route, built by boots working their way up as fast as possible. Keep this up another mile, now having gained 4,000 feet. Eventually, the trees thinned out and we headed up on snow slopes to Lone Tree Pass. Once at the pass, take the ridgeline for a mile or so. A trail should exist in summer; in fact it apparently continues (doing ups and downs) all the way to the final climb up to High Pass. In spring/early summer this will all be snow covered. Work you way along and then below the ridge until you find the correct ascent gully to High Pass. From the pass, you will see the route across the glacier and up to the summit. In spring/early summer this is relatively safe, from July on you will encounter crevasse and a major bergschrund near the summit. Instead of snow, your summit will be climbing 5th class rock for 60 feet or so. No matter when you go, bring ice axe, crampons and some pickets to be safe. The snow was extremely icy when we climbed and I only poked my head over the summit enough to see I was the highest thing around. I feared if I sat on the summit, I would be too scared when it was time to down climb!
From I-5, take the Arlington/Darrington exit #208. Head east on Hwy 530 approx. 26 miles to Mine Road also known as 387th Ave. N.E. This road is paved but becomes gravel in a half mile. Continue taking two left forks as the road gets a bit rougher. At 1.8 miles from the highway the road levels out where a trailhead sign exists with room for several cars. No parking passes or fees are required. In 2008 there was road damage 1.3 miles before the trailhead…check with the ranger station.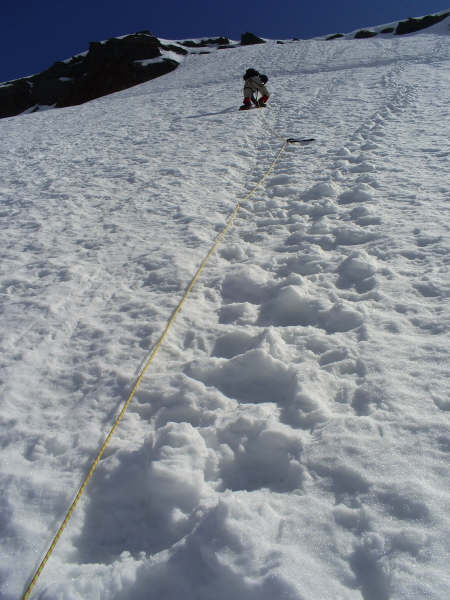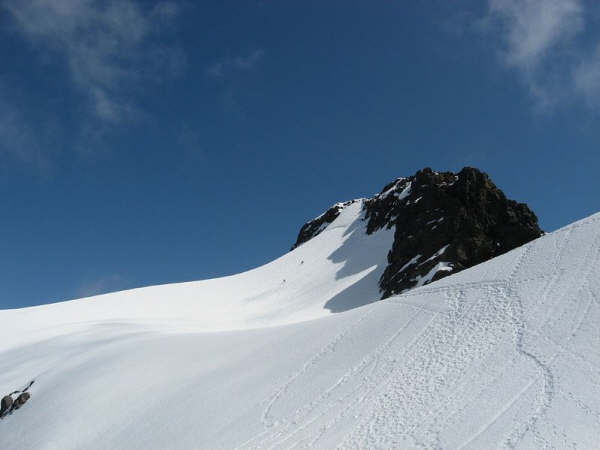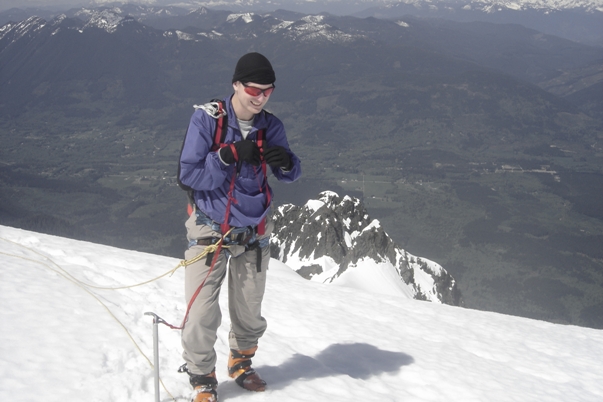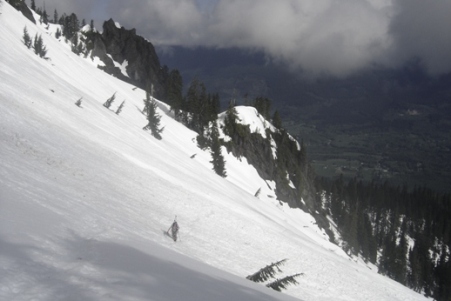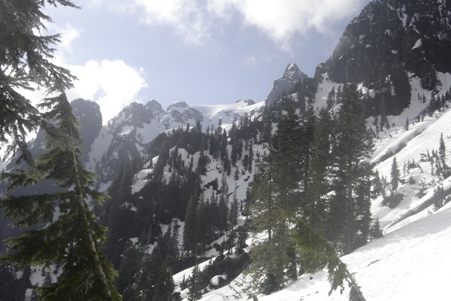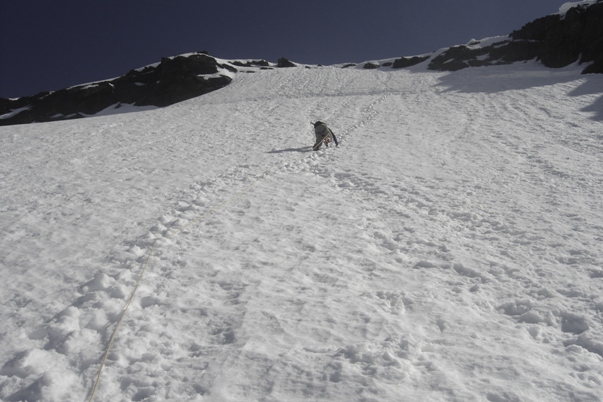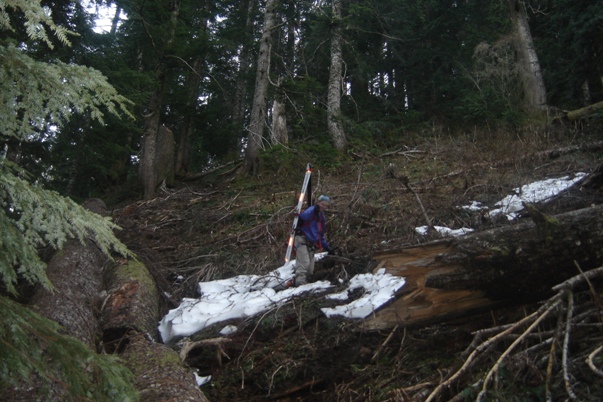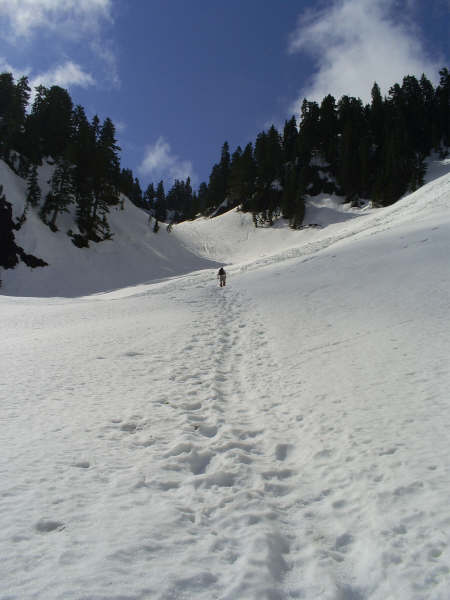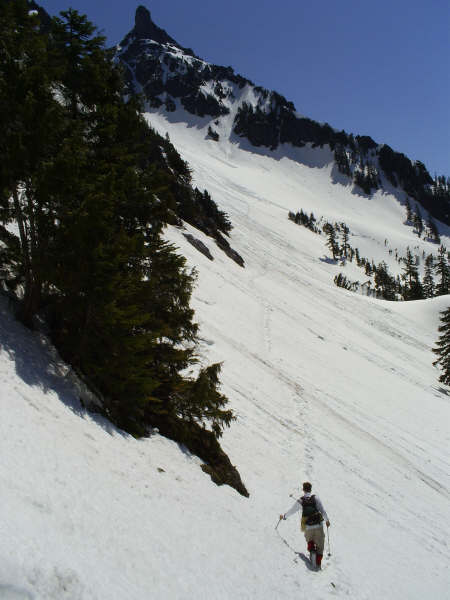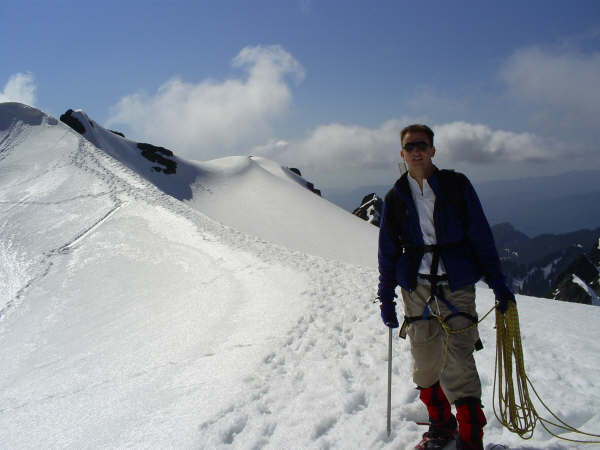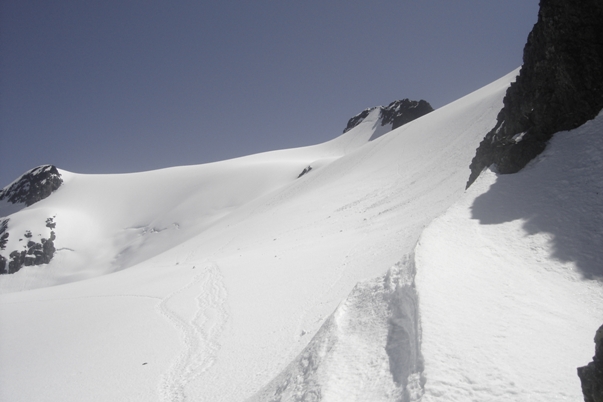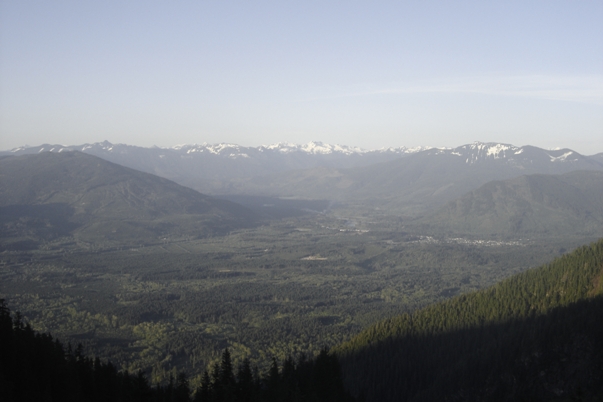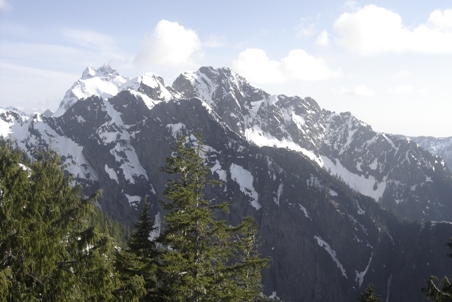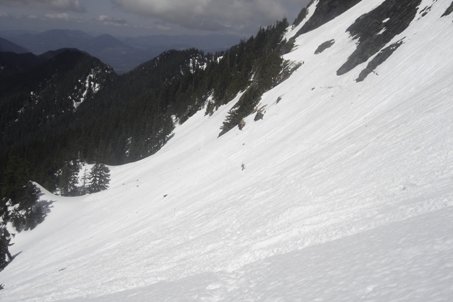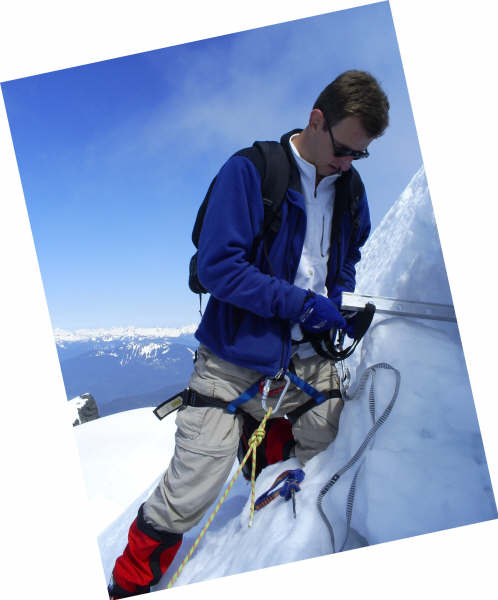 Putting in some anchors at the burgshrund