Cathedral Rock
www.WillhiteWeb.com: Hiking, Climbing and Travel
Access:
Distance: 4 miles
Elevation Gain: 3,400 feet
Summit Elevation: 6,724 feet
Access rating: Level 2
The Route:
A newspaper report in 1896 reported Cathedral Rock as "a great knob of rock". The rock is reported by Becky as class 4, so you know its probably low class 5 to most of us. Cathedral Rock has a nice setting beside snowy Mt. Daniel and the wide Cle Elum Valley.
Hike the Cathedral Rock trail to Squaw Lake and beyond to Cathedral Pass. The Pacific Crest Trail crosses here. If no snow, there is a trail toward Peggy's Pond. Scramble up the south ridge or from the Peggy's Pond Trail until you reach the rock formation. Climb the main gulley to the left of the main buttress. Then climb the southwest face to the ridge crest. Most will want to rope up here for a pitch at an awkward angle. From the ridge crest, a short scramble takes you to the summit.


Take Exit 80 off I-90. Proceed north through Roslyn and Ronald to Salmon la Sac, 16 miles from Roslyn. Near Salmon la Sac, turn right on FR 4330 taking this road to the end where there are a few different trails. The Hyas Lake-Deception Pass trail goes north, look for the Cathedral Rock trail going west. It might be signed before the road ends.
Steve looking for the highest spot
View toward Glacier Peak
On top
Cathedral in spring
First main gulley
Cathedral Rock from the trailhead
Cathedral Rock from the southeast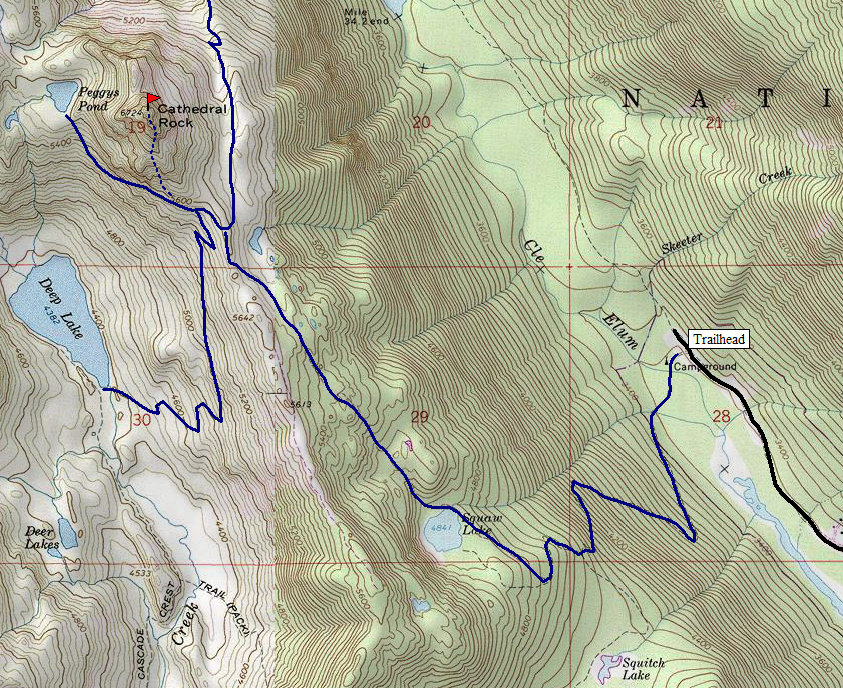 PCT
PCT
Below: PCT trail and trail to Peggys Pond is approximate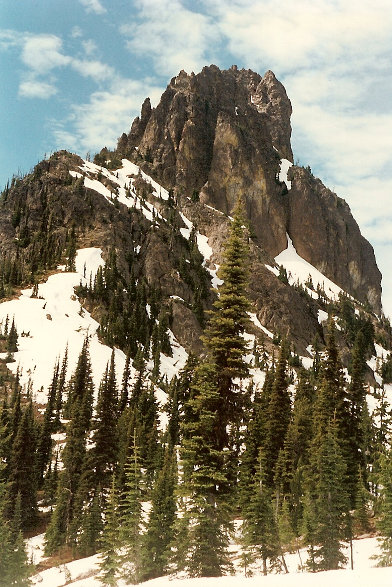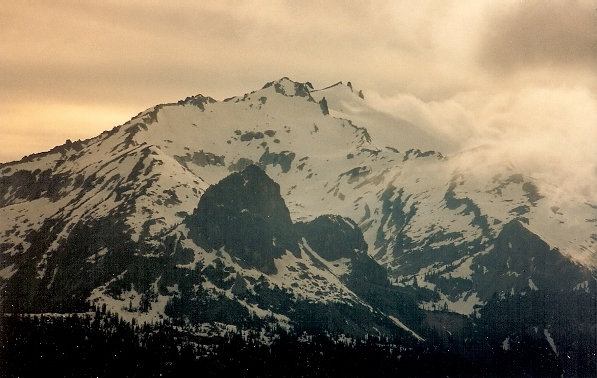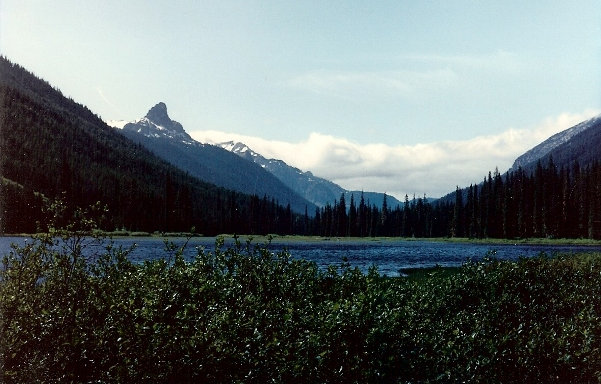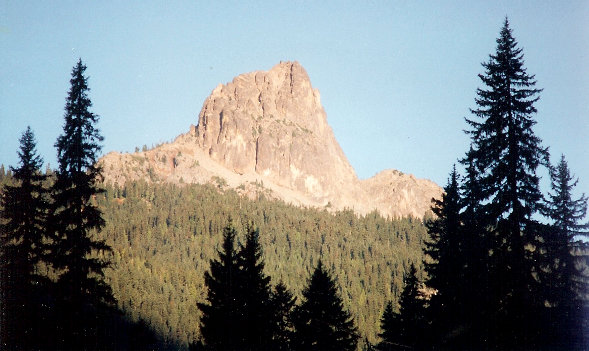 Cathedral Rock from the road and Tucquala Lake
Cathedral Rock and Mount Daniel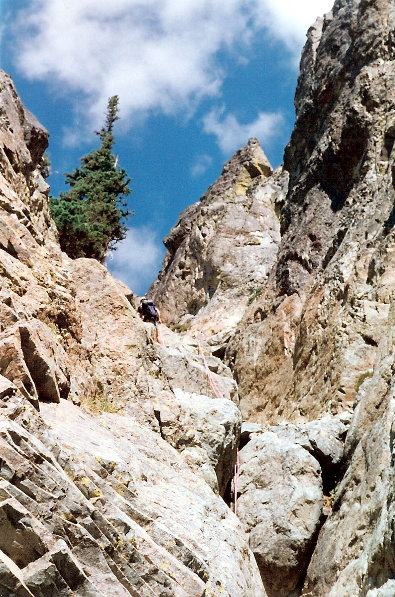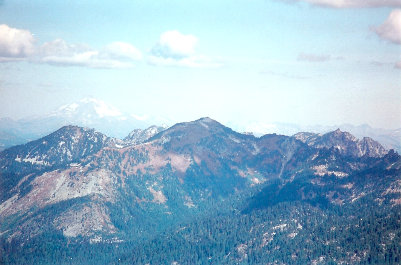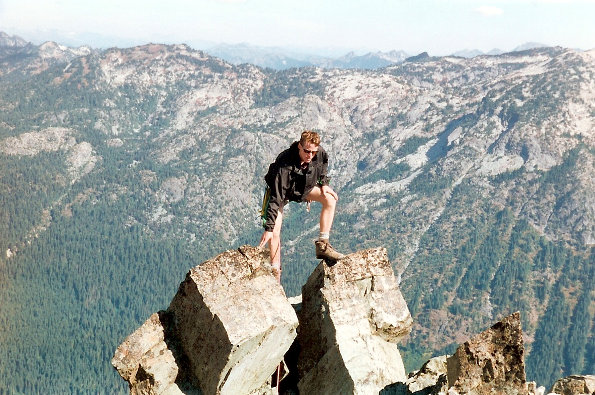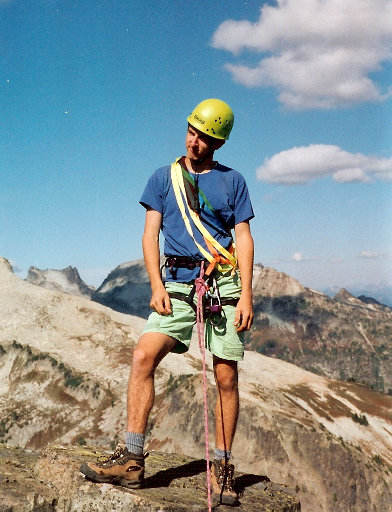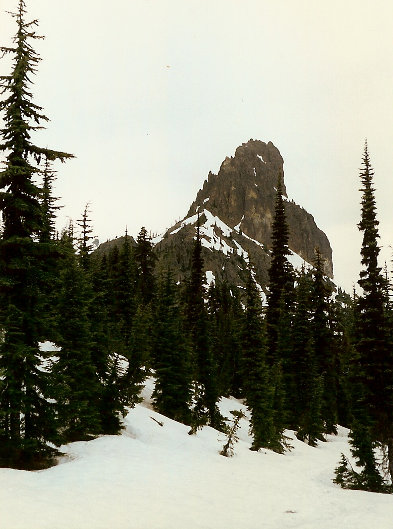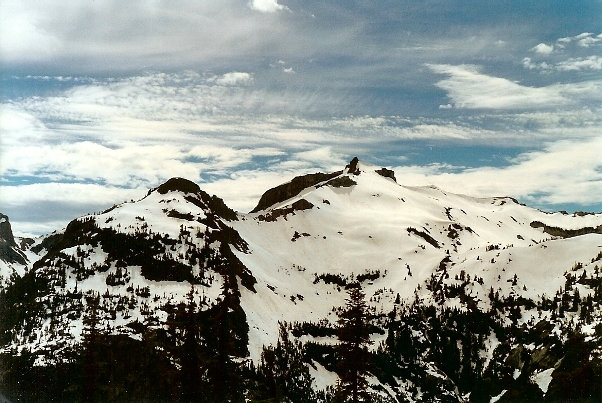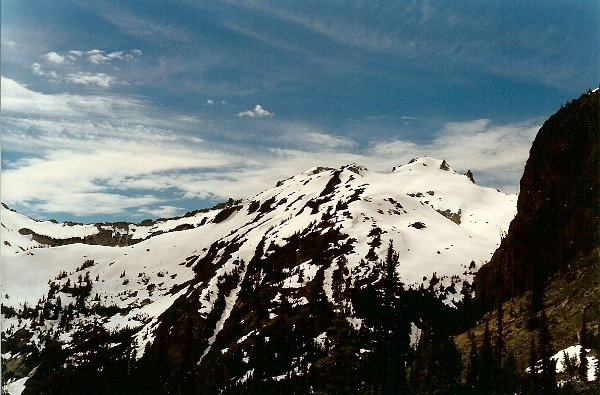 Mount Daniel
X