From the east end of Gold Bar, go 4.9 miles to FR 62 on the right. There is a gate that should be open but has closed in recent years at times. Drive FR 62 for 4.2 miles to a split with FR 6221 and another gate. Park here, preferably in some turnouts just downhill near Procter Creek and away from the gate.

WillhiteWeb.com - Hiking, Climbing and Travel
Haystack Mountain & Little Haystack (TOC Rock)
These are two bumps along Highway 2 between Gold Bar and Index. Both are low elevation options for peakbaggers or off-trail hikers who are just curious about them. If the weather is good, they have moderate views.
Distance: 3 miles & 0.75 mile
Summit Elevations: 2,715 feet & 1,460 feet
Elevation Gain: 1,100 feet & 400 feet
Access: Good Gravel
Haystack Mountain Route:
Haystack Mountain Access:
Hike or bike the road for 2 miles to a saddle that connects Haystack Mountain to the big ones on your left. There is a Y at this saddle. The Haystack Road is (currently) overgrown and takes off to the right just before the Y intersection. Follow the overgrown road as it works over to Haystack, then begins to encircle the mountain via the east side to the north side. Leave the old road at any point and bushwhack up to the summit.
Go up FR 62 for around 1 mile (see map below) to a curve where turnouts are on both sides of the road.
Little Haystack Route:
Little Haystack Access:
The turnout on the north side of the road upon inspection is actually the start of a road that has been abandoned with a tank trap. Go over the embankment and follow the roadbed for a few minutes. If you want a quick view, stay on the road until it comes to an old landing. Good views up valley. For TOC Rock, you need to leave the road where it starts climbing up to the viewpoint. The way climbs a steep hill between the cliffs. It is an ugly little climb at first because of the sticker bushes and logging debris. At the top of the ridge, the forest is really nice, although it is ready to harvest so it won't be there much longer. Hike to the east ridge of the highest knob. Take this ridge, which quickly reveals a minor scramble on some rocks. Although a way may exist going around to the south of them, the best views are just up this route. The very summit is just past a rocky area that gives the impression you are on top. No views at the very top.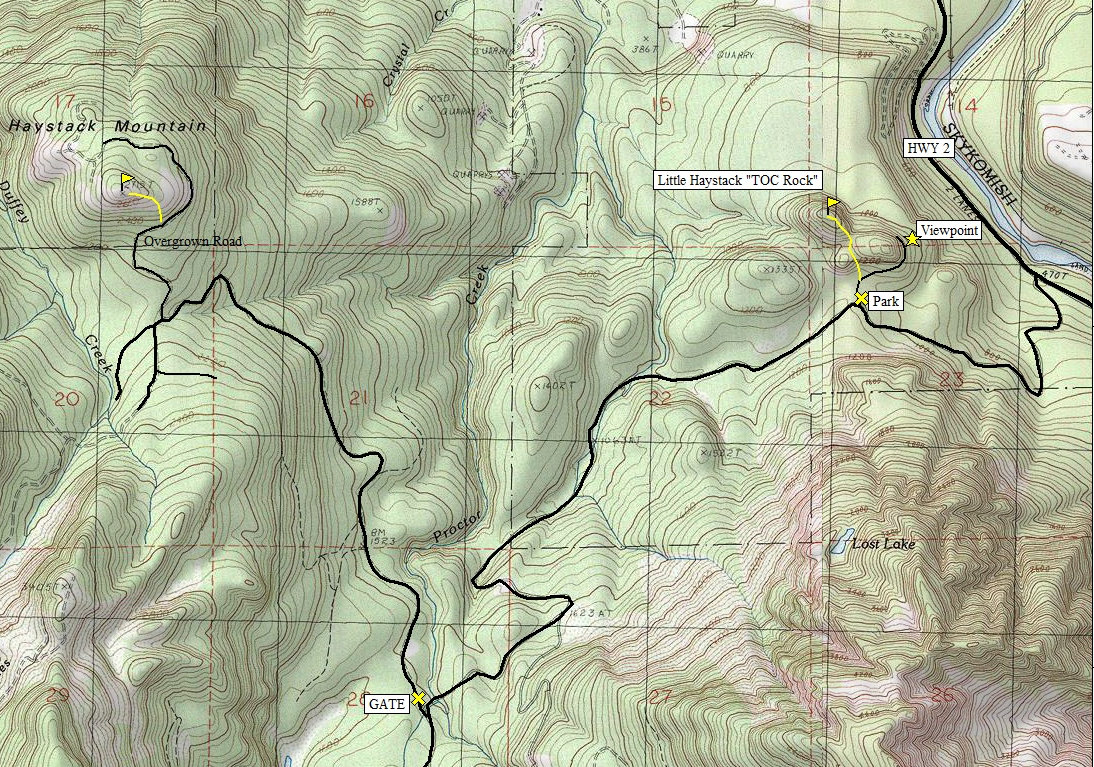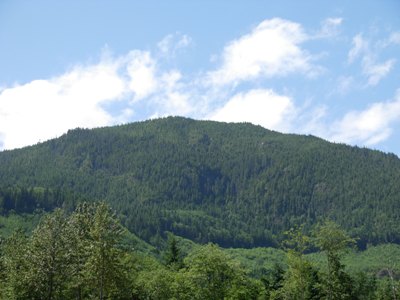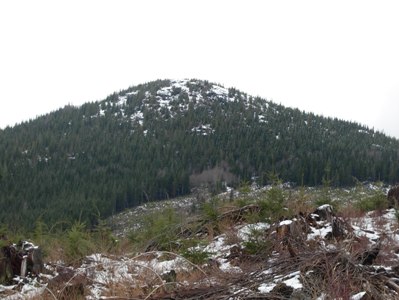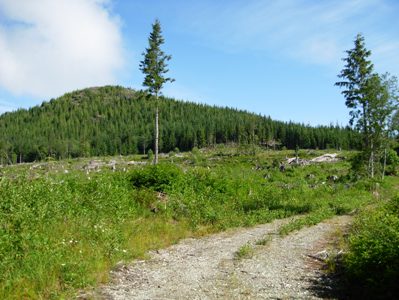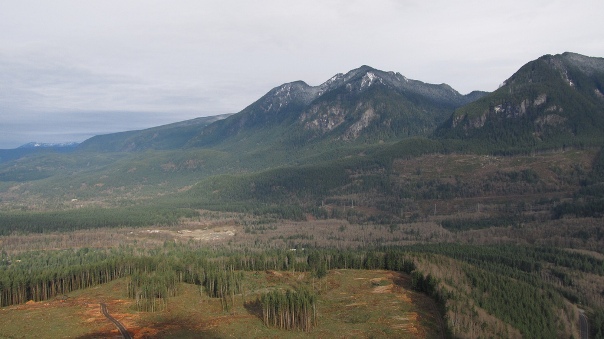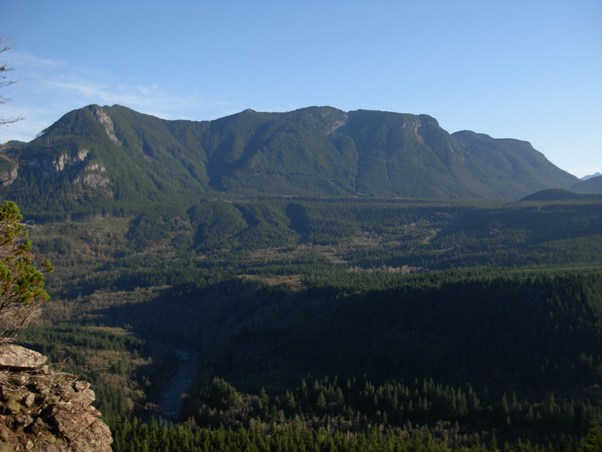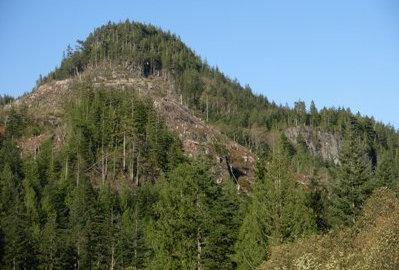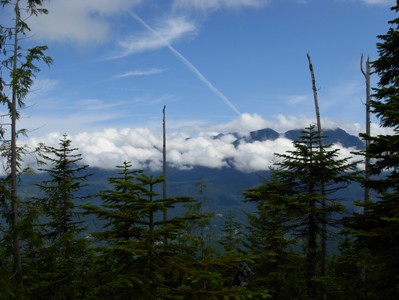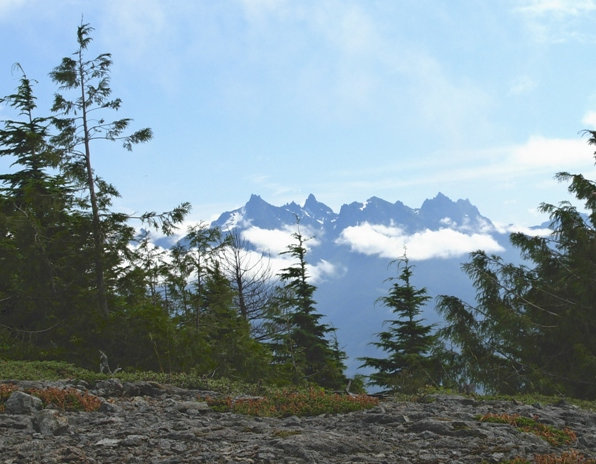 Photo by Bryan K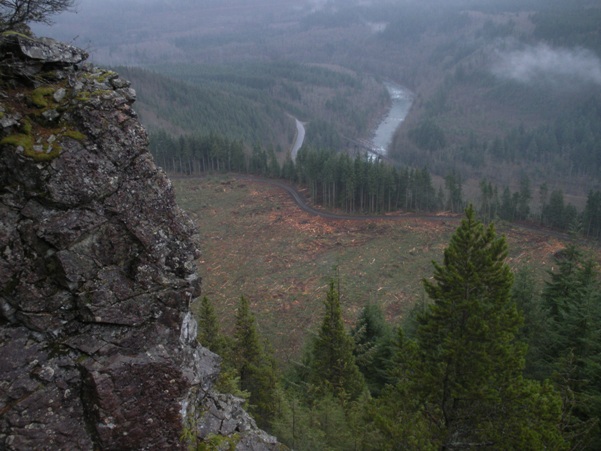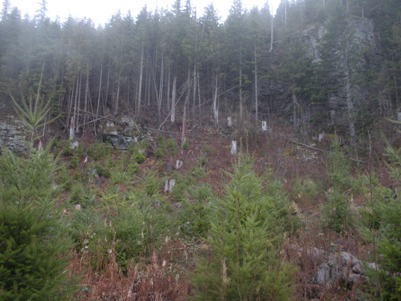 Photo by Craig Willis
Photo by Craig Willis
Photo by Craig Willis
Photo by Craig Willis
Photo by Craig Willis
Photo by Bryan K
Photo by Craig Willis
Haystack Mountain from Hwy 2 area
South side of Haystack Mountain
Haystack Mountain in nice weather
Looking NW from Little Haystack from a viewpoint north of the highpoint
View NE from the east ridge rocks of Little Haystack
Little Haystack eastern point from FR 62
View from Haystack Mountain
View from Haystack Mountain
The Haystack Mountain summit area looking south
Haystack Lookout was not located on this mountain but near the summit of 10-4 mountain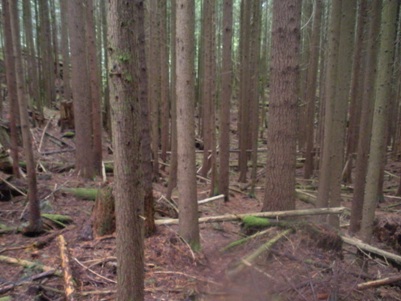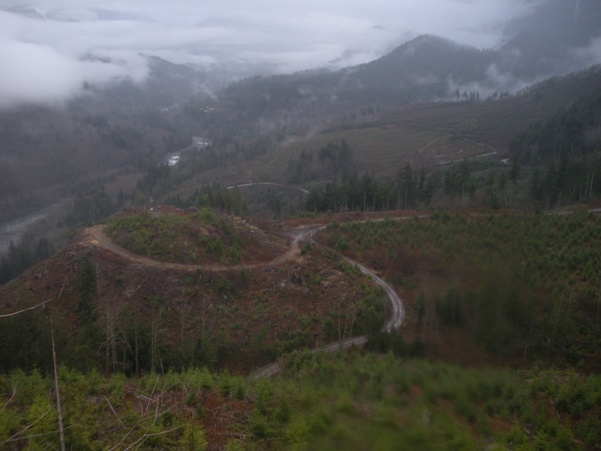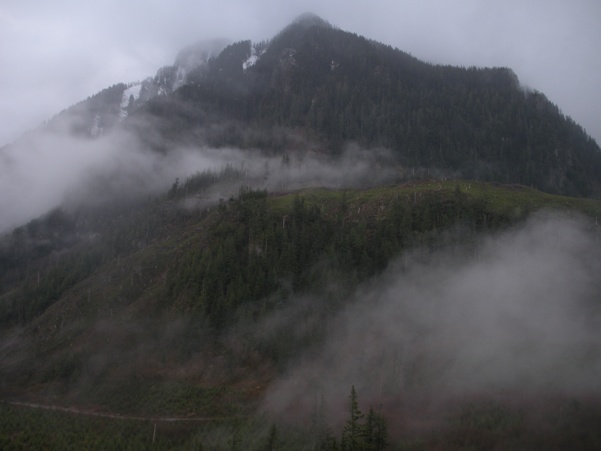 Bushwhack section to the ridge near the start of Little Haystack
The forest on the ridge high on Little Haystack
Looking down from the final rocky east ridge to Little Haystack (TOC Rock)
Looking east from the viewpoint on the Little Haystack Road
Looking up to Mt. Persis from the viewpoint on the Little Haystack Road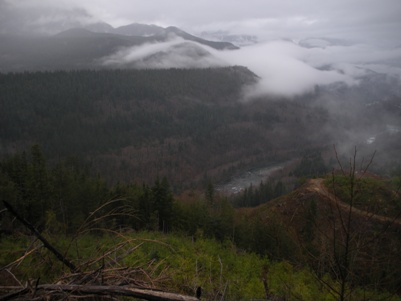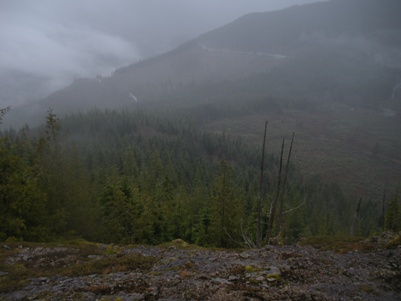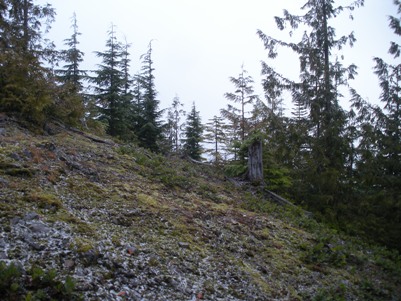 Another view down to the Skykomish from the viewpoint
Looking down to the access road for Haystack Mountain
Open Balds on Haystack Mountain