Get onto Forest Road 21 (Johnson Creek Road) which is two miles west of Packwood on Highway 12. Drive about 15.5 miles on this gravel road before turning left (east) onto FR 2150, signed Chambers Lake Campground. In 3 miles, turn right onto Spur Road 2150-040 and, shortly, right again on Spur 2150-405. Drive to the trailhead (signed Berry Patch) at the road's end, about 20 miles from Highway 12.
WillhiteWeb.com
Ives Peak & Hawkeye Point - Goat Rocks
With so many trails in the Goat Rocks Wilderness, you can create many loop trips. This one takes you through the popular Snowgrass Flat, Goat Lake and up three of the more popular summits. If you just wanted to stay on the trails, you can do the loop with just Hawkeye Point. During the loop, you will be above tree line most of the time surrounded by wildflowers.
Distance: 15 mile loop
Summit Elevations: 7,431 & 7,940 feet
Elevation Gain: 2,500 to 5,000 feet
Access: Good Gravel if graded recently
Route:
Access:
Snowgrass Flat Trail starts out in heavy forest cover, crosses Goat Creek near the 2-mile mark and hits the Flat at 4 miles. The Pacific Crest Trail Passes through here. To climb Ives Peak and Old Snowy Mountain, just scramble up from the PCT. Expect snowfields into August but tame routes can usually be found to the summits. After these, drop down to the trail that goes over to Goat Lake. Itís a good distance away but a very scenic hike. Enjoy the lake then traverse around to the south ridge of Hawkeye Point where you will find a climbers trail up to the summit. Return back to the car by taking the Goat Ridge Trail.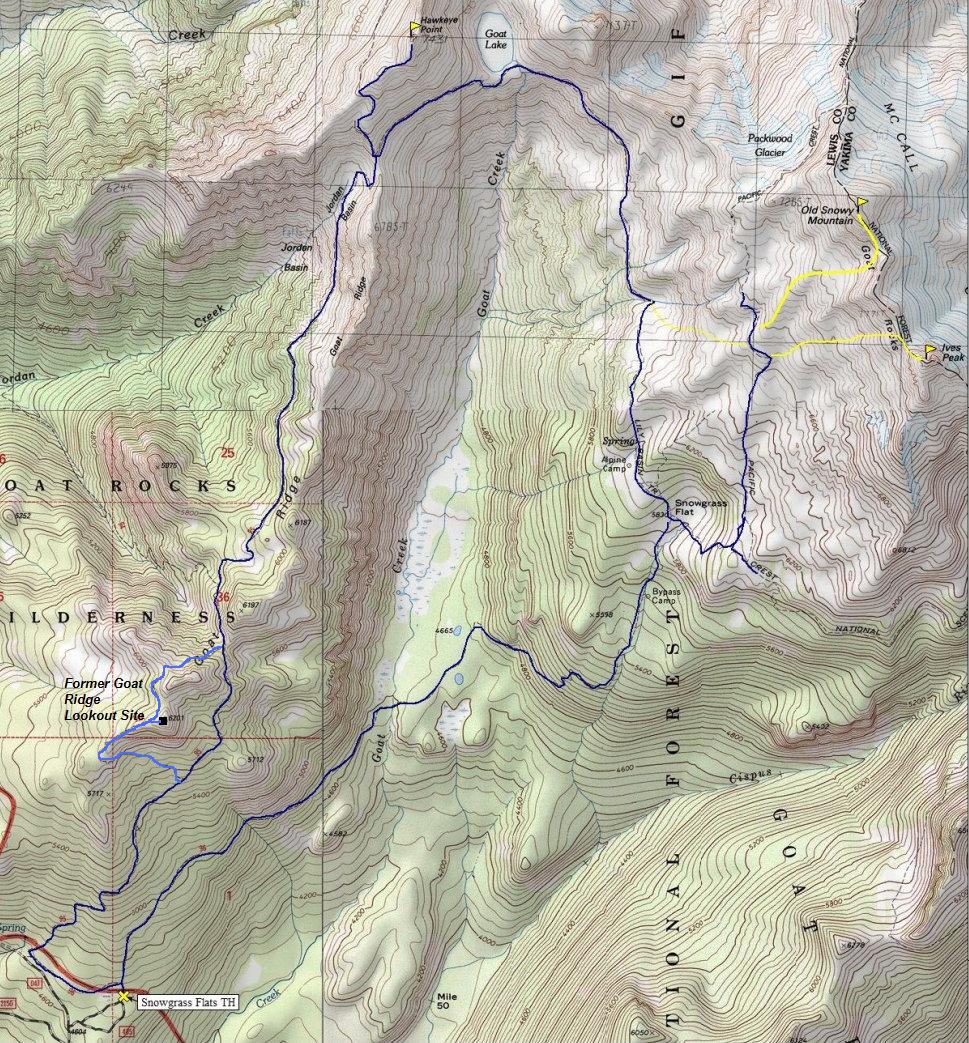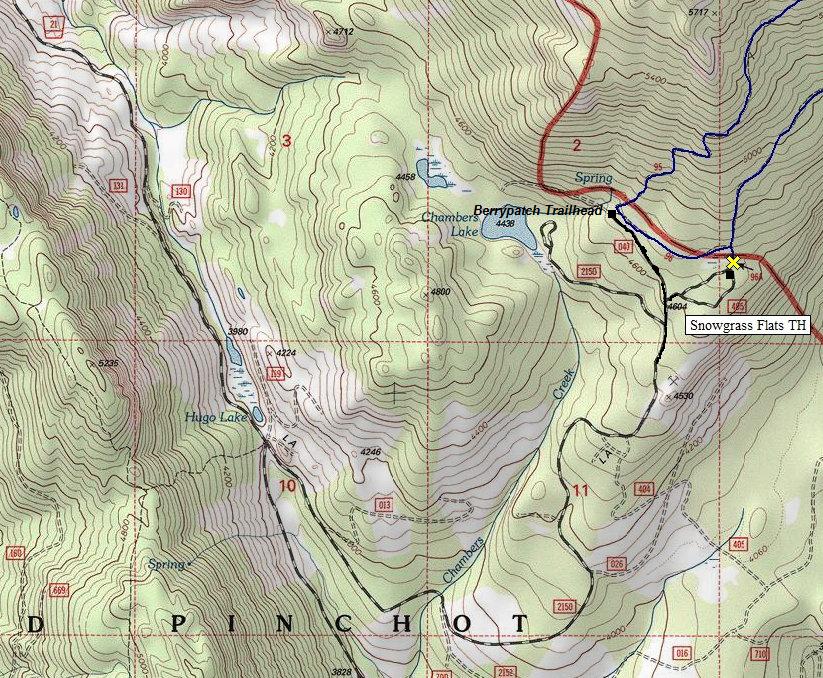 Above: Map showing the entire loop in blue with off-trail in yellow Below: The access road and trailhead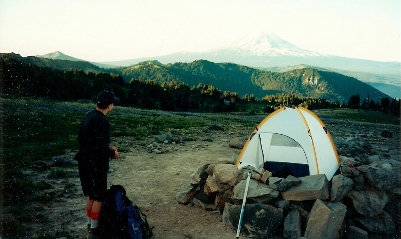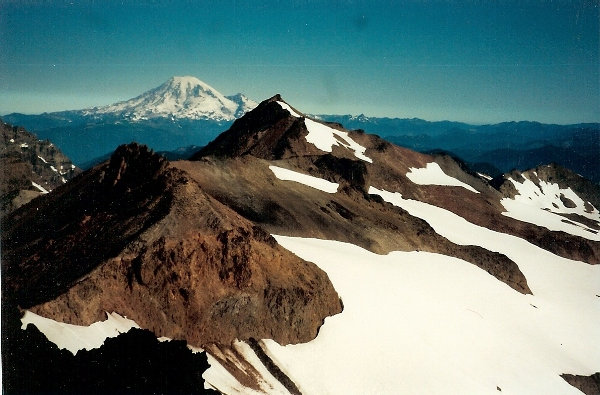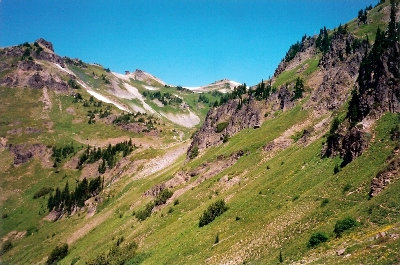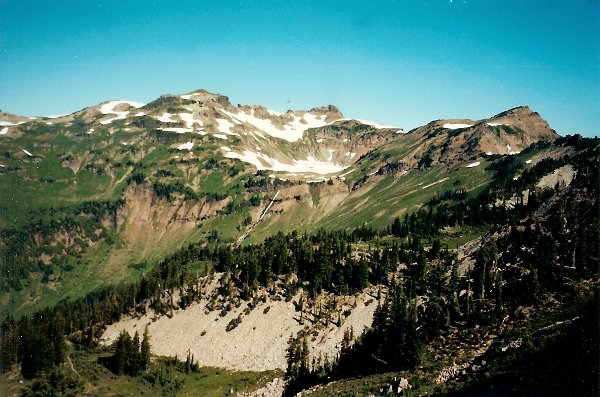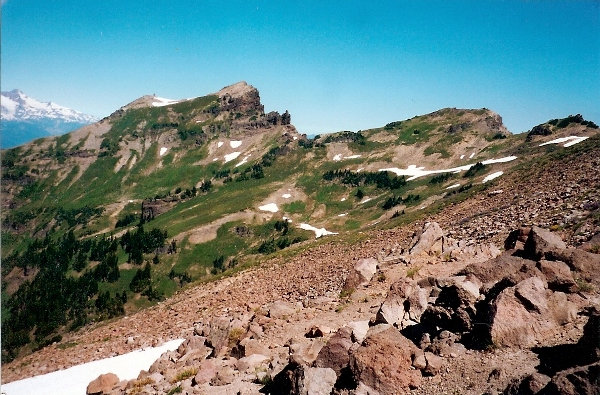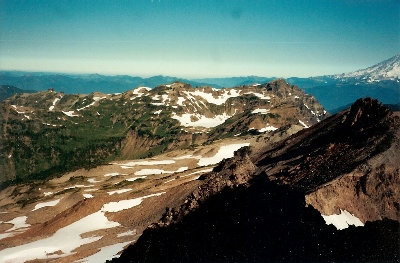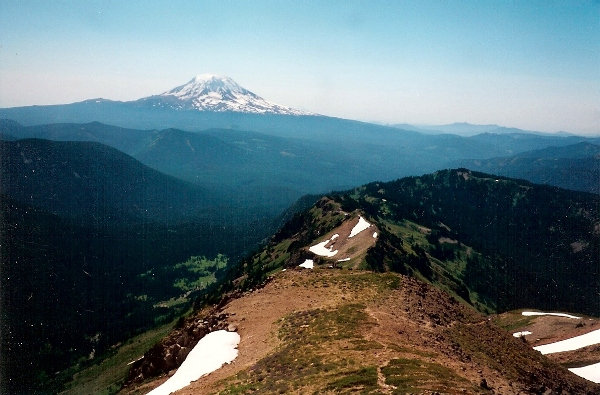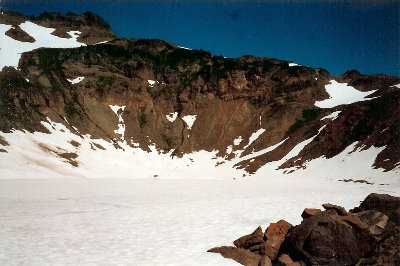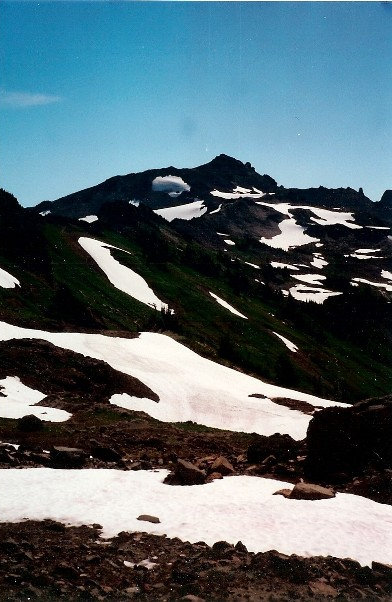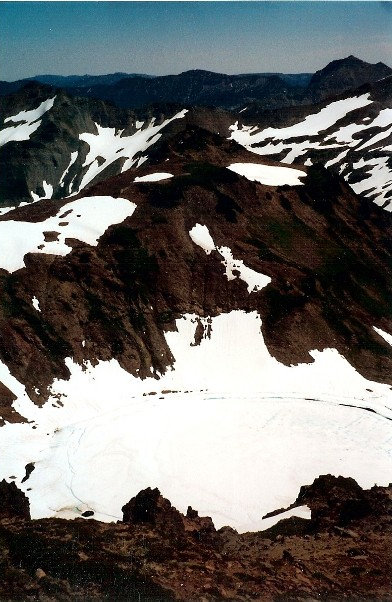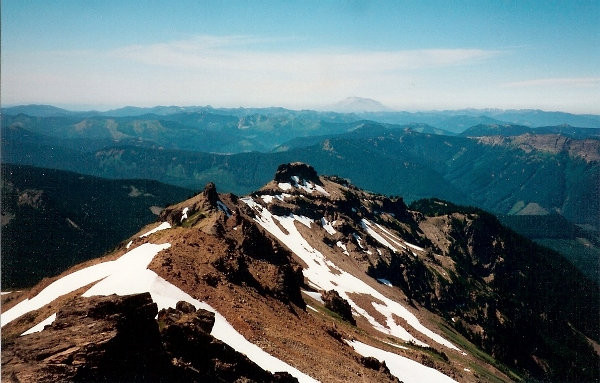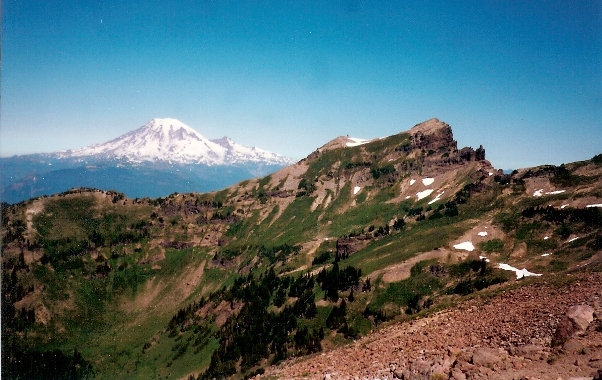 Looking back to Hawkeye from Goat Ridge Trail
Hawkeye Point from Ives Peak area
Old Snowy Mountain from Ives Peak
Goat Lake
Hiking to Goat Lake and Hawkeye Point
Johnson Peak from pass below Hawkeye Point
Johnson Peak and Mount Rainier
Trail up the south ridge of Hawkeye Point and Mt. Adams
Mount St. Helens from Hawkeye Point
Goat Lake from Hawkeye Point
Old Snowy Mountain
Camping at Snowgrass Flat
Lookout History
Hawkeye was a cupola cabin built in 1927. In a 1938 Columbia National Forest report, it said, "The Hawkeye lookout was abandoned in 1933 because the fog too frequently enveloped the peak, which impaired visibility. Goat Ridge lookout was constructed to take its place." Yet, the building stood for many years. It was mentioned by several USGS survey parties in the 1940s and even as late as a 1956 newspaper. The lookout was for sure gone by 1966. The USGS benchmark is stamped Hawkeye L.O. 1938.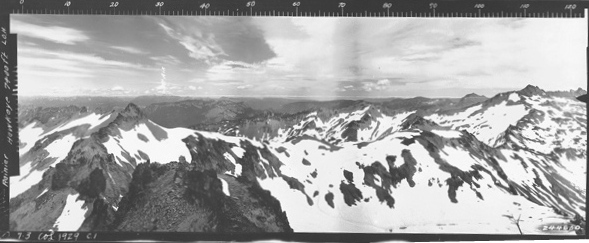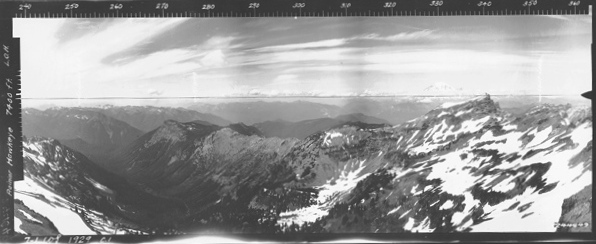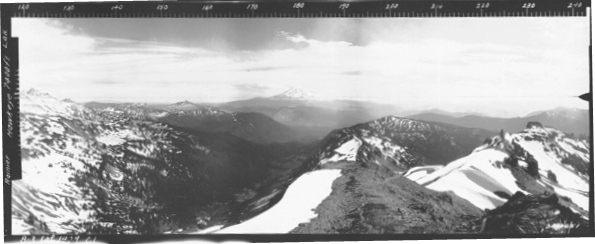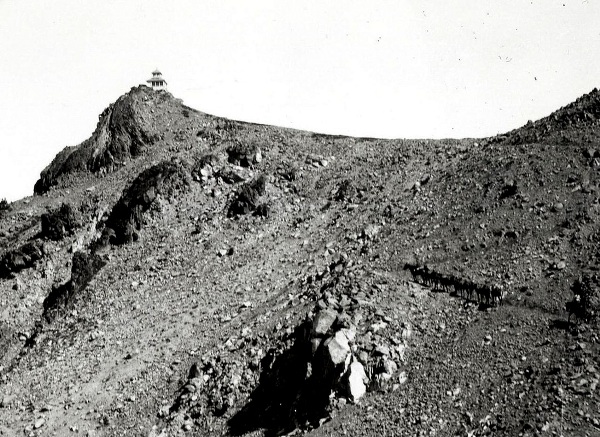 Northeast 1929
Northwest 1929
South 1929