Stevens Pass/Skylight Ridge LO
Washington Lookouts
It's very possible a lookout still exists just above Stevens Pass. Although there are no known records of buildings being constructed, there are some hints. Photo Survey panoramas were taken on August 15, 1934. At just 3 feet above the ground, no structure existed at that point but many locations were used as fire lookout camps during times of high fire danger. With the railroad, this was a good vantage point. One must ask why efforts were made to photo this view. A lazy attitude would be to dismiss this site saying it was just being a considered location for a lookout. This location is also mentioned in the book "Stevens Pass - Gateway To Seattle", by Joann Roe. (See images below). I'm guessing Skylight Ridge was a misspelling for Skyline Ridge but maybe not. (The ridge and lake above are known today as Skyline/Skyline Ridge). Today, the flat spot along the ridgeline where the photo survey photos were taken holds communication equipment, often an indicator of previous lookout use. Also, a structure up there sure looks like an old lookout tower to me. Someone needs to verify by getting access inside.
Elevation: 4,800 feet
Distance: Under a mile
Elevation Gain: 800 feet
Road Access: Paved
Looking Southeast - 1935
Looking Southwest - 1935



Looking North - 1935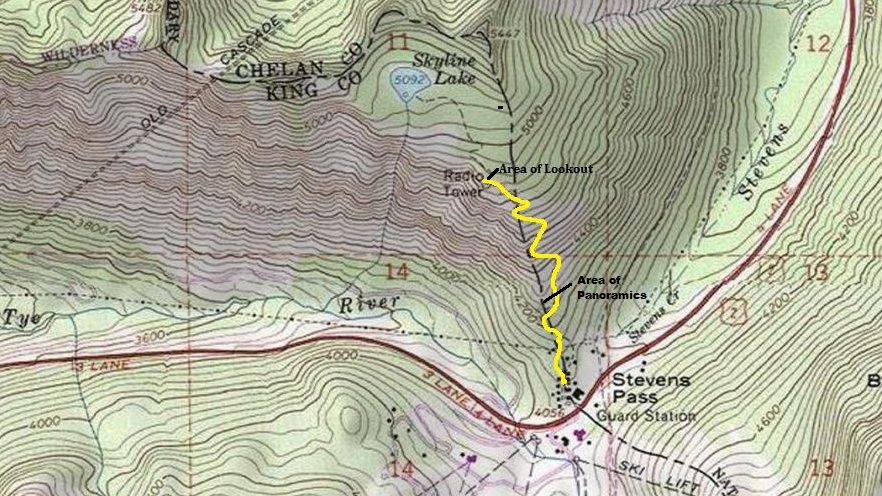 Some shots to the Southwest I took higher on the ridge to the west up to Skyline Lake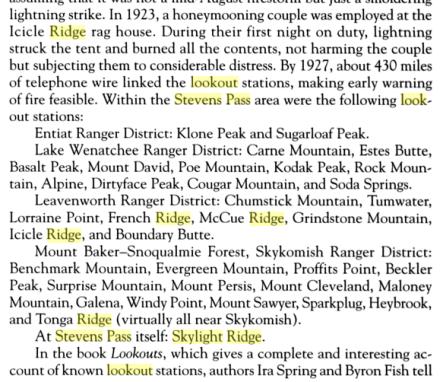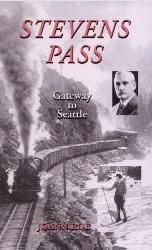 Important to note, although the author mentions the book, "Lookouts: Firewatchers of the Cascades and Olympics", with most of the locations in her book from the master list in the Lookouts book, Skylight Ridge is not mentioned in Lookouts: Firewatchers of the Cascades and Olympics.
A winter ski or snowshoe hike that passes over the lookout location
UPDATE: I contacted Joann Roe and she graciously checked her box of sources and sent me a 1914 article from the Leavenworth Newspaper. Unfortunately, it said nothing about Skyline Ridge (she may have just sent the wrong one).
Photo by Brucester on NWhikers.net
So what is this tower that sure looks like a converted lookout with windows covered to protect the communication batteries and equipment inside?
Put Google Earth on top of this tower and the 1934 Photo Survey Photos are a perfect match. See the two screen shots above that I took from Google Earth on top of the building.
Google Earth looking Southeast from communication site
Google Earth looking Southwest from communication site