www.willhiteweb.com - Hiking, Climbing and Travel
On May 10, 1869 the Union and Central Pacific Railroads joined their rails at Promontory Summit. Golden Spike National Historic Site commemorates this incredible accomplishment of this nation's first transcontinental railroad. The visitors center will inform you of your options. There you can also watch videos that learn about the history of the transcontinental railroad. There are five informative films you can pick from if it's not a busy time. The busy times are during reenactments of the Last Spike Ceremony, which took place on May 10, 1869. These take place in the summer on Saturdays and holidays from May 10 through Labor Day at 11:00 a.m. and 1:00 p.m. Steam demonstrations when the locomotives move on the tracks take place every day during the summer season (May 1 - Labor Day). If you go in winter, you can sometimes tour the Engine House where they are stored during the winter. These engines are fully-functional replicas of the original locomotives that met at Promontory Summit in 1869.
In summer, you can hike the Big Fill Loop Trail. The trail is 1.5 miles taking you out on the old railroad grade to see how grades were built to keep the 2% grade or less for the trains. There are fills, cuts blasted through rock, drill marks and large ravines filled to accomplish this. If you'd rather stay in the car, there are two auto tours at the site. The West Auto Tour is a 14-mile loop drive. As you ride on the original Central Pacific grade, look for the Union Pacific parallel grade; pass through several cuts; view fills, a stair-step cut, rock and wood culverts, and a distant glimpse of the Great Salt Lake. Pass the spot where the Central Pacific workers laid 10 miles of track in one day. This tour closes in Winter. The East Auto Tour is a 2-mile loop drive. Along the way, see the Union Pacific's last cut; several trestle abutments and fills; drive through cuts made by blasting rock; and walk to the Chinese Arch, a natural limestone formation, a memorial to the thousands of Chinese who helped build the Transcontinental Railroad. Descend the steepest mile of railroad grade in Utah as you leave the tour. The East Auto Tour's hours are 9:00 a.m. to 4:30 p.m. in the Winter season. In bad weather or heavy snowfall it may close.
Golden Spike National Historic Site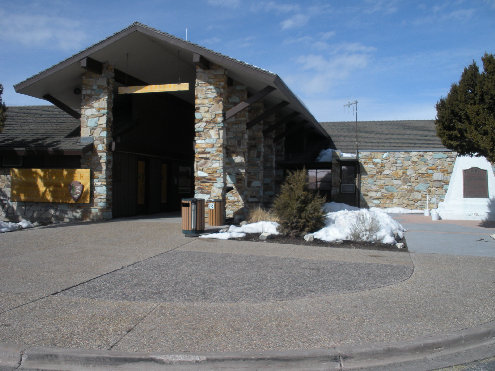 Golden Spike National Historic Site Visitors Center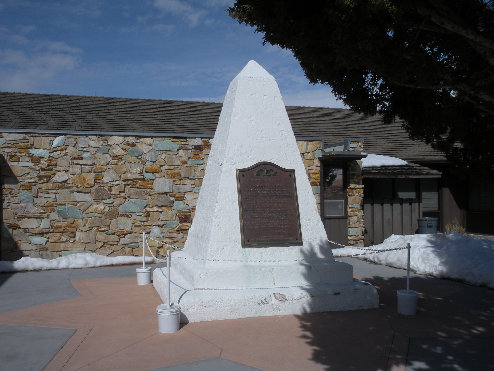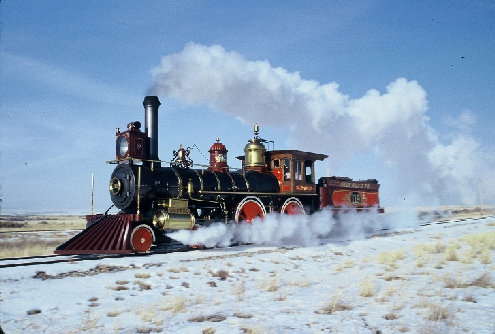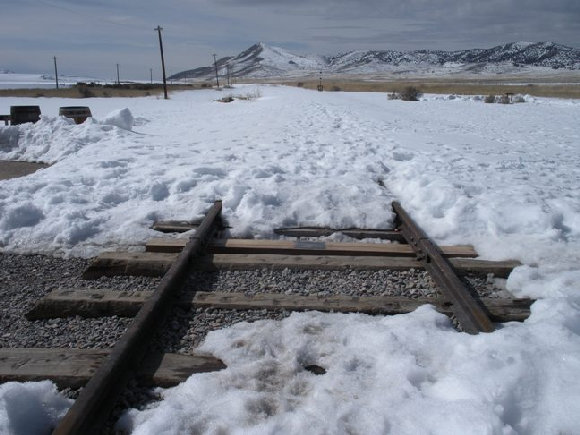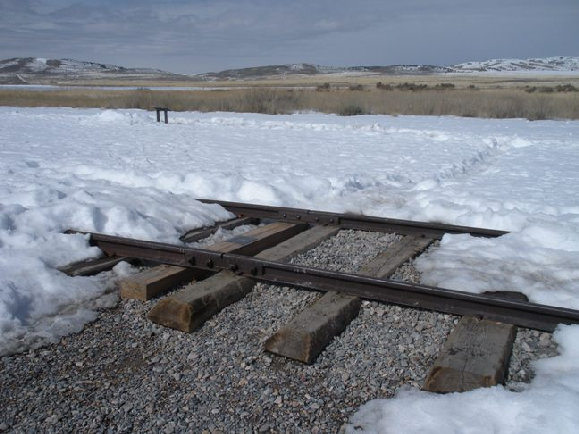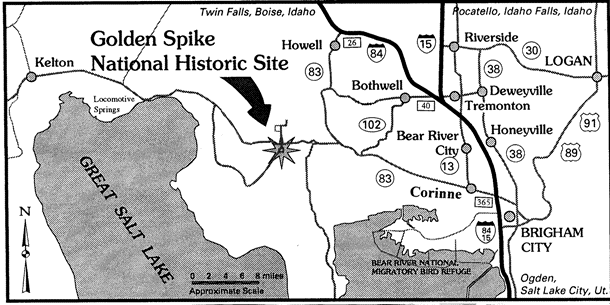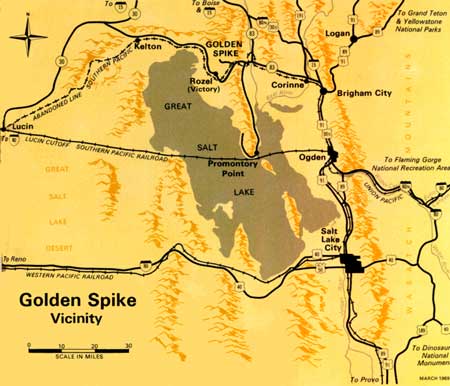 Monument at the visitors center
Steam Demonstrations
National Park Photo & Maps
Golden Spike location
Golden Spike location