www.willhiteweb.com - Hiking, Climbing and Travel
Mt. Thomson Ė east ridge
Mt. Thomson is a rugged and noticeable peak off the Pacific Crest Trail north of Snoqualmie Pass. Thomson is just far enough from any trailhead to require 2 days although it can be done in one long hard day if you are fast. The easiest route is a class 4 climb on the East Ridge. A popular west ridge route is 5th class and draws the crowds in summer.
Distance: 8 miles
Summit Elevation: 6,554 feet
Elevation Gain: 3,600 feet
Access: Paved
Drive to Snoqualmie Pass on I-90, take exit 52 eastbound. Turn north a short distance turning right into the PCT parking area.
Route:
Access:
The fastest way and most popular approach is from the PCT at Snoqualmie Pass. It is a long way but the trail allows you to go fast. Hike 5.7 miles to the Kendall Katwalk, a popular talking point of the PCT where the trail was blasted into the rocks. Continue past Ridge Lake. About 0.4 miles past Ridge Lake where the trail contours the south side of a long slope above Alaska Lake look for a short but steep side-trail leading up to Bumblebee Pass 5,400 feet. Descend the other side of the pass to the basin south of Mt. Thomson. To the right, a steep heather and talus slope leads up to an obvious notch at 5,600 feet on Thomson's ESE Ridge. Climb up to this notch then turn left. Continue up to the final summit rocks. A 20-ft Class 4 scramble gets you near the top where you walk up to the summit. Bring a rope for repelling the class 4 section if you donít want to down climb it.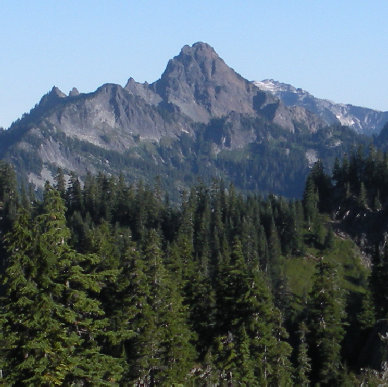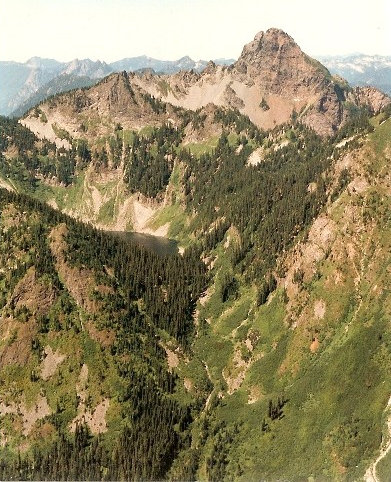 Mount Thomson and Alaska Lake from Alta Mountain
Mount Thomson from Rampart Ridge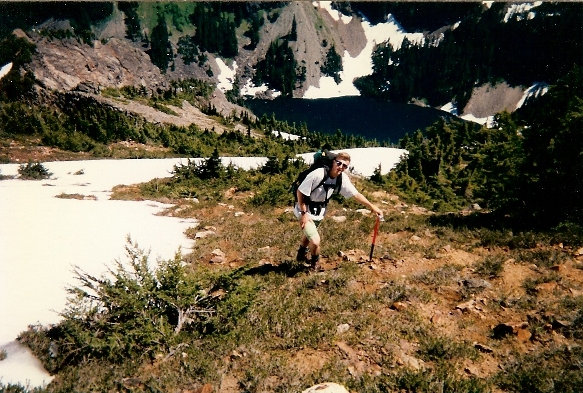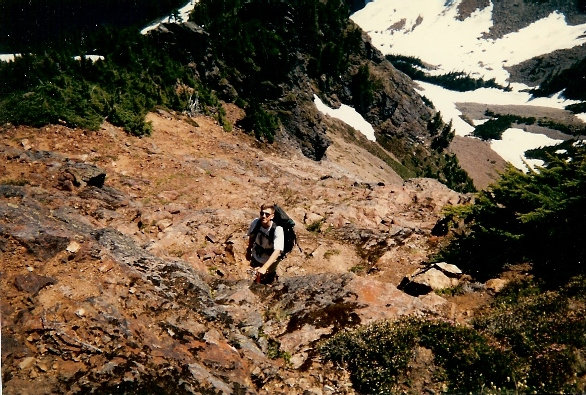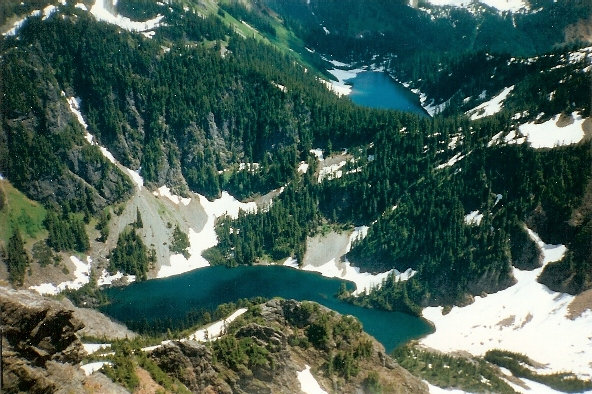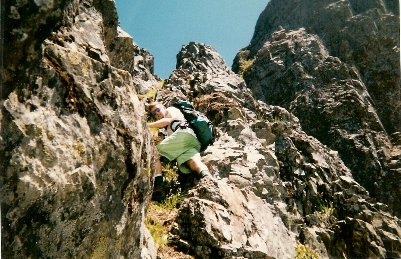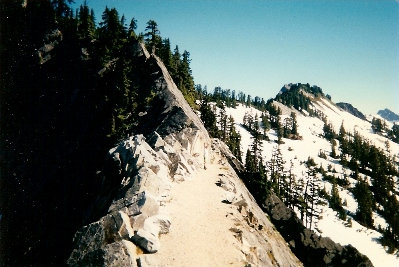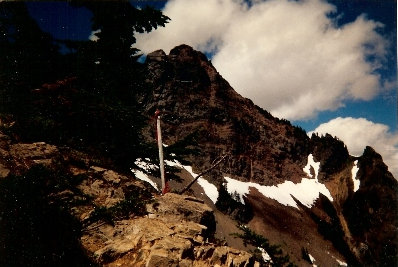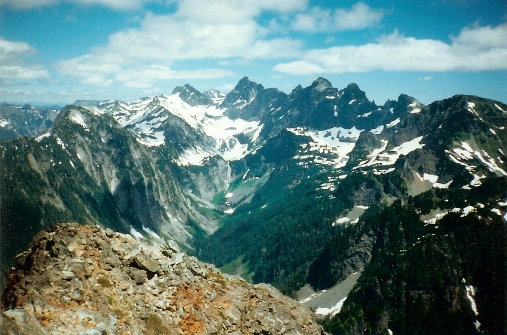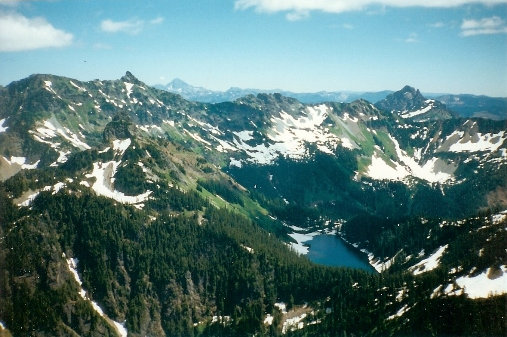 Kendall Katwalk
Thomson from Bumblee Pass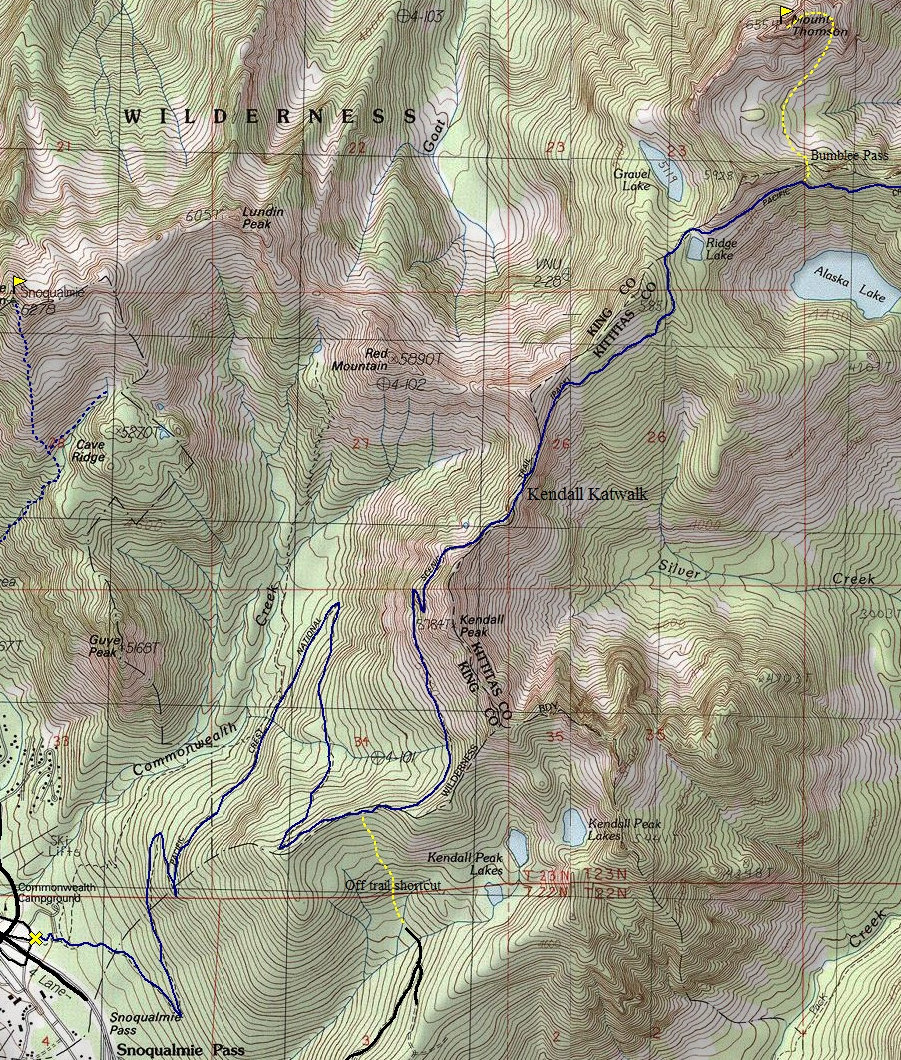 Class 3 part
Lemah Mountain, Chimney Rock, Overcoat Peak
Eat to Huckleberry Mountain
Lakes below to the east
Climbing Thomson
Easier ground higher up