Start from the Alpental Ski Area Parking Lot, exit 52 off Interstate 90. Drive two miles to the resort from the interstate.
WillhiteWeb.com - Hiking, Climbing and Travel
Hemlock Peak
Hemlock Peak is a minor summit along the ridgeline that stretches from the Alpental Ski Area to Chair Peak. The chain of peaks goes Denny Mountain, The Tooth, Hemlock Peak, Bryant Peak and Chair Peak. Hemlock Peak is probably the least climbed of them all. Consider it a wimp-out peak for The Tooth and it only has 240 feet of prominence . But, since there is possible boot tracks up there in winter from all the backcountry skiers, it doesn't make for a bad winter climb.
Distance: 3.5 miles
Summit Elevation: 5,580 feet
Elevation Gain: 2600+ feet
Access: Paved
Route:
Access:
In summer, follow the Snow Lake Trail 2 miles to the Source Lake left turn. Follow the cairned trail for The Tooth up to Pineapple Pass. In winter, you can take the same route or the cat-track route on the south side of Denny Creek. There are usually many ski and snowshoe tracks up to Source Lake from the end of the compacted cat trail. Another option with skis is from the top of the ski area and follow the "Great Scott Traverse" over to the base of The Tooth and Pineapple Pass. Once through Pineapple Pass, traverse the south slopes of The Tooth. Finally, climb up the SE slopes of Hemlock Peak through mixed trees. I would guess it is also possible to find a way up via the Denny Creek Trail but some bushwhacking would be necessary. Low avalanche danger is required for this trip.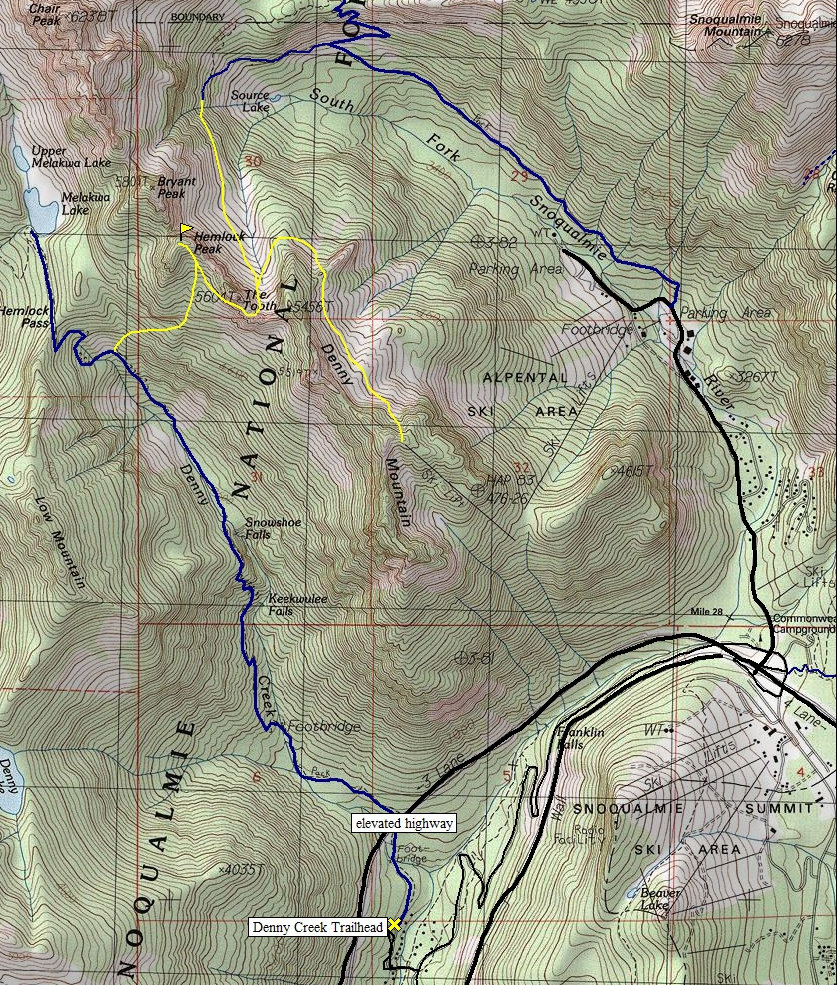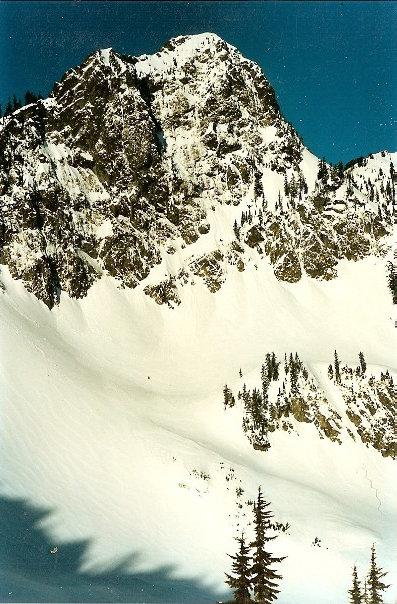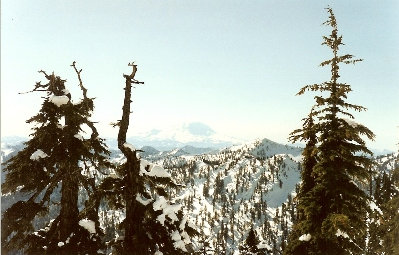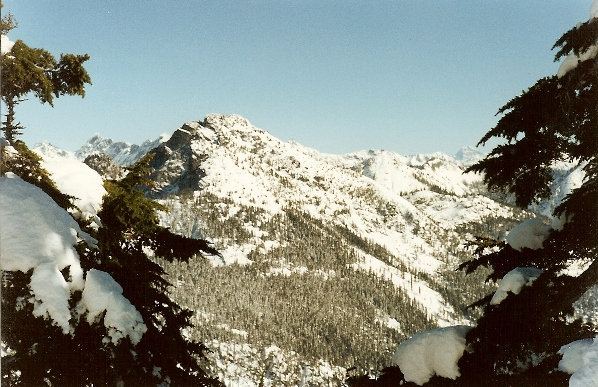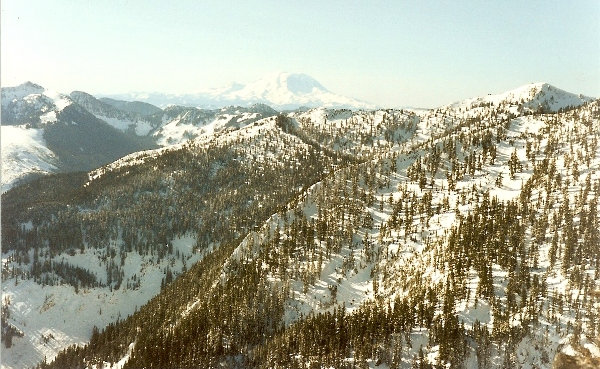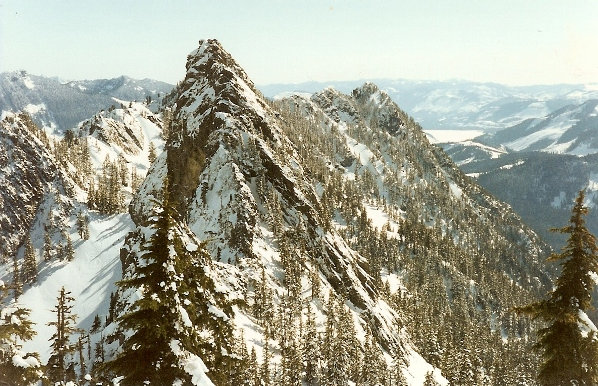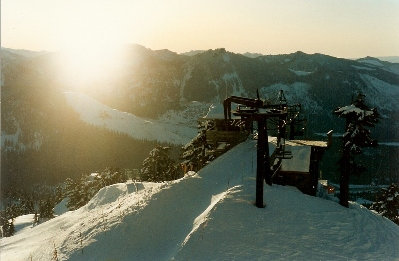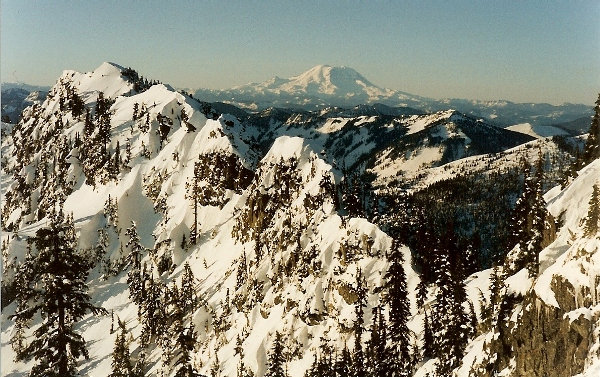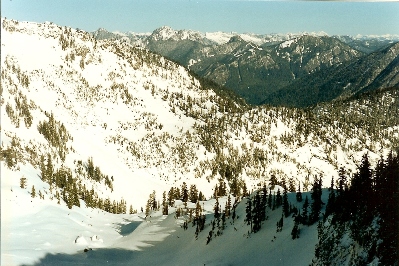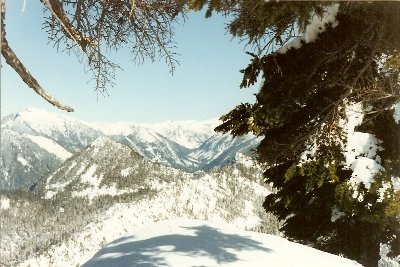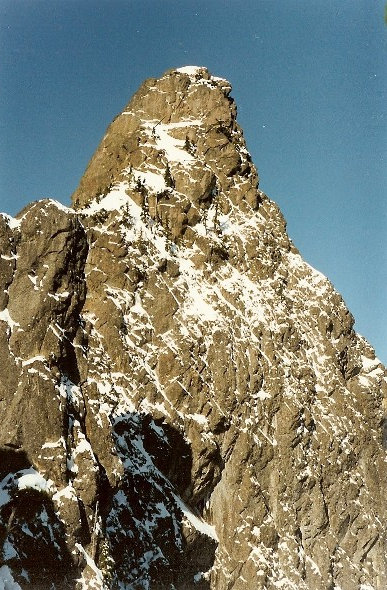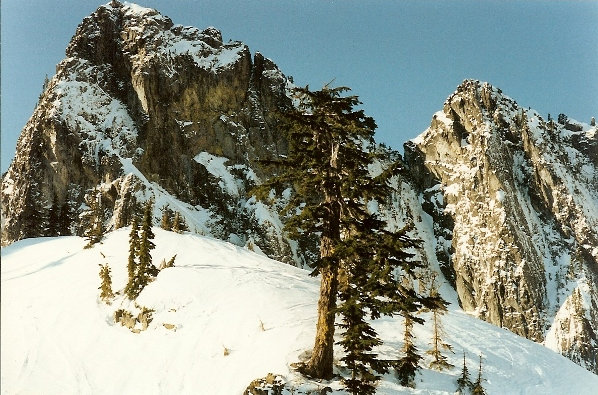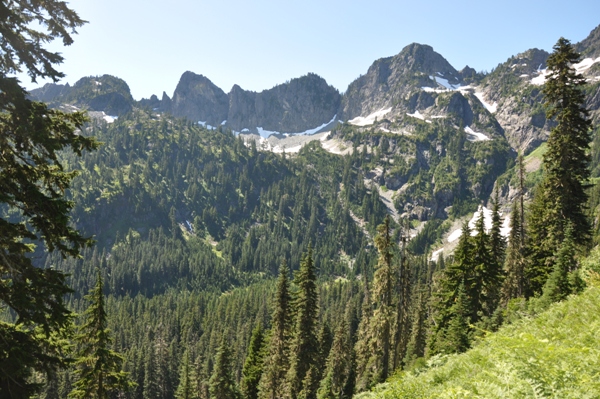 The Tooth
Hemlock Peak
Bryant Peak
Pineapple Pass
Bryant Peak east face in winter
Sunrise over Rampart Ridge from Alpental
From the Snow Lake Trail
North side of The Tooth
East face of The Tooth
Northwest side of The Tooth from Hemlock Peak
The south ridge of Denny Mountain
Looking up the Middle Fork Snoqualmie from Hemlock Peak
Looking north from near Pineapple Pass
Silver Peak
Mount Rainier
Granite Mountain
Looking south from Pineapple Pass
Snowqualmie Mountain from Hemlock Peak
Mount Rainier from Hemlock Peak