www.willhiteweb.com - Hiking, Climbing and Travel
Chair Peak - NE Ridge
Chair Peak is a well known summit visible from the Alpental Ski Area near Snoqualmie Pass. It is very rugged, is easily accessible and has no easy way to get up. This makes Chair Peak a classic attraction for climbers. Several routes are available, I've done the Northeast Buttress a few times so that is what is described on this page.
Distance: 3 miles
Summit Elevation: 6,238 feet
Elevation Gain: 3,000 feet
Access: Paved
Start from the Alpental Ski Area Parking Lot, exit 52 off Interstate 90. In summer, follow the Snow Lake Trail. In winter, you can take the same route or the cat-track route on the south side of Denny Creek. There are usually many ski and snowshoe tracks up to Source Lake from the end of the cat trail.
Trail Access:
Road Access:
Follow the Snow Lake Trail for 1.5 miles to a signed "unmaintained" trail to Source Lake. Follow this old Snow Lake trail & look for climbers trails going upslope to the ridgeline north of Chair Peak. Hit the ridge near a notch and scramble to the base of the Northeast Buttress.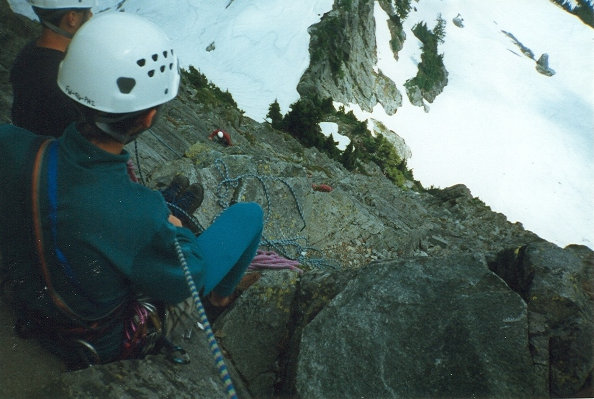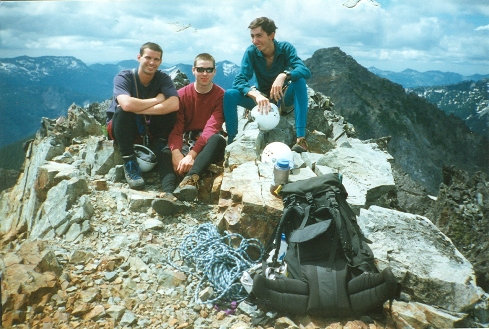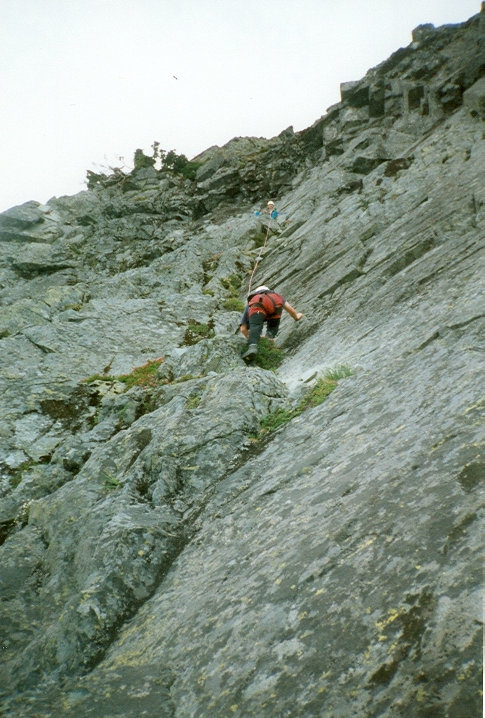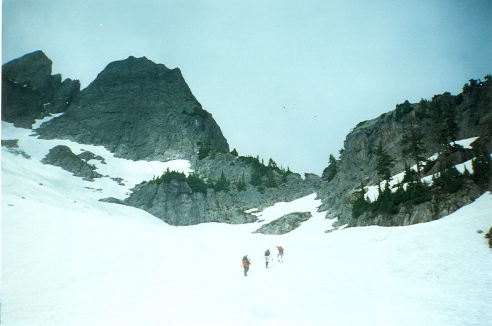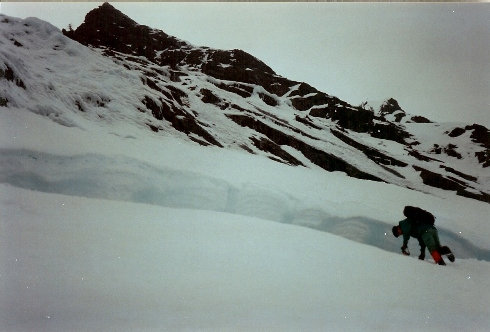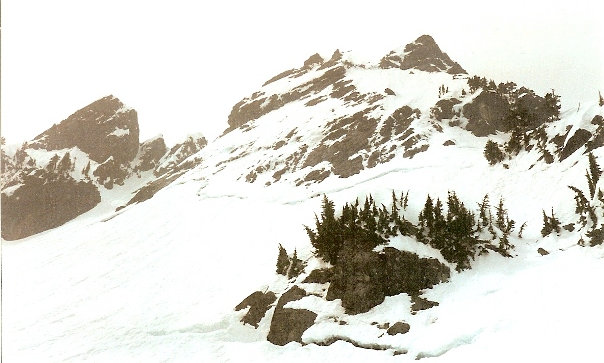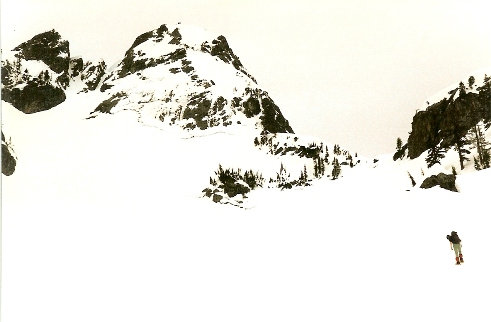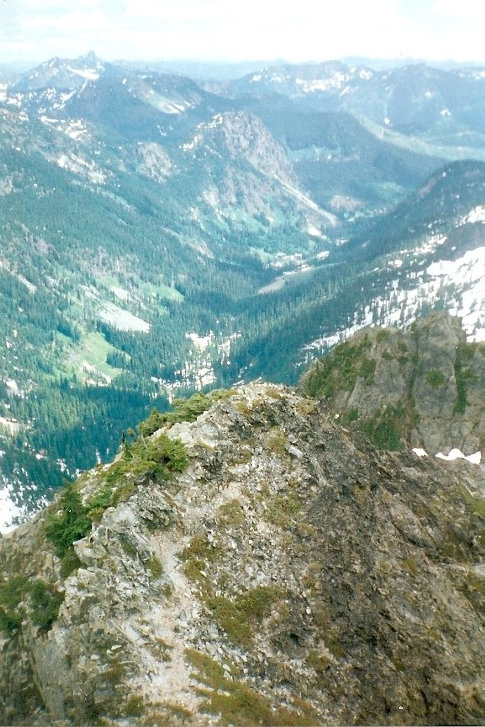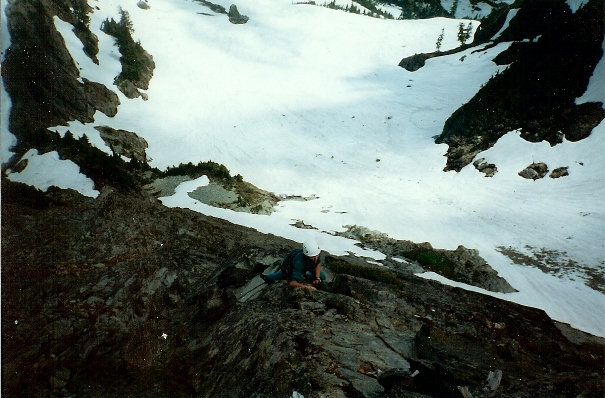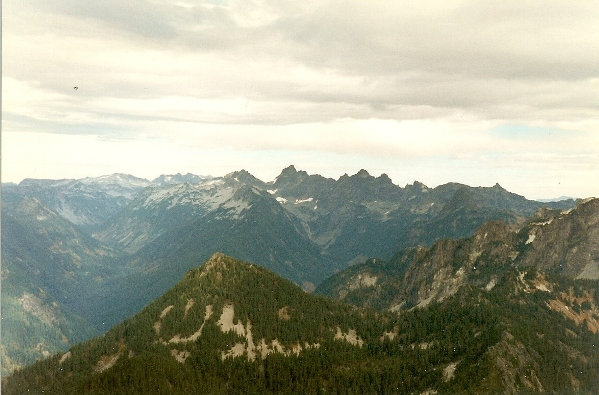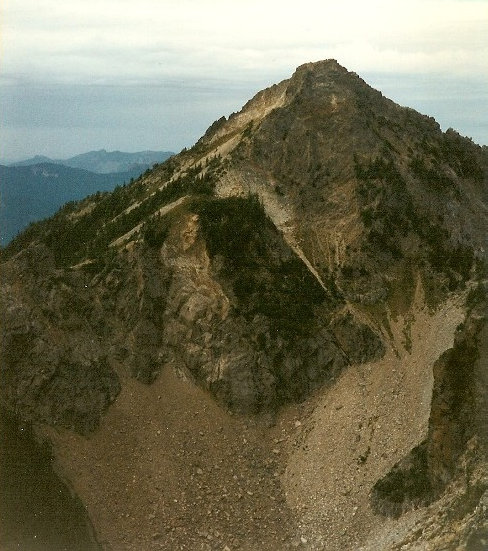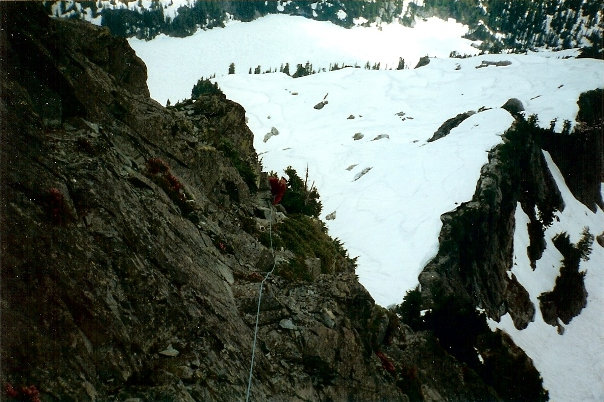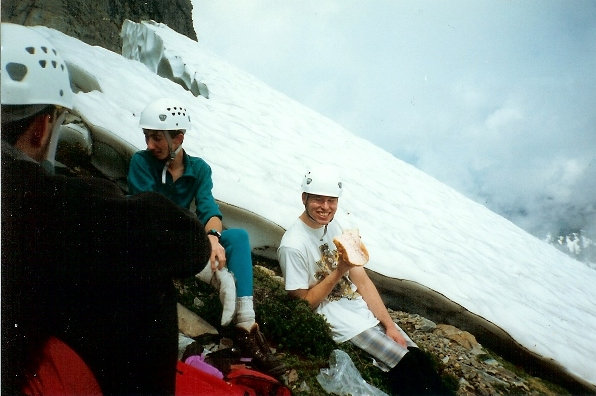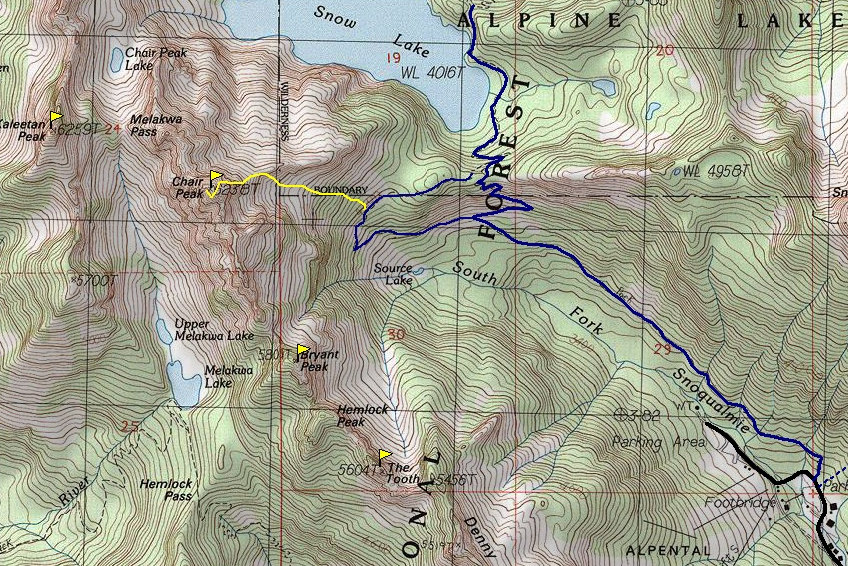 Becky Guide Route Description
Ascend a crooked chimney that angles up and right, then head to easier rock at a small tree patch at about the 175 foot level; keep right of trees. On the final 300 feet, keep generally left of the crest by going up an open book; work left on a broken horizontal ledge 50 feet above the tree patch, then up broken slabs to an obvious tree 130 feet higher. Work left to a depression between the sub-summit (on left) and the true summit, then climb easily over the sub-summit.
On a traverse
Three up one to go for this pitch
In the open book
Summit shot
Looking down the NE Buttress
Climbing up to the ridge from Source Lake trail
Looking back to Alpental
NW with Big Snow Mountain the distance
Kaleetan Peak
Lemah Mountain - Chimney Rock area
At the base...is that a pizza?
Thinking about a winter climb
Area in winter
Area in winter