Looking back from pass
At the trailhead
Border Patrol Cabin
Views from the pass
The climb up to the pass
Looking back to the pass
Artifacts
Deep Lake
Lindeman Lake
Long Lake
Cabin on Lindeman Lake
Chilkoot Trail
WillhiteWeb.com: Hiking, Climbing and Travel
Creek near Happy Camp
Going north from the pass
Frozen lakes on other side of pass
Views along the way
The Chilkoot is the famous route over Chilkoot Pass near Skagway Alaska. This pass is where the infamous picture of hundreds of Klondike Gold Rush hopefuls were climbing in a straight line up a steep snow slope carrying tons of provisions. It was one of the hardest parts of the journey to the north for gold.

Years ago on a family road trip with my dad and brother, we decided on a whim to hike the Chilkoot Trail. Most plan well in advance, making the 33 mile trip in 3-5 days. Because of the historic nature of the trail, there are backpackers doing the trip with little or no experience. We also found people from all over the world hiking the trail. While in Skagway, my dad offered to pick us up the next day at the other end in Canada. We quickly packed some gear and I even had to borrow my dads boots...a big mistake in the end.

So off we went, up the trail with only a national park map. The route was mostly forested for miles but interpretive signs and people watching made it a fun hike. As we broke tree line approaching the climb to the pass things became more interesting. Although it is a very nice trail, there is still some boulder hopping and snowfield climbing to be done to get up the 1,000 foot gain at the end. People were really struggling. We gave good encouragement as we passed them, it was understandable these newbie's were worn out.

At the pass is a ranger border patrol cabin. Here we signed in, and proceeded on into Canada. The north side was much deeper in snow as the trail stays high for several miles. The tracks and wands (bamboo sticks with flags) marked the way well enough. We decided we would make our only nights camp once we got out of the snow. It wasn't until Happy Camp at mile 20.5 that we were now below the snowmelt. At this camp was a shelter with a variety of hikers camping in and around it. As we cooked dinner, it felt like an expedition base camp as we talked with different people from 3 different countries. We were asked "what day did you start the trail?" Our response was "this morning" which totally shocked these people who had been out for several days. We explained we were being picked up at noon the next day so we had to cruise with only a day and a half for the whole thing.

The next morning was a scenic hike through open rocky areas with several large lakes. Again, interpretive signs and reading the park brochure on the run was all the education we could fit in. There were several side trails to historic sights but they had to be skipped this time around. Several miles before the end of the trail is a cut-off route to the main highway into Skagway. We had to take this trail (which is actually walking on railroad tracks) to meet my dad on the highway. By this time, my feet in my dads boots had turned into hamburger as he is a size smaller than I. The railroad route made it all the worse but I limped my way there and we found our dad waiting with Chilkoot Trail t-shirt souvenirs.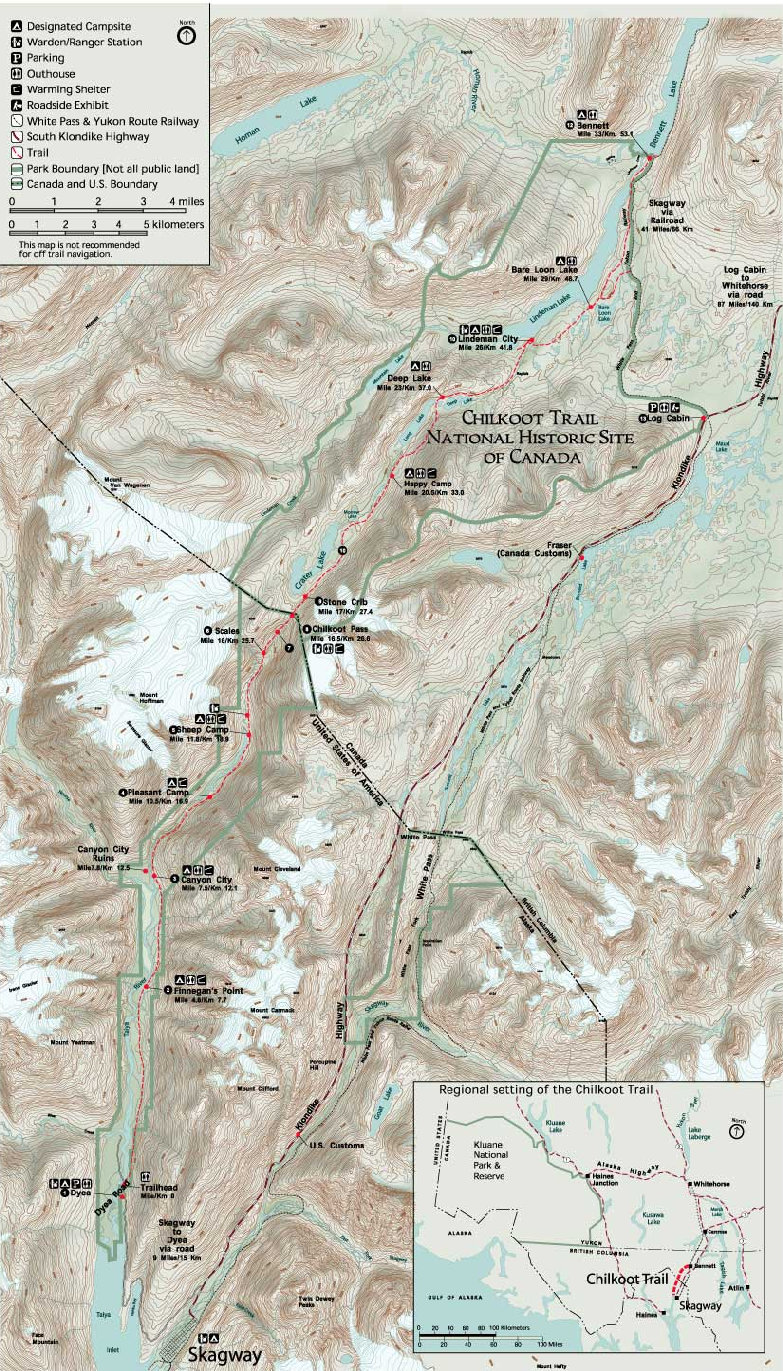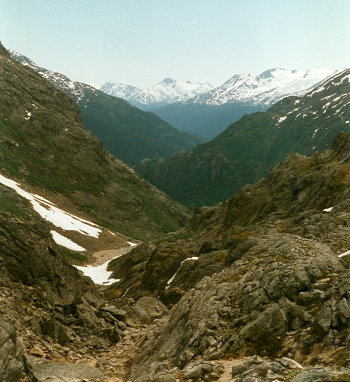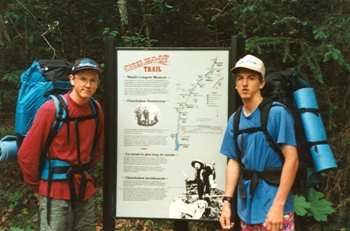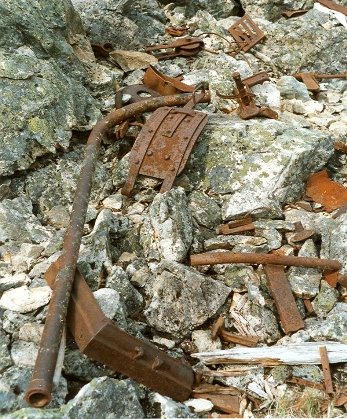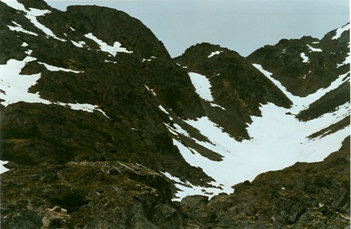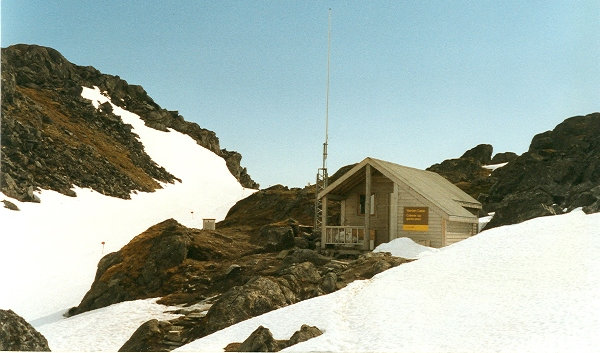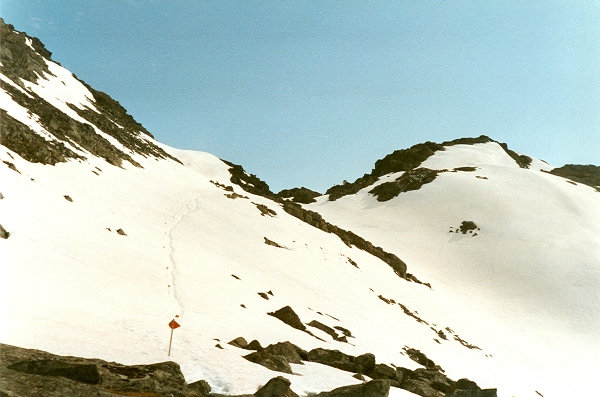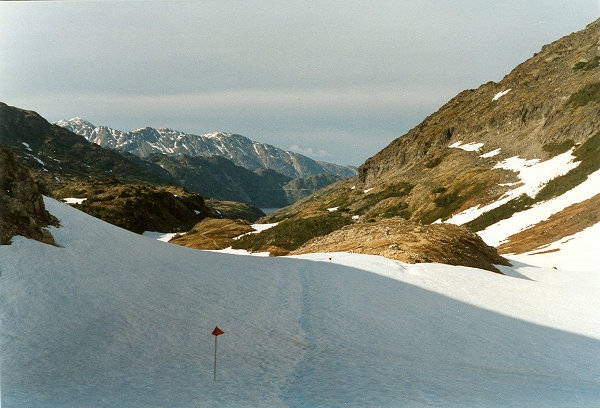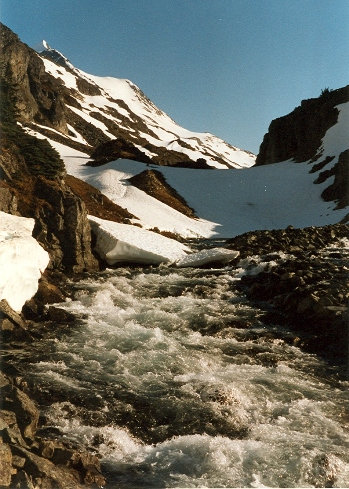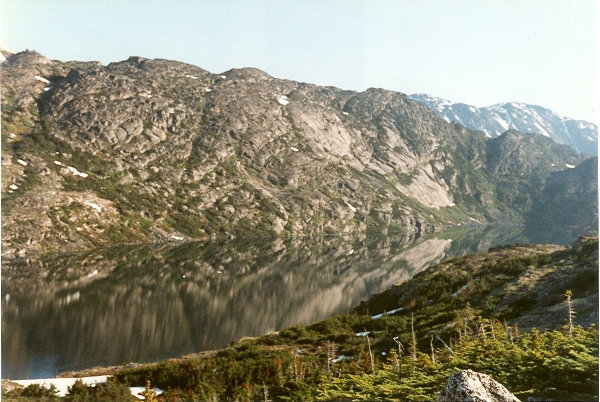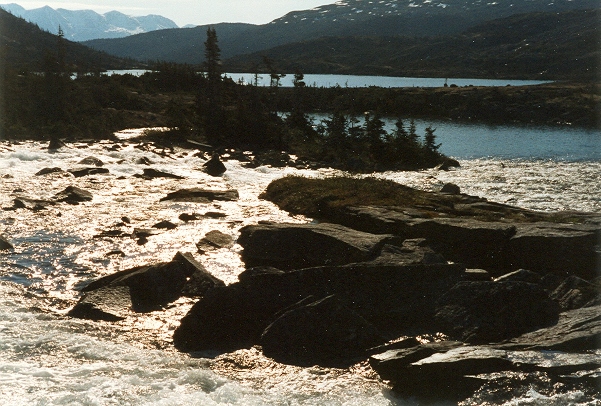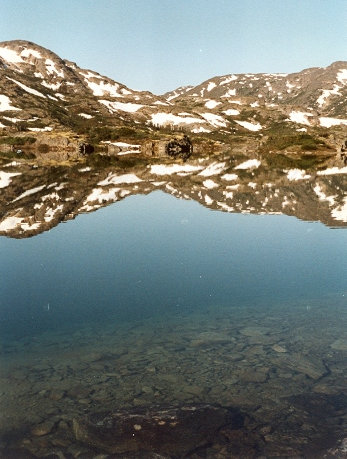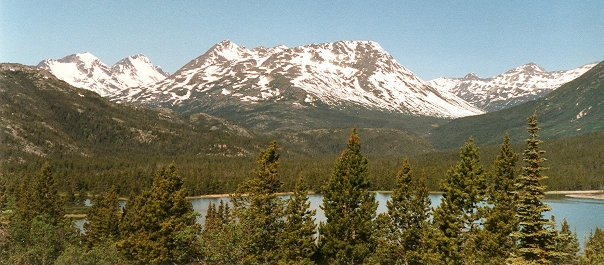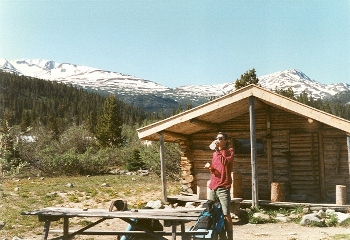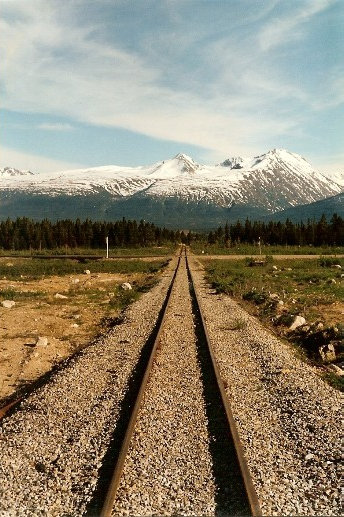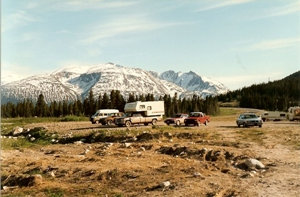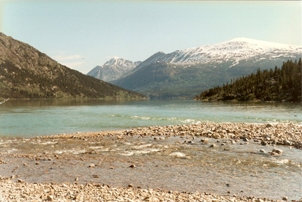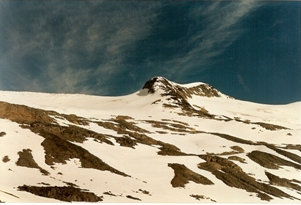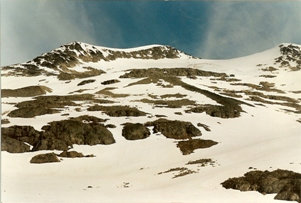 Cut-off route to White Pass