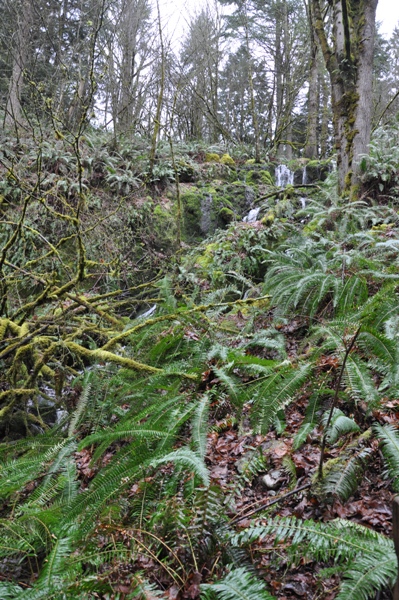 Marshall Hill is just inside Cougar Mountain Regional Wildland Park. The largest King County Park with over 3,000 acres and 36 miles of trails. A hike to the summit of Marshalls Hill can be done as a loop hiking trip that takes in most of the highlights of the far western half of the park.
WillhiteWeb.com - Hiking, Climbing and Travel
Marshall's Hill
Distance: 4ish miles for the loop
Summit Elevation: 1,118 feet
Elevation Gain: 500 feet
Access: Paved
Access:
Red Town Trailhead: From I-90: Take Exit 13 and drive south on Lakemont Blvd SE for 3.1 miles. Look for the entrance to the Red Town Trailhead on the left side of the road.
Route:
Several trails start from the parking lot, be sure to bring a map. There are many side trails all along this route but the signage within the park is pretty good. From the trailhead, find the Wildside Trail. Follow this easy trail to the Marshall's Hill Trail. Now the climbing begins but it is gently and goes easy. As you get higher, the nice conifer forests engulf the trail and it becomes quite pleasant. Follow signs at all turns, eventually cross a gated access road to a water tower. Not much beyond, the trail crosses over the summit, a wooded highpoint that has no views or anything really. The trail splits there as well. You can drop steeply down to the De Leo Wall Viewpoint on a less maintained trail or take a nicer trail down, the De Leo Wall Trail. They both merge back together 0.2 miles beyond the viewpoint. As for the viewpoint, it is rather sad, not much there anymore. Continuing the loop, follow the trail down to the intersection with the Indian Trail. A short side trip south takes you to the Far County Falls. Then take the Indian Trail north to the Meadow Restoration Project to get a quick education. From there, the wide Red Town Trail will bring you back to your vehicle.
From I-405: Take Exit 10 and follow Coal Creek Pkwy SE for 2.4 miles to the shopping center. Turn left at the light onto SE 72nd Pl and then left again at Newcastle Gold Club Road. Follow that for 1.9 miles. The entrance to Red Town Trailhead is on the right side of the road just after the big bend.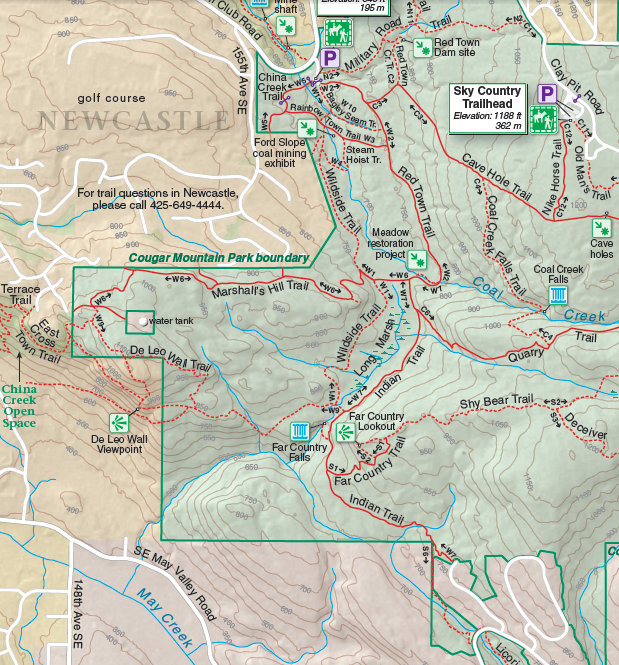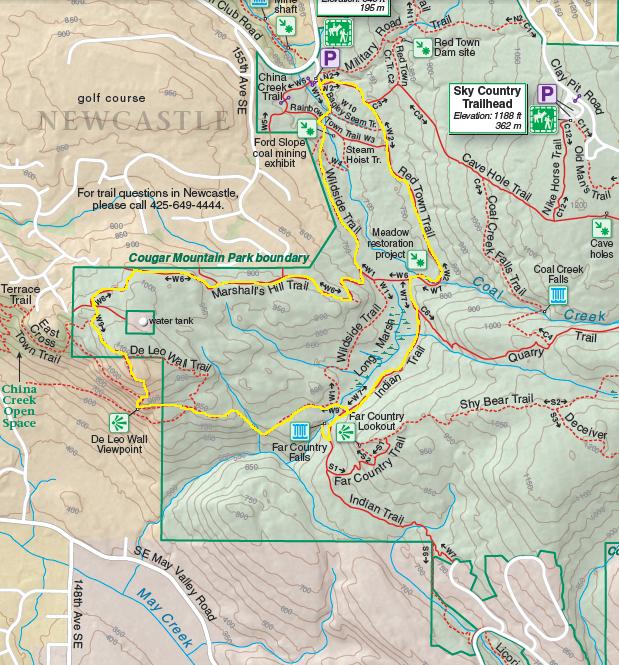 Cougar Mountain Regional Wildland Park Map with Route
Cougar Mountain Regional Wildland Park Map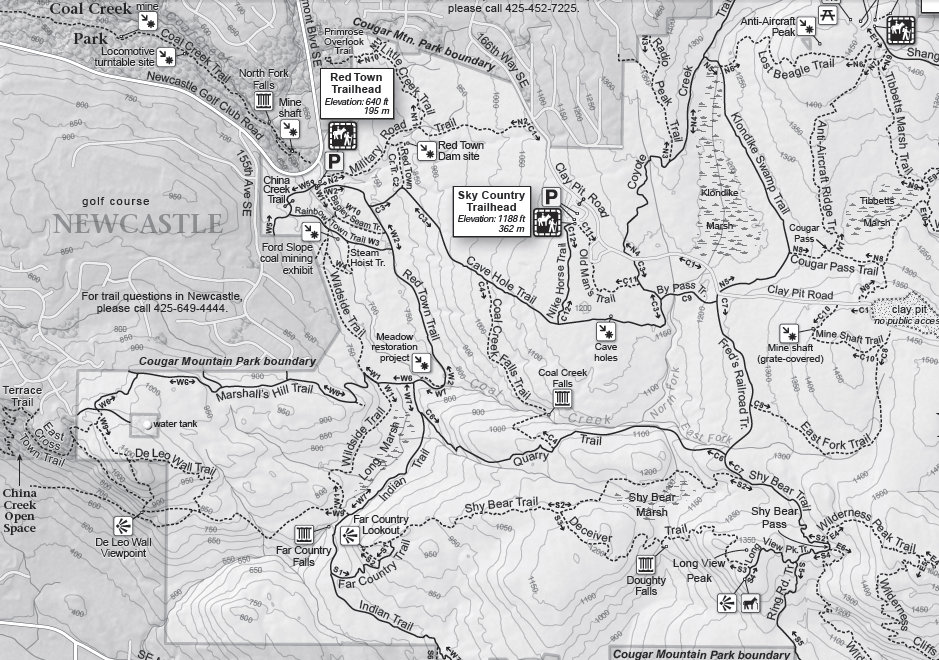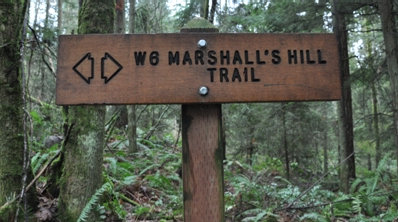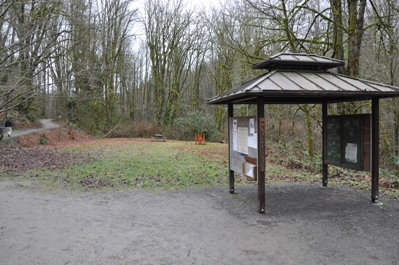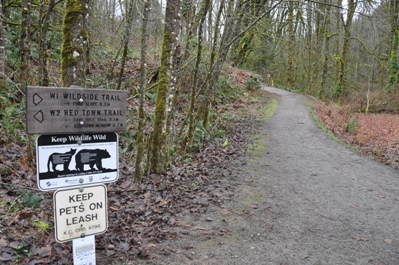 The start of the Wildside Trail
Trailhead
Trail signs for Marshall's Hill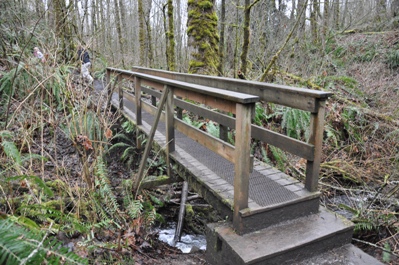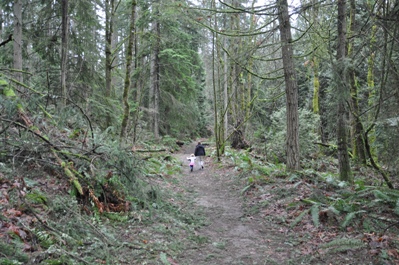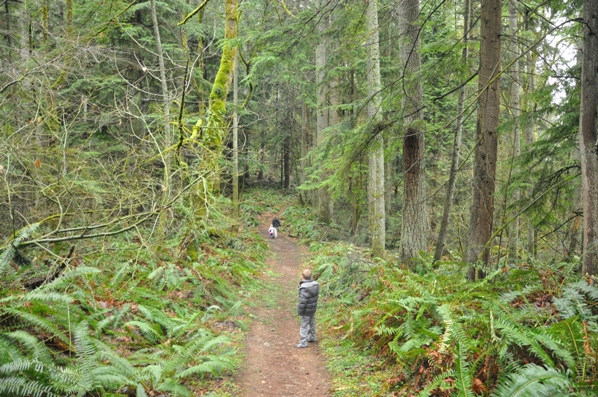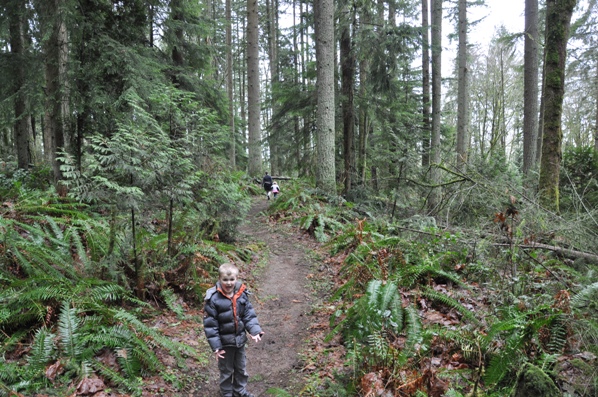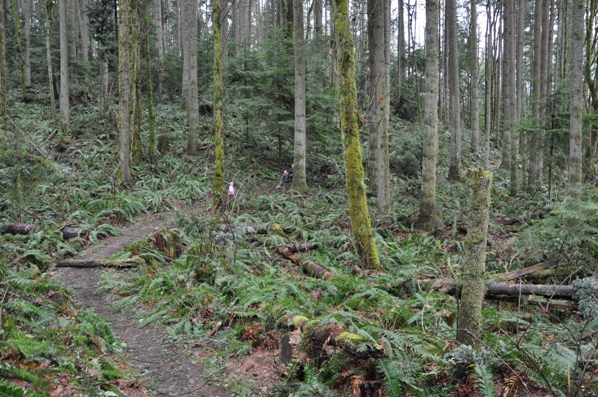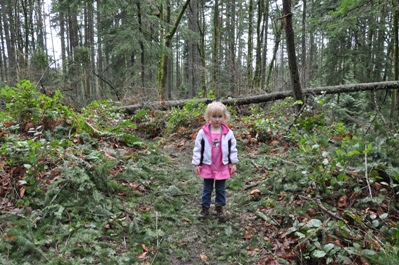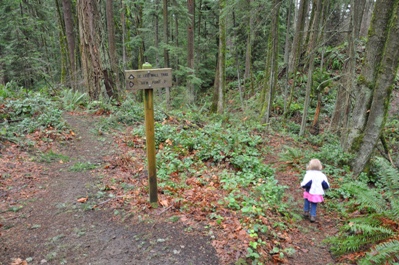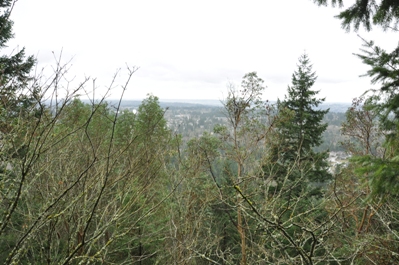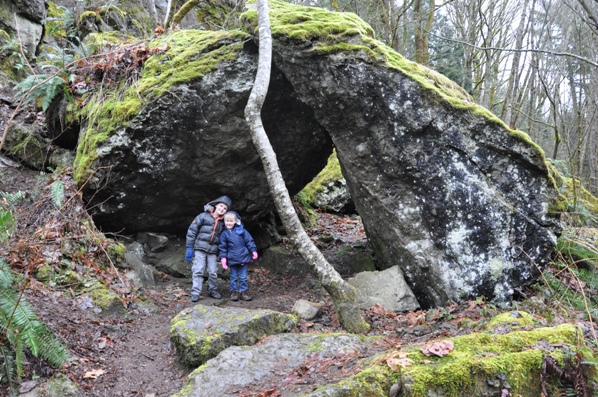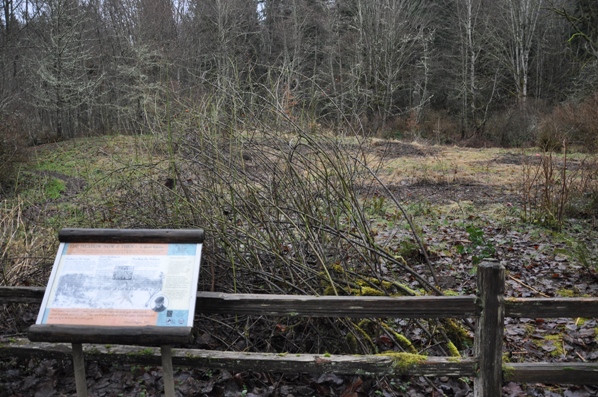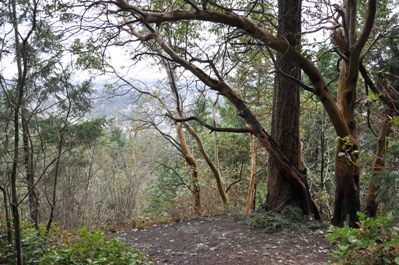 Wildside bridge crossing
Marshall's Hill Trail
Marshall's Hill Trail
Marshall's Hill Trail
Marshall's Hill Trail
Rocks off the Indian Trail
McKinley on the summit of Marshall's Hill
De Leo Wall Trail
De Leo Wall Viewpoint
Far County Falls
De Leo Wall Viewpoint