WillhiteWeb.com - Hiking, Climbing and Travel
Grand Ridge is viewed by thousands a day driving westbound on I-90 near Issaquah. The hillside is heavily forested, towering over the highway but the low elevation prompts few people to ask, "What is that?" Much of the area is called Grand Ridge Park. When the housing development of Issaquah Highlands was arranged, the developers agreed to set aside four acres of park land for every one acre under development. Today, there is a 7-mile multi-use trail built by volunteers that traverses the park and now continues north to additional parklands. The trail is open to hiking, horse back riding and mountain biking.
Grand Ridge Trail - South Section and Peak
Distance: 4.5 miles
Summit Elevation: 1,290 feet
Elevation Gain: 900 feet
Access: Paved
Access:
Route:
Hike west on the Issaquah-to-High Point Trail around a half-mile to a signed trail on the right. Immediately, you enter some old forest with old-growth trees. The county website says large second growth Douglas-fir but they are surly mistaken. Some old trees were defiantly left standing in this pocket of timber. Hike to a small creek, cross it, continue up a bit more elevation to the point where the trail crosses back across the same creek and where the trail levels out a bit. This is where you leave the trail if you want to go to the highpoint (described below). If you just want to hike on trails only, continue on to two trail junctions, going right each time. When you hit Grand Ridge Drive (a paved road), walk the road west for 5 minutes to an incredible view to Seattle. Consider this your summit. Back where you hit the road, you can continue north all the way to Duthie Hill Park.
The pictures here are from the High Point access. Take I-90 east from Issaquah one exit to the High Point Exit #20. Go left under the freeway to a trailhead parking on the left. This is also parking for the Issaquah to High Point Trail, an old railroad grade popular with bikers.
Highpoint Detour:
From the re-crossing of the creek, bushwhack up NE several hundred feet until you start to see a few properties. Stay back and traverse east around them, staying on public property. The brush is annoying but not that difficult. At what seems is the summit is just a false highpoint, drop down a bit and go the final bump to the highpoint. On this final ridge, property corners get really close to the top. In the future, this point may be very awkward to reach. Return the same way to avoid trespass. But, you can look down from the summit area and see Grand Ridge Drive, not far below. Walking Grand Ridge Drive to the public trail crossing would make a nice loop.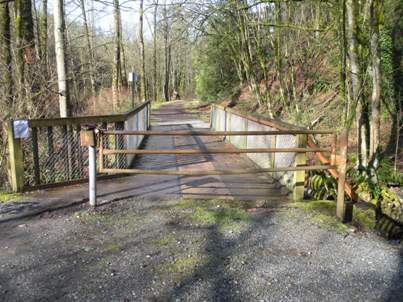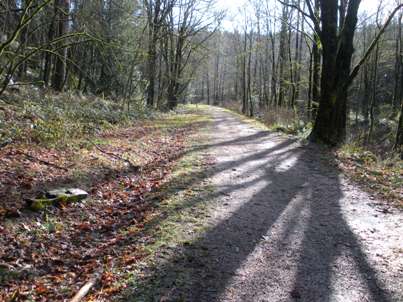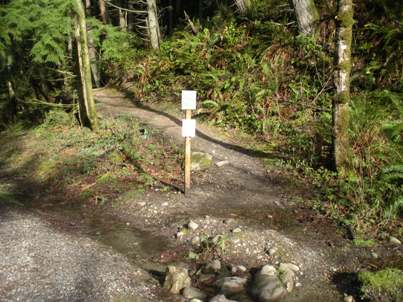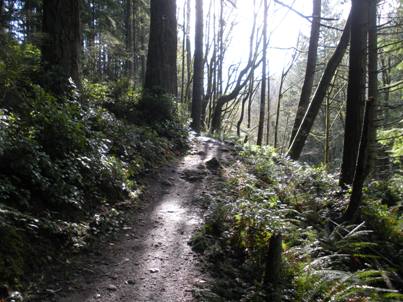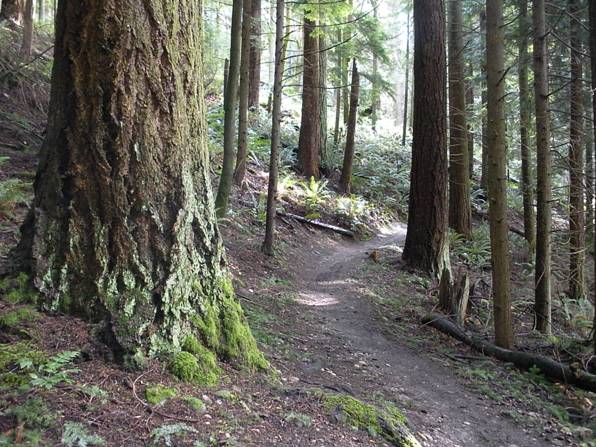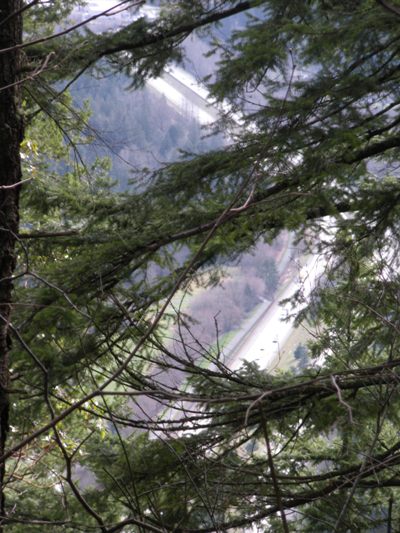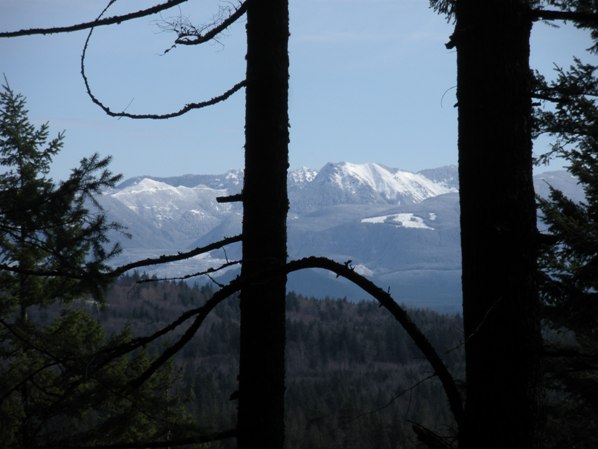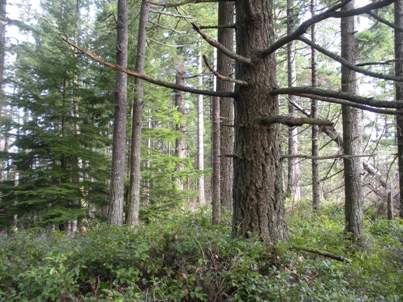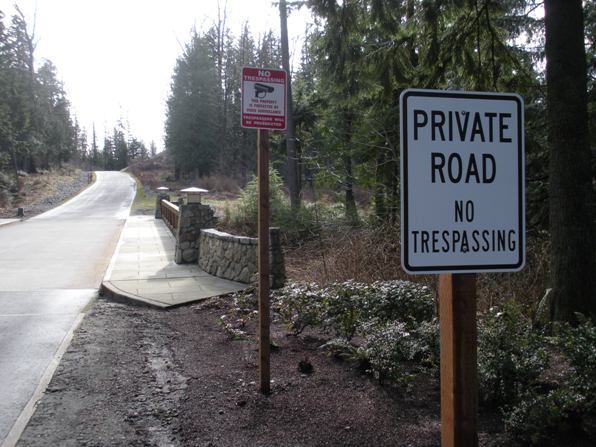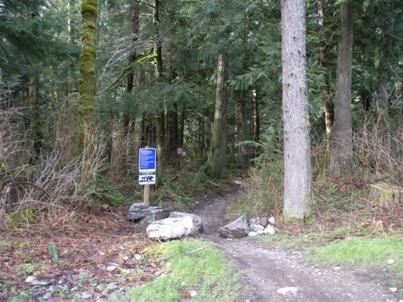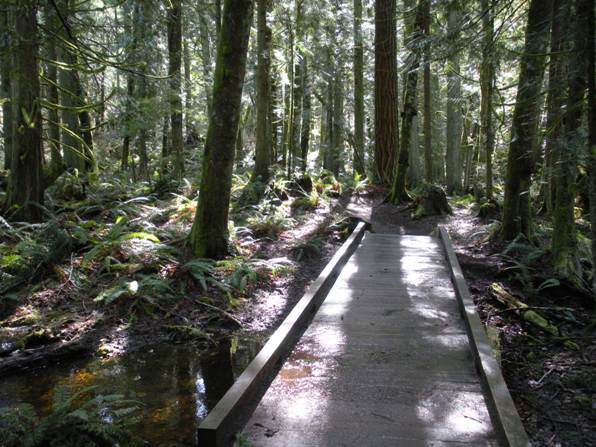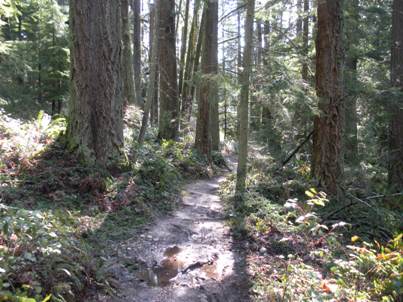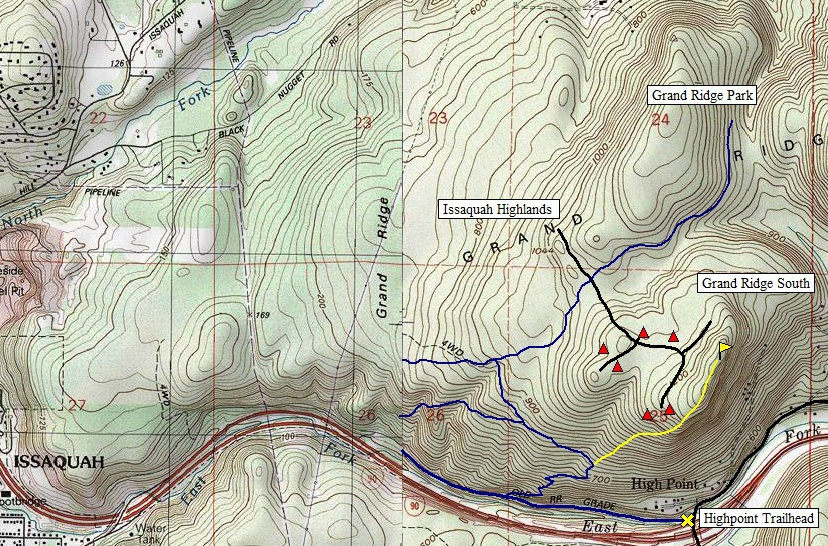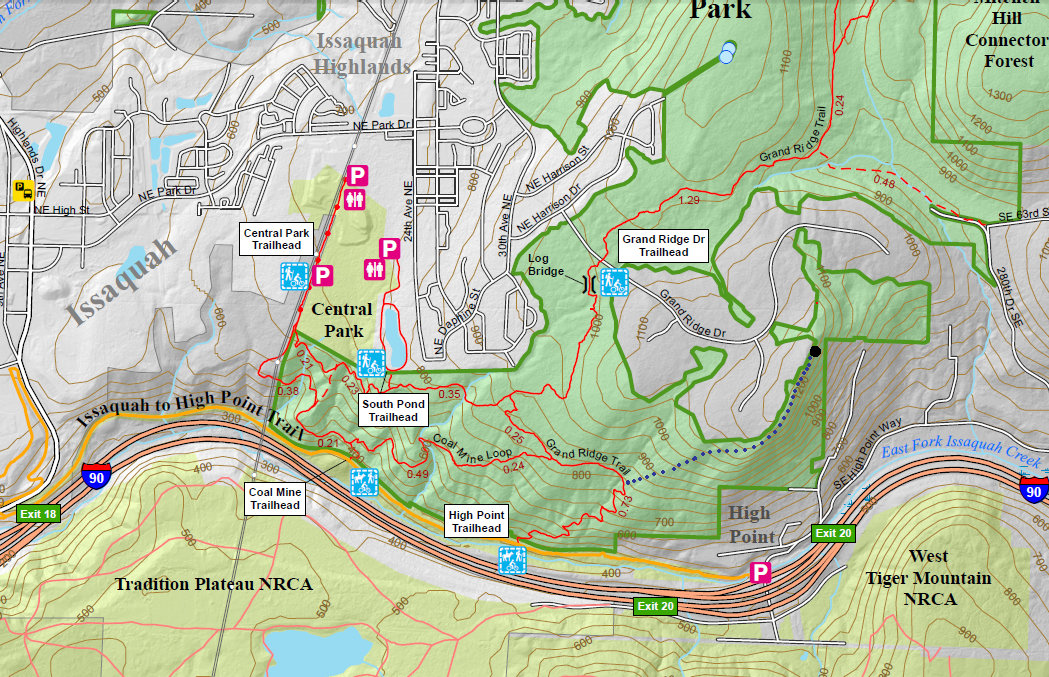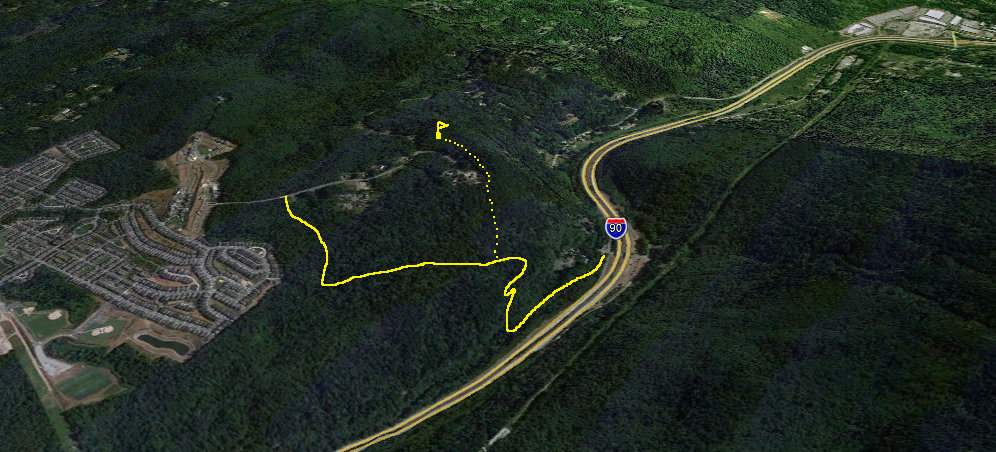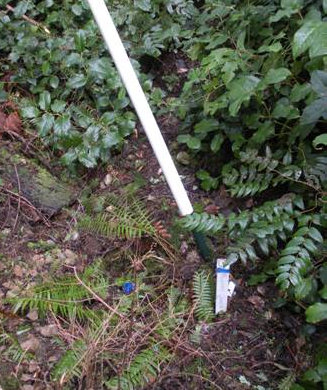 Property Corner near the summit
Topo of the area before the Issaquah Highlands were developed
VIEW
PARKED
HERE
The view from the top of the Issaquah Highlands
King County Trail Map
Seattle from the viewpoint
The trail near the log bridge
The Log Bridge shown on the county trail map
If you see this tree, you are at the highpoint
Here is the problem with hiking Grand Ridge Drive between the highpoint and the public road crossing
The trail at the public road crossing on Grand Ridge Drive
A peek at the higher Cascades from the false summit
Looking down on I-90 from the false summit
Hiking the Grand Ridge Trail
Hiking the Grand Ridge Trail
The trail turn-off from the Issaquah to High Point Trail
Issaquah to High Point Trail
Issaquah to High Point Trail at the parking lot
Trails also head out from Central Park in the Issaquah Highlands