WillhiteWeb.com - Puget Sound Parks
Bridle Trails State Park
Bridle Trails State Park located in Kirkland has survived development for over 100 years. The land was granted to Washington during statehood in 1889. The DNR managed the land, logged it once around 1920, and began leasing it to the State Parks shortly after. In the 1960's, the State Park system purchased the property. Today, Bridle Trails is an urban park, one of the largest in the area. Although there are 28 miles of trails, you wouldn't want to hike them all. Most of the views are the same, unless you are seriously into the flora & fauna. There are three marked trails with varying distances; any of them will give a good overview of the park. Bridle Trails was selectively logged, leaving some large Douglas-firs well over 200 years old. Most of the park is quickly developing into an old-growth forest. Half of the operating costs for Bridle Trails State Park are provided by the Bridle Trails Park Foundation, a equestrian group. Basically, horses rule here. So, expect some muddy trails in places and lots of horse droppings. Most of the developed facilities in the park are equestrian related, like horse grounds and arenas. No mountain biking allowed and personally, I wouldn't even bring a dog to the park, as horses and dogs don't always play nicely together.
Access:
From I-405 northbound, exit the freeway at exit #17 (NE 70th St.) Turn right at end of the exit onto 116th Ave. NE. Follow the road until you see the park entrance on the left. Neighbo
From I-405 southbound, same exit, turn right on NE 70th St., follow to the park on the left.
Bridle Crest Trail:
There is a 2 mile soft surface trail for horseback riding, mountain bicycling and hiking that connects Bridle Trails State Park to Marymoor Park and Sammamish River Trail passing through Redmond, Bellevue and Kirkland.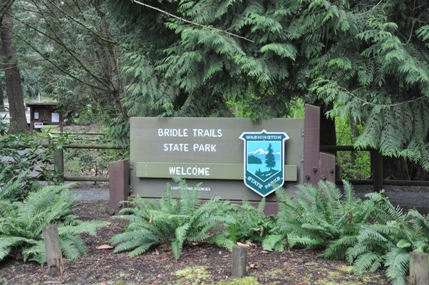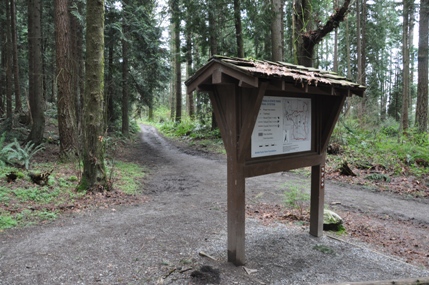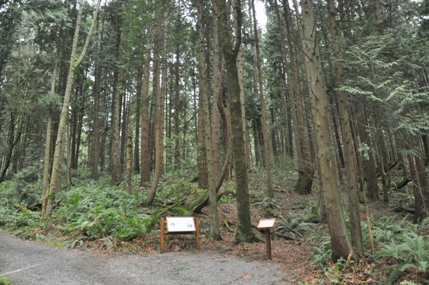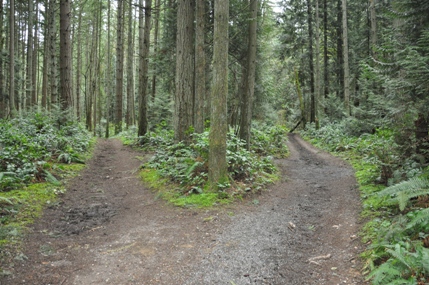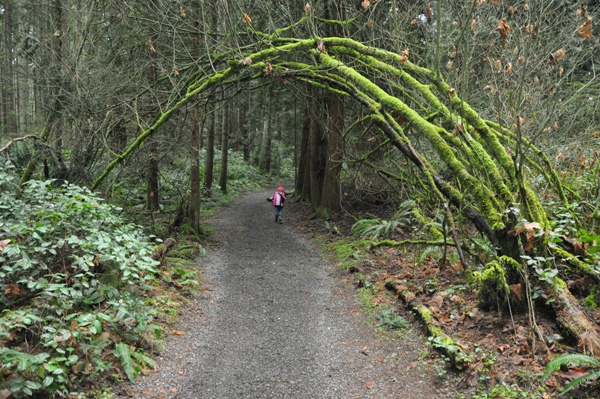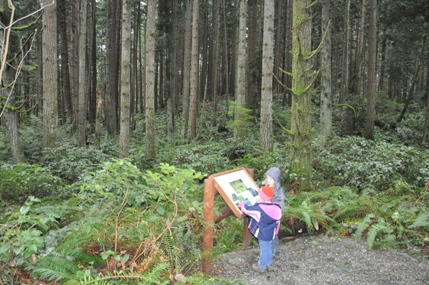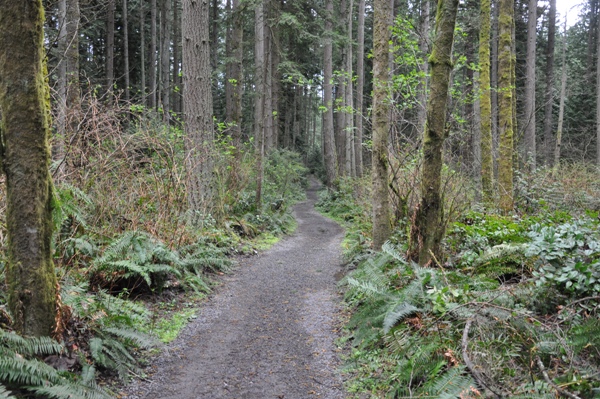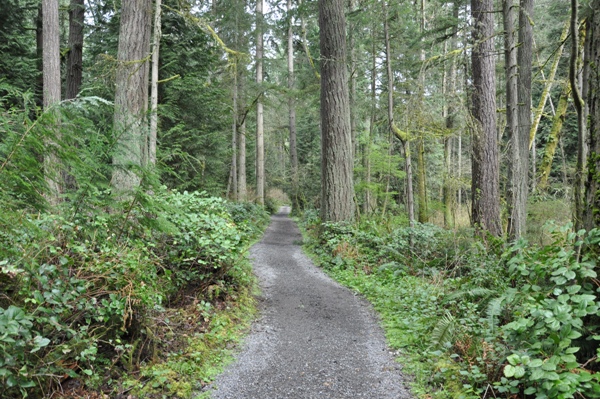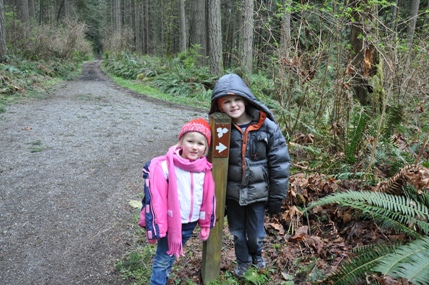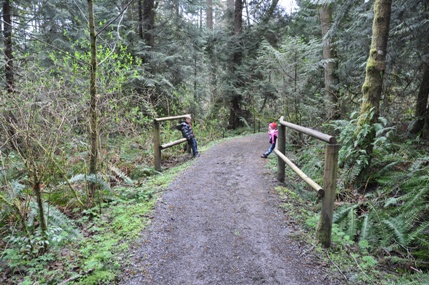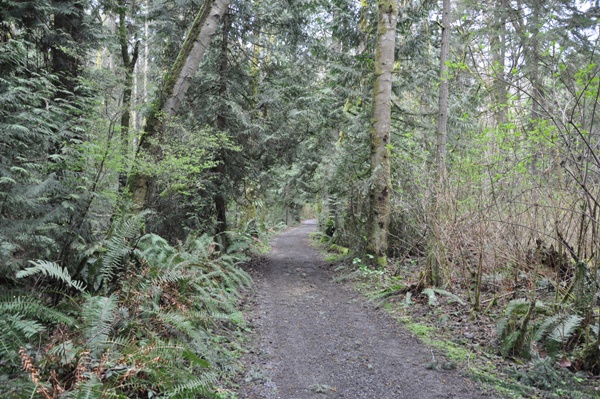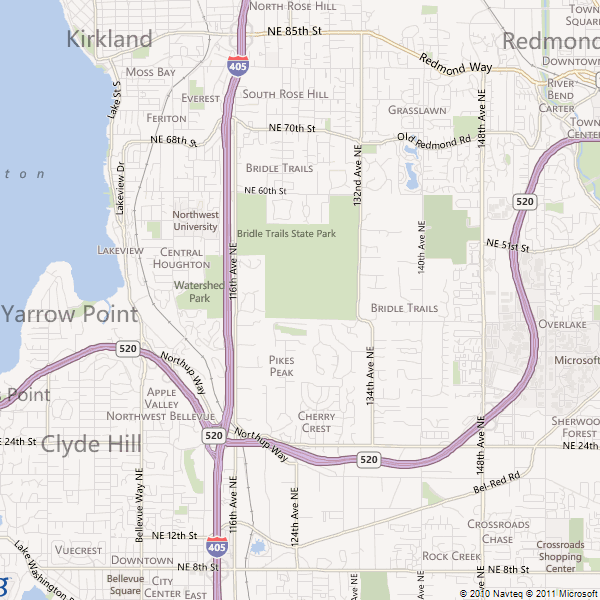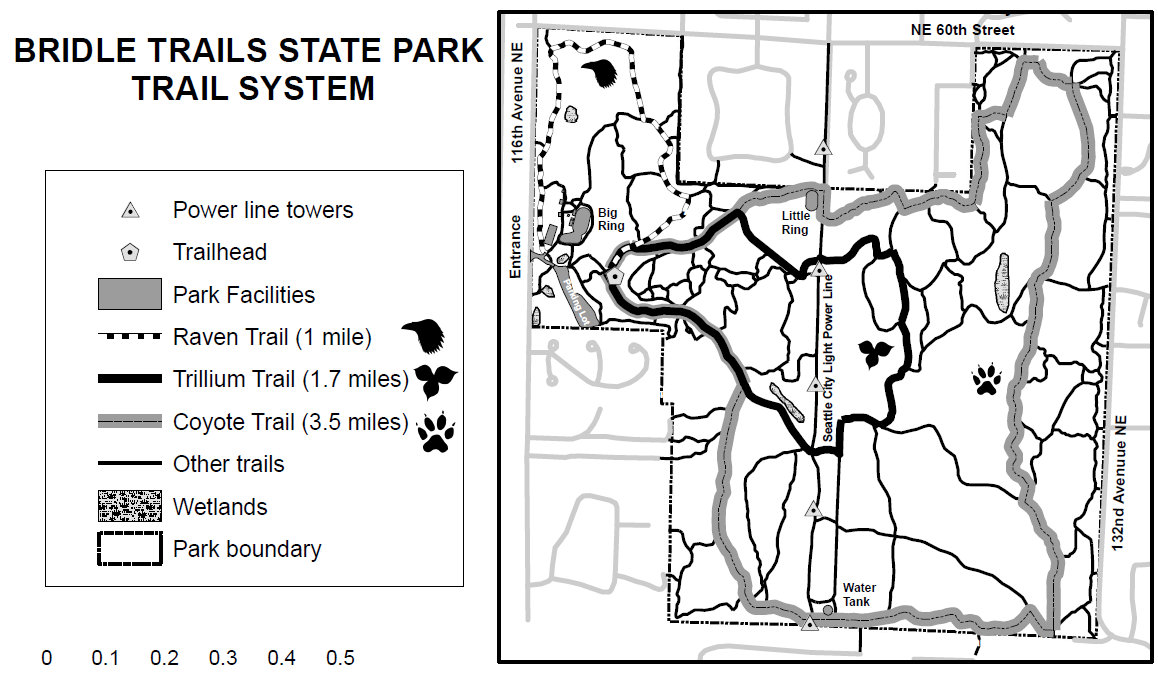 Following the Trillium Trail
Entrance sign for Bridle Trails State Park
Trail Map
Interpretive Signs
Trails, trails, trails
Signs explaining the forest process
Powerline Trail cuts across the State Park
X