Snowshoeing 101
WillhiteWeb.com: Snowshoeing 101
What is Snowshoeing?
What keeps hikers out of the mountains in winter?
Preparing for Snowshoeing
Most will call it snowshoeing when they get to a trailhead with the specific purpose of strapping on the snowshoes from the parking lot. In reality, snowshoeing is just hiking. All too often for those who like to hike year round, about halfway up the trail you encounter snow. In fall, it might be fresh powdery snow, in spring, deep slush from the sun melting the snow pack. If the hike is to continue much further, snowshoes will be needed. Some regions of the country may require having snowshoes on hand from November to April, thatís 6 months! Yes, you may be in snowshoes the entire trip but itís only a tool to go hiking in the winter. So where are all the hikers in the winter?
1) Donít know Where to Go
This excuse is what I hear the most, if they knew a good place they would go.
2) Afraid of the Weather
Very often, the weather forecaster will scare everyone by saying the conditions in the mountains are too dangerous for travel. Maybe true, but not all areas are dangerous. Many locations are perfectly safe from avalanches and somewhat sheltered from extreme winds.
3) Don't have good Winter Gear
This is a legitimate argument for not going. Wearing the wrong clothing or boots could make for a miserable trip out. Not having snowshoes is a problem as well.
To solve the three problems above, follow these steps:
First step:
Second step:
Third step:
Build a database of trips. Find out where others are going. Go online and look at the calendar of events for the local hiking clubs. Chances are they are doing snowshoeing trips. Google like crazy, collecting information from hiking organizations or trip reports from individuals. Print the information and collect it in a notebook. Youíll want this binder with you incase a road is closed or plans change while you are out. If available in your area, a book on snowshoe trips is very nice to own. Also keep your eye out all summer while hiking. If you know there is winter access to an area, see if anything looks like a good snowshoe climb from that point. Something unappealing in summer can be a rewarding trip in winter. Make a note of it in your database.
Buy or get maps off the web. If you can become comfortable with topographical maps, youíll find all kinds of snowshoeing possibilities long before ever visiting an area. Entire USGS maps on CD for an entire state can usually be purchased for under $100. Youíll use these maps for the rest of youíre life, and they could save your life, so they are a great investment.
Fourth Step: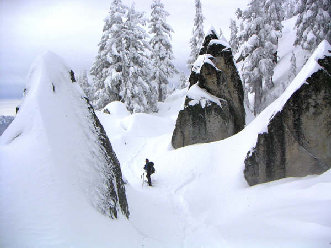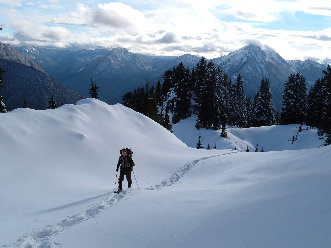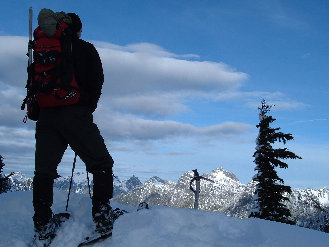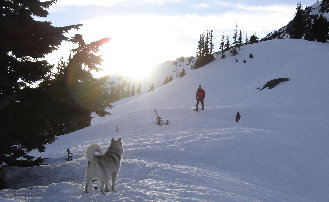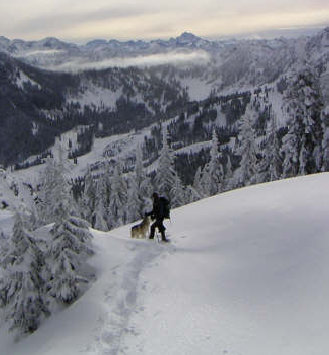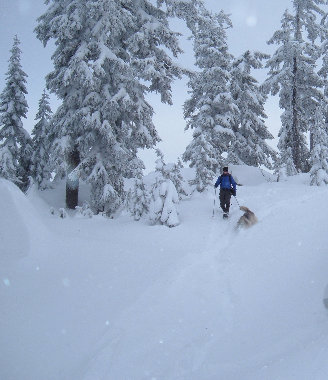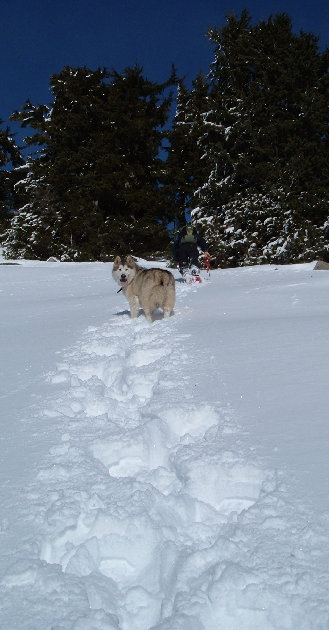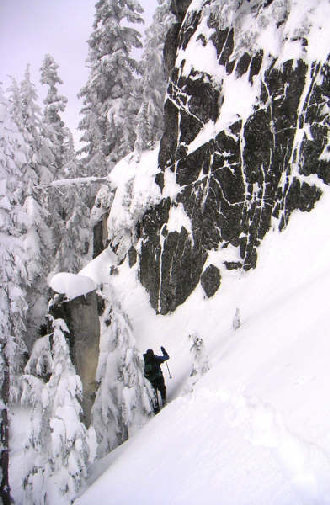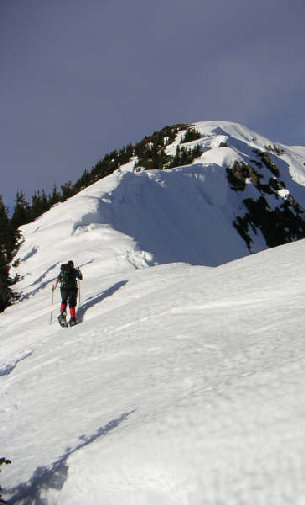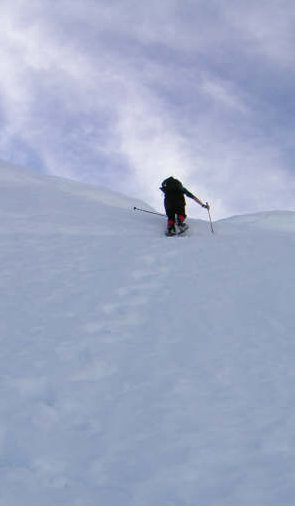 Know the snow conditions in your area. Always keep a basic understanding of when the last snowfall and amounts (light or heavy) hit the mountains. This doesnít need to be a research project, just have a basic understanding of what the snow consolidation might be.

Know where the snow levels are in your area. Along with the snow conditions, knowing the elevation where youíre likely to need snowshoes will be extremely helpful when picking a spot.

Know the forecast for the day you plan to go out. The news report should do, nothing too fancy.

With your database of possible trips from steps one and two, now pick a snowshoe trip based on the three items in step three.
Letís do some examples:
It hasnít snowed in 7 days, the sun has been shining, and the weather will be perfect.
I would be looking for a longer snowshoe trek due to snow consolidation, a higher elevation because the weather will be good and possibly a trip where access could be difficult had it snowed recently.
Over the past week, two storms have dumped heavy snows in the mountains, and another storm might come in during your climb.

I would look for a low elevation climb because of bad weather, a short hike due to deep snow, and good access like a plowed road incase the storm hits while Iím out.
The weather is going to be great but it snowed a considerable amount a few days ago.
I would look for a shorter trip with views, or a popular trail that might have been traveled some of the distance saving me some effort.
Bring the same things you take hiking with a few additional items.

Extra clothing
Gaiters
Hiking Poles
Snowshoes
Youíll need to layer up. I use three layers of clothing. My inner layer is some polypropylene underwear, followed by my warming layer of fleece and an outer waterproof layer of Gore-Tex. Before I had nice clothing, it was a warming layer of wool and outer layer of water-resistant material, either way will work. Donít forget the gloves, hat or even a balaclava you wouldnít have in the summer.
Not a necessity but one of the greatest inventions in winter recreation. If you get snow down your boots, you will become miserable. Snowshoeing tends to flip snow into everything.

Snowshoeing requires extra balance walking on uneven terrain that often shifts below your feet. Poles, preferably adjustable in length, should be a necessary for most trips.

Although snowshoe companies will tell you all kinds of features about each snowshoe, there are only 2 things you really need to focus on.

Depending on the type of terrain you plan to snowshoe in, youíll want to focus on the bottom gripping traction. Advanced snowshoes will have much nicer crampons for climbing up steep slopes or traversing sides of hills. If you are new to snowshoeing, itís not always fluffy snow; sometimes areas become very hard packed or icy layers form below the crust. The crampons on the bottom will allow you to get over these areas.

Other features like bindings, construction materials and weight are things to consider but ultimately, only these 2 things will make or break your snowshoe trip.

Thatís it for the 101 on snowshoes. After your first trip, your eyes will be open to a whole new season of possibilities out there.
The snowshoe length


Depending on where you live and what kind of snow conditions youíre most likely to be in, youíll need to pick the best length of snowshoe. Usually there are 3 sizes. The lighter and deeper the snow, the longer you should buy. If the snow is heavy and wet, you wonít sink in as much, go smaller. I use 30í snowshoes for most all trips. These were considered long for the wet Washington snows but in Utah powder, any shorter would be a problem. Some models have extender attachments making them longerÖthese models are fine as well.
The traction devices