Climbers have been making checklists from the beginning. Peakbaggers take these lists to the extreme, usually creating 10 times the list of a normal hiker or mountain climber. Typical lists use elevation to quantify the mountains. Examples like the "100 Highest peaks in Washington" or "Colorado 14ers" are quite common. Peakbaggers enjoy these lists but will need more...much more. What if you were willing to climb any mountain? Is there a list with every mountain listed for an entire state? Well, first you have to define what a mountain is. To do this, a peakbagger must learn all about prominence, from which dozens of lists can be made...including the ultimate list of every mountain.
Peakbagging 101
WillhiteWeb.com: Peakbagging

Seriously...a clinic on peakbagging? Sure, why not!
What is a peakbagger?
Where do peakbaggers come from?
Climbing Lists
Prominence
Peakbaggers are a special breed of outdoorsman that use each climbing trip to climb a new peak. Occasionally they may repeat a climb with a friend but the goal is to always climb another summit. There are variations of this as some only focus on certain mountains while others are much more obsessive climbing every little peak they can in their allotted time that day. It depends on the climber, but most will use whatever outdoor activity necessary to access and summit a mountain. Sometimes we walk, other times we might ski, snowshoe, mountain bike, 4X4, boat, ATV, horseback or snowmobile. Being a peakbagger may mean you are hiking a gentle sagebrush hill one day while roped up climbing a rocky face the next.
The typical peakbagger was once a respectable mountain climber who decided they wanted more. More what...I'm not sure. Maybe adventure or accessible places or just accomplishment...it's a bit of an enigma even for peakbaggers. If I used the time I spent on peakbagging for a good cause they would rank me up there with Mother Teresa. It's a bit of an addiction, most peakbaggers I've met never stop. For me, peakbagging was a natural transition from being just a hiker. Although I seem to be diminishing the respectability of those who do peakbag, it's because most peakbaggers at some point start "dumpster diving", the act of climbing really insignificant hills or highpoints.
Most peakbaggers religiously follow this concept being used to make decisions on what qualifies as a mountain. A basic definition of prominence is "the elevation rise of the peak, from the highest connecting saddle of another higher peak". Basically, it's how high a peak raises above other peaks, not its elevation above sea level. Think of it this way, the highest mountain in Utah is 13,528 foot Kings Peak in the Uinta Mountains. There are two official summits on top. One has a prominence of 6,358 feet while the other is only 372 feet. The higher Kings Peak rises 6,358 feet above the highest pass between it and the next higher peak...which happens to be in Wyoming. The highest saddle between them is somewhere just north of Evanston Wyoming at elevation 7,170 feet.

The lesser Kings Peak summit rises 372 feet above the saddle between it and the highest summit of Kings Peak (the next higher peak). There is some debate on what to set the "official peak" status at, some say 300 others say 400. In most states now, every rise has been calculated down to 300 feet, giving total number of peaks for each state.

On right: A few of the lists for Washington State I kept on the wall when I had a climbing room....before the kids cam
Purposes of a List
Purpose One: You'll always be going somewhere new
Finding a location to hike or climb is always a reason people fail to step out the front door. A list will always direct you to several possible locations, you'll just need to pick the best given time of year and the amount of time you have that day. With new locations for every trip, you'll always be challenging yourself, improving on your route and map reading skills, and gaining a better appreciation for the regions diversity. You may also live in an area with only a few really good mountains so it would be good to expand your horizons to some smaller stuff as well.

Purpose Two: You'll have options for climbing year round.
Most hikers don't utilize snowshoes as a way of hiking year-round. That little hill in the summer you wouldn't even consider hiking is a worthy and usually very rewarding goal in winter. Most snowshoe trips are from plowed highways, each will have its own unique quality about it, and you'll get to remember the climb every time you drive by.

Three: It gives a goal and keeps you motivated to get out.
Even for an obsessed peak junky like me, getting out of bed or out on a crapy day can be tough. As always, once I'm out doing the peak, I'm glad I got out and accomplished something. Sometimes that extra push is the idea of checking off another peak from the list. This may sound crazy but it works for people. Once out, the other reasons we hike and climb remind us why we are there, not just to check the peak off the list. The list also helps when we find ourselves hiking up something not too inspiring. Worse than that, it also helps if the weather sucks, you can'
Climbing Maps
In order to always go somewhere new, you will constantly need to be studying maps and reading trip reports on the web. Although you could always pioneer your own way (and you will for some peaks), it's always more successful if you have information from others that have climbed before you. Nothing is worse than getting to a location only to find out the road on the map was washed out years before and everyone online knew this. Two maps are really necessary to own. A state DeLorme Atlas that shows most roads on large scale topographical maps. Second is detailed topographical USGS maps.
Because peakbagging encompasses all types of mountains and conditions, you could be climbing with nothing in your pack, all the way to ropes, harnesses and ice axes. There is no special gear requirement but you will need all the gear for any condition for any region you are climbing in. A good high clearance vehicle, preferably 4WD is a nice thing to own. So many mountains access is improved if you can get up a rough road. On the other hand, many peakbaggers who travel a lot might prefer a fuel efficient vehicle and just be willing to hike more miles and elevation. Most peakbaggers I've met use a GPS but I still prefer to use maps only. I only get into trouble with this if there is a spur road that is difficult to find. Marking some road waypoints before you leave home seems like time well spent.
Gear Needed
Oquirrh Mountains sunset from Draper, UT
A unique find on Utah summit peak 6,194 or "Chair Hill" as I called it.
Because you will need so many USGS maps for all the places to climb your only real option is to purchase the entire state on CD. Although it might seem expensive if you've always cheeped out on maps, it really is a bargain. Most states are under $100 dollars. Don't purchase ones focused just on a popular region or National Park. Peakbagging is all about grabbing those out of the way peaks as well. The best map software is TOPO by National Geographic.
Support this website by purchasing these maps from REI here:
Here are some of my Atlases and Gazetteers
Wall map with pins made from Green Trails Maps...which are detailed but not as good as a USGS which you really need for the 40 foot contours.
I sometimes use a binder like this for each state with folded printed maps from the mapping software. Areas are grouped, placed inside a folder, then put in the binder. A binder can be easily transported and can hold several hundred trip possibilities.
Maverick checking out the benchmark on Calispell Peak in NE Washington.
Arriving at summit of Mt. Baring Washington in a ice storm. Most non-peakbaggers would have turned back since the highlight would be to look down the vertical 3,700 foot north face.
An un-named, rarely visited "dumpster diver" in the Grassy Mountains of Utah still with an amazing view overlooking the Salt Flats.
A typical Washington "dumpster diver" with trees on the summit and a hike through logging slash.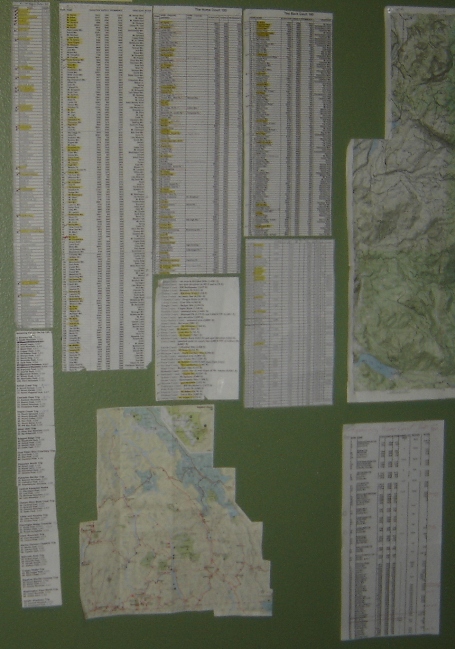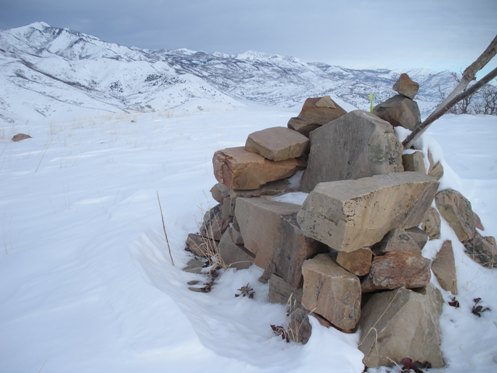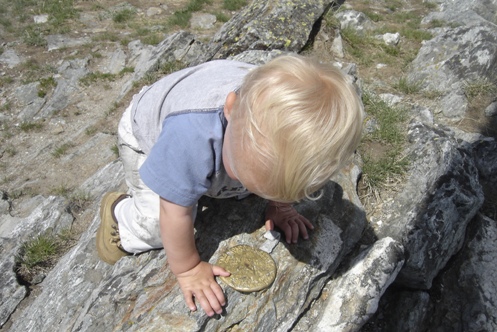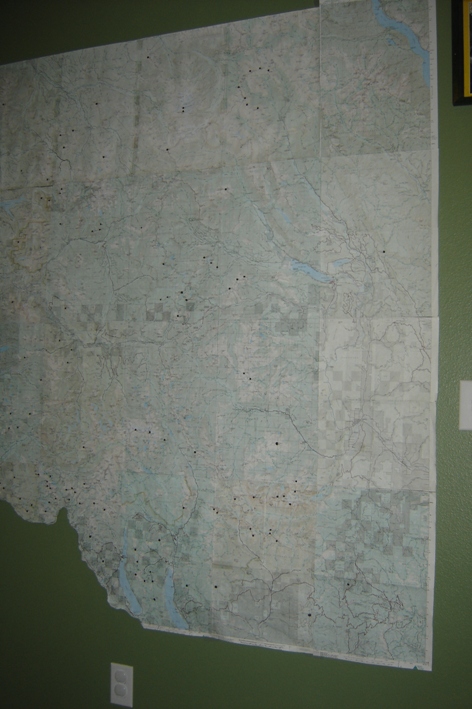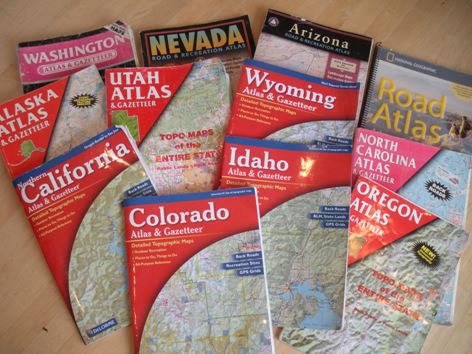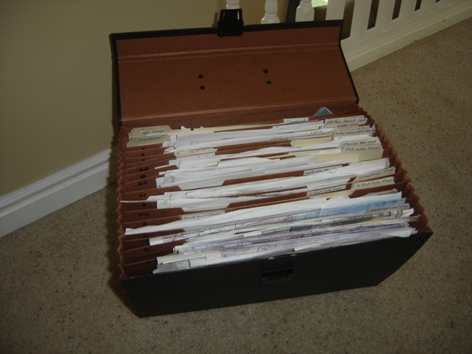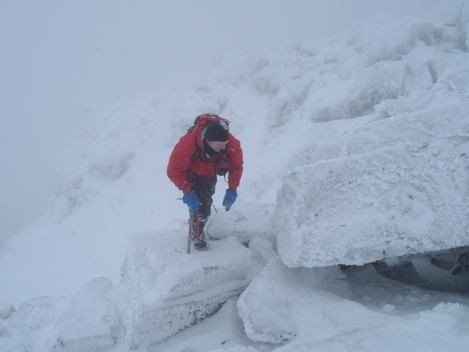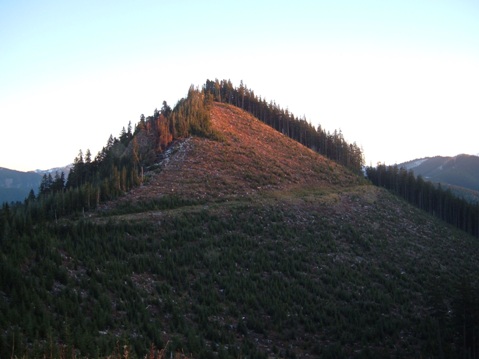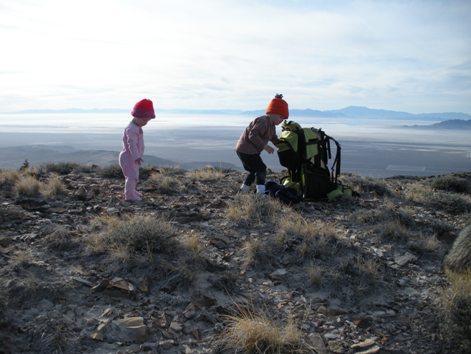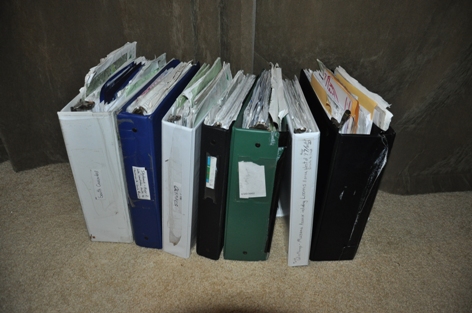 Washington is grouped in binders according to access. For example, Highway 2, Mountain Loop Highway, I-90 corridor would all get their own binders.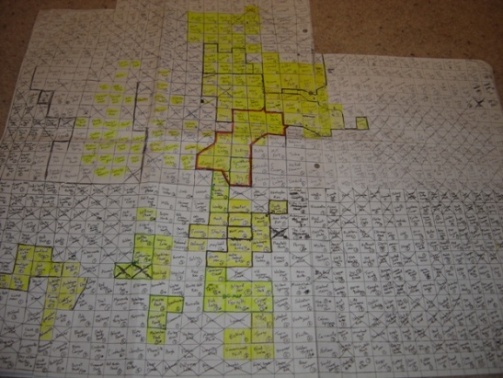 Some other peakbaggers will probably know what this little obsessive project is.