The 3 sisters from Black Butte Lookout
Lookout was staffed by a guy who lived here with his family
Old 1923 lookout
On the Black Butte Lookout looking down on old lookout and cabin
View south to Bend from the lookout
Access:
Black Butte
Distance: 2 miles
Elevation Gain: 1,600 feet
Summit Elevation: 6,436 feet
Access rating: Good Gravel
The Route:
WillhiteWeb.com: Oregon Hiking
Dozer and the lookout above
Near start of the trail
Fruit Snacks for lunch
On the lookout
Trail in the burn area
Mount Washington from Black Butte Lookout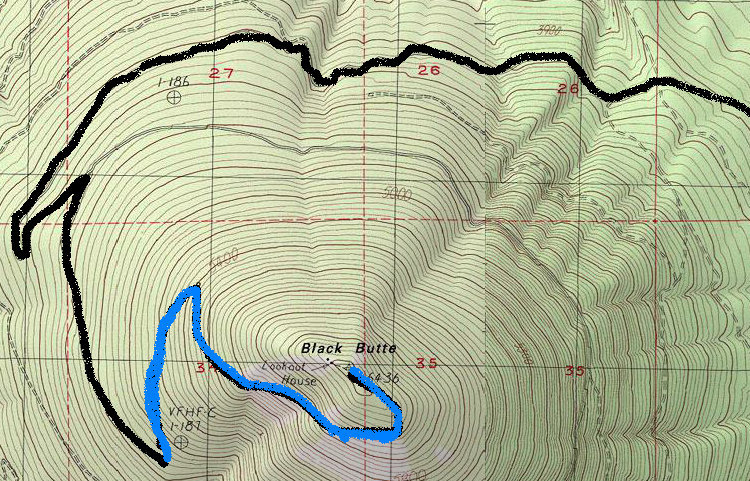 A hike up Black Butte will give you bragging rights that you climbed a volcano today, one of the easiest volcano's you can climb. A very nice trail exists all the way to the top and you start half way up the mountain. On top are 2 fire lookouts (a historic one built in 1923 and an active one). There is also a staff cabin where the lookout watchman's family lives. Views are excellent and since the mountain is further east, it might be better weather than other options to the west.
Drive west on Highway 22 from Sisters Oregon 5.5 miles. Turn north onto Green Ridge Road 11. Follow road 11 north for 3.8 miles, then turn left onto Road 1110 (gravel) for 5.1 miles where the road ends at the parking area for Black Butte Trailhead. Parking probably requires a NW Forest Pass.
The trail is easy to follow, one mile in a ponderosa pine forest, the second mile in an open burned area. Signs indicate you are not allowed up into the lookout but the watchman in the lookout invited me up anyway. Turns out he had a son the same age as mine in the cabin and had some questions for me about why my son was such a good hiker at such a young age. The views from the 62-foot tower were the same as below.