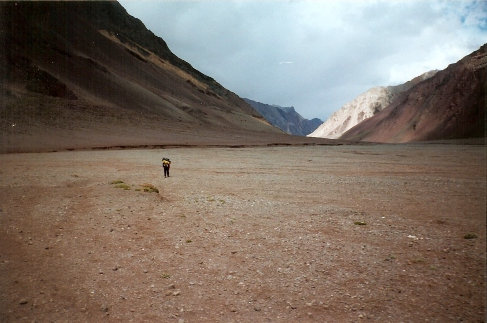 Standing at 15,300
Aconcagua Climb
www.WillhiteWeb.com: Hiking, Climbing and Travel

Trailhead
Confluencia Camp
Basecamp
Camp Canada
Camp Alaska
Nido de Condores
Berlin Camp
Summit

9,678
11,050
13,878
16,000
17,100
17,600
19,520
22,841
Having climbed Mt. McKinley the year before, it was an easy decision to try for South Americaís tallest the following year. I was working at REI so it wasn't hard to rope a few people into the trip. In the end, it was just one friend and I for this little adventure. Aconcagua is the tallest mountain in the Western Hemisphere at 22,841 feet. The easiest route up has a trail most of the way so I had no doubts it would go well. Little did we know, it would be an El Nino year making some of the worst weather the mountain had seen in a long time. Below is my journal I wrote in each day while climbing the mountain. Everything has been rewritten as wrote originally.
Today was just a rest day. Nothing important happened. Awoke to nice weather, got some nice pictures of the area. Filtered some water and found a better place to go to the bathroom. The weather turned bad once again this afternoon, snowing like crazy again. Itís around 7 p.m. Probably have dinner soon, still not adjusted to the elevation. I really donít want to go into it but I feel I need to write down some of the things I am thinking about. This expedition will probably be my last. Maybe Iím just caught in the pain of the trip but I am not enjoying the trip the past 2 days. The traveling part was actually awesome but I wasnít focused. When I climbed McKinley, the mountain was all I thought about. I wanted it more than anything. I thought it would be the same for Aconcagua. I was concerned at home because of my lack of excitement for the climb but I truly thought I would get it once I started climbing. Instead I have felt like crap above 12,500 the past day and a half. I still know we will climb the mountain but it will be physically and mentally exhausting. If I wanted this summit, nothing would bother me. Itís not like I hate or dislike being here, I just donít have mental control. I would rather be doing other things, and that is dangerous. We are resting tomorrow and hopefully once we start climbing the day after, I will get some drive.
Day 1: February 6
Day 4: February 9th.
Day 5: February 10th.
Day 6: February 11th.
Food for the trip
Camping at Daniel Alessio's house
Aconcagua from near Confluencia Camp
Confluencia Campsite
Confluencia after hail storm
Crossing the river
Hail storm at Confluencia Camp
Looking back toward Puenta del Inca
Horcones Valley
Horcones Valley in bad weather
Our gear on Mules
Horcones Valley
Looking back, near base camp
OK, things are looking better. Today I feel great and I have the mental control I blabbed on about yesterday. We are nearing the end of our acclimatizing period and about to climb this mountain. I once again am getting summit fever. I got to see the summit and the route to it today. We hiked over to Hotel Refugio. Wow, what a nice hotel for being in the middle of nowhere. Itís the highest hotel in the world. The highlight of the day was buying a hamburger and coke, 10 bucks but well worth it. Boyd (the New Zealander), Bob and I had a good time in the hotel. After lunch we hiked back over to base camp where I talked with Colorado. He took another load to Camp Canada. I guess a storm is coming in tonight. We hope to make a load carry to Canada tomorrow. As for now, we are just hanging around camp. The weather has been pretty good with a few small snow showers.
Day 7: February 12
Today we got up when it seemed time. We packed up about 12 days food and clothing we donít need at base camp. I took off first out of camp. Nice and slow. Iíve never been so high so quickly. My pack was 35-40 lbs. I felt great. I was back into the climbing mode. There is pain involved but if youíre in the right mindset than it doesnít hurt. We made good time, got up to Camp Canada in 3 hours. I shot straight up to it the last 500 feet. Next time Iíll stick to the trail. At 16,000 feet with a full pack, itís not wise to climb straight up anything. I didnít have my ice axe and the new snow was a bit slick. Once in camp I threw all my gear into the travel duffle bag I brought up. Soon Bob arrived and did the same. The day was beautiful, partly cloudy. At 16,000 feet we could finally see over the mountains around Base Camp. We still need to go higher for better views. On McKinley at 16,000 feet, you see for hundreds of miles and itís cold. Here you see more mountains and it is often warm. I came down in about 1 hour. I didnít stop but 1 time. Back at base here I did some chores and laid down to rest. The rest of the day was spent hanging out near camp talking to the keewees. We also heard news of a missing climber (Polish climber) near the summit. One of the funniest things I saw were some guides near our camp building these fires then they were throwing fuel bottles inside the fire. After a few minutesÖBOOM! Sounds like a glacier crashing. There are so few rules here. The dogs that have been following us since the beginning followed us to 16,000 feet today. Theyíre sleeping in Robís tent. Iím very content now. Itís about 8:30 p.m. It gets dark in a half hour. I just ate a can of tuna I traded for 2 candy bars. I am listening to my radio. I had the hardest time turning it off last night because they were playing the best techno music. Tomorrow we hope to move our camp to Canada 16,000 feet. The rumor is another storm is coming but thatís what they said yesterday and today was the best day so far.
Day 8: February 13th
Basecamp, looking down the Horcones Valley
Hotel Refugio
Cuerno from Base Camp
Views of a nearby mountain
Camp Canada
Bob arriving near Camp Canada
After much planning and preparing, Bob and I left for the airport early this morning. While checking in our bags, we learned our plane was being delayed because of bad weather (El Nino) in L.A. The plane finally got to L.A. after circling the airport 4 times. We hurried as fast as possible to the international terminals but were 5 minutes late. They left on time. Most of the other airlines were delayed but we werenít. So here we sit in the airport for a day. Our next big chore was what to do with our luggage. Lan Chile wouldnít hold it, so we searched for someone who would. One place charged $10 a bag. Our only other option was to put it in lockers. Now, here we are with this enormous amount of gear and we were going through the security check. He said, ďWhere are you going with that?Ē I said, ďWe are going to put them in the lockersĒ. ďYou canít fit them in the lockers, no way!Ē the security guy claimed. I went through security to look at the largest lockers. I knew we could jam all 4 bags in 2 lockers. So I went back and reported to Bob, ďletís do itĒ. All the security people were laughing and shaking their heads. We get to the lockers and it was no problem, they fit with room to spare. After that, we ate at McDonalds and shopped around all the stores here in the international wing. Itís now 4 a.m. on Feb 7th. We spent the evening talking and holding our nice spot. It became really busy around 6 p.m. The Friday night crowd came and the airport was packed. We bought dinner at a Chinese fast food place. Once the crowds left around 11:30 we found a place to crash. Now I knew I was in trouble. I was only wearing a t-shirt and they were pumping cool air into the international wing where we were. I was a bit cold before I went to sleep. We found a spot on the floor somewhat protected from the cool breeze. I was doing ok, waking up every hour. Two awakenings ago, I was so cold I had to get up and do pushups. When I awoke this last time I was shivering cold. Imagine thatÖ getting hypothermia in the airport. A bad bivy night to say for sure. Luckily for me, I found a lounge with heat. Itís at least 8 degrees warmer where I am currently. Iím very content now. I have left Bob over in the Ice Locker with the rest of the unknowing souls. I just didnít want to wake Bob up, so I took my bag and left. Iím sure he will wake up soon, find me and my bag gone and figure it out. He is wearing all of his fleece so he may be happy there.
Well, in the morning I awake rested and ready to go. I found Bob over near McDonalds eating. Around 9:30 a.m. we went to our lockers and pulled out our gear. Next to the lockers was a currency exchange. We bought 100 dollars worth of Chilean money. Now we had 37,000 Chilean pesos. Finally, we brought our luggage to the Lan Chile desk and after a long line, got our tickets. While waiting to board the plane we talked with 2 guys from LA who were doing the Polish Glacier (guided). They had done the West Butt of McKinley so we had a lot to talk about. The Lan Chili flight was very nice. The Boeing 767 was like new and the service was exceptional. The views of the Baja Peninsula were fabulous but when we got near Mexico City the smog was terrible. I barely saw the top of Popocatťpetl and IztaccŪhuatl before we dropped into the smog line. Another mountain west of Mexico City looked ok. We didnít get out at the airport; it was only a 40 minute layover. In the plane during the layover, a guy named Chris talked to us about the climb. He has climbed the South Face and was planning on trying our easier route in one week. The flight from Mexico City to Santiago was in the dark. The flight served lunch, dinner and breakfast as it was 8 hours. We are now 5 hours ahead of Pacific Coast time. When we landed in Santiago, Chris had talked to a guy named Jim. Jim helped us get a bus to downtown Santiago. We paid 15 U.S. dollars for both of us and the gear to the main city bus area (central). The little shuttle car ended up taking the other people in the car to their homes, so we saw a lot of Santiago. We were finally dropped off at the bus station. Bob got the tickets although it was very stressful for him to work with the Spanish. Once we had the tickets we walked outside with our gear, put it into the bus, and it left 2 minutes later. Luckily they were running a bit late and we made it on. There may not have been another today. Now weíre in Los Andes. Itís a town north of Santiago. We head into the mountains from here (east).
The road went up into the mountains almost to 12,600 feet. It was very stressful at the first checkpoint near the Chile-Argentina boarder. We had to get out and go into this old building where long lines awaited us. Inside was what looked like people from an old James Bond Movie. Most people were from South American countries trying to get into Chile. There were people selling things, kids running around, and noise bouncing from wall to wall. I swear if you said the wrong thing they would hall you off to jail. Finally we got out and then some security officers briefly checked our bus. Soon we crossed into Argentina and it was their turn. Everyone got off the bus and walked into this huge dome building that everyone drives into for the border crossing. The Argentina officials checked our passports and then our bus was checked. Everyone had to get off again for the bus and bag search. Everyone laid their bags on a bag table and opened them. The guard didnít even care about most. The second we sat our bags down he said ďyou guys can goĒ. Finally we were done with the border stuff. It was then an easy drive 2 miles down to Pointe del Inca. Now the best part of the trip was the switchbacks just before the border stuff. There were over 30 switchbacks on a paved road, starting at 6500 feet ending at 12,500 feet. The road just went up and over while Mr. Bus driver didnít even flinch cornering the turns the way he was. Once at Pointe del Inca, I went in search of our mule service. It wasnít easy but eventually I found Daniel Alessio. He lived in this small shack of a home with his family. He spoke ok English so we were able to make arrangements fairly easily. We paid him for the 2 mules, 6 liters of white gas, and the permissions. His wallet was stocked full of cash. He had several US $100 bills! Daniel Alessio was on his way to Mendoza so he left to get the permissions. We separated our gear and gave our 4 bags for the 2 mules to the muleer. He looked to be about our age but he was this huge guy. We decided to save a few bucks by setting up the tent near Daniels home. Once the tent was up, we went to the town store. I bought a 2 liter of 7-up. It was raining so we got back into the tent. It had been raining off and on since we arrived. We went to sleep around 5:30. Now itís just after 7 a.m. Iím not at all tired. There are blue skies above. A rooster about 20 feet away is yapping his morning song.
After awakening to the rooster I got up and went over to the natural bridge. The river went underneath and so did the ruins. What was totally cool was the hot springs in the old resort (ruins). There were at least 10 private rooms with hot baths (pools) in them. I canít give the attraction justice in words but the pictures will speak for themselves. Soon we packed up and headed up the road to the trail. We slowly climbed up the valley past the customs building and reached the ranger station. The ranger spoke enough English for us to explain that Daniel Alessio had our permits and would be getting them to us. After getting our names and passport #s, we received our garbage bag. The hike was so nice and easy. Hiking at 10,000 feet does keep you slower than normal. The scenery was fantastic. It was like Glacier National Park on a grand scale. There was a lot of green on the hillsides and lots of exposed rock. I had heard it wasnít a nice hike in but they were wrong. It was a mix of sun, clouds, and snow coming into Confluencia. Here at Confluencia, the camp is located in a meadow with water coming down the mountains all around. Itís truly beautiful. One must lean backward to see the tops of the mountains. We reached camp around 1:30. Two dogs followed us up the trail from Ponte Del Inca, and wonít go back. Our first hour here in camp was sunny with clouds. Now itís been hailing for the past 30 minutes with a thunderstorm approaching. We are at 11,050 feet and Bob and I can feel a bit of altitude. The final thing worth mentioning is that there are tents here selling Coca-Cola and hot dogs. When we arrived, there were only 10 or so people in camp. That number is probably up to 25.
If anyone claims weíre climbing the easy route, I disagree. This day will go down in history as being in the top 10 misery ordeals. I am so happy I am even able to write in my journal. Hereís what happened: We awoke and packed in nice weather. I started off early before the rest of camp. The trail climbed out of a river gorge. After a mile I took a break. Coming from behind was one of the New Zealanders. We ended up hiking together for the next 3 miles or so. The scenery was outstanding. The trail went along the river bottom for miles. The river bottom was a half mile wide with huge mountains going straight up. We waited for Bob and soon he arrived. Around the same time we saw the mules pass that had our gear. Now up to this point everything was ok but this Himalayan type valley went on and on. It was flat but hiking for hours at 12,000 feet is a killer. It started to snow, not just flurries any more. Finally, we came to the ďthreshold of painĒ, which was Bobís name for the end of the easy hiking and the beginning of the uphill. The problem was that we arenít acclimated for these heights Ė especially hiking all day. The trail went up the valley slowly. At times it would drop. The wind and snow wasnít too cold but it was an annoyance. Finally we got to lower Plaza de Mulas where we saw the final death march. The trail switch backed up the mountain and over a ridge. Now I was already dead. Bob seemed to do better and cruised up the hill. About halfway up I sat down and wondered if I should get up. I was looking down this immense valley as snow was blanketing it. I knew I was probably the last person up today. Finally I got going and reached the top. Sad to see it was only a false summit. The blasted trail kept going up. I kept going wishing I had more oxygen. Just before base camp, Chris from the airplane passed me. He had started from the trailhead that morning at 11 a.m. He just flew up. He plans on climbing to the summit tomorrow. The guy is superhuman. He is on high altitude drugs to acclimate but still! Rumor says nobody has summated in a week and a half. They also say the snow is waist deep above Berlin camp. So finally I pull into camp like a zombie. I just couldnít believe how hard the day was. Every thing I read made it sound fairly easy. Base camp is just full of tents. All the mule and guide services have big tents set up. There is beer, coke, and a telephone available. Snow covers most of the area. We set the tent up but every bit of work took so much energy. Inside the tent, we got out of the snow. We now have all our gear and food. We cooked the first decent dinner in several days. I went to the bathroom. It was worse than the one at Confluencia. They make the toilets like humans are some sort of livestock. You walk into this little 4 foot by 4 foot tarp enclosure. Youíre standing on what looks to be a barbeque grill with missing bars in the middle. While snow is dumping on you, you must balance on these bars, squat and go. One misstep and your leg galls into the hole. Letís just leave it by saying itís difficult to squat over a few seconds while performing a balancing act. Finally I was back in the tent for the night. We decided to get some sleep before doing anything. The sleep was the worst part of the day. Because we were camping at 14,000 feet, our bodies have to take in far more O2. When you go to sleep, for some reason your body forgets to inhale. You wake up gasping for air. Finally, we got some sleep or rest and we lit the candle lantern. This is how Iím finally writing the day down. It stopped snowing, itís mostly clear out and there are some occasional strong gusts of wind.