WillhiteWeb.com - Hiking, Climbing and Travel
Pinnacle Saddle Trail is a popular hike for expansive views of the entire south side of Mount Rainier and south to Mount Adams and the Goat Rocks. The route starts off scenic from one of the most famous lakes in the world, Reflection Lake. The trail is classic National Park quality, wide and smooth, at least for most of it. Snow can linger well into the summer. Popular scrambles from the saddle are Pinnacle Peak and The Castle, two very noticeable Tatoosh Range Peaks visible from the Paradise area. Pinnacle Peak is situated in the middle of the Tatoosh Range at an elevation of 6562 feet, the second highest peak in the range.
Pinnacle Saddle Trail, Pinnacle Peak & The Castle
Distance: 1.3 miles to the saddle
Elevation Gain: 1,050 feet to the saddle
Summit Elevation: 6,562 feet and 6,640 feet
Access Rating: Paved
Drive east either from Longmire or Paradise on the Stevens Canyon Road to the parking area at Reflection Lakes. The trailhead is on the south side of the road.
Access:
The trail begins with a gradual ascent but soon becomes, and remains, a steep climb to the 5920 foot saddle where the trail ends. At the saddle the trail is a shelf blasted out of Pinnacle's rocky shoulder.
Pinnacle Saddle Trail:
From Pinnacle Saddle, work around the south side to steep paths up loose rock and rock gullies leading to the top of Pinnacle Peak. The park service says "From the saddle to the top of Pinnacle Peak is a precipitous scramble on loose, unstable rock. Hikers wishing to get to the top should use extreme caution and have proper equipment."
To climb Pinnacle Peak:
Traverse behind Pinnacle Peak to a saddle, then to the south side of the Castle. Descend about 100 yards southeast along the headwall until you reach a 50 foot shallow gulley up the headwall. 4th Class Go up the gulley to an open area on the southeast side, pick the northern ridge for the true summit. The routes are low fifth class scrambles.
To climb The Castle: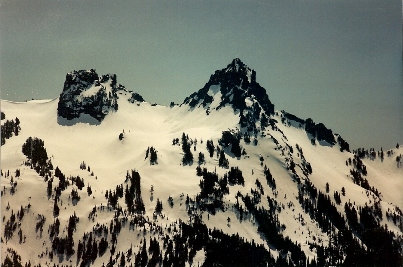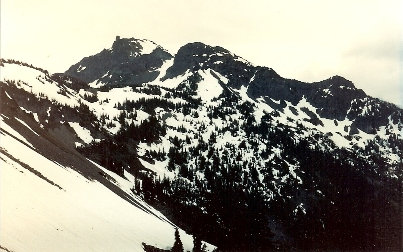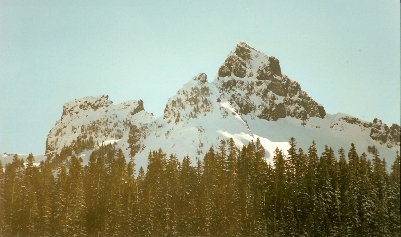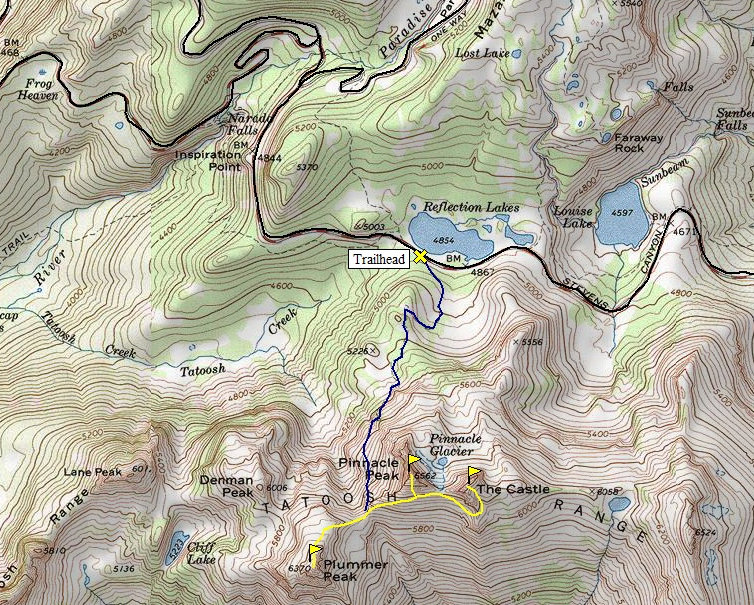 Pinnacle Peak
The Castle
Unicorn Peak
Stevens Peak
The Castle and Pinnacle Peak from the Paradise area
Unicorn Peak from the south side of The Castle
Pinnacle Peak
The east side of the Tatoosh Range from Alta Vista near Paradise
Plummer