WillhiteWeb.com - Hiking, Climbing and Travel
A trip up Mt. Wow on a good day should be completed with a big Wow on the summit if you can see Mount Rainier. The location has an excellent vantage point being the highest point around and there being a huge valley as the only thing between you and Rainier. Mt. Wow has over 2,000 feet of prominence helping to make it a popular destination. Still, you will probably be the only ones on the mountain the day of your climb. Several different routes up the mountain can be done. I've decided to describe all three approaches because I think all three have good qualities, depending on conditions.
Mt. Wow
Distance: 2 miles (Lake Allen Route)
Elevation Gain: 3,600 feet (Lake Allen Route)
Summit Elevation: 6,040 feet
Access Rating: Paved
Shortly after entering the Nisqually entrance to Mount Rainier, turn left on the West Side Road. Look for an X blazed on a tree on the left side 1.5 miles up the road. The pullout is on the right. The old fishermans trail is not on most maps but climbs 2,000 feet steeply up to Lake Allen. You can cross country up the slopes from there to the summit ridge, then scramble ridge to top.
Lake Allen Trail Route:
This route starts out on the old Boundary Trail. Park outside the Nisqually Entrance across the road from the Gateway Inn. Walk back through the gate and then left where vehicles are exiting the park. Just past a few buildings is an unmarked trail heading up behind one of the buildings. Pass a sign saying "Trail not Maintained". The trail will switchback up over a small ridge, drop a bit to Tenas Creek, then climbs relentlessly up along the National Park Boundary. At 4,200 feet, the trail reaches the ridge top. Leave the trail there going east up the ridge. At times an old trail is along this ridge. At 5,200 feet the ridge has some class 3 sections and will slow you down considerably.
Nisqually Entrance Route:
Goat Creek might be the easiest route to the top, if you don't mind a touch of bushwhacking and no trails. About 3 miles west of the Nisqually Entrance to Mount Rainier National Park, go north on FR-59. Take FR-59 for 2.8 miles to a spur on the right at a switchback. Follow this semi-rough dirt road spur for 1.4 miles eastward to the end of the line at an impasse at 3,200 feet. Walk the road around a small bend. Goat Creek will be to your right. After about 300 yards a modestly overgrown spur ascends slightly on the left. The main road arcs rightward and crosses the creek. Take the spur left. It curls leftward up the valley going around 200 yards before getting overgrown.
On the right across the creek will be a steep, forested hillside. Right of this hillside is a lesser drainage of Goat Creek that comes down from the west side of Wow's South Summit (Pt. 5614). Cross the creek and ascend this hillside where it eventually forms a corner just left of this drainage. Descending to the creek should be fairly easy; it's only about 30 yards from the road. Find a way to cross the creek. Once across, fight through 100 yards of brush as the slope inclines into the forest. Soon there is little or no brush. Simply climb up the moderately steep forest to the ridgetop. (Klenke Time: 2-3 hours; Gain: 2,900 ft; Distance: about 2 miles.)
Goat Creek Route: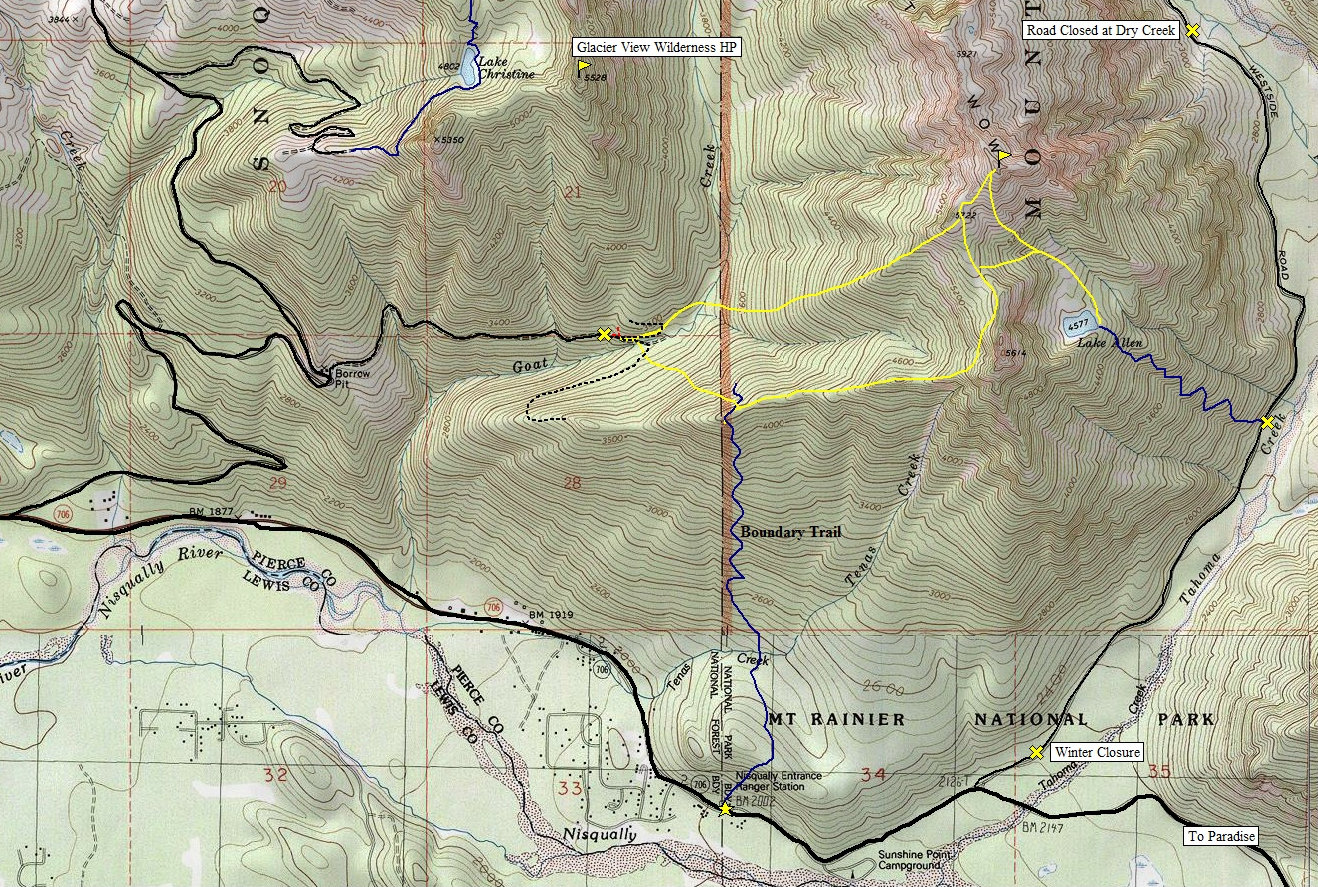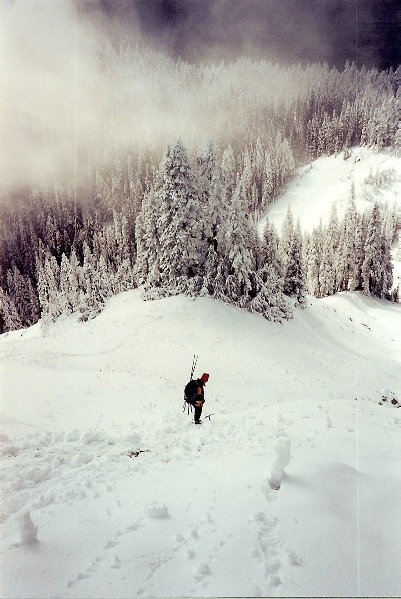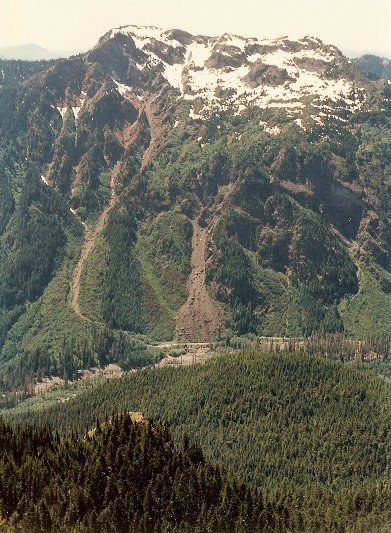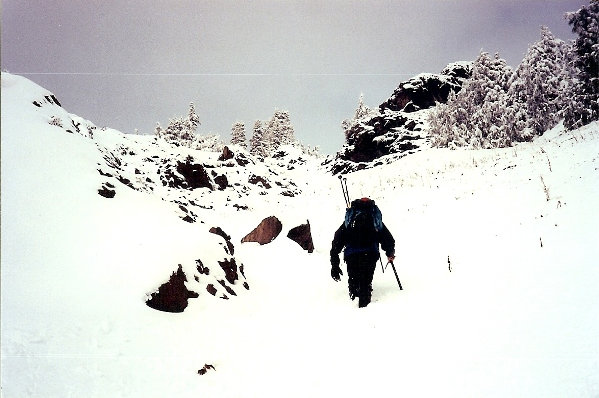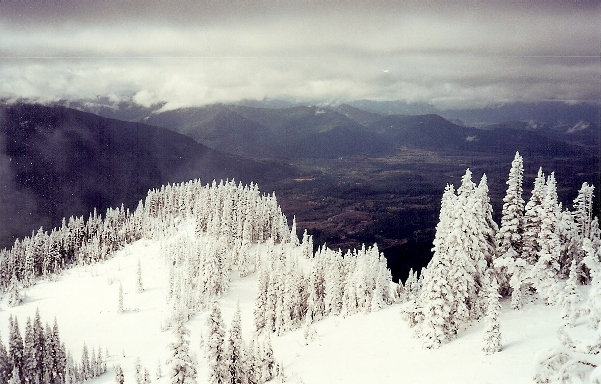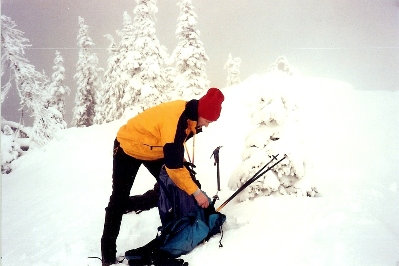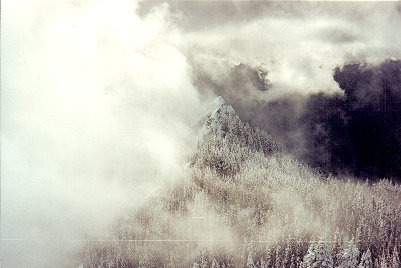 Nisqually Valley
Mount Wow from Mount Ararat
Climbing up to the ridge
Climbing up