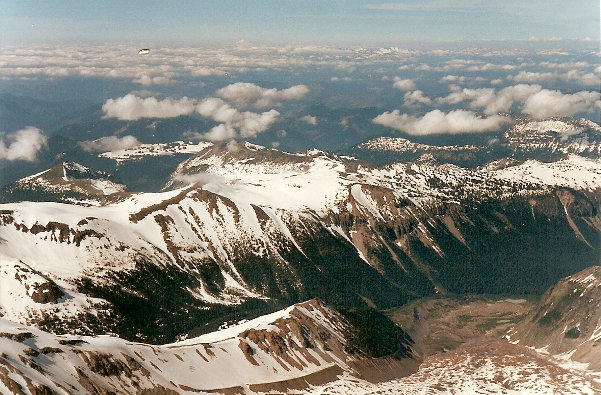 Little Tahoma
www.WillhiteWeb.com: Hiking, Climbing and Travel
Access:
Distance: 7 miles
Elevation Gain: 7,000 feet
Summit Elevation: 11,138 feet
Access rating: Paved
The Route:
If it weren't for Mt. Rainier next to it, Little Tahoma would be one popular peak. It was once a large volcano but the elements have eroded it down to what you see today. The rock is so loose, in 1963 a massive chunk fell off the north side on to the Emmons glacier. It was so loud, skiers heard it at Crystal Mountain. Other than the crumbly mess of the summit rocks, the rest of the route makes for a great climb. Most do Little Tahoma in one long day. Camping at Summerland or on Meany Crest is also popular.
Take highway 410 out of Enumclaw. Drive into Mt. Rainier National Park. Go into the White River entrance, after about 5 miles is the very popular Summerland Trailhead.
Hike up the Summerland trail, a classic national park trail that is wide, fairly smooth and easy to follow. From the Summerland shelter, continue on the trail (The Wonderland Trail) a few hundred feet as it climbs below Meany Crest. Leave the trail and ascend snow or talus to the top of Meany Crest. Take the ridge southwest accessing the Fryingpan Glacier. This glacier has few crevasses. The first time I climbed Little Tahoma, I was solo and felt quite comfortable on the glacier un-roped. The second time (just a few weeks later), with some friends, we roped up. Traverse west on the glacier looking for a gap in the Whitman Crest. From the gap, traverse the east face of Little Tahoma on the Whitman Glacier below some cliffs, then ascend steep snow to a notch on the left of what looks like the summit rocks. After this notch, follow the summit ridge, class 3 or 4. To reach the highest point, a small dangerous gully must be traversed. There is not much to hold on to during this extremely exposed 8 foot traverse. Do this with a belay from climbing companions, my first climb up there solo without one was nuts.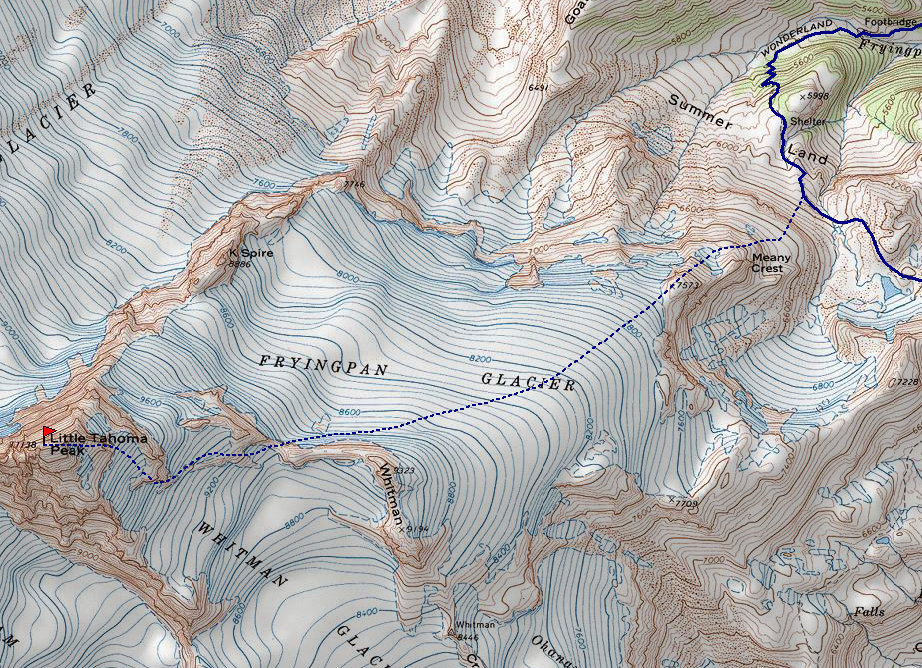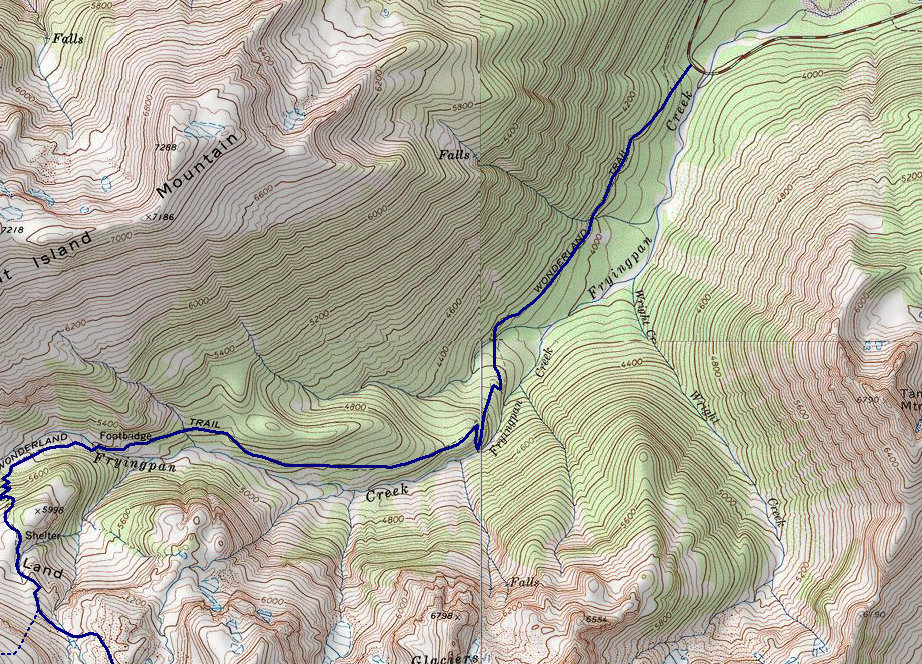 Little Tahoma from the DC route on Rainier
Near the notch at the top of the Whitman Glacier
On the Fryingpan Glacier with Little Tahoma and Rainier
Looking across the Emmons Glacier to Camp Sherman
On the Whitman, looking south to the Tatoosh Range
From the summit looking down 1000 feet to the Emmons Glacier
Emmons Glacier
Summit of Little Tahoma and Mount Rainer in the distance
On the ridge just below the summit
Looking at the upper DC route on Mt. Rainier
Camp Muir from the summit
Above: Trail to Summerland Below: Route from Summerland up to Little Tahoma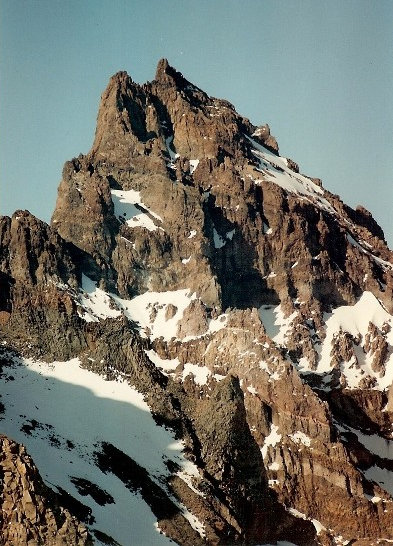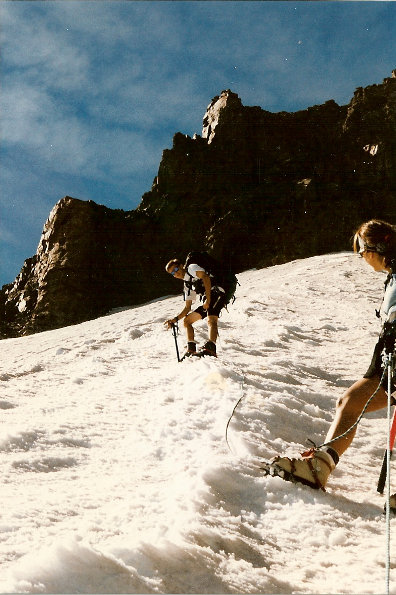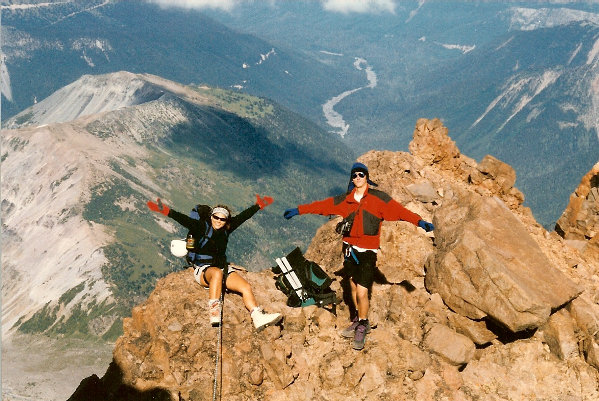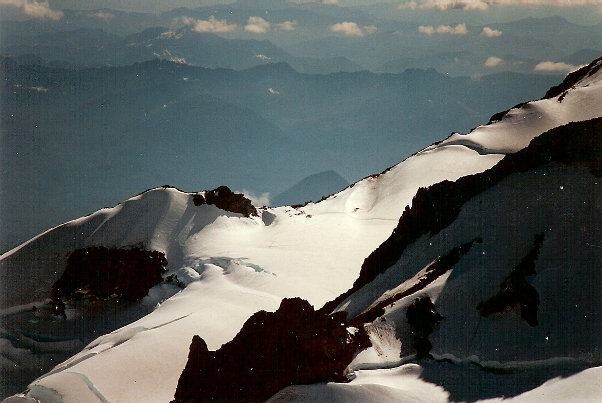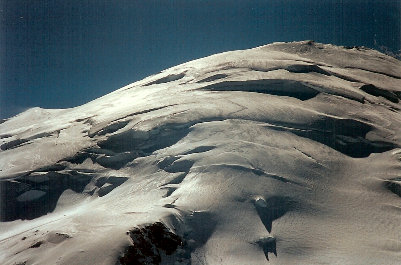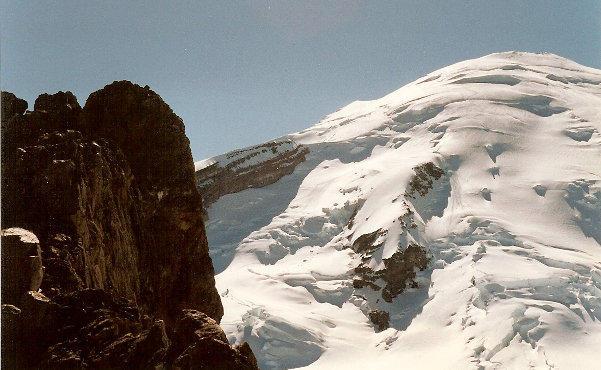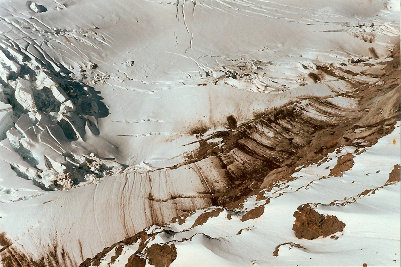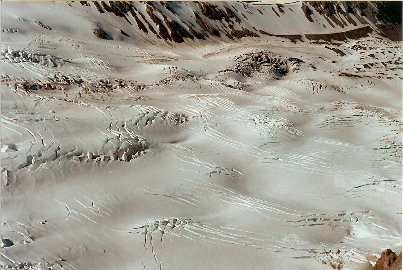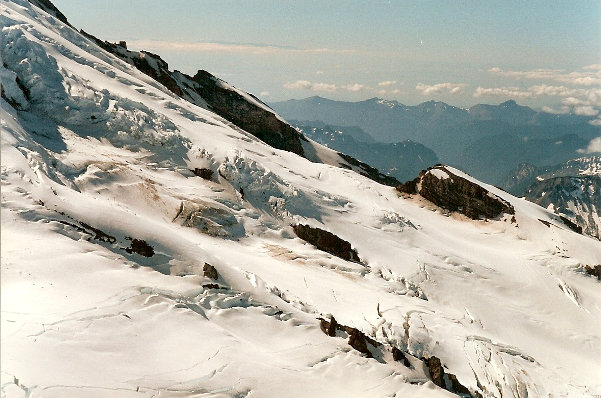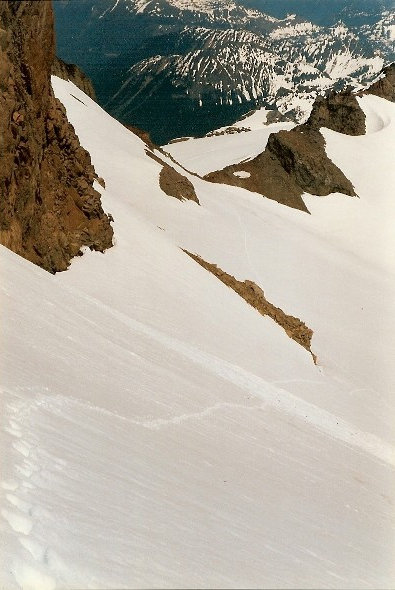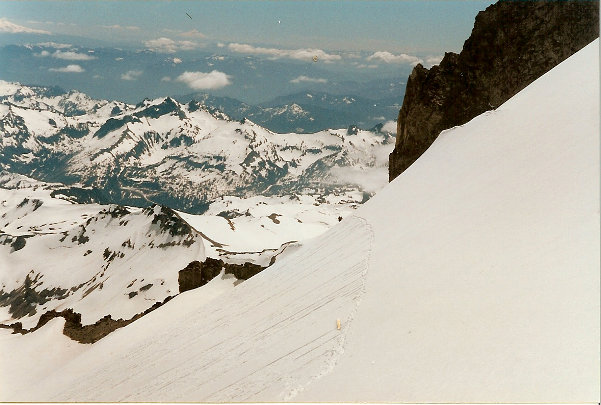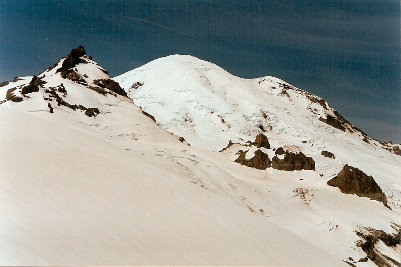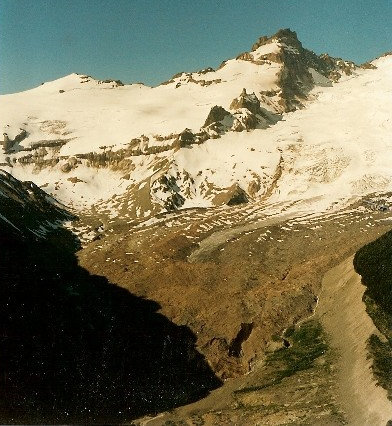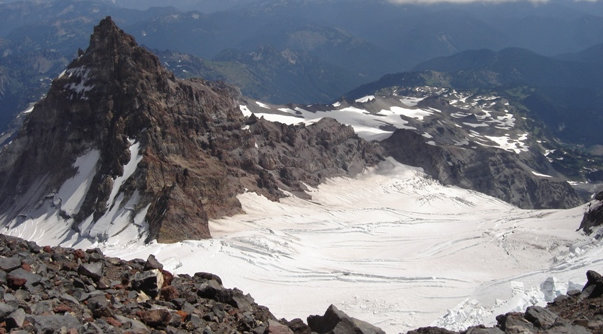 Little Tahoma from Camp Muir
View to the northeast
Gap from the Fryingpan Glacier
Little Tahoma from Burrows Mountain