www.willhiteweb.com - Hiking, Climbing and Travel
Double Peak
Double Peak is one of the least climbed mountains in Mount Rainier National Park. It is a double summited rough looking peak with no trails gaining one good access. It is a scramble but because of the bushwhacking required to reach the good stuff, you'll need to prepare mentally for this one.
Distance: 4 miles
Summit Elevation: 6,199 feet
Elevation Gain: 3,700 feet
Access: Paved
Take Hwy 410 east through Enumclaw and Greenwater to Cayuse Pass. At the pass take Hwy 123 and drive about 6 miles south to the East Owhigh Lakes Trailhead on the west side of the highway. You could also go about a mile further to some small pullouts if you wanted to bushwhack down to the trail avoiding extra walking. This trailhead is easy to miss, follow along on a park map.
Route:
Access:
From the Owhigh Lakes trailhead on Hwy 123, drop 300 feet on the trail and hike the trail south for about a mile, crossing three creeks. After the third creek, climb up its south side through forests for 2,000 vertical. . This is a bushwack and not pleasant. You eventually emerge in a basin, now gain the ridge by veering left. When directly under the twin-summited peak, scramble up loose scree on the left side of the Southwest Peak. Go up a narrow gully, then traverse right on the north side of the ridge under cliffs. A final gully will get you back to the summit ridge. A bit of class 3 traversing will get you to the summit.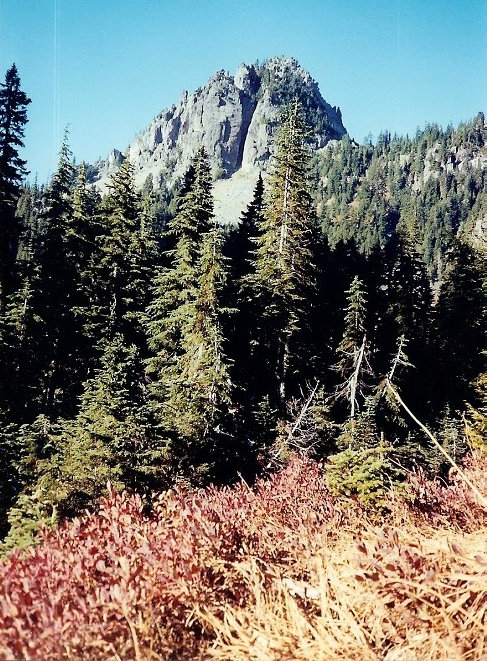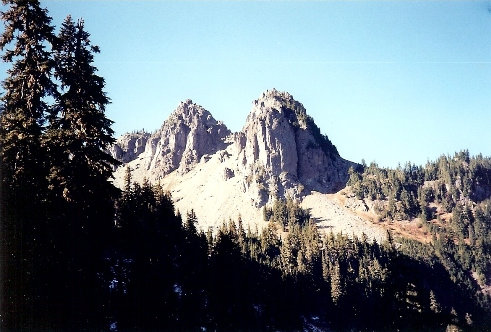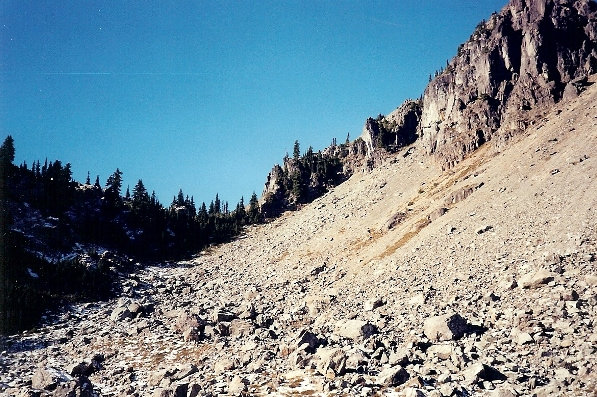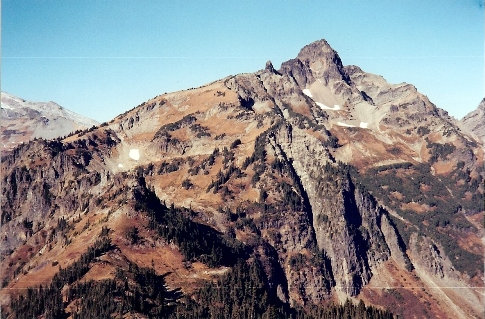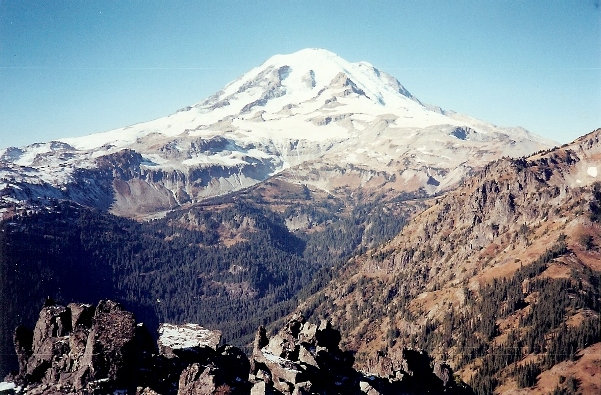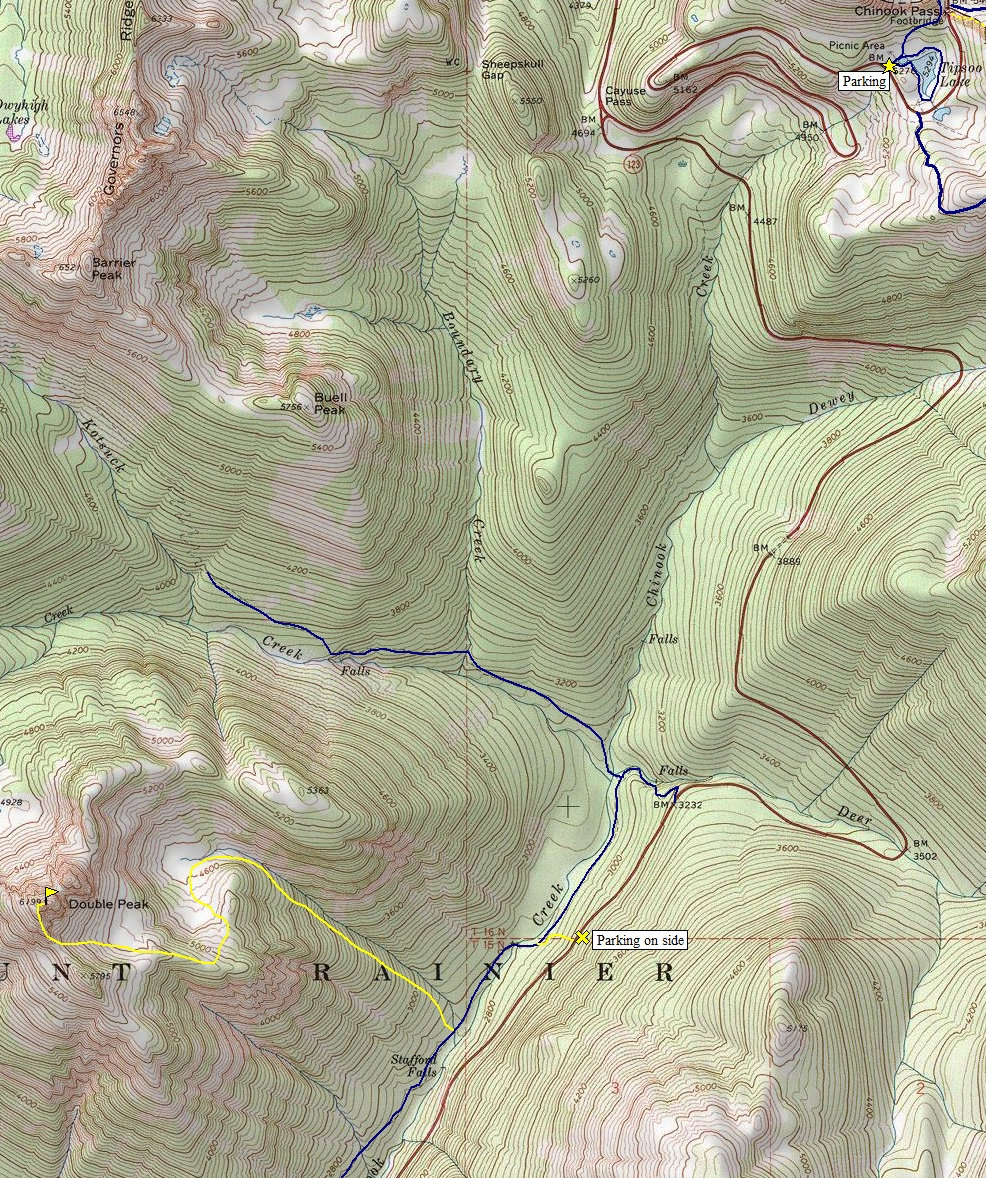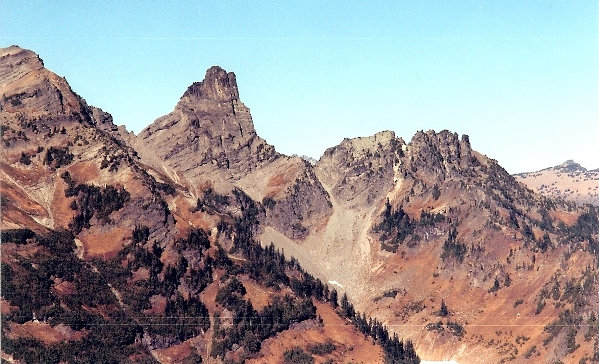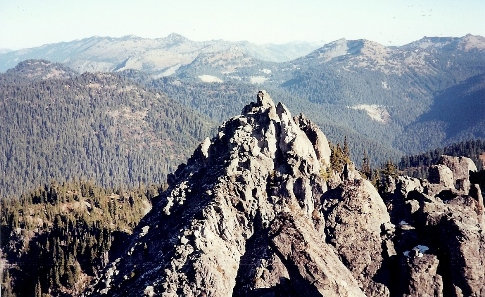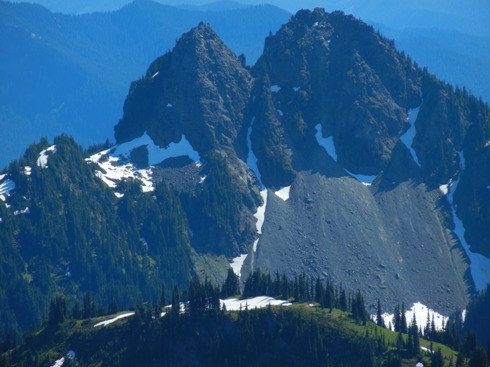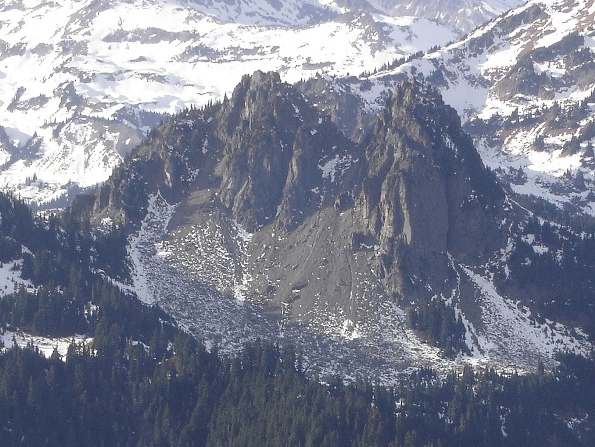 Image from Summitpost.org of Double Peak taken from Shriner Peak Lookout
Image from Summitpost.org of Double Peak taken from Tamanos Mountain
Cowlitz Chimneys
Cowlitz Chimneys
Mount Rainier
Scree field at 5,200 feet
Double Peak
Double Peak in route
Summit area of Double Peak