WillhiteWeb.com - Hiking, Climbing and Travel
Crystal Mountain - Silver King
The highpoint of Crystal Mountain Ski Area is Silver King. Although no chair lift goes to the summit, there is usually a well beaten path through the snow on the ridge from the closest ski lift. Hiking up from the parking lot before the resort opens isnít too difficult either. In summer, you can do the same routes as winter or hike from the Pacific Crest Trail with a bit of off trail.
Distance: 2-3 miles
Summit Elevation: 6,998 feet
Elevation Gain: 2,600 feet
Access: Paved
Route:
Access:
From the top of High Campbell lift, follow the ridge east over "The Throne" to Silver King. From the parking lot, hike below the Quicksilver chair to the South Country Backcountry and then up into Silver Basin. Either climb the ridge to the east of Silver King and go up or get on the north ridge for a steep snow climb to the summit. From the PCT in summer, hike from Chinook Pass to Sourdough Gap. Just beyond, find the trail that drops into the Crystal Lakes basin. Leave that trail and scramble up to the south ridge of Silver King. Follow the ridge to the summit. See map below.
From Enumclaw, take Highway 410 to Crystal Mountain Boulevard. Turn left and drive up to the ski area. For the summer PCT access, park in the lot just east of Chinook Pass.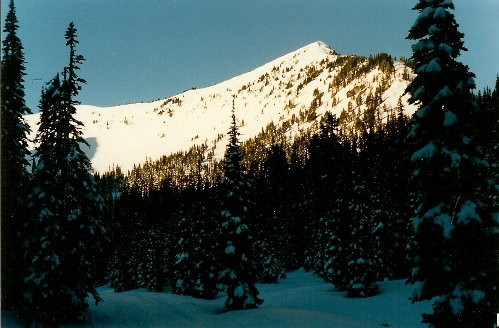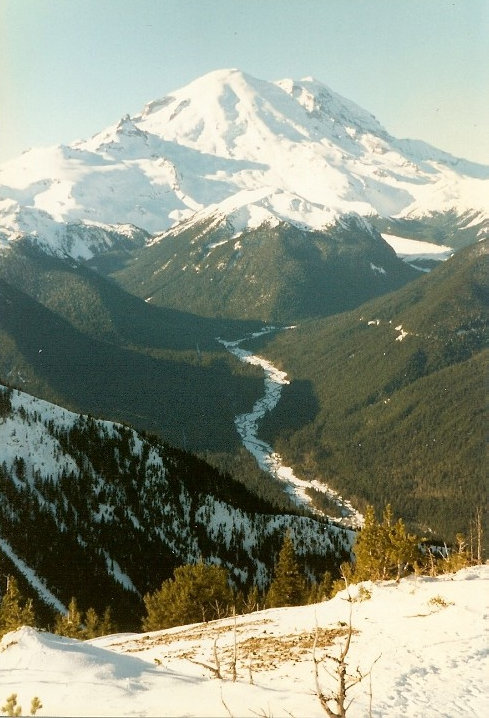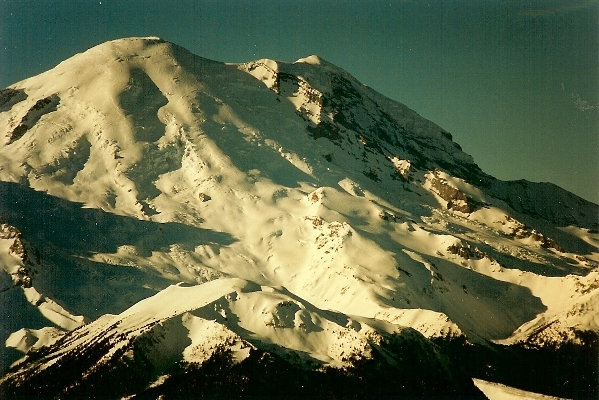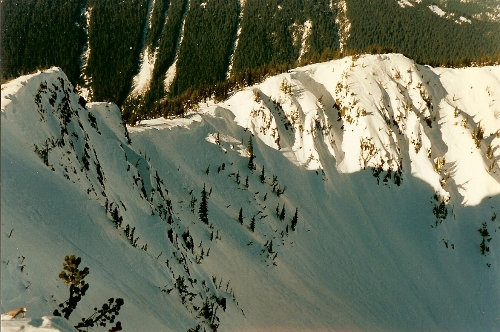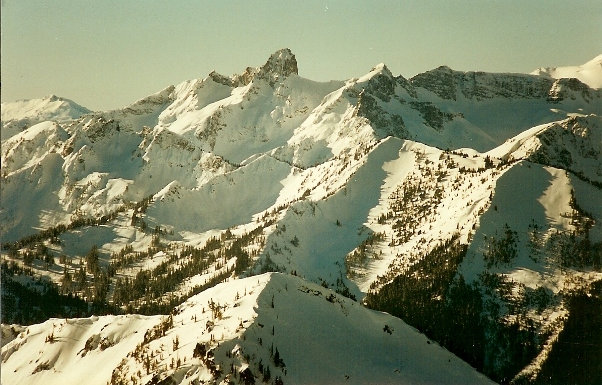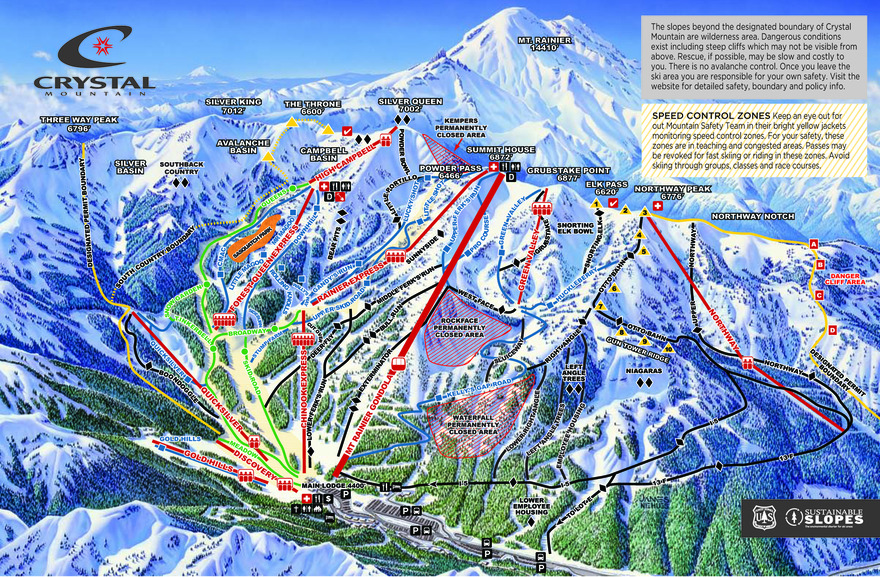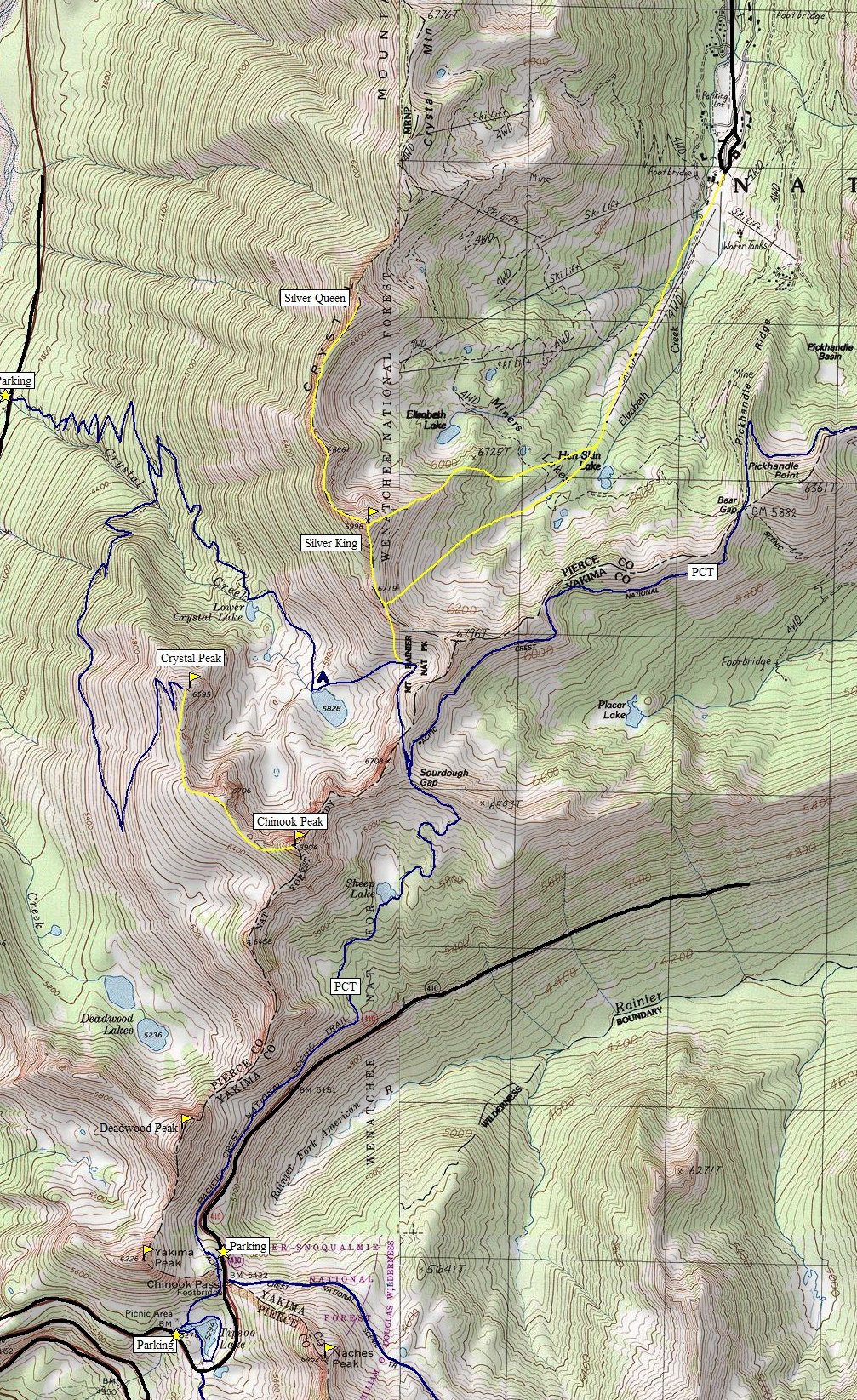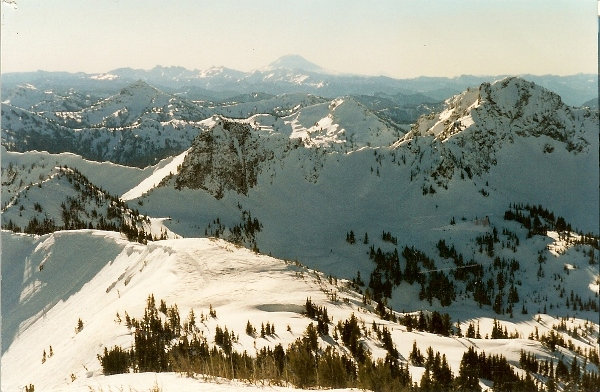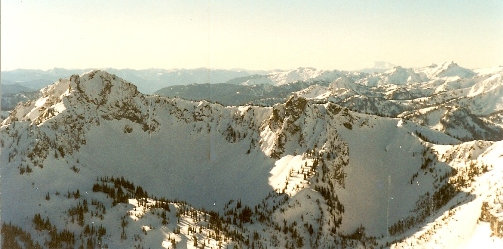 Crystal Mountain Ski Area from Silver King
Choice between Silver Basin on left or the north ridge on the right
View into the White River Valley
Mount Rainier
Cowlitz Chimney area
Avalanche Basin from Silver King (the ridge route from Silver Queen)
South to Chinook Peak on right with Mt. Adams in the distance
Chinook Peak on left
Mount Rainier from Crystal Mountain
Crystal Mountain Trail Map with route I suggest