Gothic & Del Campo Peaks
www.WillhiteWeb.com: Hiking, Climbing and Travel
Access:
Distance: 5 miles to the basin
Elevation Gain: 5,000 feet
Summit Elevation: 6,610 & 6,213 feet
Access rating: Level 1
The Route:
Gothic and Del Campo Peaks are excellent peaks to do together in the Monte Cristo area. Make it a day trip or an overnight, the area is fairly accessible and lots of fun. Both peaks have class 3 routes up with a bit of exposure on each.
The trail is easy going at first along Weden Creek but then climbs well up through the forest to reach Gothic Basin. It's easy to loose the trail higher up in spring but keeping an eye on the map will get you there if there is snow covering the trail. Even with no snow, the trail will disappear before the lake. For Del Campo, at Foggy Lake gain the southwest ridge. Once you reach the ridge, climb a snowfield on Del Campos south slope. Look for an obvious notch between the South Buttress and the summit of Del Campo Peak. Ascend class 3 and 4 rock just left of the obvious gully leading to the notch (the gully hits a cliff). The route gains the east face and a bit more scrambling will get you to the summit.
For Gothic Peak, go around the south side of Foggy Lake, hike up the heather or snow slopes. to a low point on the southeast ridge. Climb the ridge to a talus field, climb the talus to the top of the talus. Traverse left looking for a boot beaten path. Hit some steep class 3/4 rock sections. Climb your way to the summit.
Take the Mountain Loop Highway from Granite Falls to Barlow Pass. The Monte Cristo Road is usually gated here. Walk (or drive) one mile to the Weden Creek Trail (724) next to the Sauk River crossing.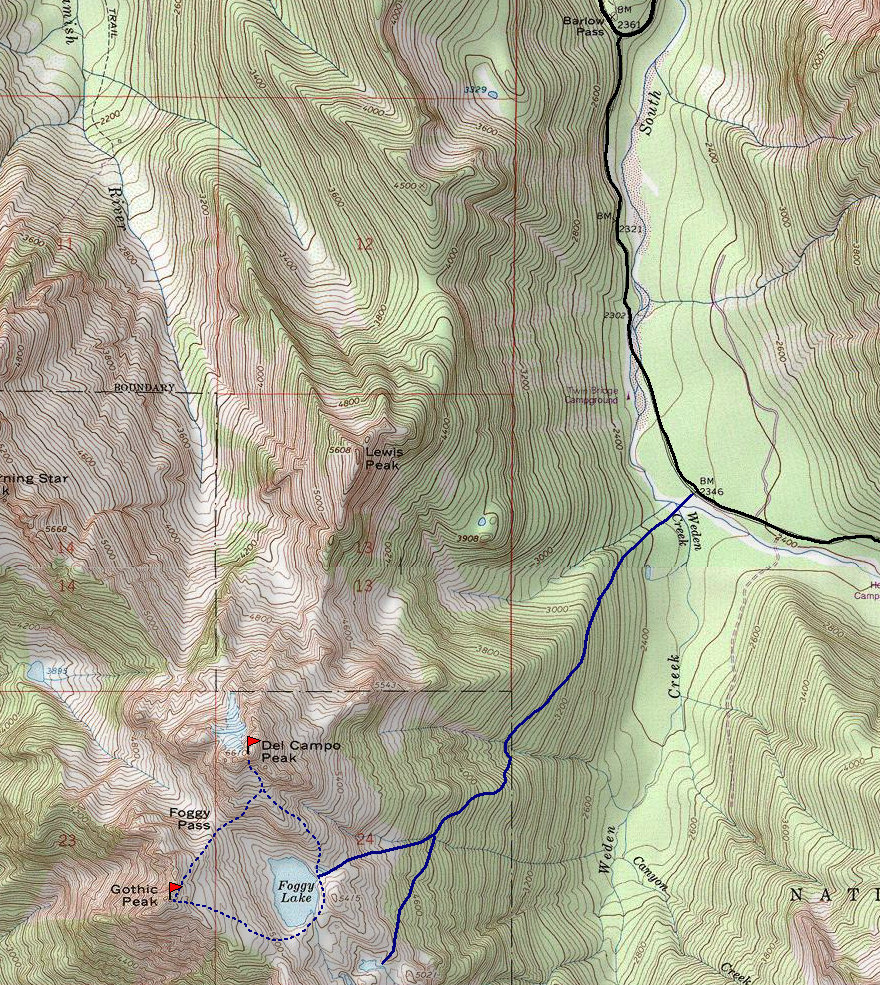 Del Campo Peak from Gothic Peak
Climbing Gothic Peak
On the summit of Gothic Peak
Monte Cristo Range
Gothic Basin
Foggy Lake
Del Campo Peak
Views to Vesper and Sperry Peaks
South Fork Sauk River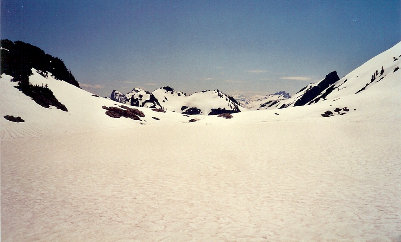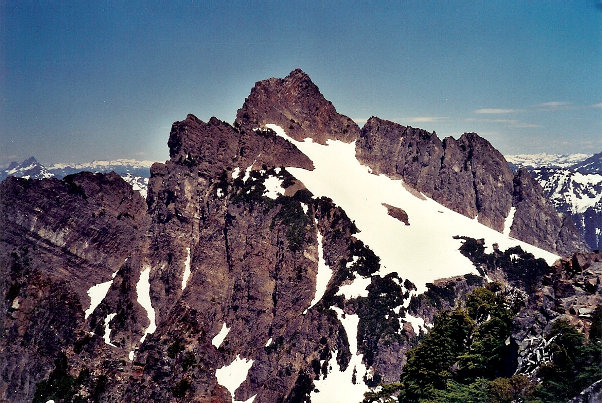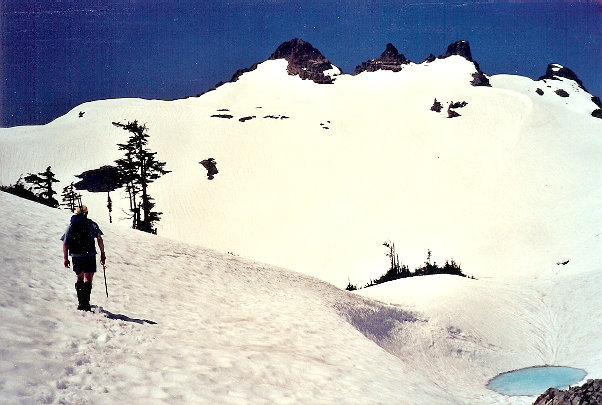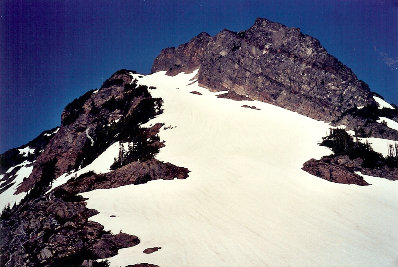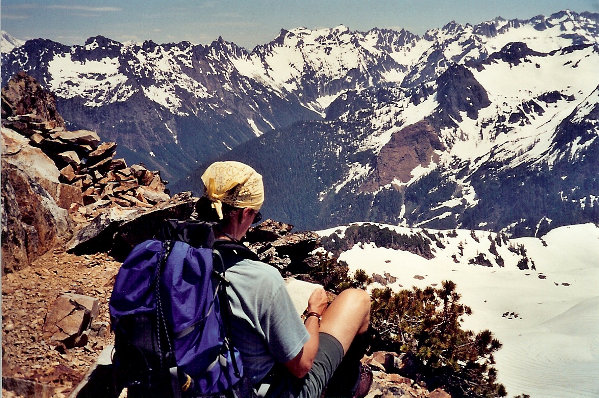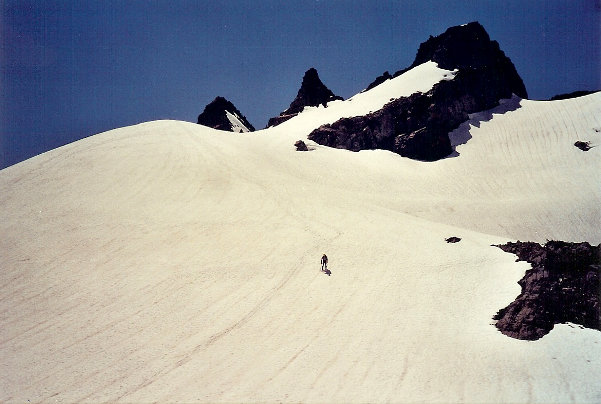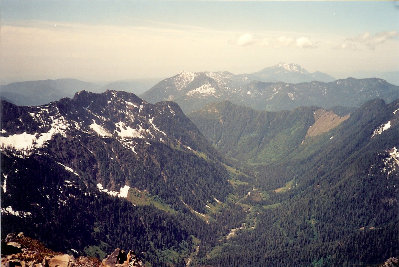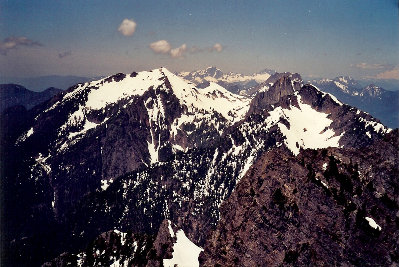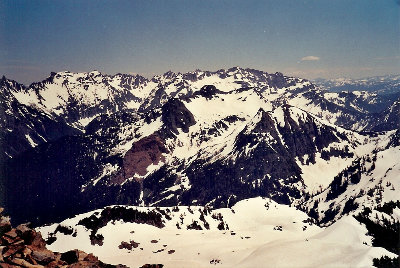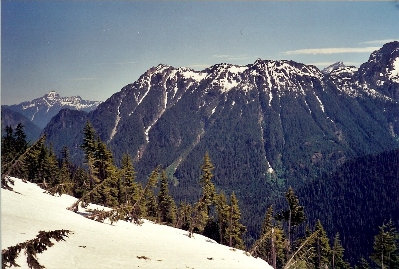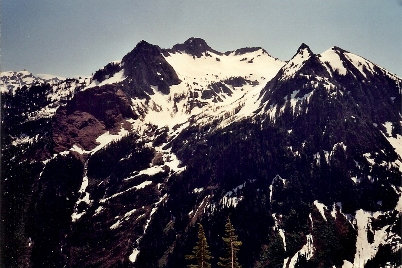 Sheep Mountain
Silver Tip Peak