www.willhiteweb.com - Hiking, Climbing and Travel
Corral Pass - Mutton Mountain - Noble Knob
Trails that start at a high elevation are rare in Washington. The Corral Pass Road will take you to 5,650 feet, where views immediately start. There is a campground as well as several trails branching off in different directions. Summer and winter are excellent times to visit. Several trails access the ridgeline from the valley below so loop trips are often common. My trips here have been to hike, bike, ski and snowshoe. Here are some options below.
Distance: 2 to 10 miles
Summit Elevations: 6,011 to 6,217 feet
Elevation Gain: 500 to 5,000 feet
Access: Paved or Gravel Road
There is a popular loop here, to bike from Corral Pass to the Ranger Creek Trail. The 3,000 foot drop on the Ranger Creek Trail is very fun. The views around Mutton Mountain are fantastic while zipping along on the bike. I set my bike off the trail during my ascent of Mutton Mountain, just a short jaunt off the trail. Many bikers climb the Ranger Creek Trail or the Corral Pass Road.
Deep Creek Trail Winter Route
Mountain Biking
Because of the low elevation forest, you can start up this trail in winter, often with little to no snow. By the time you reach the ridgeline, you are in snowshoes deep in winters snowpack. This is an avalanche free route and made for an excellent New Years Day climb. Stay on the ridge and you are safe from slides.
Noble Knob from the north
Logging roads from the Greenwater climbed high nearly reaching the Wilderness Boundary near Noble Knob. Just a short hike will take you to Noble Knob and a short side spur goes to camping at George Lake.
Cross Country Skiing
Skiing up the Corral Pass Road is popular with skiers and snowmobilers. As you approach the pass, the views of Mount Rainier are quite dramatic.
Peakbagging
The map below shows 5 highpoints north of Corral Pass. Noble Knob is the only one with a official trail while the others are not too far off trails.
Access:
For Corral Pass, take Highway 410 30.5 miles from Enumclaw. Turn left on road #7174, follow it nearly 7 bumpy miles to Corral Pass. High clearance is best but often, regular passenger cars are parked there. For the north access, just past the town of Greenwater, turn left on road 70. Follow for 4.5 miles to road #72. Take #72 for 4 miles to the trailhead.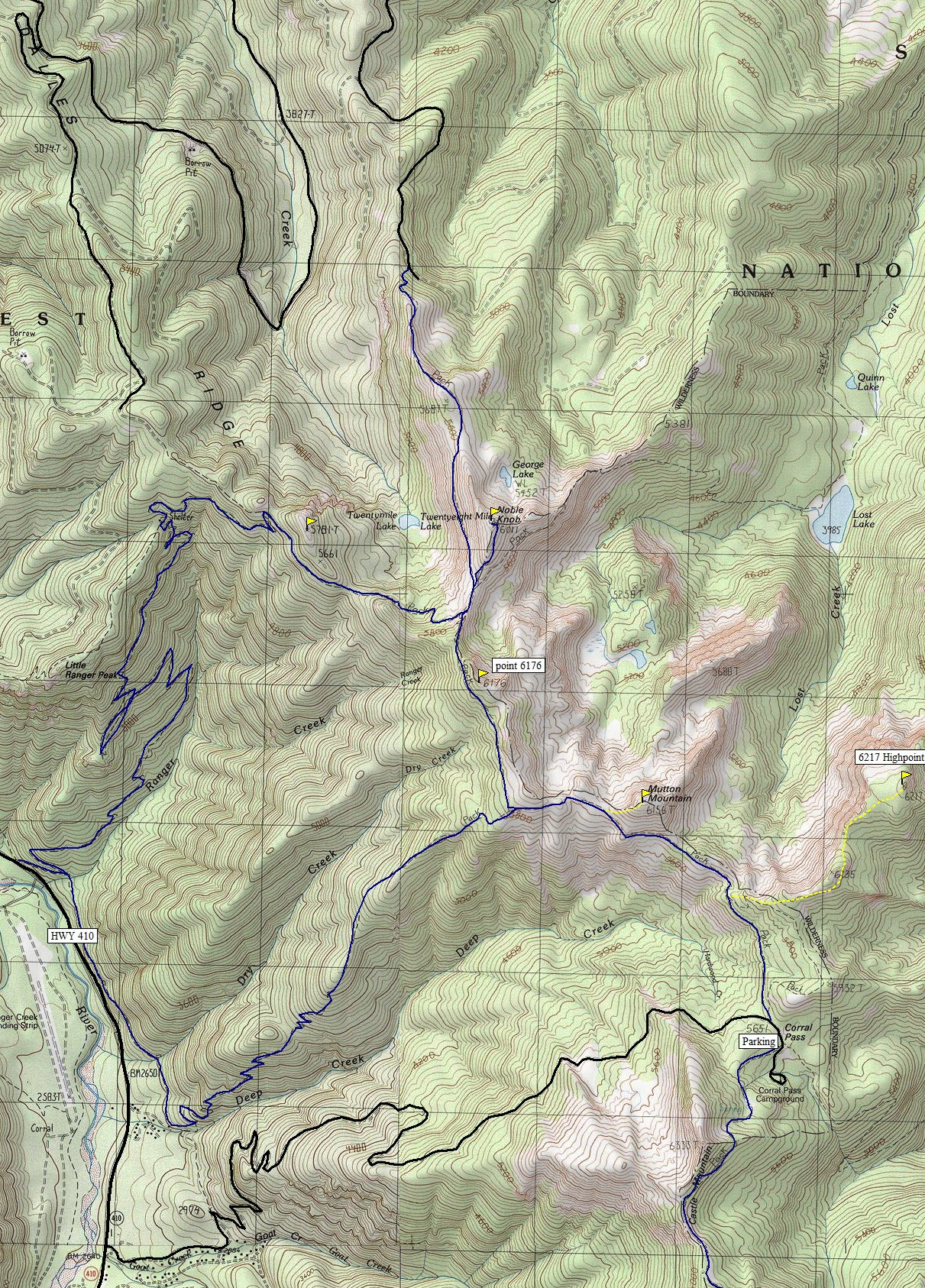 Parked at Corral Pass
Mount Rainier from the Corral Pass area
Mount Rainier from Mutton Mountain
Camping at George Lake, below Noble Knob
Noble Knob from Mutton Mountain
Reaching the top of the Deep Creek Trail
View north from Noble Knob
Mount Rainier
Camping on ridge near Mutton Mountain
Sunset behind Mount Rainier
Camping on the ridge
Morning view in camp of Mount Rainier
Noble Knob from the south
Knoble Knob from the south in winter