WillhiteWeb.com: Europe Travel
Cappadocia Region, Turkey
Bus was nice to Cappadocia but we didn't get a lot of sleep. We dropped of our stuff at the hotel and our tour picked us up. We saw all the sites around the main part of the town today. Lots of caves and natural sites. After the tour we were really tired. We went to sleep around 7pm. The tour took us to the factories that make pottery and rugs. Both places tried to sell us real hard. In our tour group we also had the "happy Japanese girls". They were two girls that sang and danced throughout the tour. I think our Turkish tour guide had a crush on them.
[Next day] we ate breakfast on the open top of our hotel. Went on tour again. This time to the other half of Cappadocia to see an underground city. Monks places, a canyon, pigeon places, and a scene from Star Wars. Lunch was in an open-air restaurant near to a river. When tour was over we had a bit of time. We found a computer place with a young boy selling Internet time. Bus arrived late that night and we were on another overnight bus to Pamukkale.
[Next day] we arrived in Pammukale - well near. The bus dropped a bunch of us off on the side of the road and said another bus would come by to get us. About 15 minutes later a minivan came by to pick us up, but it wasn't the correct one. Eventually he took us to our correct hotel. We got a room, ate breakfast and slept till tour at 9:30. The tour guide was a kid about 18 years old. He crashed the van on the way to the first site. It damaged one whole side when he hit a parked car on the side of the street. We saw the "red water" but it was red dirt. The water looked clear to us. Then we saw a hot spring resort. Finally we went to the limestone springs after a sad lunch at our hotel. Rachelle found that one of our "tour friends" worked at Ikea in Holland. After the sites we went to the room and slept. Note: Our tour guide smelled, didn't know much, was very rude to the Japanese people on our tour and a total klutz. When he was talking about the Pamukkale springs, he cut himself on some metal. Later that night we ate dinner at a local restaurant near our hotel. A little girl, mom, and dad ran the restaurant serving kebabs and drinks. We sat on the floor on carpets and ate our meal. For both our meals, it cost 1 USD but we gave the little girl a tip twice as much. We also saw ancient Roman Turkish sites—the Grand Theater was impressive.
Kaymakli - underground city
Selime - rock-cut monastery
Pamukkale
Ihlara Gorge
Pigeon Valley
The stone hand
Pamukkale Hot Springs
Pamukkale Hot Springs
Hiking in Pigeon Valley
Relaxing in front of our hotel room
Hiking through Ihlara Gorge
Pigeon Valley camel ride
Admin office in Pigeon Valley
Valley near Gerome
Pottery sales shop
Rug sales shop
Guide inside Selime Monastery
Walkway inside Kaymakli
Lunch after hiking through the Ihlara Gorge
Booth inside a bar deep underground in Kaymakli
Living room deep underground in Kaymakli City
Selime Monastery
Selime Monastery
Selime Monastery
Gerome, Turkey
Breakfast on our hotel roof top
Window of Cappadocia home
Capadocia area
Capadocia
One of the biggest of possibly a hundred underground settlements in the area, Kaymakli was built for protection and religious purposes. Possibly used since the Bronze Age, they offer warmer conditions in winter and cool temps in summers. In the cities have locking stones which can be opened and closed only from inside.
At the end of the Ihlara Valley is the Selime Monastery, the biggest rock-cut monastery of Cappadocia. It's a cathedral sized church carved by the monks in the 13th century.
The Ihlara Valley gorge has around 60 Byzantine churches and monasteries carved into the rock walls. These date from the 11th to 13th centuries. To see them all you get to hike this small canyon among the river carved volcanic rock.
Pigeon's valley contains numerous pigeon houses. In this valley pigeons were traines to deliver messages to towns throughout Central Cappadocia and were essential aid to communication. Also people used the droppings of the pigeons as a guano.
Pamukkale is a hot spring with sparkling water cascading down a hillside. The water contains calcium salts that get deposited on the limestone rock. The series of terraces creates interesting formations and different pools.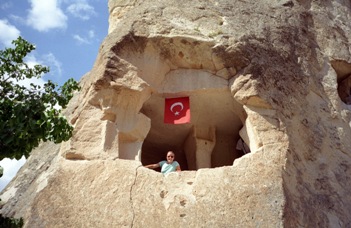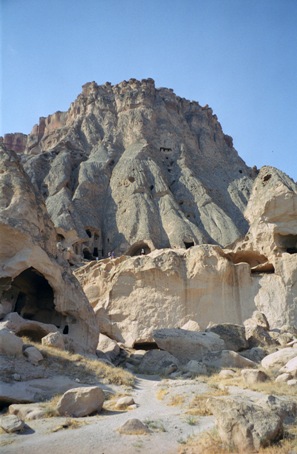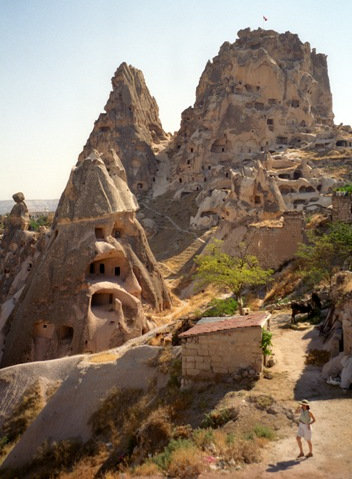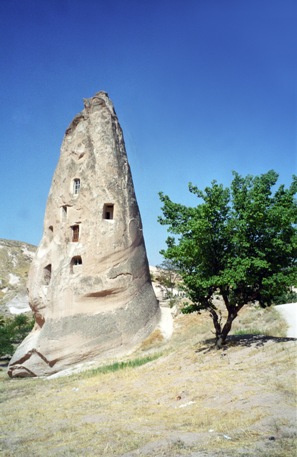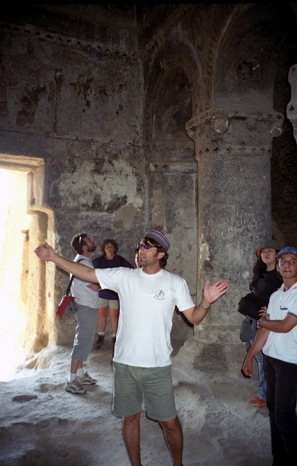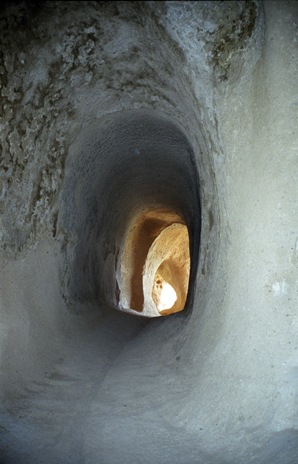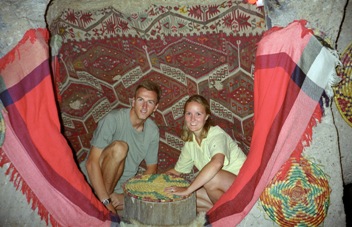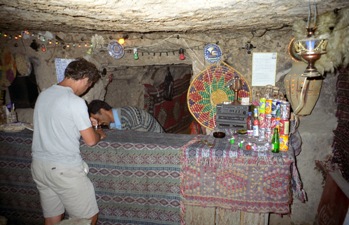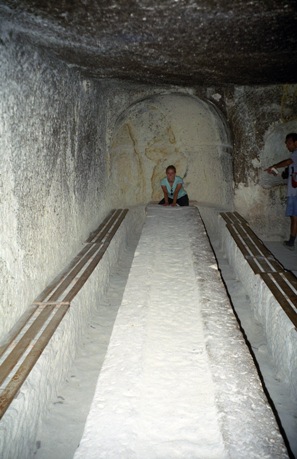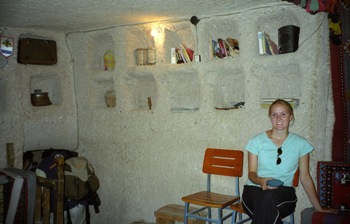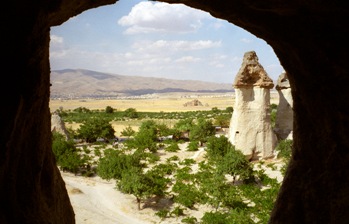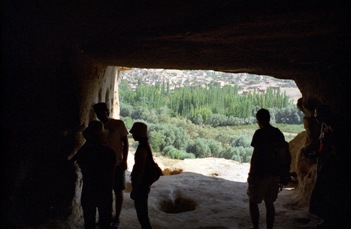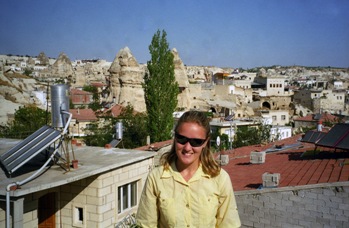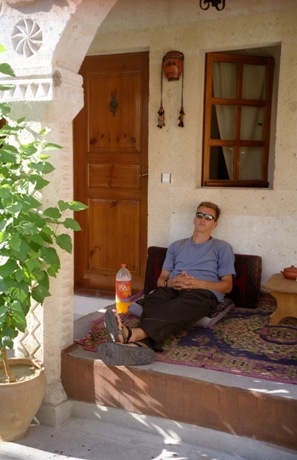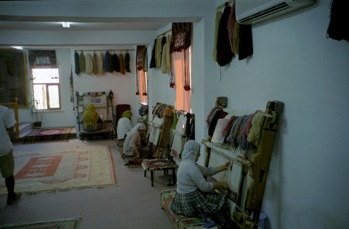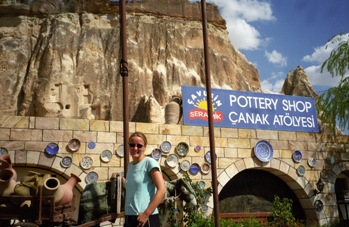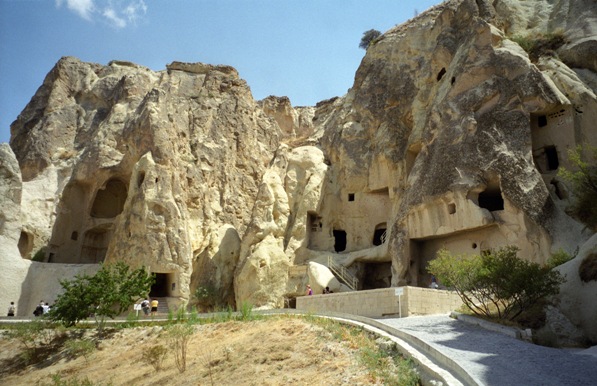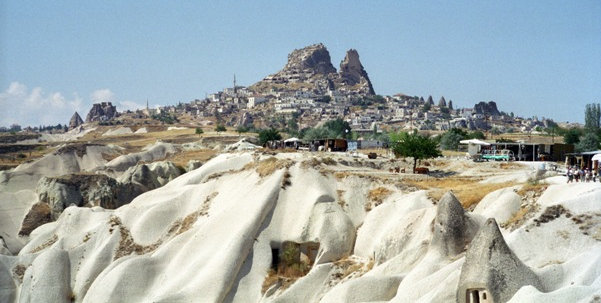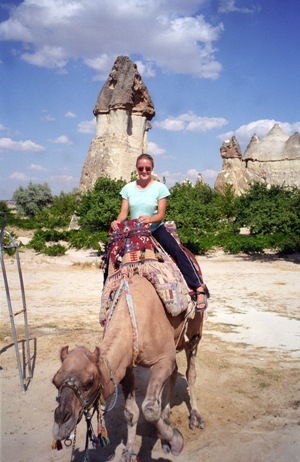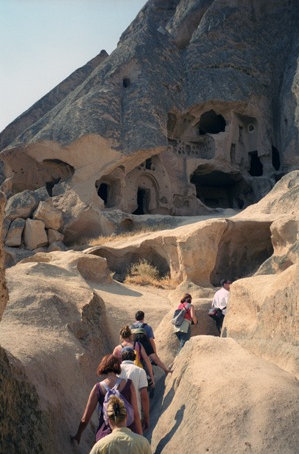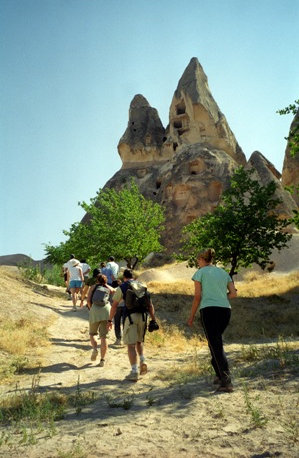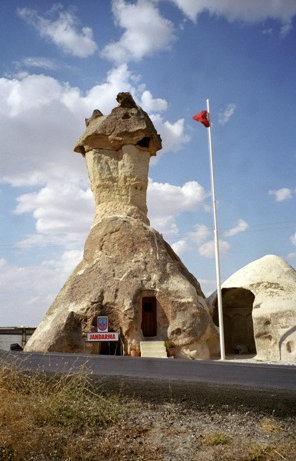 Underground Bar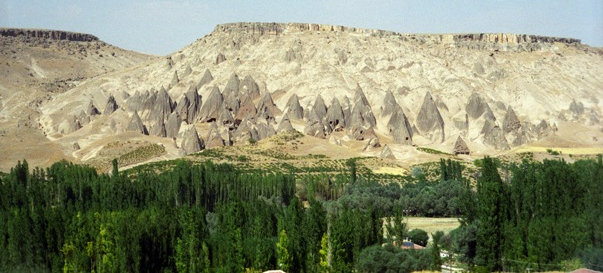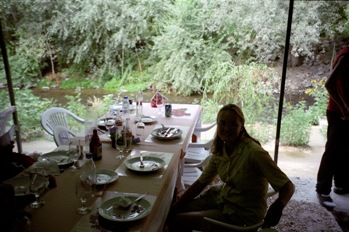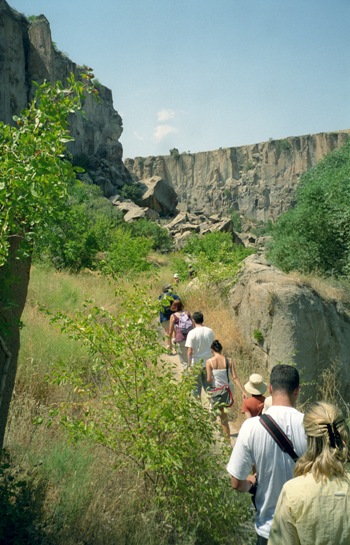 Dinner table inside Kaymakli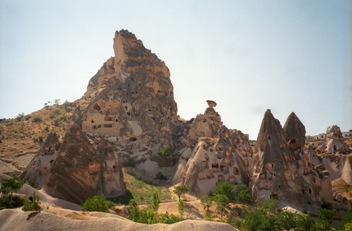 Pigeon Valley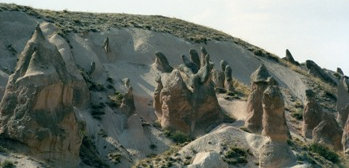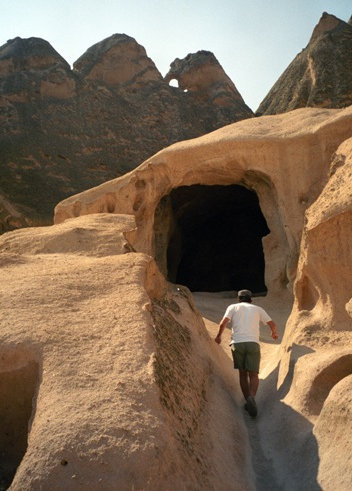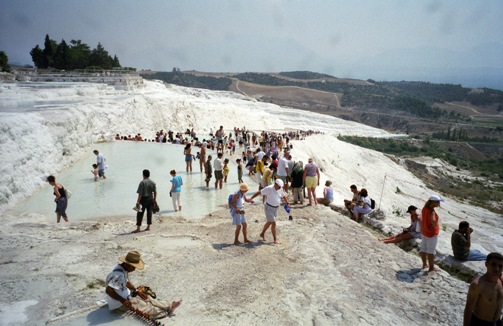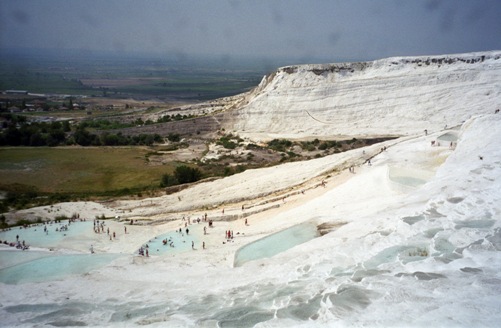 Looking out
Looking out