WillhiteWeb.com: Europe Travel
Athens Greece
Ferry ride was not like the North and not like the Irish. Lots of partiers. I got a couchette and Eric had a regular seat but everyone was on deck sleeping. I decided to sleep on deck with Eric. By 1 a.m. we were both starting to feel sticky moisture and decided to head down to my bunk in the girl's section. Some guy had already stolen my bunk so I stole someone else's and we both fit on it. Got to Patras and found a grocery store and waited for a better train that would take us to Athens. We got to Athens near dark, looking awhile for a hotel. Put our stuff away and then went and got a Wendy's meal. Watched some late night TV. Greece has a lot of English channels with Greek subtitles. The underground system is brand spanking new and they've got police with machine guns at the main squares guarding everything.
[Next morning] Enjoyed hotel. AC is sure nice. Decided to look around at tour agencies to find out how we were going to see everything in Greece including the islands. I also somehow wanted to get out to Epidaurus to see a production. We found a nice tour bus that we reserved and the tickets were cheap. Next we looked for a tour deal or ferry deal. I ended up picking up a brochure going to all the famous places—Istanbul, Jerusalem, Santorini, Mykonos, Rhodes and Cairo—All in 7 days! We were both excited. We went back to the tour agency to get more info. The tickets would have cost us 3000 USD so we went to discuss it over dinner. We agreed—it was definitely a splurge but we thought we would never have the same opportunity again and we could make a workable budget when we got home. We paid 1,000 down and enjoyed the rest of the day walking around all the outdoor markets and seeing the city life. There were definitely refugees hanging out in the city from Albania and other places. Got on tour bus to Epidaurus. It was impressive at night. The production was well done-but all in Greek. Like little kids, Eric and I watched ˝ an hour and got bored. Since our cruise didn't leave till Saturday we planned to spend a few days on Crete.
[next day] We got up early to see the sites. It was Sunday so everything was supposedly free-at least that's what the books told us. Saw Acropolis and Museum on the hill and it was very busy. You definitely can see the entire city from up there. The ruins down below were cool too. The Stoa of Attalos and other temple were done up nice. Decided not to see historical museum. We instead checked out of our hotel, went through the markets looking for a place to buy a cheap tent for Crete. We found one, then took the tram to the Piraeus Port. While there, we went to another travel agency to get another quote and found out that the exact same tour was not going to go to Jerusalem. Something was fishy so I went to MC with all the bags while Eric took the tram all the way back to the other travel agency to find out what was up. We got a refund since it turns out our cruise wouldn't be going to Jerusalem! Ate at Goodies and boarded the ship.
Acropolis Site
Epidaurus
Getting on the boat for Crete
In a meat market
Planning as we go, on boat to Greece from Italy
Sunet before the ferry left for Greece
Parthenon
Parthenon
View of Athens from the Acropolis
View of Athens from the Acropolis
Acropolis Hill area
Acropolis Hill area
Other monuments on the Acropolis Hill area
View of the Acropolis from our hotel
Waiting for the show at Epidaurus
View of Epidaurus from ground level
Sunset, show almost ready to start
Other monuments on the Acropolis Hill area
Although there are many, the Acropolis of Athens is the most famous. The Acropolis is a flat-topped rock that rises 490 ft above sea level in the city of Athens. It's said the pantheon was the most perfect building built by the world's most advanced civilization. The Parthenon and other main buildings on the Acropolis were built by Pericles in the fifth century BC as a monument to the cultural and political achievements of the inhabitants of Athens.
Epidaurus was a small city in ancient Greece with one amazing theatre. The theater was designed by Polykleitos the Younger in the 4th century BC. The original 34 rows were extended in Roman times by another 21 rows, seating up to 15,000 people. As is usual for Greek theatres vs. Roman theaters, the view on a lush landscape is an integral part of the theatre itself and was not obscured. The theatre is marveled for its exceptional acoustics that allow the performers to speak without amplification to all 15,000 spectators regardless of their seating.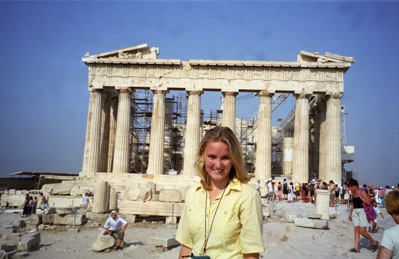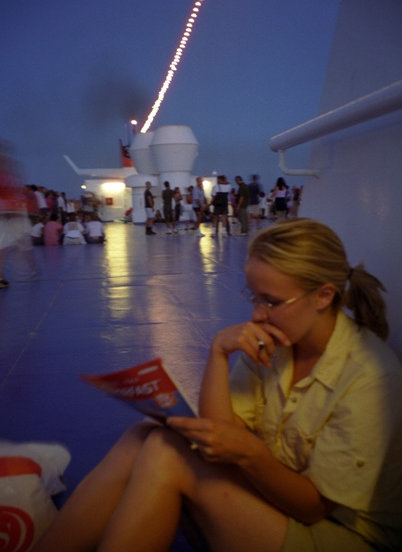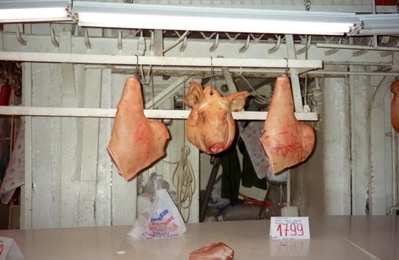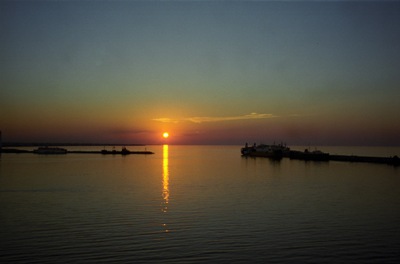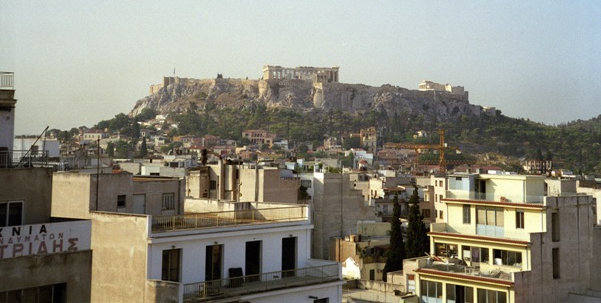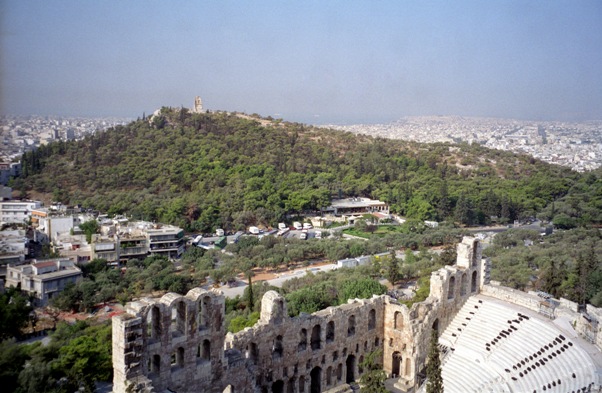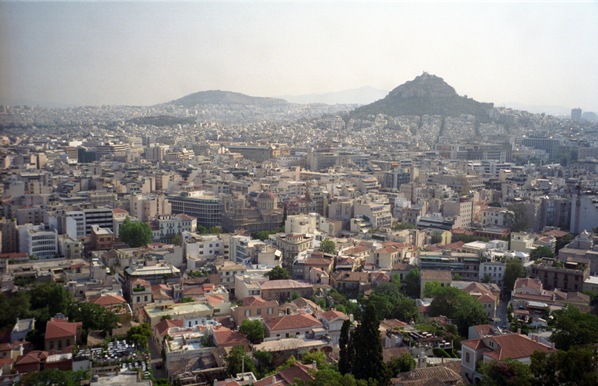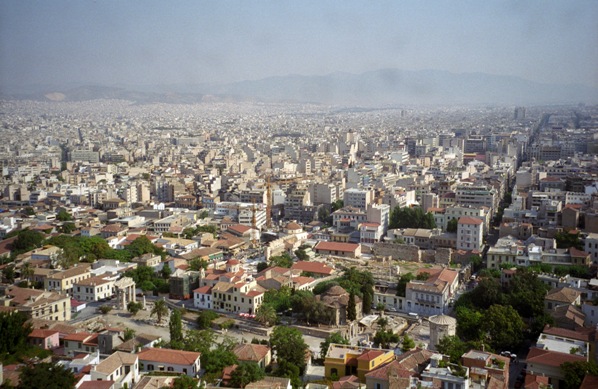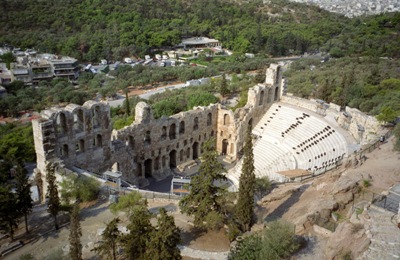 Looking down at the Acropolis Theater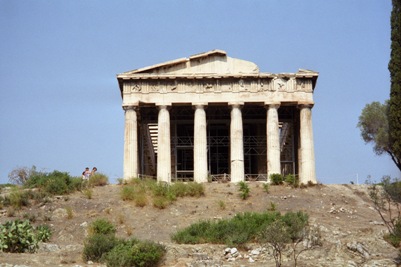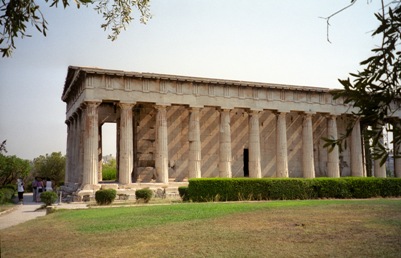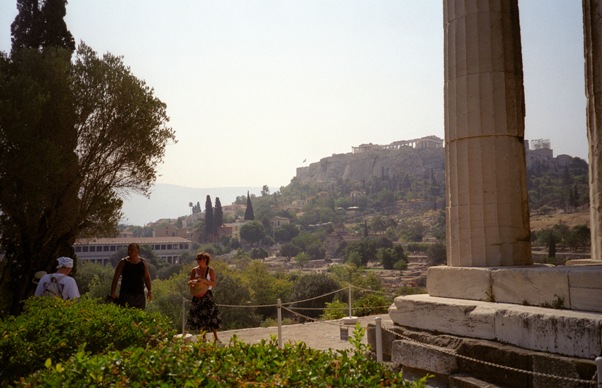 View of Athens from the Acropolis
View of the Acropolis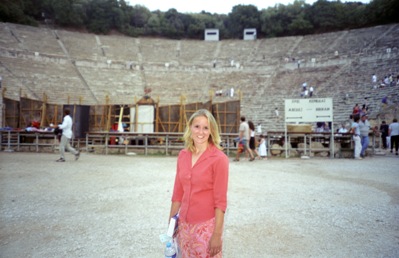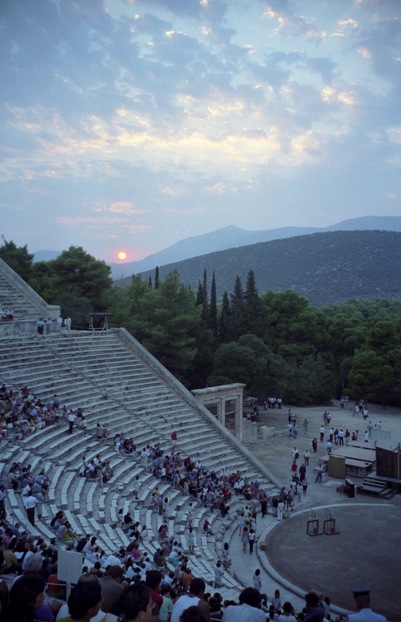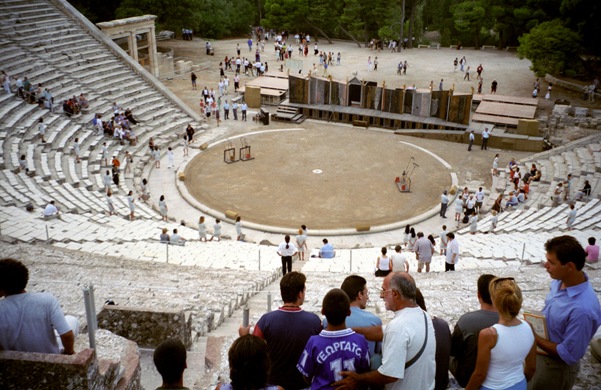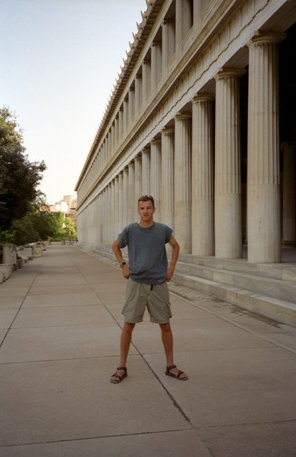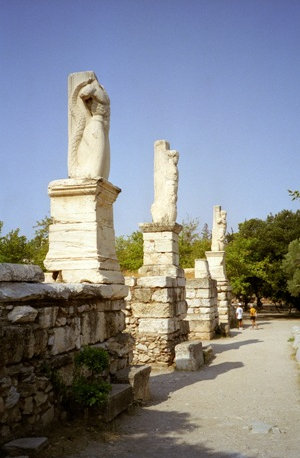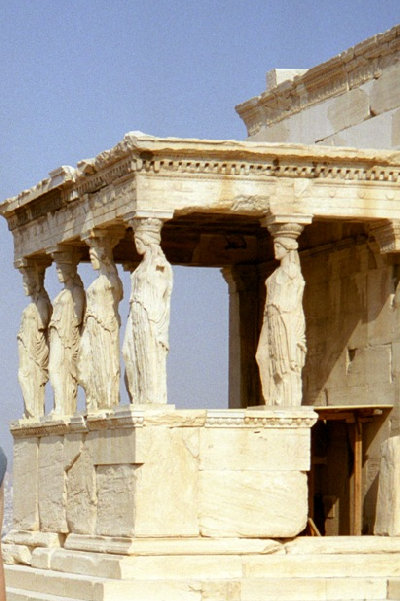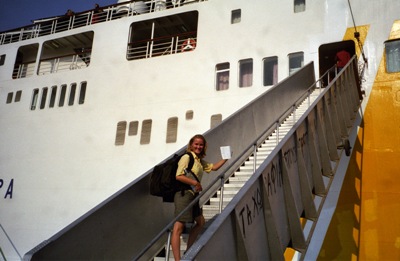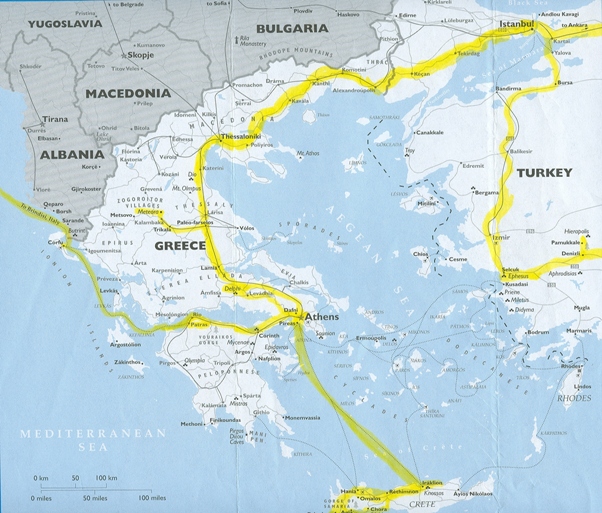 Our route to Athens, then to Crete, then up through Greece to Turkey