WillhiteWeb.com - Europe Travel
Mont-Saint-Michel, France
(On night train from Spain) The train guy woke us up at 515. We waited outside our compartments untill 550. Got off train and decided to head to Chamonix. Got on a train a few minutes later to Martigny. Waited there, then trained the Mont Blanc express to Chamonix (this time in the rain). I ran from the train station to the forests to get the camping gear we stashed 6 weeks earlier. It was all there except a slug had crawled into a hole in the bag and ruined Rachelleís fleece and my long underwear. After a bit of food we bought an English paper and began a train ride to Lyon. After another connection we got to Lyon. We had to walk a long way into the main part of town. We went to 4-5 two star hotels but they were all full. Finally we found one and it was much cheaper than all the others. Next was a search for food. We ended up in an expensive Chinese Restaurant that had expensive prices for small portions. I made a scene and Rachelle got it to go. We watched French TV and relaxed till midnight or so.
Woke up and walked up to see the cathedral of Lyon. We took the wrong path and ended up in a school. Followed a trail further, jumped a fence, and found a different way to the site. Male service going on but it had just gotten over. Camera died inside the cathedral. Went back to the hotel and train station and caught a train to a side trip out to St. Etienne. Looked for the church finally found it but it turned out not to be. Took train back to Lyon then onto a quick Paris train. In Paris we took the subway to another train station. Turned out to be the wrong one so we went to the third train station. (There are 5 total in Paris) Took a train to Chartres. Found a hotel next to the train station from the RS book. The hotel room had American CNN!!!!! We watched CNN till 2:30 am. We did go out to find food and take a picture of the cathedral at night.
Morning, slept in till 930, then went to the cathedral. The train didnít leave till 1230. Got to LeMans. Walked all over looking for food but nothing was open on Sundays. Our train finally left to head to Rennes on the TGV line. Rachelle gave a bum her breakfast because she picked out the wrong sandwich. Got to Rennes, trained to another transfer and finally got to Pontorson/Mont-Saint-Michel. Got there late, so no buses left to Mont St Michel so we got a map and found a campsite. We were excited because we were going camping one last time in Europe. This definitely saved money. The campsite wasnít far. The office was closed so we camped for free. We went out after the tent was up. We got pizza at a little store/restaurant. We ate in a park and decided to go out and try to find out where Mont-Saint-Michel really was. We walked a trail on our map only to find out later it was a pilgrimage trail. We saw two hostler girls hitching a ride to the Mont. They were picked up. We realized we were off the track when we saw the Mont far out in a distance almost behind us all lit up! It looked so cool.
The next morning, we got up early well before light to catch a bus to Mont-Saint-Michel. It left at 645. We were there by 7. Still dark out we explored till 9. Now well lit by the sun we explored the museum. After, we left and walked to the nearby town where we waited for the bus at 11. The bus took us back to Pontorson. We had 1.5 hours to kill. We were starving but on the bus we saw a huge grocery store just a few blocks away. Next to the grocery store was a Laundromat. We put our wash in and went shopping. We bought 3 days worth of food. Trying to save money so we can spend more in Paris. Back at train station we waited a long time for the train. It didnít show. Turns out several trains on the schedule go only certain days. Since we couldnít read French we loose as well as every other tourist waiting several hours. We took the first train at 1630. Backtracking through Rennes to Paris. For this part of the trip it would have been nice to have a car.
Lyon
Mont-Saint-Michel
Abby of Mont Saint Michel
Just before sunrise
Sunrise on Mont-Saint-Michel
Streets around town
Gate into Mont-Saint-Michel
Warming up in the morning sun
Inside the medievil city
Causeway onto the island
Homes on the island
Mont-Saint-Michel from a distance
Lyon is the third largest city in France with 2,000 years of history. It's historical and architectural landmarks puts it on the UNESCO World Heritage Site. There are two rivers passing through Lyon, including the old part of Lyon that is popular with tourists. It's there you'll find the Lyon Cathedral built in the twelfth century on the ruins of a 6th century church. This Roman Catholic cathedral was completed in 1476 with impressive stained-glass windows. Other sight is the Place Bellecour, a large town square, one of the largest in Europe. Also, the The Amphitheatre of the Three Gauls is in Lyon. This roman amphitheater is the oldest in the region and could hold up to 20,000 people.
Mont Saint-Michel is a rocky tidal island in Normandy, France that is over a half mile off the coast, built by monks. It was connected to the mainland by a thin natural land bridge that covered at high tide and opened up at low tide. Many human causes and the construction of a land bridge changed all that in years past. Now, humans are changing things back and replacing the land bridge with an elevated bridge. Mont St. Michel has been an important pilgrimage center since A.D. 708, when the bishop of Avranches heard the voice of Archangel Michael saying, "Build here and build high." It's been used for countless purposes including a prison by the late 1700's for priests. 15th-century fortifications add to the unique look of the structure. Nowadays, it's used for tourism as the main street going to the abbey is lined with shops and hotels. There isn't anything quite like it anywhere, it is Middle Ages at it's best.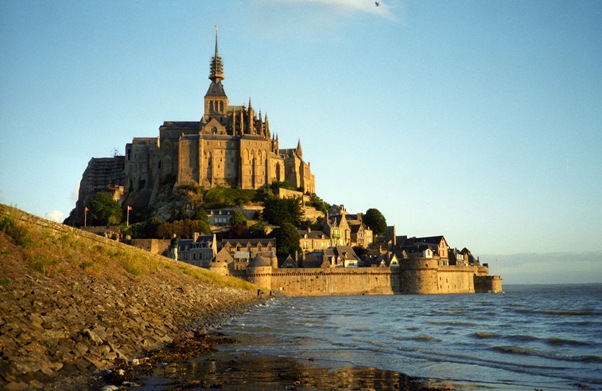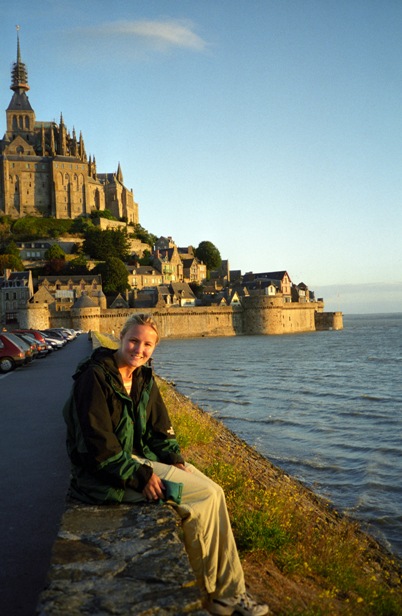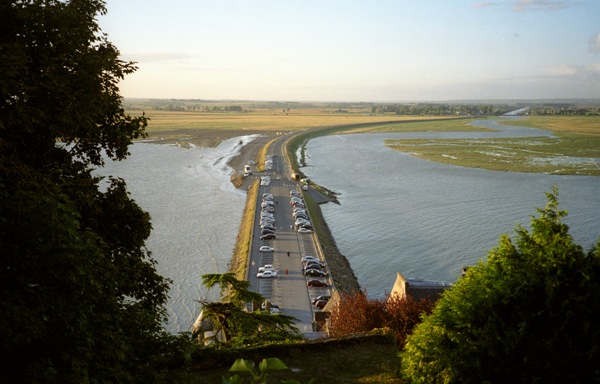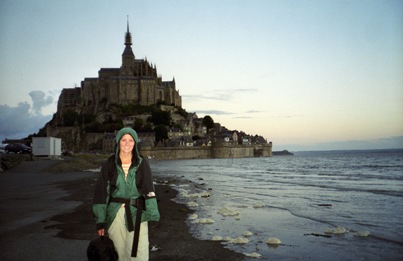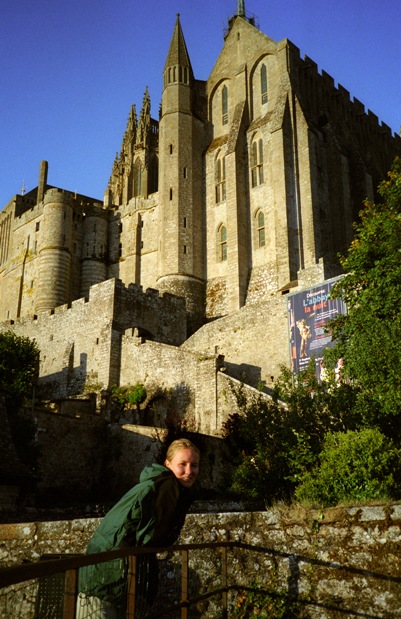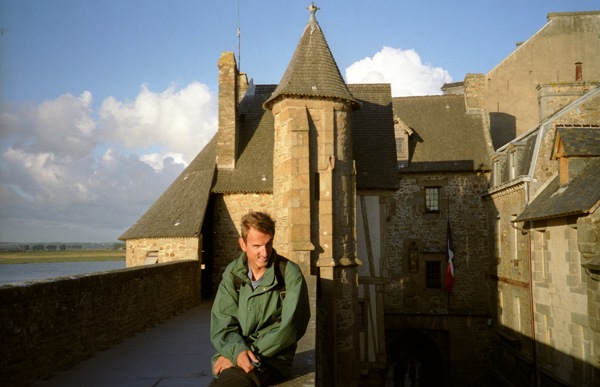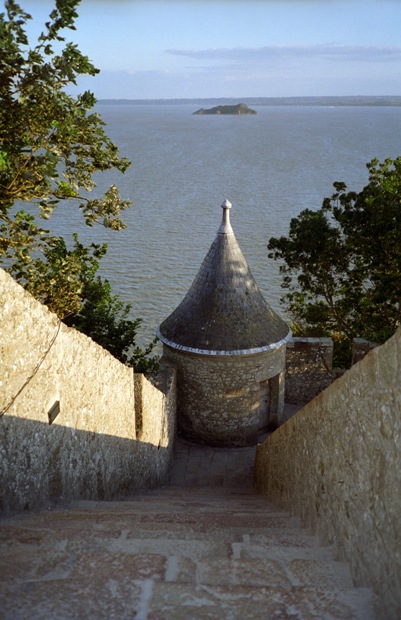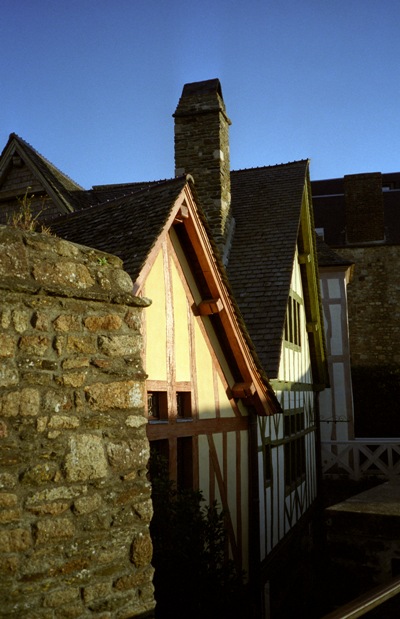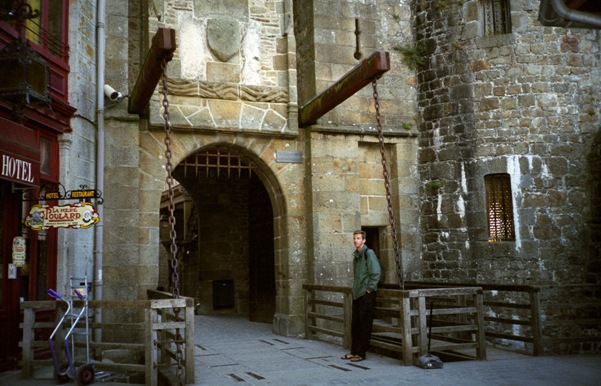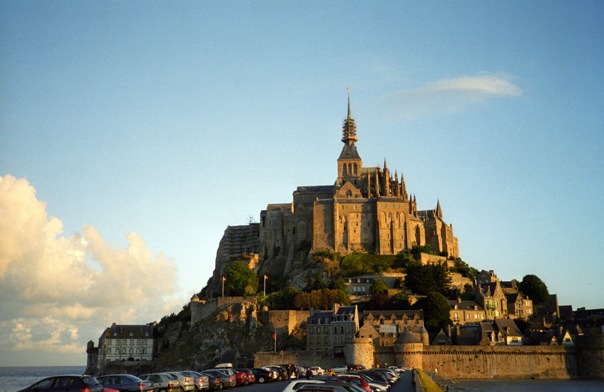 Cars filling the causeway by mid-morning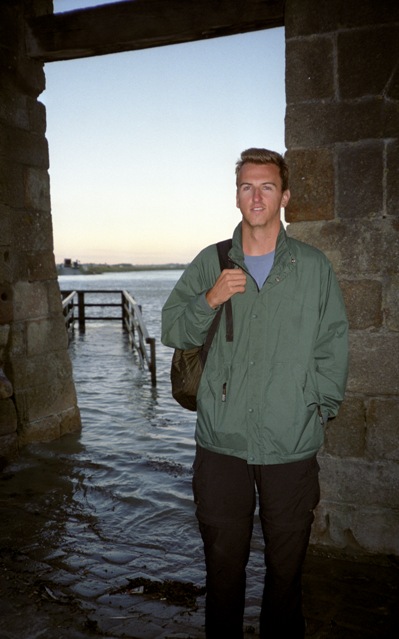 Tidewaters coming into the castle