Dragontail and Colchuck Peak
WillhiteWeb.com
Access:
Distance: 12 miles RT
Elevation Gain: 6,200+ feet
Summit Elevation: 8,840 & 8,705 feet
Access: Good Gravel Road
The Route:
From Leavenworth, turn south on Icicle Creek road. Follow the Icicle Creek road until a left turn on road 7601. Follow it 4 miles to the Lake Stuart/Colchuck Lake trailhead.
Dragontail and Colchuck are popular peaks standing above Colchuck Lake in the Enchantments. The extremely rugged granite north faces are popular with alpine rock climbers. Most mountaineers combine a climb of both peaks by using the Colchuck Glacier to a col between the summits. Terrain on the south slopes from that point is much easier. Dragontail is the second highest peak in the Stuart Range. An ascent of it is easiest from Aasgard Pass (see decent route). One day trips are common to avoid having to go through the difficult permit system to camp.
Take the Colchuck Lake trail to the lake. Follow the trail around the west side until you are below the glacier and col. Climb talus or snow, climb the glacier, reach the col. Late season is not recommended. Once the current years snow melts, the glacier is blue ice and your crampons won't bite. We hit small sections of this forcing us into the rocky sidewall. From the col, it's a class 2 walk up to the summit of Colchuck. For Dragontail, head east from the pass, climbing a steep gully to a notch on the summit ridge. Down climb the other side of the gap and do a rising traverse up to the summit. Descend southeast 300 feet to a pass, then drop down snowfields to Aasgard Pass. This descent would be the easiest route up Dragontail as well.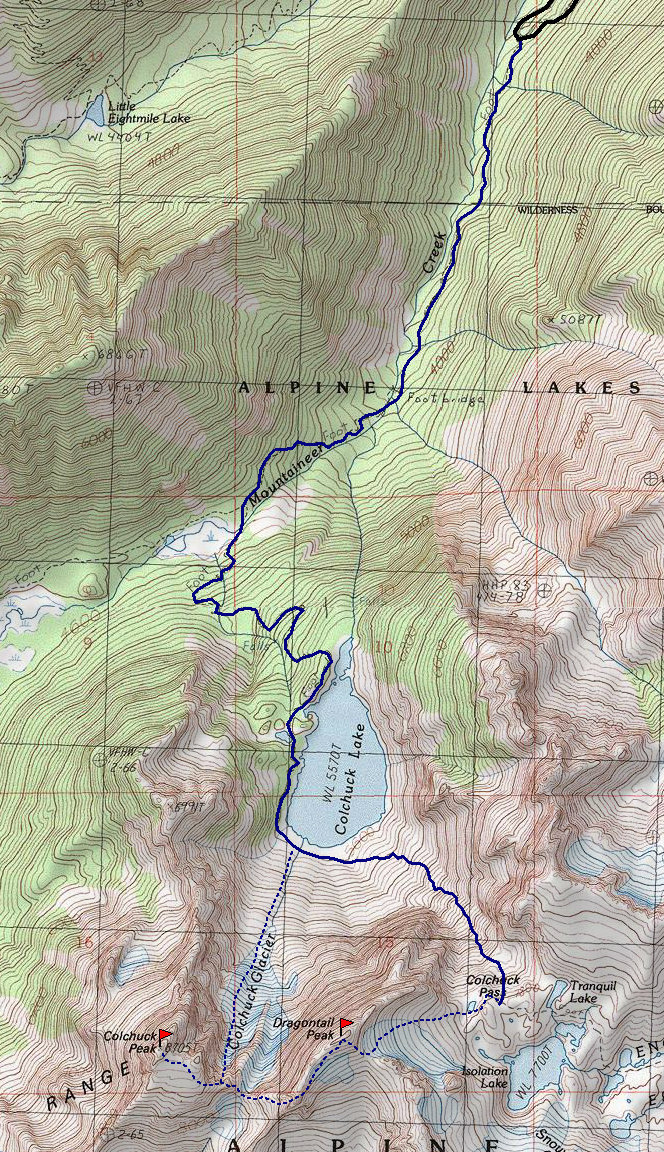 Dragontail Peak and Colchuck Lake
Colchuck Peak and the col
Looking up at the Colchuck Glacier
Mount Stuart
Colchuck Lake from near the col
Argonaut Peak
Looking over at Dragontail from Colchuck Peak
Gap in summit ridge to access Dragontail Peak from Colchuck
Looking down from Dragontail at the Colchuck Glacier (blue ice in center that forced us to the wall)
The col and Dragontail Peak
The reason it is called Dragontail Peak
Upper Enchantment area
Dropping down to Aasgard Pass from Dragontail Peak
Near Aasgard Pass
Colchuck & Stuart
Nearing sunset, Colchuck Lake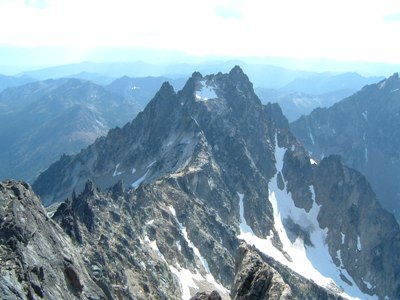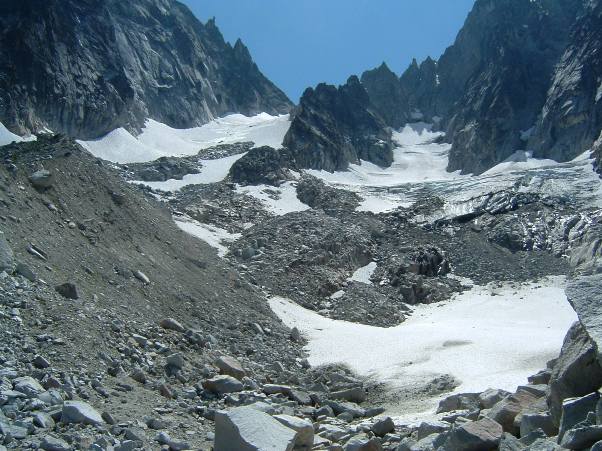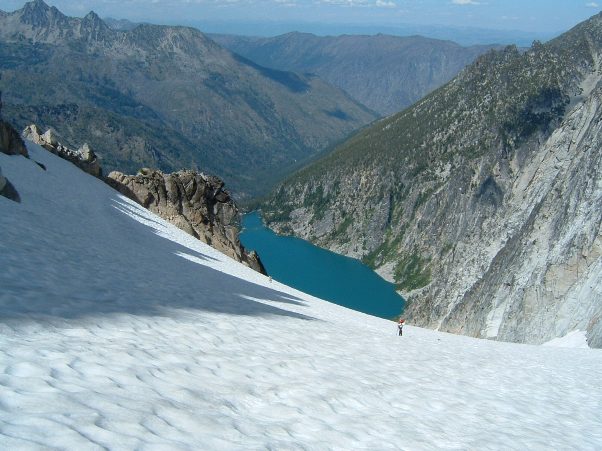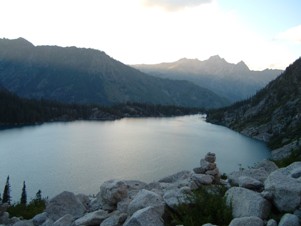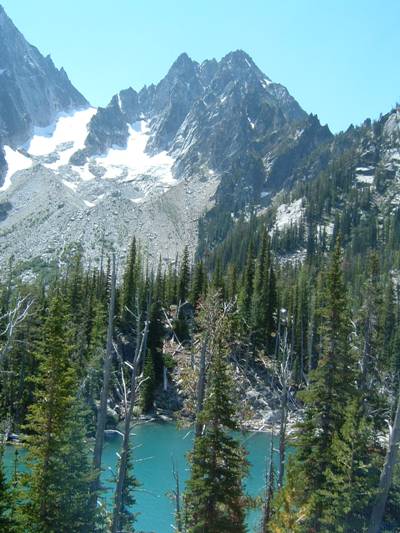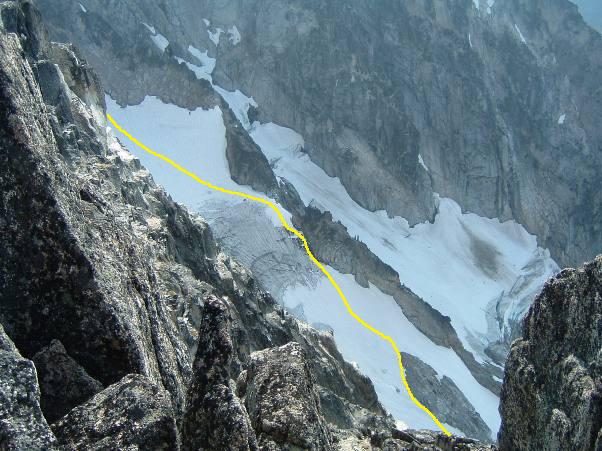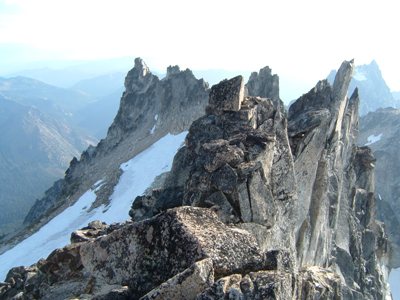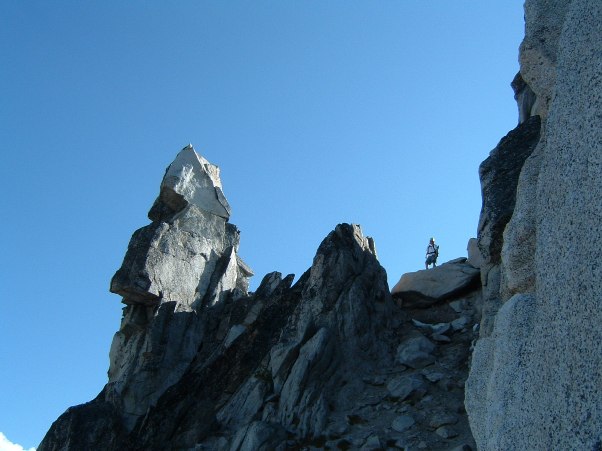 Access Notch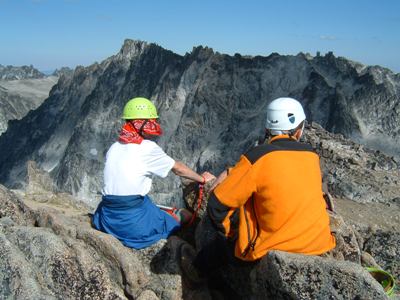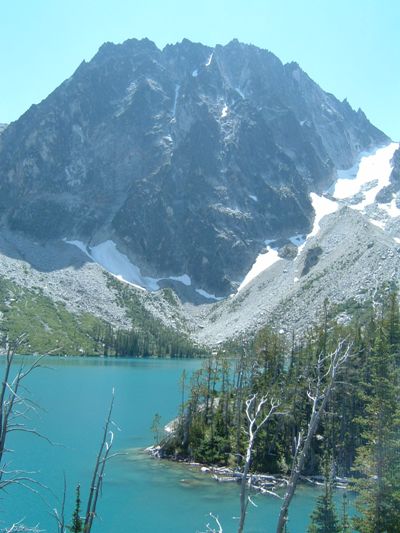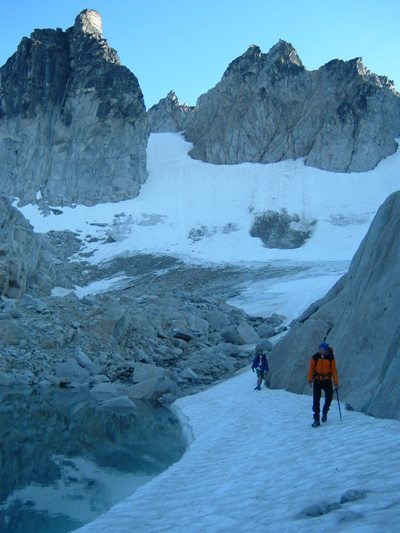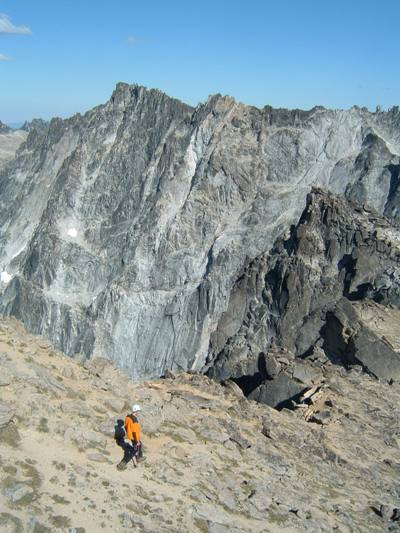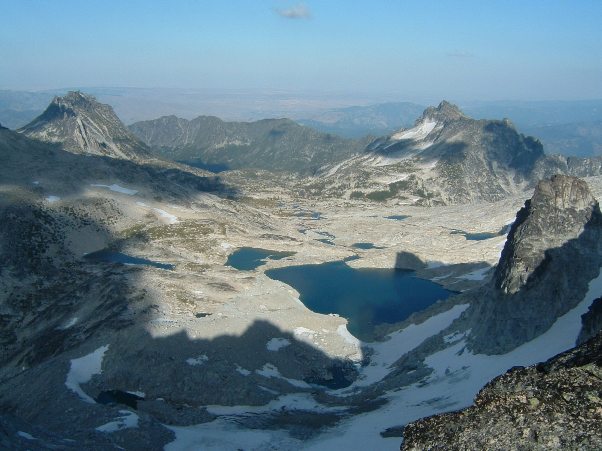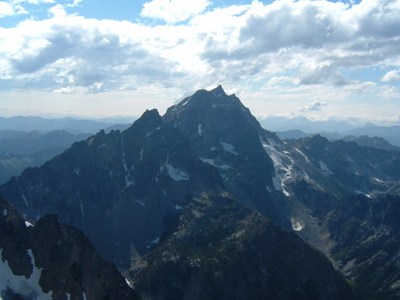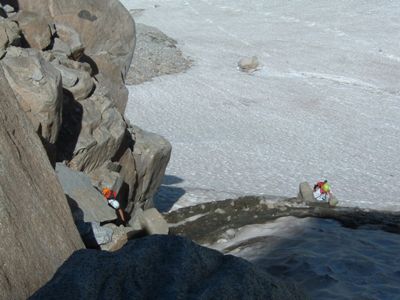 Working the rocks due to the ice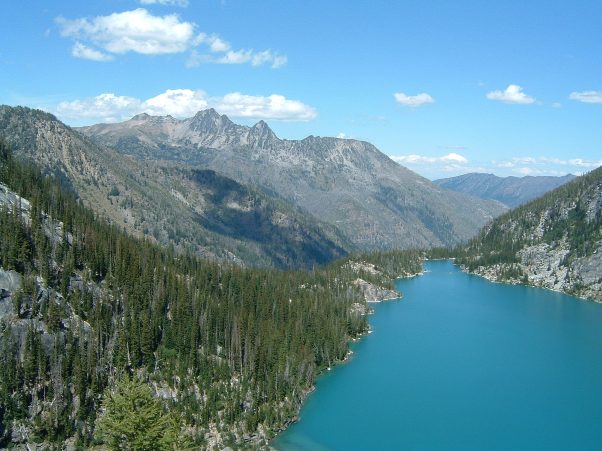 Cashmere Mountain & Colchuck Lake