Copernicus Peak
WillhiteWeb.com
Access:
Hiking Distance: 0.5 miles
Summit Elevation: 4,360 feet
Elevation Gain: 200 feet
Access: Paved
Route:
Copernicus Peak is a super easy peak to bag with outstanding views and a fire lookout tower. Many visitors to this summit are county highpointers (Copernicus is the highest point in Santa Clara County) or prominence chasers (Copernicus has 3,080 feet of prominence). Nearby Mount Hamilton is just a bit lower but most visitors stop there and take a tour of the Lick Observatory, home of a fancy Telescope. Although the hike is easy, you may have to break some rules to get to the summit. There are some ominous no trespassing signs on the road that leads to the summit. The proper thing to do would be to stop at the observatory and ask for the patrol officers permission first.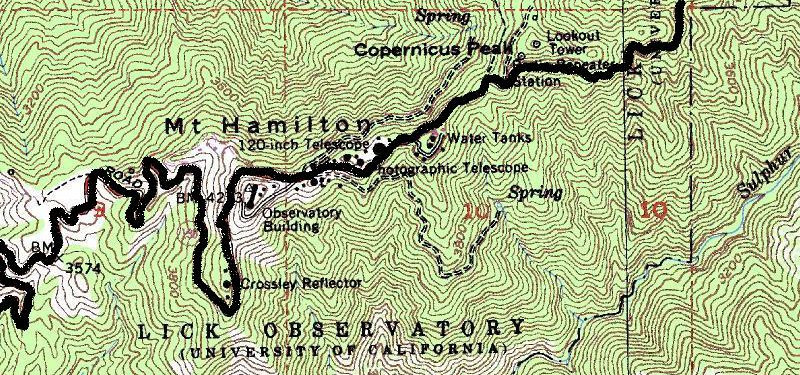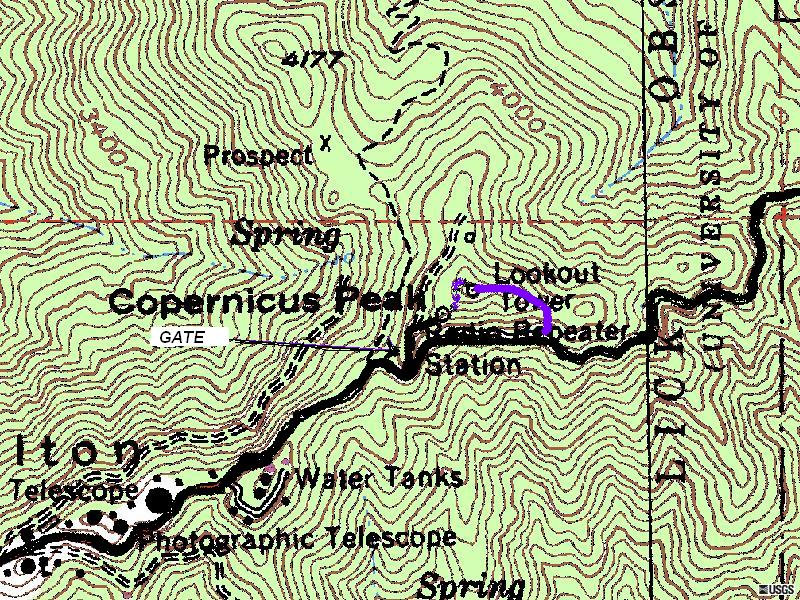 Mount Hamilton from Copernicus Peak Lookout
View SE from Copernicus Peak (road in view below)
East end of the lookout
Trail up Copernicus Peak on west side
Views NW of Mt. Hamilton
Overview map showing summit area of Mt. Hamilton and Copernicus Peak
Closer look at routes up Copernicus Peak
With permission (or not), park at the free observatory parking and walk the highway to the gated road. There has been a large hole in the fence for years allowing people to step through. When I was there the gate was open with someone working up there so I continued driving past the access road finding a pullout off the side of the highway. From the pull-out, I climbed up to reach the east-ridge, and then climbed west to access the peak. This way I crossed no signs and could always plead ignorance. This route probably added 120 vertical feet of climbing. There was some bushwhacking involved but nothing too bad. It was only difficult because I was carrying one kid in front and another in back. They only got whacked in the face once or twice by brush. Whoever was on top was now gone so I took the trail and road back. This west side route is straight-forward from the gate. Completed the loop by walking down the highway to my car.
From I-680, exit on the Alum Rock Avenue going north. Continue approximately 2 miles and turn right onto Mt. Hamilton road. Drive the 19 miles up to Lick Observatory and park there. From the parking area, follow San Antonio Road east, pass the water tanks and head for the lookout tower. The gate is off the left side of the road about 0.25 miles from the observatory.