Mission Peak
www.WillhiteWeb.com: Hiking, Climbing and Travel
Mission Peak has easy access, great views of the bay area and shade if you do it early enough in the morning (the climb is up the west side of the mountain). Views to the north are of Mount Diablo and urban sprawl. Looking south you can see Mount Hamilton, San Jose and the Santa Cruz Mountains.
Distance: 3 miles
Elevation Gain: 2,100 feet
Summit Elevation: 2,517 feet
Access rating: Level 1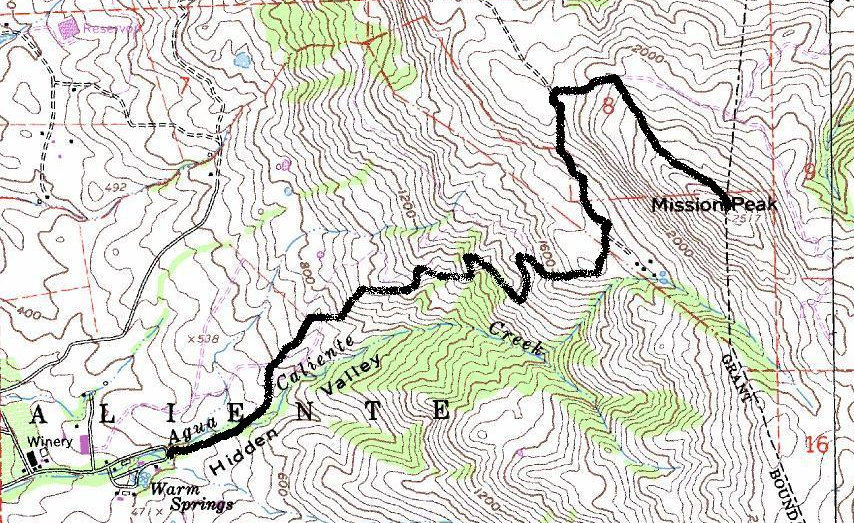 Route starts as a gravel roadway, winding its way up the base of the mountain. There seems to be several trails around, follow your gut, youíll get there. I had no map, just kept going up until I reached the summit. There are some pockets of trees here and there offering a bit of shade. The upper mountain is totally exposed to the elements. Near the summit, the route is dirt and rocks, no longer gravel. This is a good hike if visibility is fair, if not, go elsewhere as the terrain isnít that interesting.
From I-680 in Fremont, exit at the southern Mission Boulevard exit and go north. (Mission Boulevard loops and crosses I-680 twice). Head north for about 1/2 mile, turn right (east) on Stanford Avenue and follow it to the parking lot at the end.

Mission Peak Route:
Mission Peak Access:
Views start shortly after starting
Views and the trail
The final climb to the summit
Views south to Mount Allison
Looking southwest from the summit toward the Santa Cruz Mountains
Looking north from the summit with Mt. Diablo in distance
Carrying my kid up to the top
Views of Fremont from Mission Peak